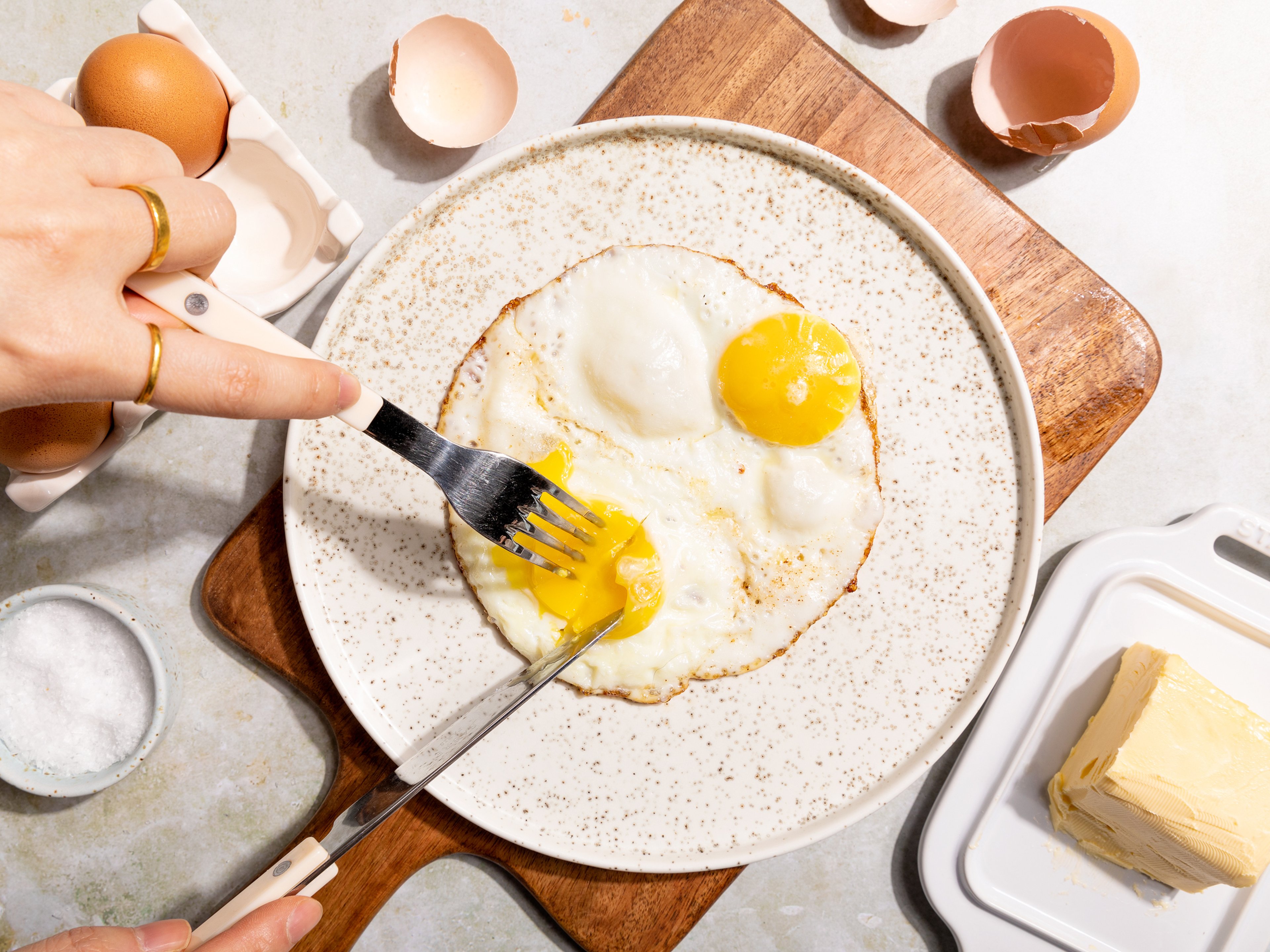 6 Affordable Gadgets to Get You Egg-cited to Cook With Eggs
We tried them so you don't have to
Food Editor at Kitchen Stories
We all know it: Eggs are (almost) irreplaceable.
They are easy to cook with, relatively cheap, and full of nutrients. Essential for breakfast tables as well as for baker's bowls, not to mention for countless recipes savory and sweet, budget-friendly and fancy, eggs give that signature flavor and texture that can be qualified as comfy and fluffy to rich and filling. While they are familiar and reliable in a classic scrambled egg or topped on fried rice sunny-side-up, eggs can still excite and elevate with originality and creativity in new ways, like these jammy eggs served on savory, umami oatmeal or in a kale coconut gravy.

If it's not clear to you yet: I love eggs! And I am always looking for new ways to cook with them. In recent years, I've expanded my egg routine with the help of a few small gadgets: nothing fancy, a couple of small items that not only helped me save time and effort but also added a little fun twist. I know what you're thinking: My cluttered kitchen doesn't need any more equipment. But over the years, I found myself using these often and regularly because they actually eliminated the need to use more utensils and fool-proofed my results! So much so that I thought I should introduce them to you: And while I was at it, I tried a few more gadgets to make the list more complete.
6 gadgets that make cooking with eggs more fun & efficient
So here are 6 items we chose, including the ones I already own, that we believe are worth the (relatively small, from €6 to €30) investment to diversify and/or simplify your egg routine, save your time, and add a bit of fun in the kitchen.
Egg Timer: For the perfect jammy eggs
We've all been there… The water's boiling, eggs are ready to go in, and suddenly, the question strikes: Do they need 8 minutes or 6? Do I set the timer after the water starts boiling or as soon as the eggs are in? What time is it? Where's my phone?! And before you know it, by the time you scoop them up, the yolks are way too runny or set too hard. Not our problem with this timer: All you need to do is to put it in the water with the eggs and the color will change (from red to creamy white) when it reaches the temperature appropriate for the desired doneness of the egg (soft, medium, or hard): perfect especially for those jammy eggs that you've been dreaming about! The timer, shaped like an egg, also "cooks" like one, too, so when it reaches the right temperature, so will your eggs. The fact that this timer is technically a thermometer makes the result more precise and using it feels more exciting (like I'm conducting a scientific exercise!).

Try this temperature-based timer for the perfect jammy eggs!
Infinite Reusable Egg Timer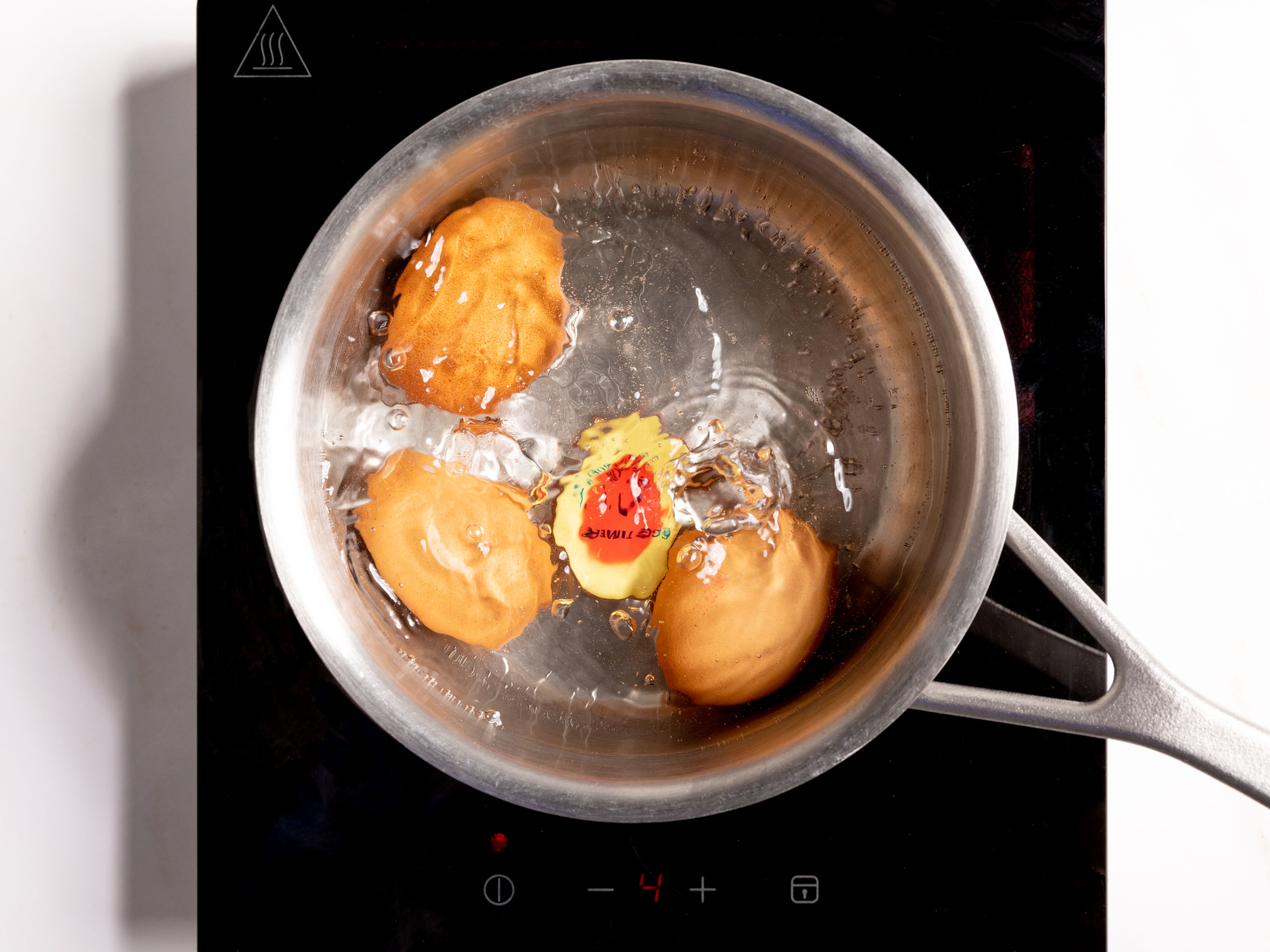 Pro: The temperature-based sensor makes the result more precise than merely keeping time.
Con: You do have to keep an eye on it to catch when the color starts changing. There may be slight variance in the result if the eggs are significantly larger or smaller than the timer.


Try it with this recipe:
Korean marinated eggs (Mayak eggs) with rice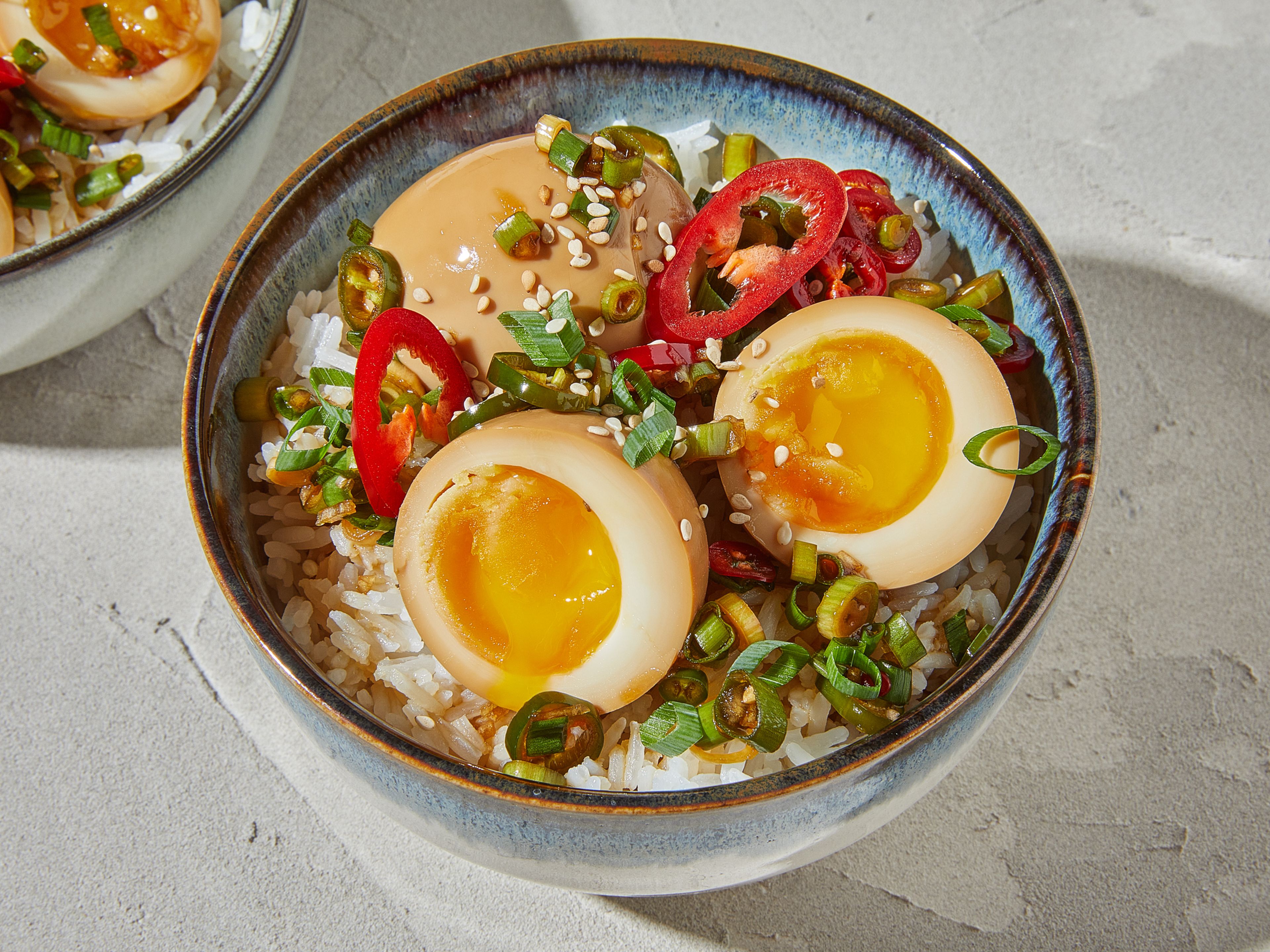 → Go to recipe
Egg cooker: Minimum attention, maximum result
If you'd like to pay as little attention as possible and still get the perfect result, then this is the gadget for you. I got a solo-egg cooker (here is a version that cooks three or six). as a present one Christmas. My first thought: cute, probably not very useful. Turns out, if you live alone or often cook for yourself, this will be one of the most used kitchen gadgets that will save you time and add a little fun twist to your routine. It comes with a tiny measuring cup that tells you how much water you need to use according to the desired outcome. It uses very little water and time, is simple to use, and almost always yields the same result.

Keep your hands free, wait for the beep!
Egg cooker

Pro: Easy to use, saves water, and you barely have to keep an eye on it–just pop the egg in there, turn it on, and wait for the beep: Your morning just got a lot freer.
Con: Needs to be plugged into an outlet. If you buy the version for 3 or 6 eggs, it would take up extra countertop space.


Try it with this recipe:
Tamago sando (Japanese egg salad sandwich)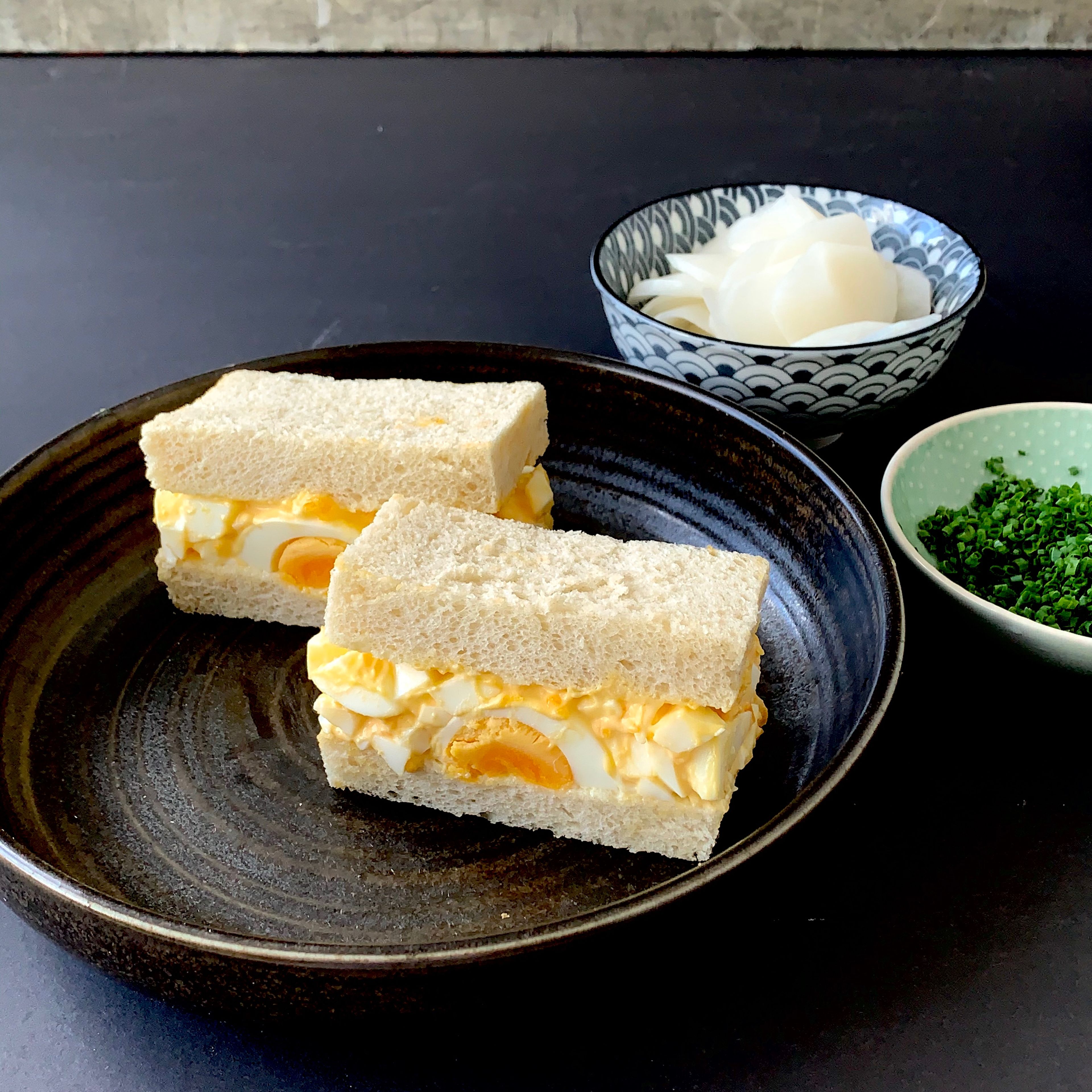 → Go to recipe
Egg slicer: For the classic egg salad and sandwich
Hard-boiled eggs might not be as trendy as the perfectly poached egg photogenically oozing out liquidy golden yolk onto the sourdough avocado toast, but they are still a staple in many dishes, especially for salads and sandwiches. This egg slicer comes in handy when you want clean-cut slices of well-cooked egg, giving your salads or sandwiches a much more finished look, as well as making sure the yolk doesn't crumble or mush when you slice eggs.

No more mushed yolks with these blades
Egg slicer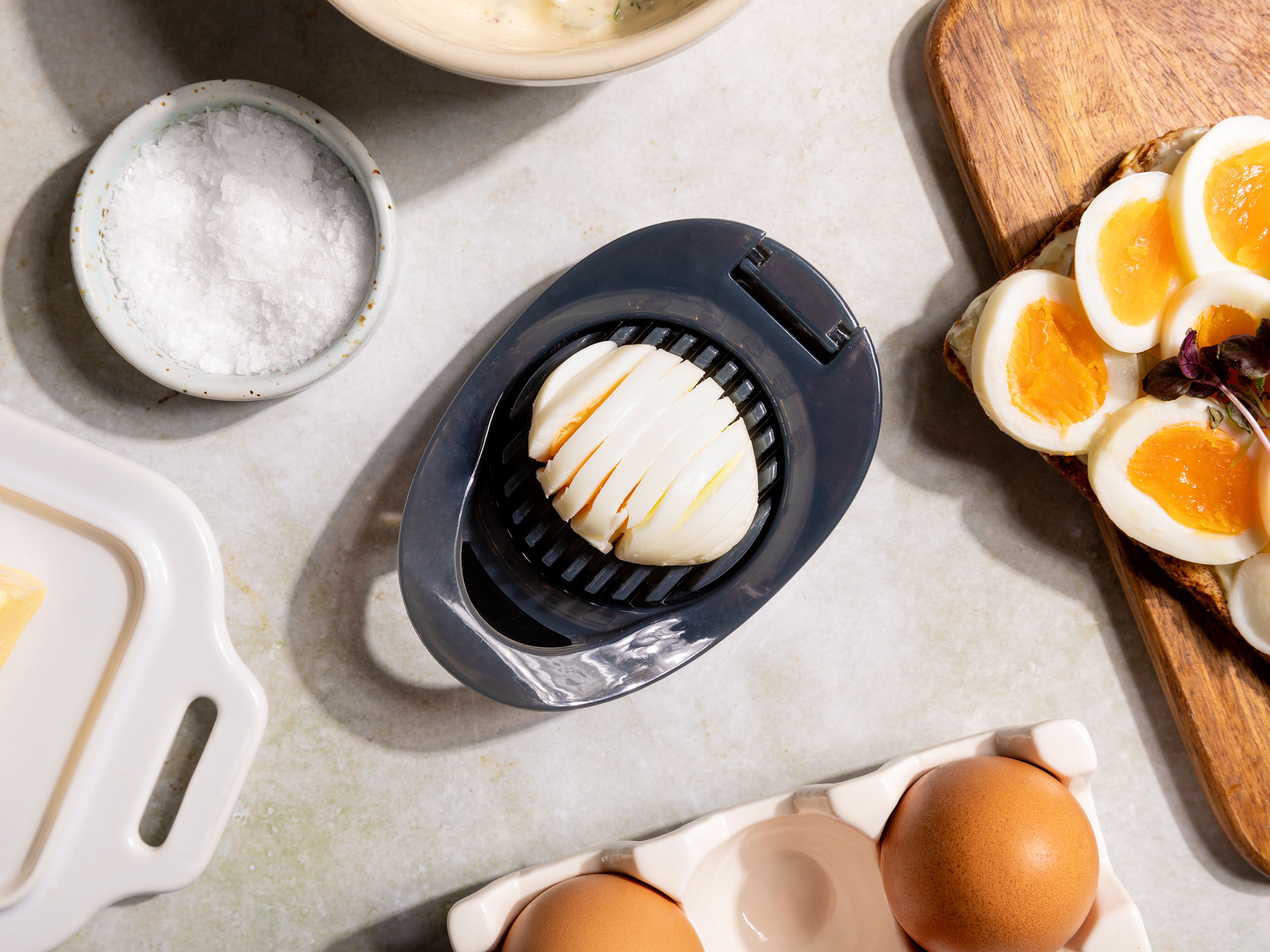 Pro: Straightforward, easy to use. "Guillotining" an egg gives a strangely satisfying feeling!
Con: You just have to be careful the egg is properly cooked so that it doesn't mush or crumble under the blades.

Try it with this recipe:
Make a Niçoise-ish salad with Devan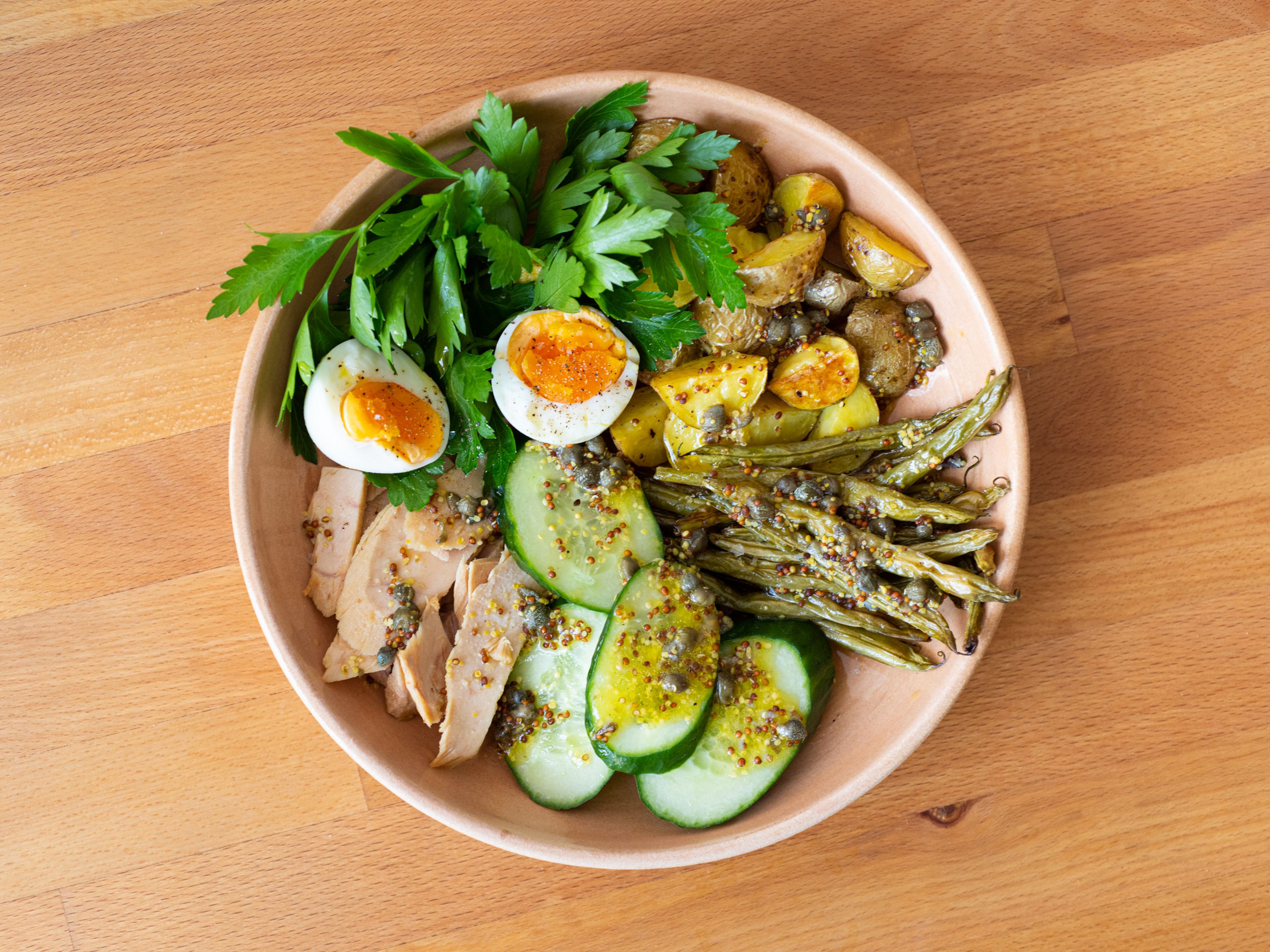 → Go to recipe
Yolk separator: For bakers and beyond
This one comes in particularly handy for the bakers among us. If you're not yet skilled at the classic trick of transferring egg yolk from one half of the shell to the other in order to separate the white, or if you're tired of those tiny shell bits that end up in the batter somehow, this simple utensil comes to your rescue. There's no magic trick: just physics. It's satisfying to watch the egg white slide through the metallic swirl while the golden yolk collects–both parts to be put to use as you please.

No need for separation anxiety with this simple tool!
Yolk Separator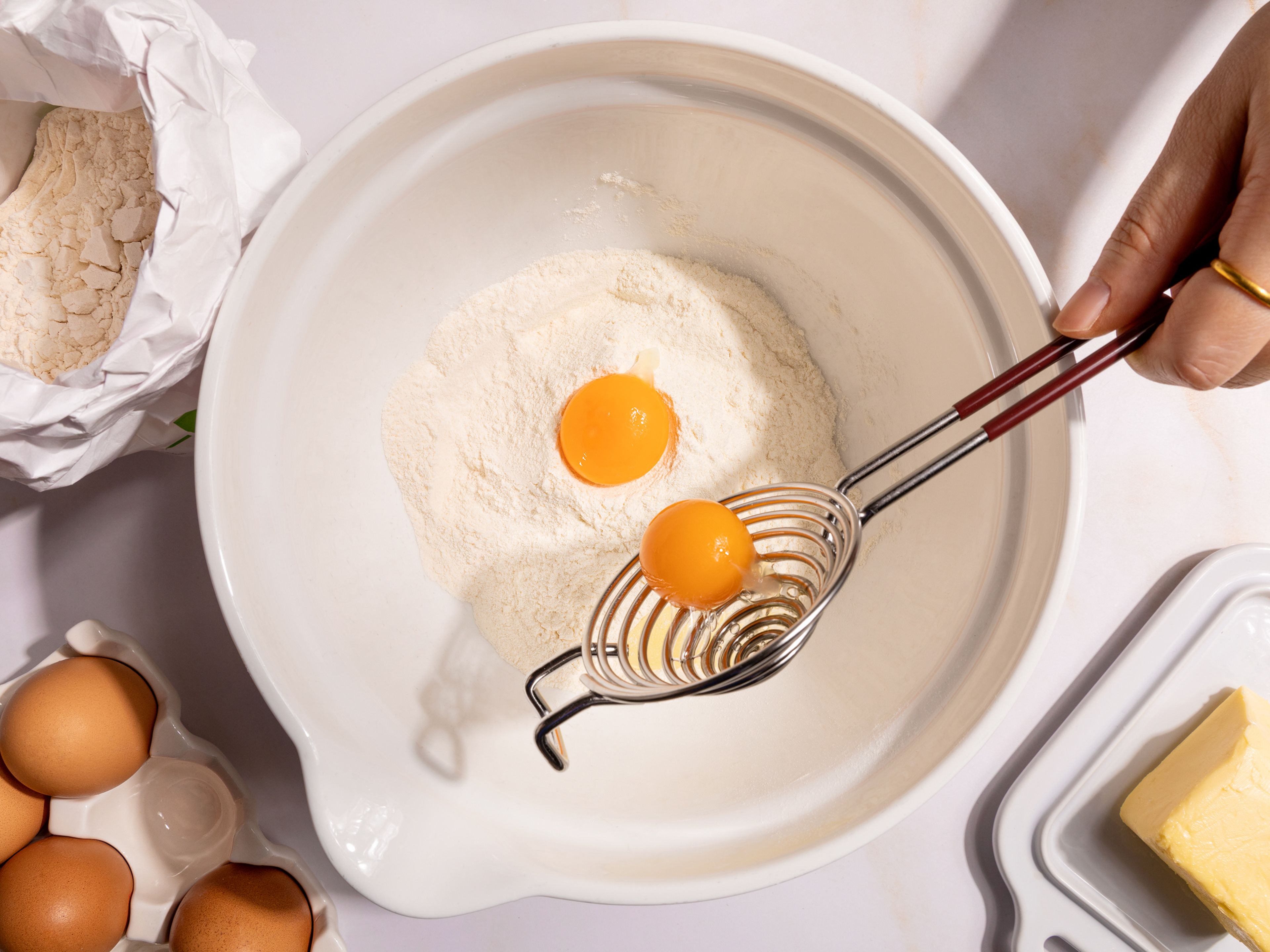 Pro: Easy to use, straightforward, no electricity or extra preparation needed. Sturdy and easy to clean. If you're looking for a tool to help you separate yolks and the whites, this is it!
Con: The price tag of 9.98 euro may seem excessive for a small tool.

Try it with these recipes: Our 10 Favorite Ways to Use Up Leftover Egg Whites And Yolks
Egg poacher: For the picture-perfect brunch at home
It is truth universally acknowledged that in a family, a couple, or a group of friends, there is always at least one person that knows how to make that perfectly poached egg. That person is not me, and that's why I needed to try these colorful silicon cups that promise to help you poach these elusive eggs causing no casualty. With these cups, you no longer have to use a whole pot of boiling water: use a shallow pot or a deeper-set pan, fill water up only up to 2-3 cm high (making sure it doesn't spill over into the cups), grease the cups with any kind of oil, pop the eggs in them, place the cups into the water. Cover up and cook for 5-6 minutes, and voilà! You have poached your eggs successfully.
Don't poach them, cup them!
Silicone Poached Egg Maker

Pro: Saves water & requires less attention than poaching in water. Made in food-grade, environmentally-friendly silicon. This package comes in a set of four, enough to poach multiple eggs at once: great for a group breakfast.
Con: Even if you grease the cups, you still have to be careful not to break the eggs when you're sliding them out.


Try it with this recipe:
Çilbir (Turkish poached eggs with yogurt)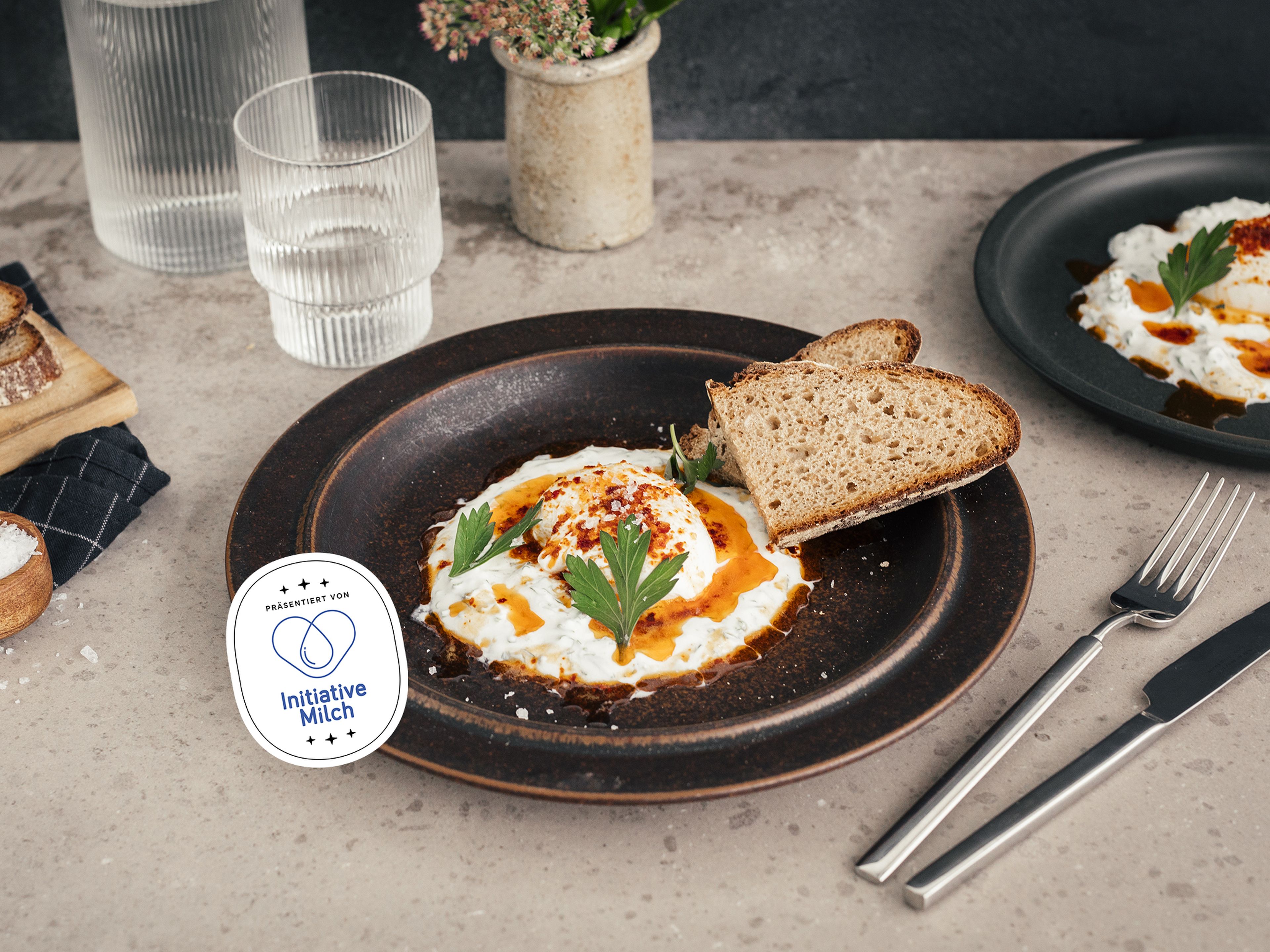 → Go to recipe
Square pan: For an omelette with a (square) twist
This one is for the omelette lovers, especially if you want to make Japanese tamagoyaki or Korean gyeran-mari. Follow your regular steps of making an omelette, only the shape of this pan makes it square so it's easy to fold into a roll! I've owned this pan for a couple of years now, and it was one of those utensils that made me ask: Is it really necessary? before the purchase. But it has turned out to be a delightful kitchen addition that I reach out to more often than I thought: It is frankly perfectly interchangeable with regular pans, just with a different, fun shape. It has a sturdy nonstick coating, the size (20 cm long, 4 cm deep) works for most pan-fried or stir-fried dishes of small amounts, including up to 2 sunny-side-ups or 3-4 scrambled eggs at the same time.

Try this, be square! 
Tamagoyaki Pan

Pro: Helpful for specific recipes, also a nice alternative to regular round pans: If you're looking for a new pan, why not go for the square one?
Con: The design and size specifications may make it less versatile.
We get by with a little help from our friends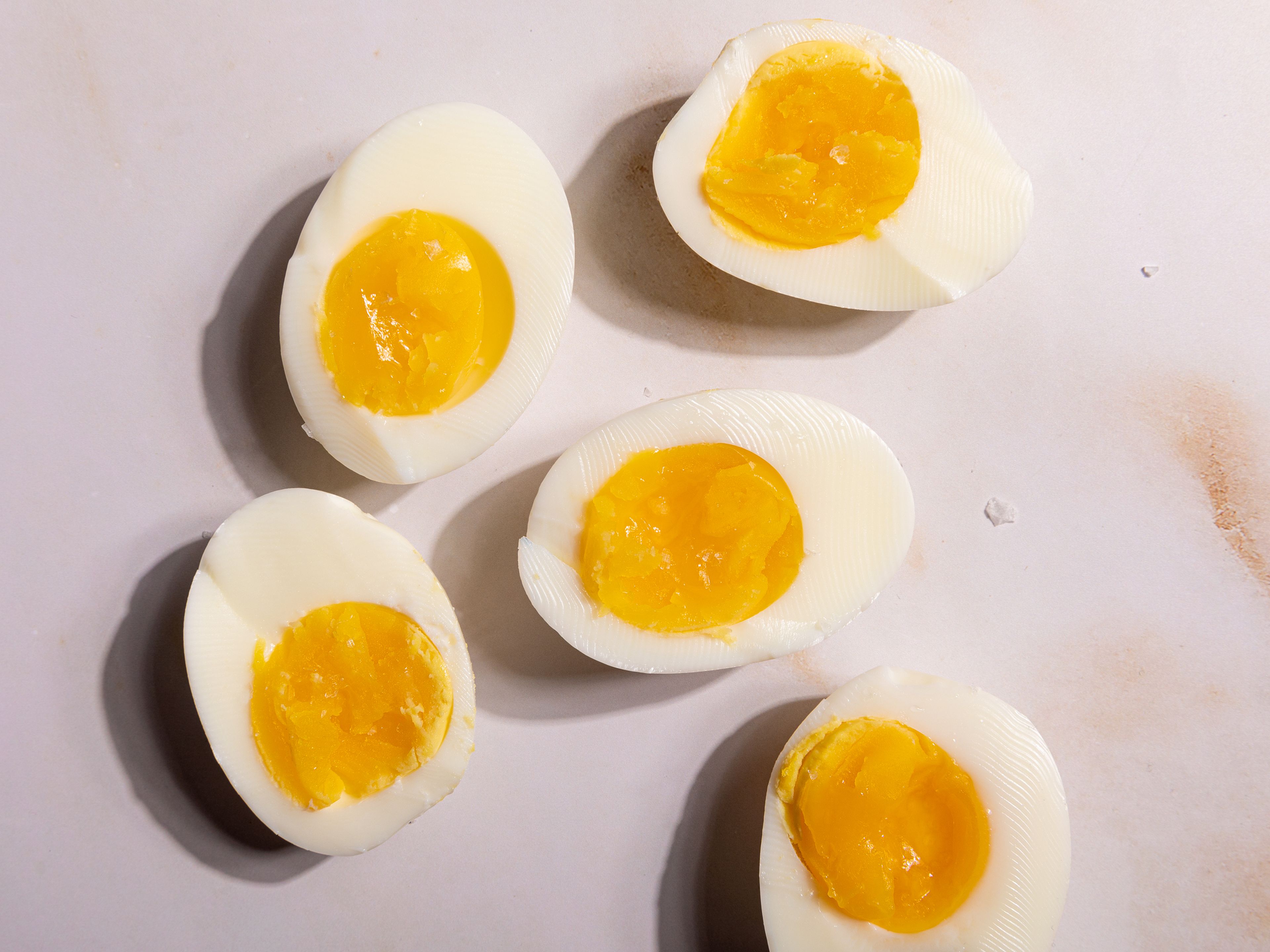 Having a small gadget in the kitchen may not revolutionize your kitchen routines, but in our experience, it certainly does diversify them, especially with classic recipes using eggs. With Easter around the corner and plenty of eggs to be cooked, we hope our selection helps keep you (and the bunnies) excited for the routines that might otherwise seem boring!

Have you tried any of these already? Do you have a favorite egg gadget? Tell us in the comments!

We independently select, review and recommend the best products to you. If you buy something through our links, we may earn a commission.
Published on March 25, 2023
More delicious ideas for you