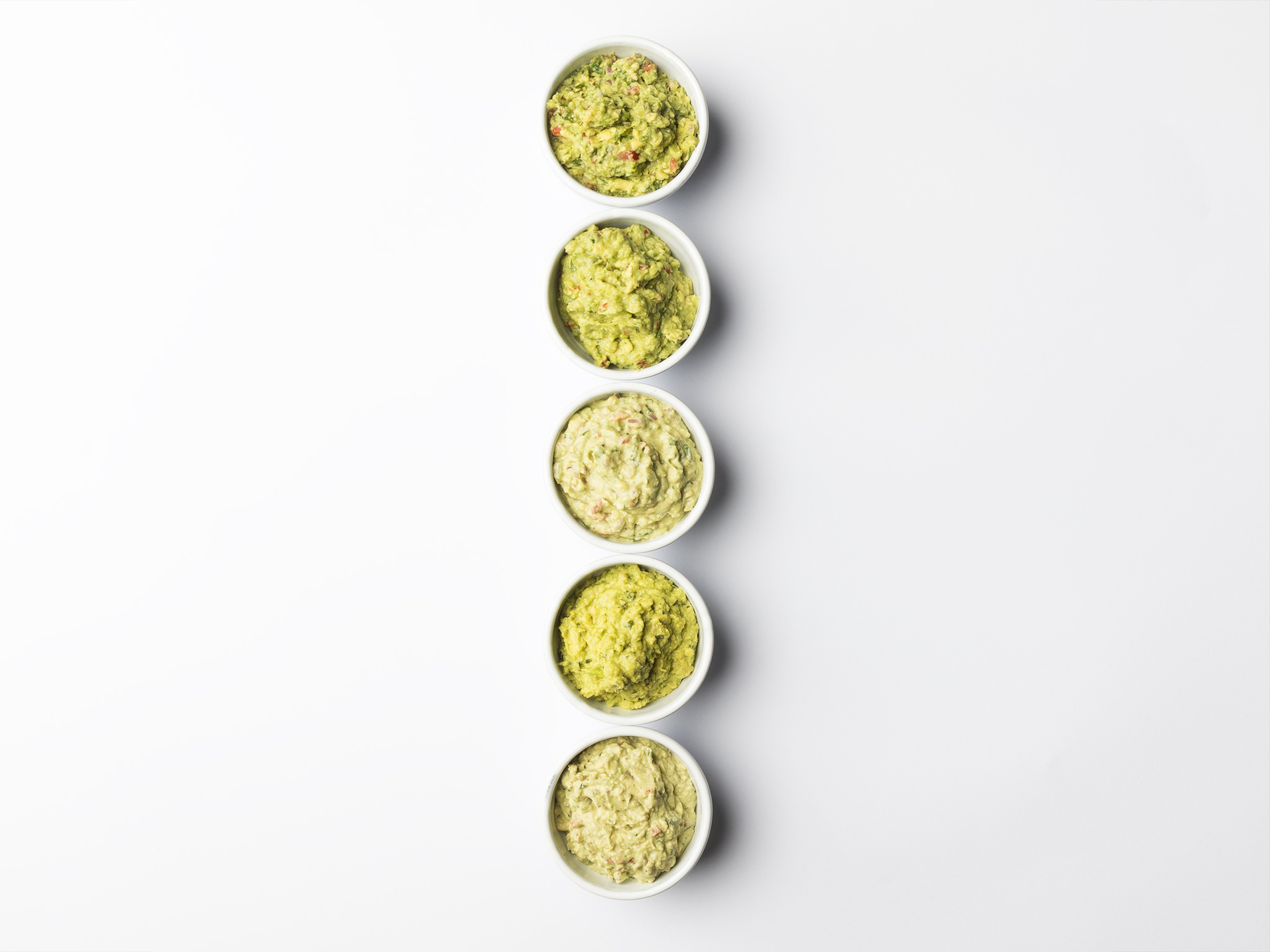 The Best-Ever, Only-Recipe-You'll-Ever-Need: Homemade Guacamole
We tested the 5 "best" recipes to find "the bestest"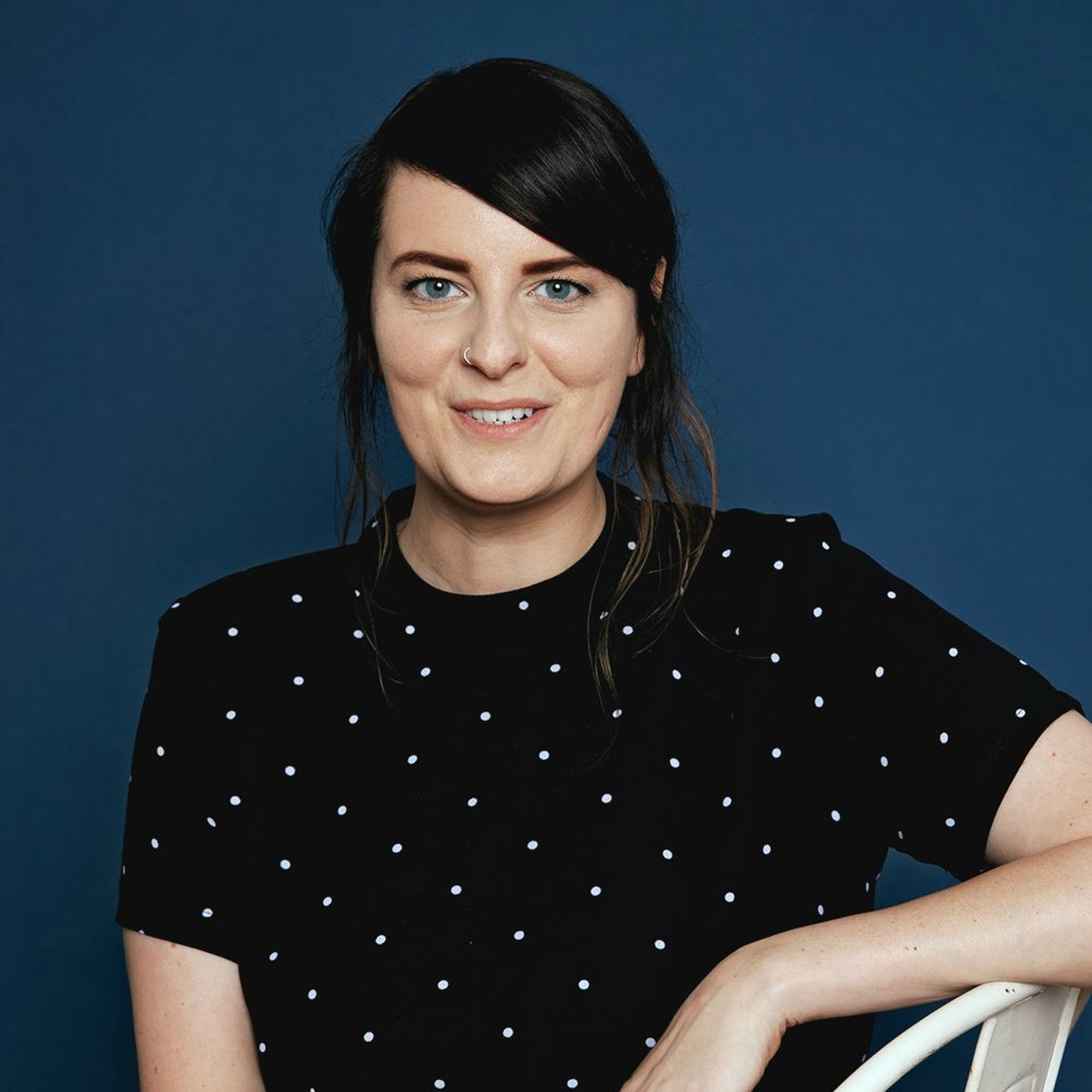 Every other month on Kitchen Stories, we investigate the best-ever recipe for classic dishes by putting the top 5 recipes from chefs and food blogs to the test. We prepare and serve them to our highly-qualified Kitchen Stories Eat Force and rank them to find the 'bestest' recipe. If you have a special request for the next best recipe, leave a comment underneath the article!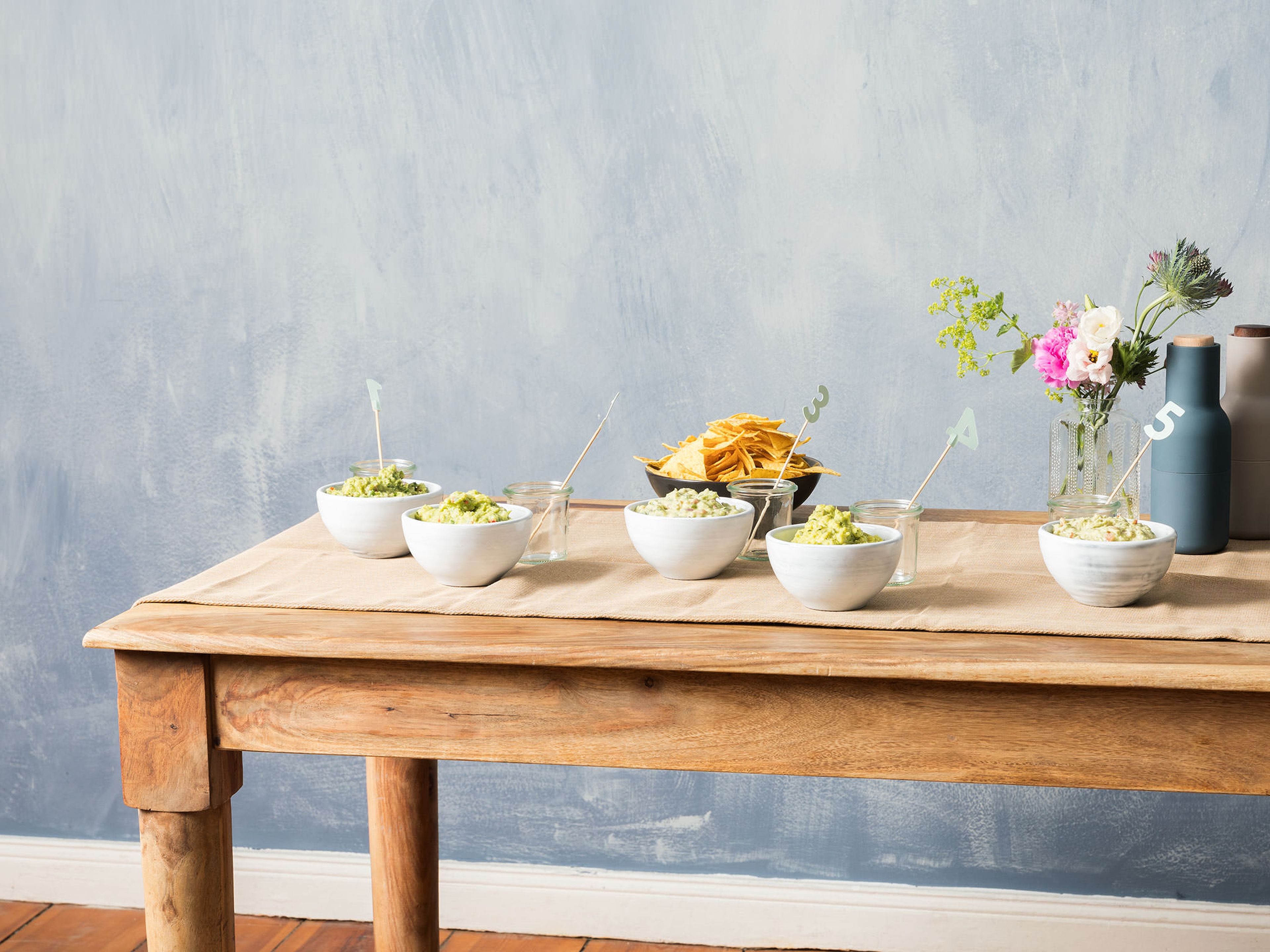 Today, it's all about an all-time favorite: guacamole! It's the ultimate snack to serve at parties or casual get-togethers—when is eating guacamole 'not' a communal event? It's fresh, creamy, and no matter what else serve with it, it's always the first to go. But not all avocado dips are created equal and almost everyone has firm opinions about how to make the best guacamole. To find the best ever guac recipe, we decided to test five of the most popular recipes we found on the internet.
THE CANDIDATES
1) 'Classic Guacamole' by Martha Stewart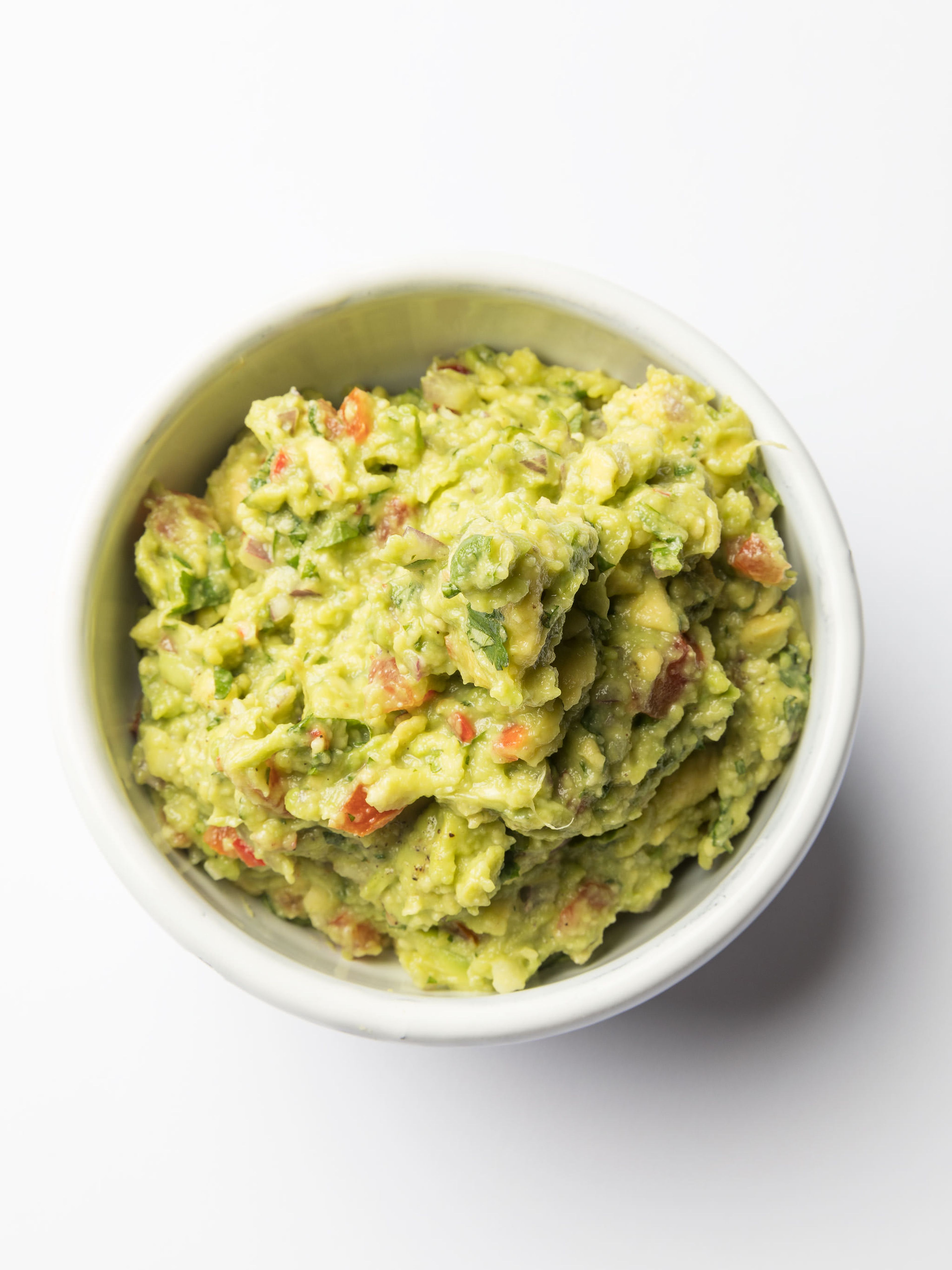 After going from triumph to triumph in our last contests (although she did lose the crown by the smallest of decimals in our last scrambled eggs round), we were curious to see if Martha would take the lead with her simple guacamole. Besides the indispensable avocado, her recipe for a classic guacamole contains tomatoes, red onion, jalapeno, garlic, salt, and pepper—plus a handful of chopped fresh cilantro which she cites as "the key to making the best guacamole". Find the chunky guacamole recipe here.
2) 'Spicy Three-Pepper Guacamole' by Food & Wine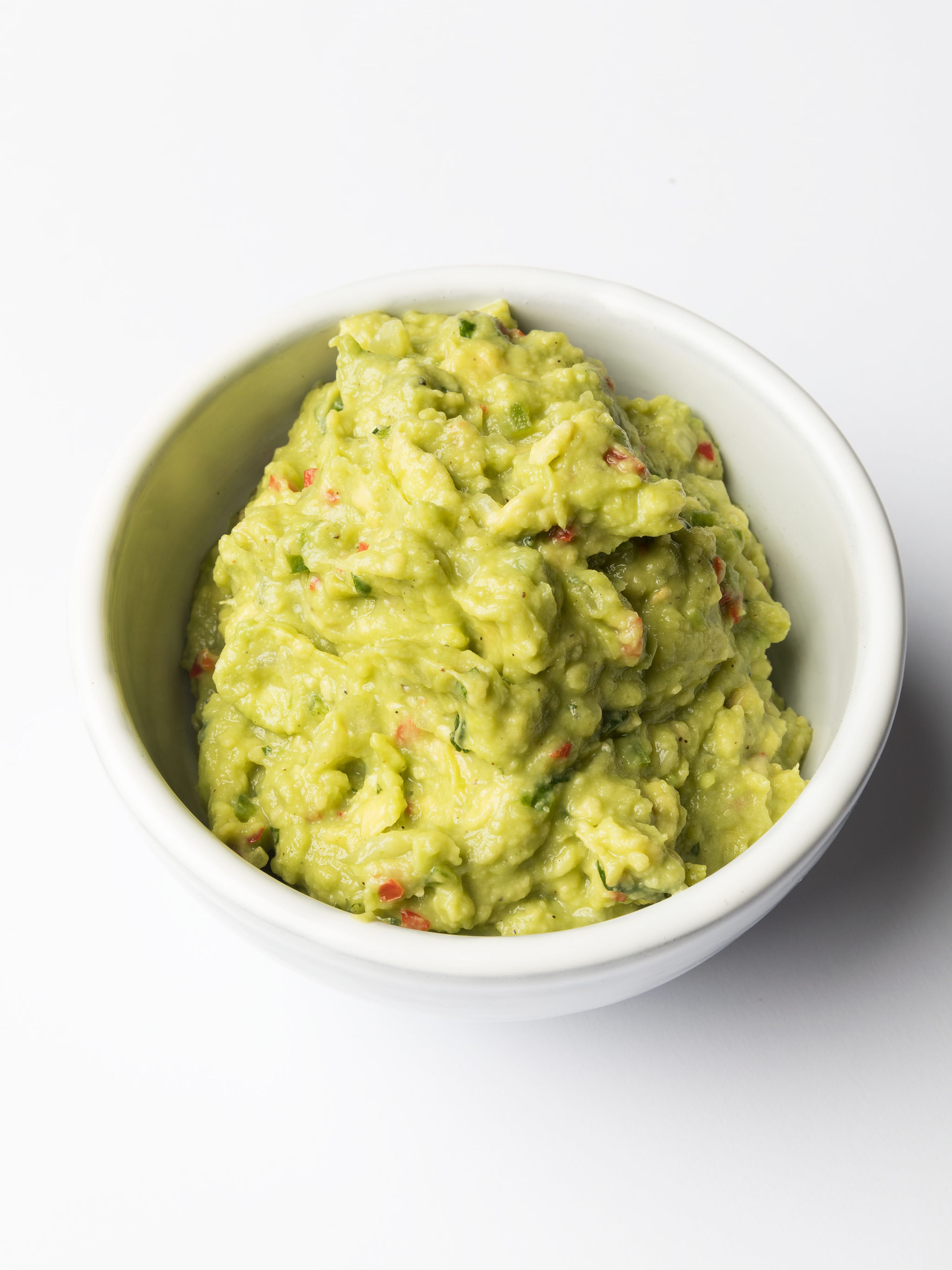 Food & Wine "bring the heat" with a mix of Fresno, jalapeno, and serrano chili peppers. Diced onion, fresh cilantro, and lime juice act as the sidekick for this fresh and spicy avocado dip. But can this version convince our audience? Find the recipe here.
3) 'Healthy Greek Yogurt Guacamole' by Chef Savvy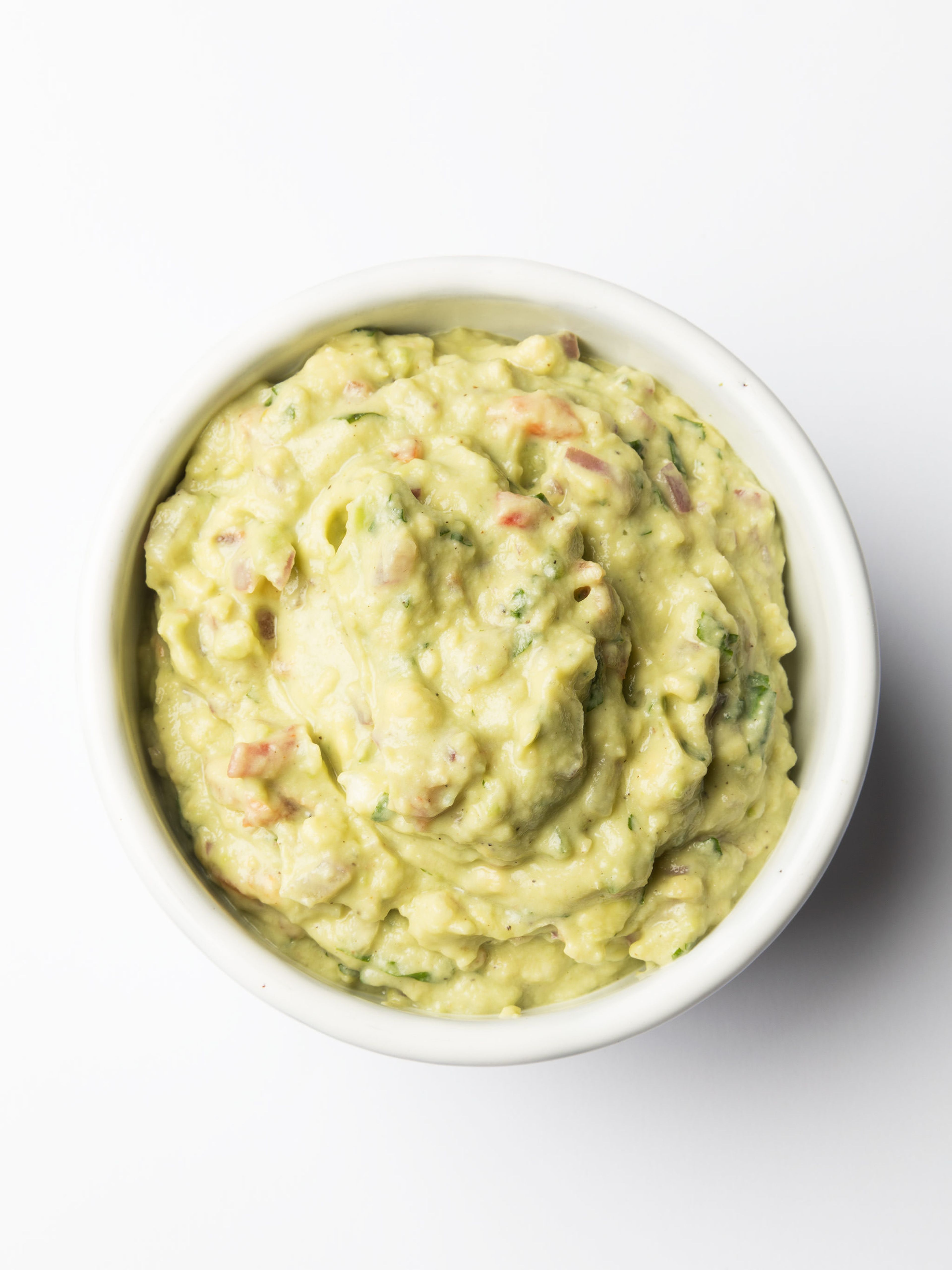 According to Chef Savvy, this rich and smooth guacamole "lowers the calories and adds tons of protein" with the addition of Greek yogurt. Lime juice, cilantro, red onion, and jalapeno complement this creamy avocado dip. But is this supposedly healthier guacamole recipe a winner for everyone? Find the recipe here.
4) 'Grilled guacamole with parmesan and basil' by Cannella Vita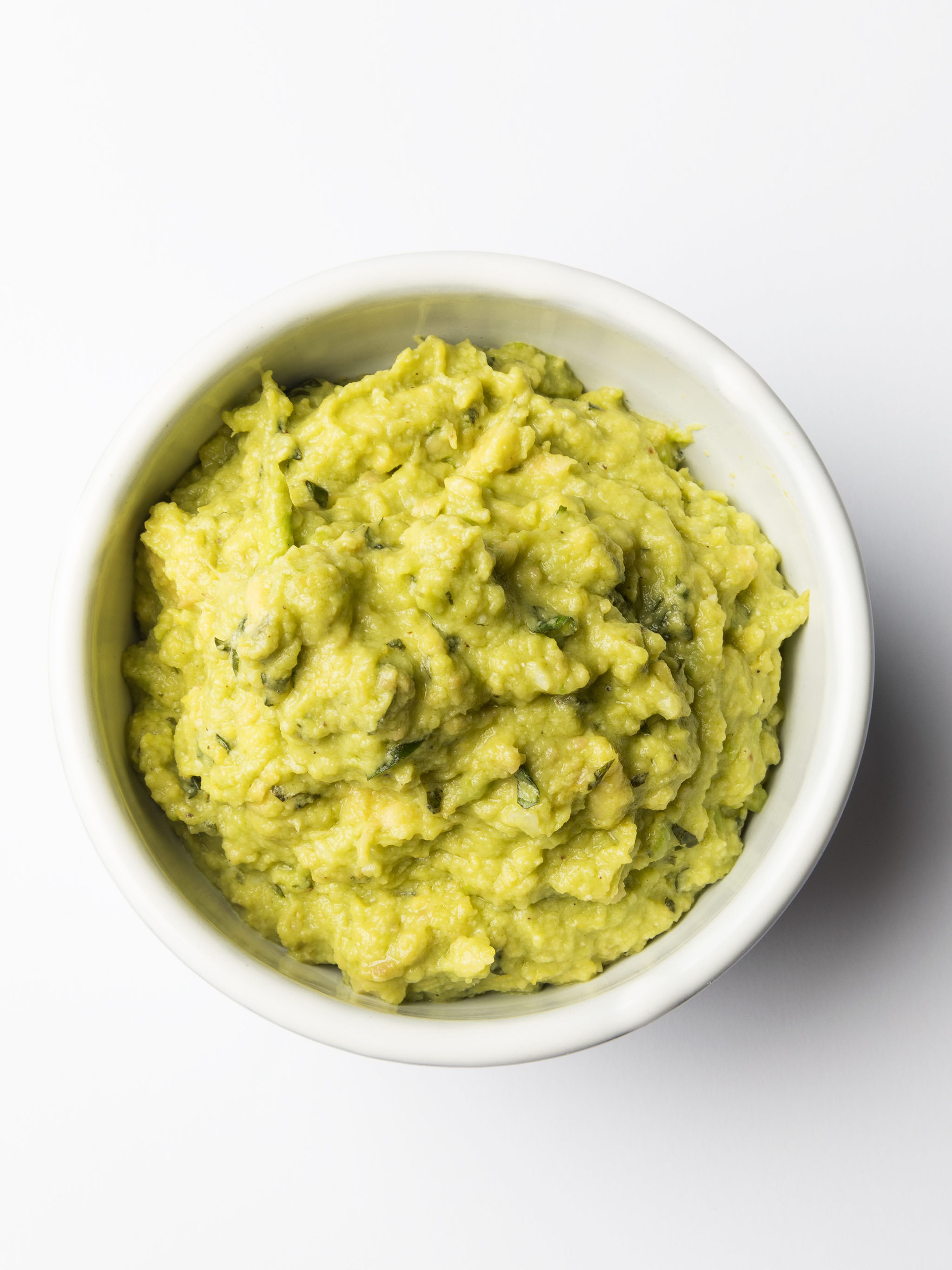 The special thing about this recipe? Cannella Vita uses a panini press to grill the avocados first. If you're looking for cilantro and lime here, you'll do so in vain. This herby and cheesy version uses basil and Parmesan, adding "an Italian twist to the Mexican favorite". But can this twist on the original please our crowd? Find the recipe here.
5) 'Creamy Guacamole' by Farm to Table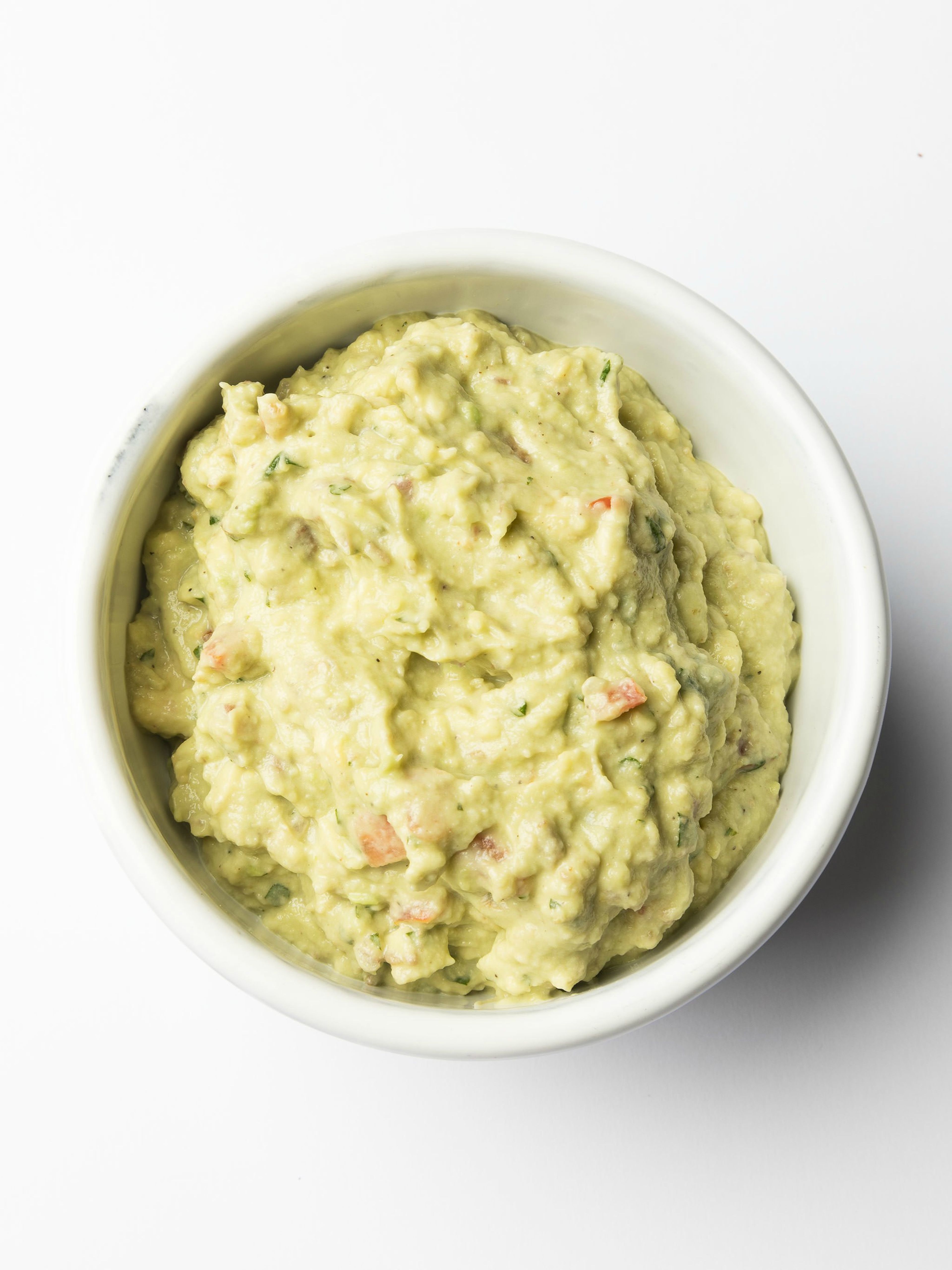 Our final guacamole recipe is presented by Farm to Table, using cream cheese as the secret weapon to "highlight the creaminess of the avocados" and make it the star flavor in this recipe. The great thing about this guacamole is that you can store it in an air-tight container for up to 1 day without any browning. Find the recipe here.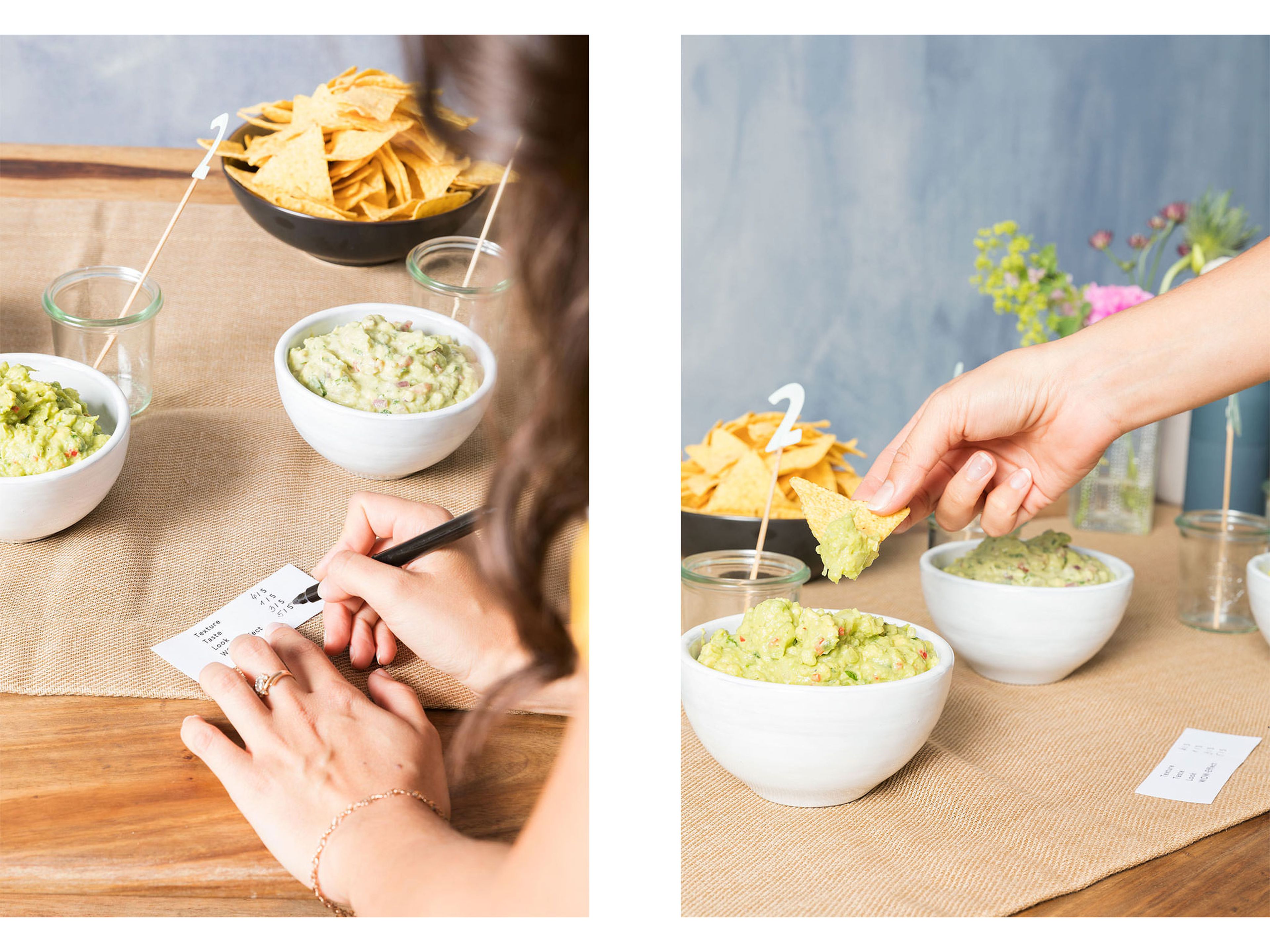 THE WINNER
As always, we set up a blind tasting. To do so, we lined up 5 bowls of guacamole and served them to the Kitchen Stories team to give their grade of approval. The recipes were rated based overall taste, texture, look, and wow-factor. Our discerning jury tried each guacamole recipe (there may or may not have been double dipping) and ranked them from 1 (worst) to 5 (best).

All that was left to do was calculate the average score to find out which guacamole was "the best of the best". And here are the results: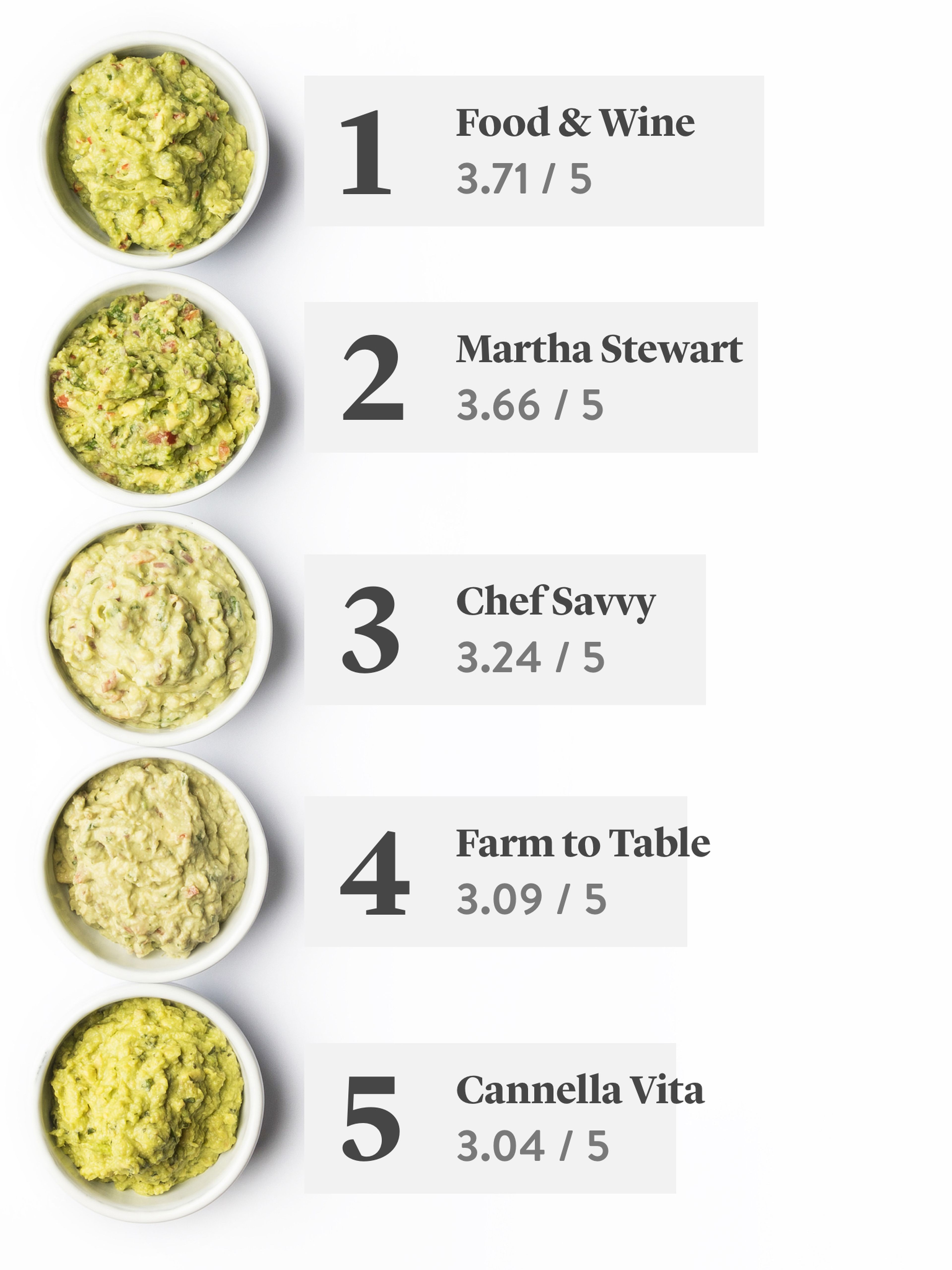 Pass the tortilla chips, we've got a winner! Although it came with the occasional warning during testing ("Be careful with this one! It's super hot!"), our elite Kitchen Stories jury decided that the spicy three-pepper guacamole by Food & Wine was good enough to beat Martha Stewart's classic guacamole recipe—albeit by the merest of hairs. What did we learn from our contest and the results? Here goes:
HOW TO MAKE THE BEST GUACAMOLE
1. Only use ripe avocados
Neither over- or underripe avocados are good for making guacamole, so keep that in mind when buying. Since it's hard to find a perfectly ripened avocado in the store, it's a good idea to buy your avocados a few days before and let them ripen to guac perfection at room temperature: they're ready when the avocado feels soft and will be easy to mash. If you need to speed up the ripening, add them to a paper bag along with a banana and leave for approx. 24 hours. Magic!
2. Additional guacamole ingredients
Making guacamole yourself requires just a few basic ingredients— avocado, olive oil, and lime juice—but variations in ingredients and technique actually do make a big difference. Whether you like tomatoes in your guacamole, white or red onions, garlic, or cilantro—that's totally up to you.
Simple guacamole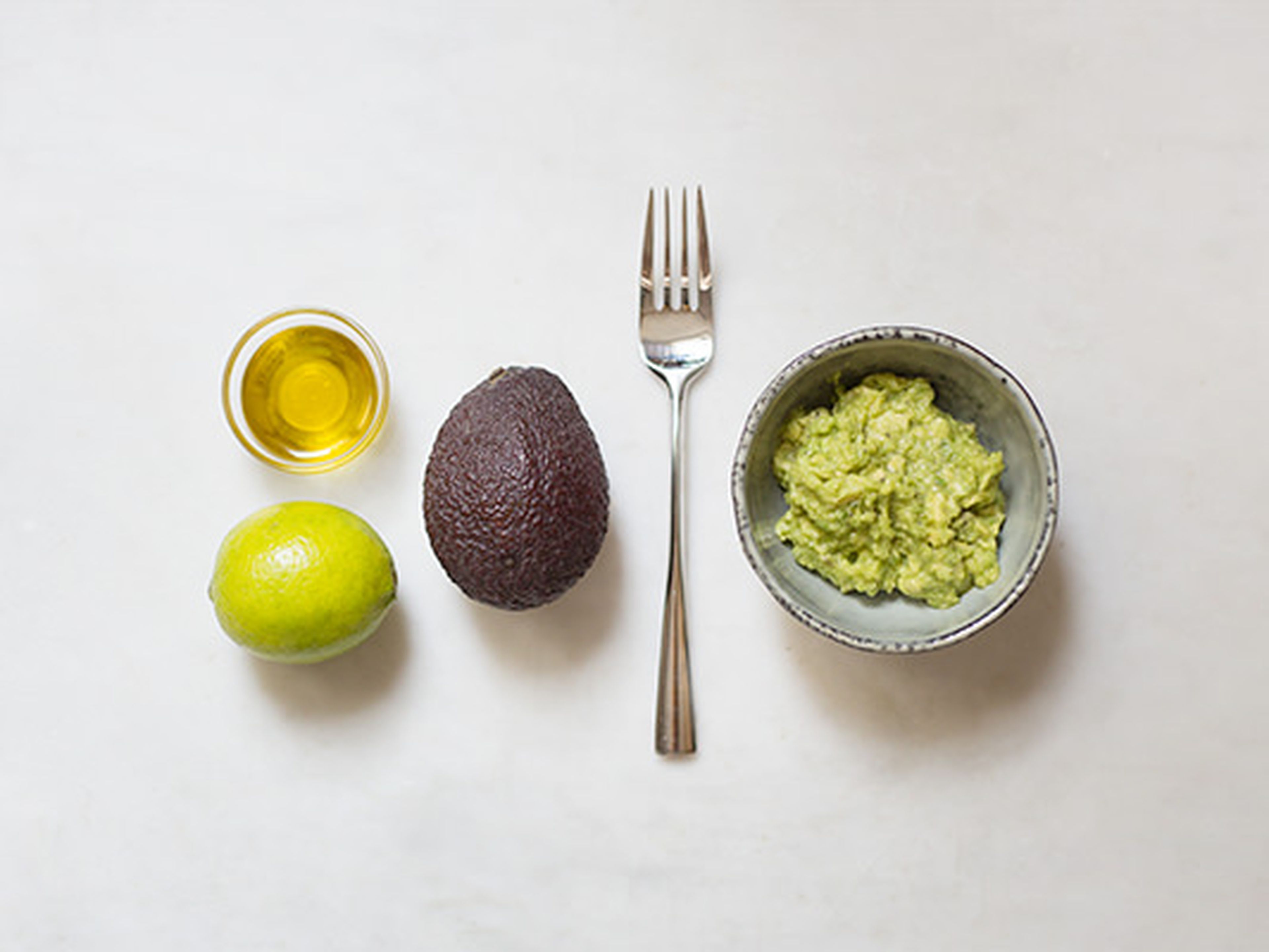 → Go to recipe
If you're unsure what to put in your guacamole, it's always a good idea to start off by preparing a simple guacamole and then to spice it up with additional ingredients according to your personal taste. Premium ingredients like organic avocados or high-quality olive oil sure paid off for us.
3. Say yes to spices
If you love spice as much as our jury, we would definitely recommend adding some finely diced jalapeno or Serrano pepper. Another option is to use ground spices or ready-to-use guacamole seasoning. It brings everything together and dials up the flavor—plus, the natural creaminess of the avocado is there to keep things balanced.

If you want to make a guacamole seasoning mix yourself, simply blend some garlic powder, onion powder, cayenne pepper or dried chili flakes, dried cilantro, and a pinch of salt and cumin.
4. It's a matter of taste
Taste differs. Some people love the authentic Mexican guacamole, some prefer it more spicy and chunky, while other like their avocado—grilled? There's no universal recipe for everyone but you can always try and experiment with different ingredients and variations to find the world's best guacamole…according to you!
WHAT TO SERVE WITH GUACAMOLE
Now that we know how to make guacamole, it's time to properly enjoy it. If you're curious about what dishes go well with guacamole? For us, it's pretty much everything we love: nachos, quesadillas, fajitas, and enchiladas—or dip tortilla chips in it. It's also great with roasted vegetables or to add a kick to salad variations.
Bacon and egg quesadillas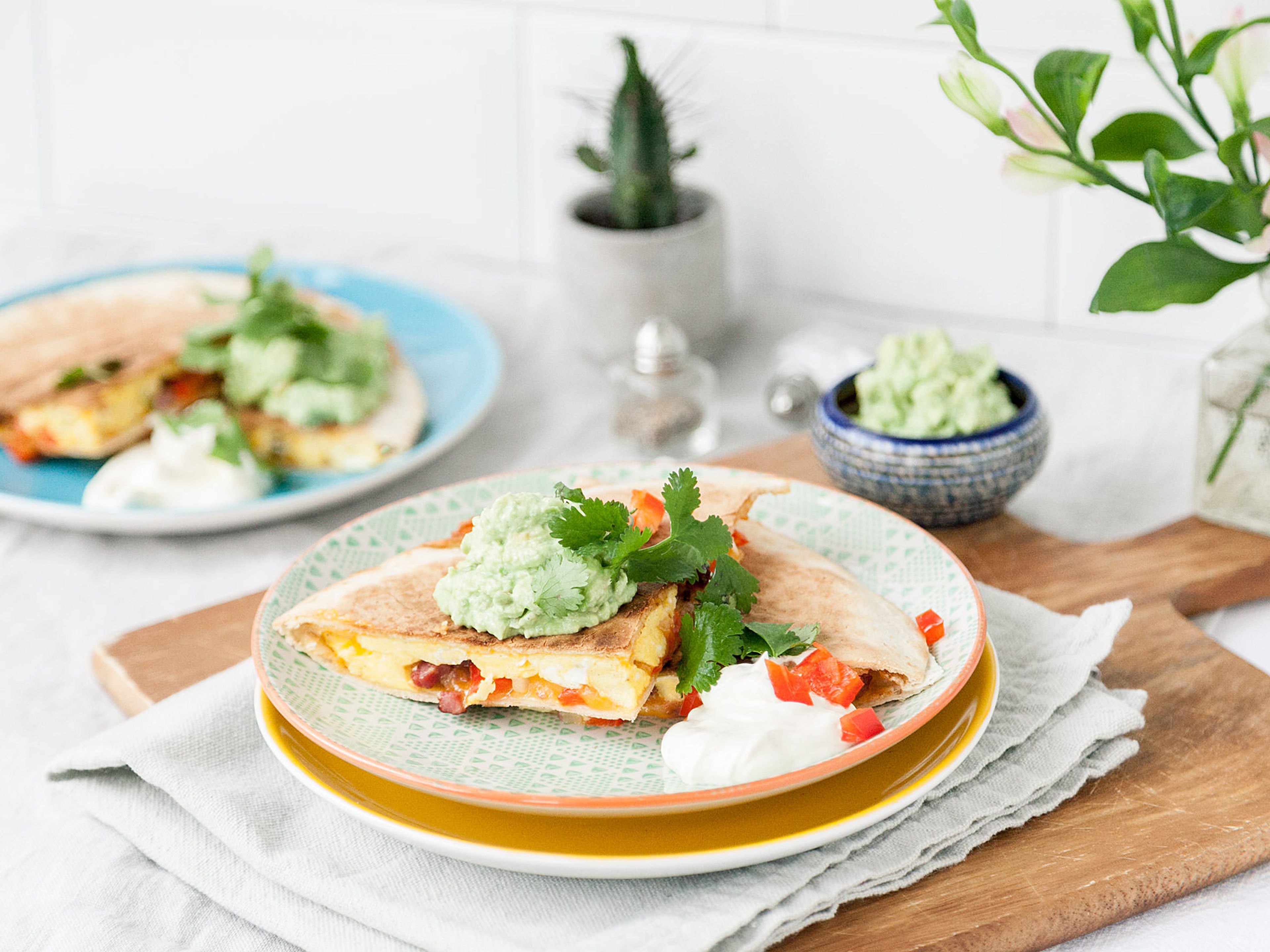 → Go to recipe
Chicken fajitas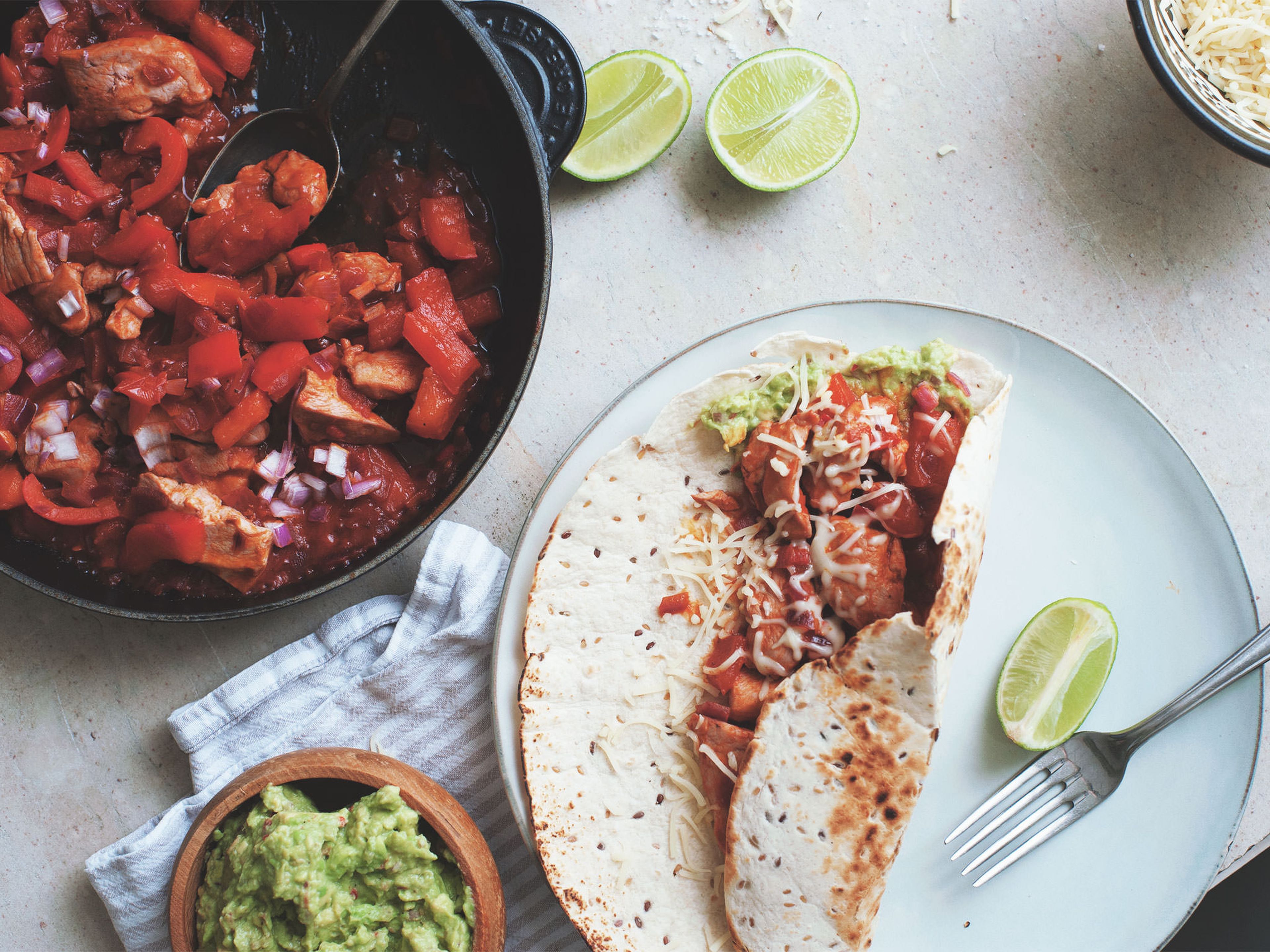 → Go to recipe
Quinoa salad with guacamole and buttermilk-dressing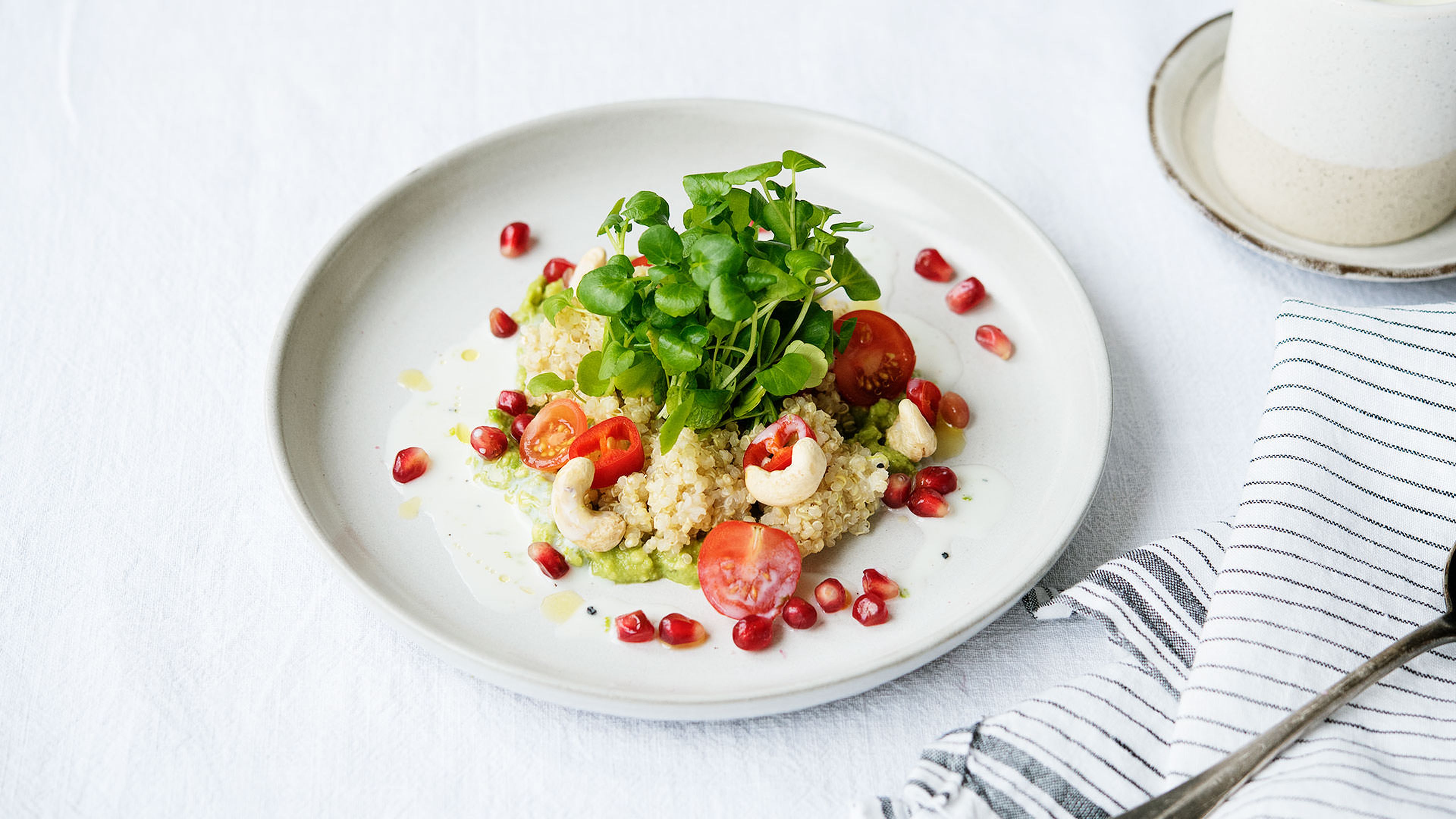 → Go to recipe
And now it's up to you! What's your favorite guacamole recipe? Do you have any of your own tips? Comment below or upload your recipe to our app to share it with the community.
Published on July 8, 2018
More delicious ideas for you