Steak with fried eggs from the griddle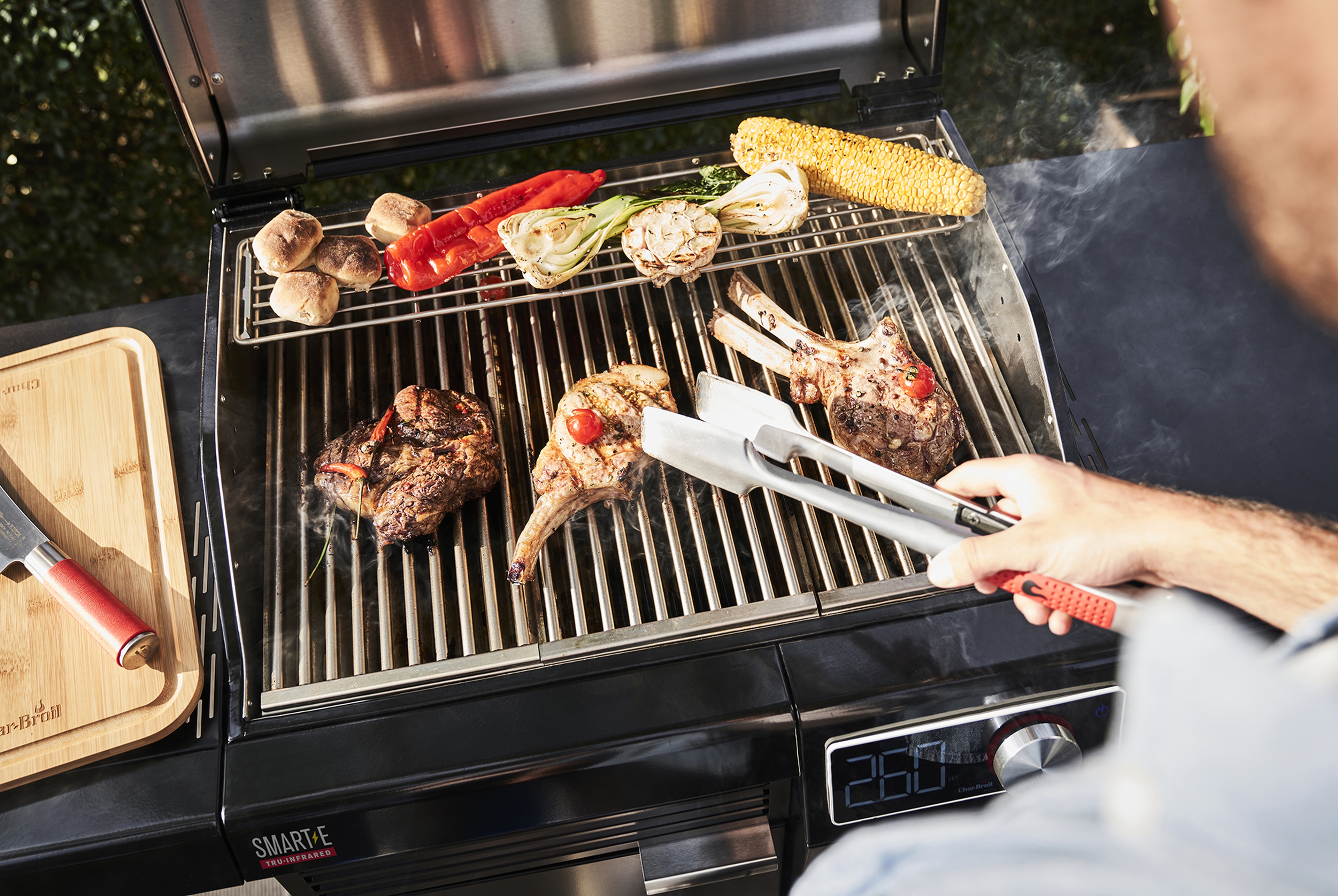 "Steak, fried eggs and diced potatoes with broad beans in a tomato & lime salsa. – Best steak & eggs in the world! Hot tip: Your grill doesn't have a griddle yet? No problem! We have a wide variety of griddles on offer, so you're sure to find the right one for your grill."
Utensils
1 grill, 1 mortar and pestle, knife
Step 1/ 8

First, preheat the grill to approx. 270°C. "Pod" the broad beans, i.e. remove the shell, as this will not soften during cooking. Wash the potatoes and cut them into approx. 1x1 cm cubes with the skin on.

Step 2/ 8

Now make the grill rub. Simply put 3 tablespoons of sea salt, cane sugar, garlic powder, cayenne pepper, aniseed and coriander seed in a mortar and grate briefly. Season the potatoes with it as you like.

Step 3/ 8

For the salsa, first chop a tomato, peppers, onions and garlic, add some lime zest and lime juice and season with salt and pepper.

Step 4/ 8

Lightly salt the steaks and then place them on the preheated grill racks. The steaks should be grilled for about 4-6 minutes on each side. Halve a tomato and lightly grill it. Meanwhile, place the diced potatoes on the griddle along with a little olive oil.

Step 5/ 8

Once the diced potatoes start to cook, add the broad beans to the griddle. Add a little olive oil, pepper and salt. Then turn the steaks.

Step 6/ 8

Just before the steaks are done (after about 4-6 minutes each side), remove the beans and diced potatoes from the griddle. Then break the eggs onto the griddle and season with a little rub. Tip: Be careful not to throw any spice on the egg yolk – it will spoil their signature taste.

Step 7/ 8

Now for the steaks – take them off the grill. Leave to rest for 3 minutes. While you wait, mix the broad beans with the tomato salsa and season to taste.

Step 8/ 8

Carve the steak and serve with the grilled tomato, diced potatoes and bean and tomato salsa. The fried eggs serve to top everything off. Now all that's left is a splash of olive oil and some freshly ground black pepper... And there you go – a meal fit for a king! Enjoy!

Enjoy your meal!
More delicious ideas for you