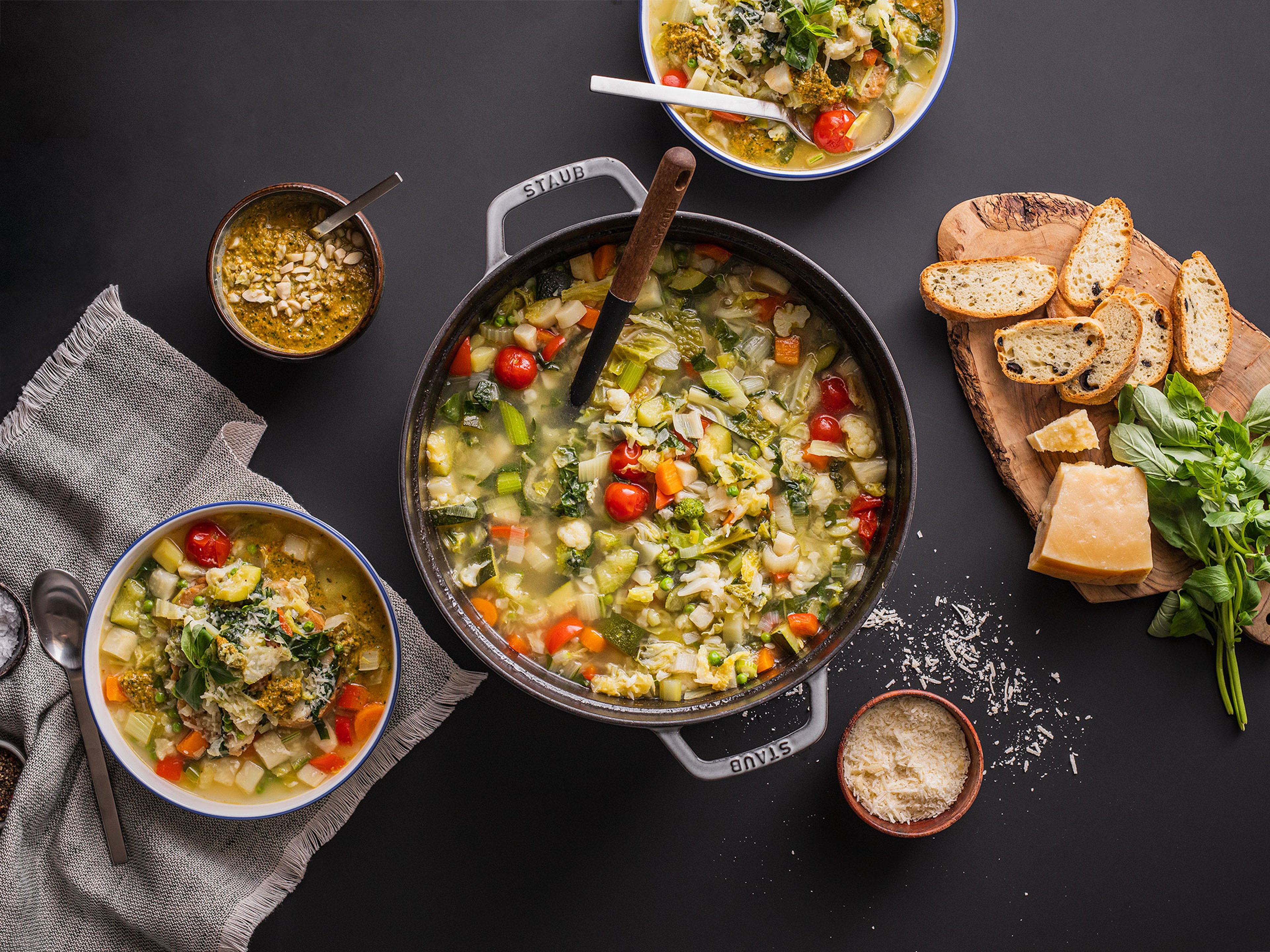 Master Minestrone, the Most Versatile Backpocket Soup
All the ways to make the classic, whatever the season (or what's in your fridge!)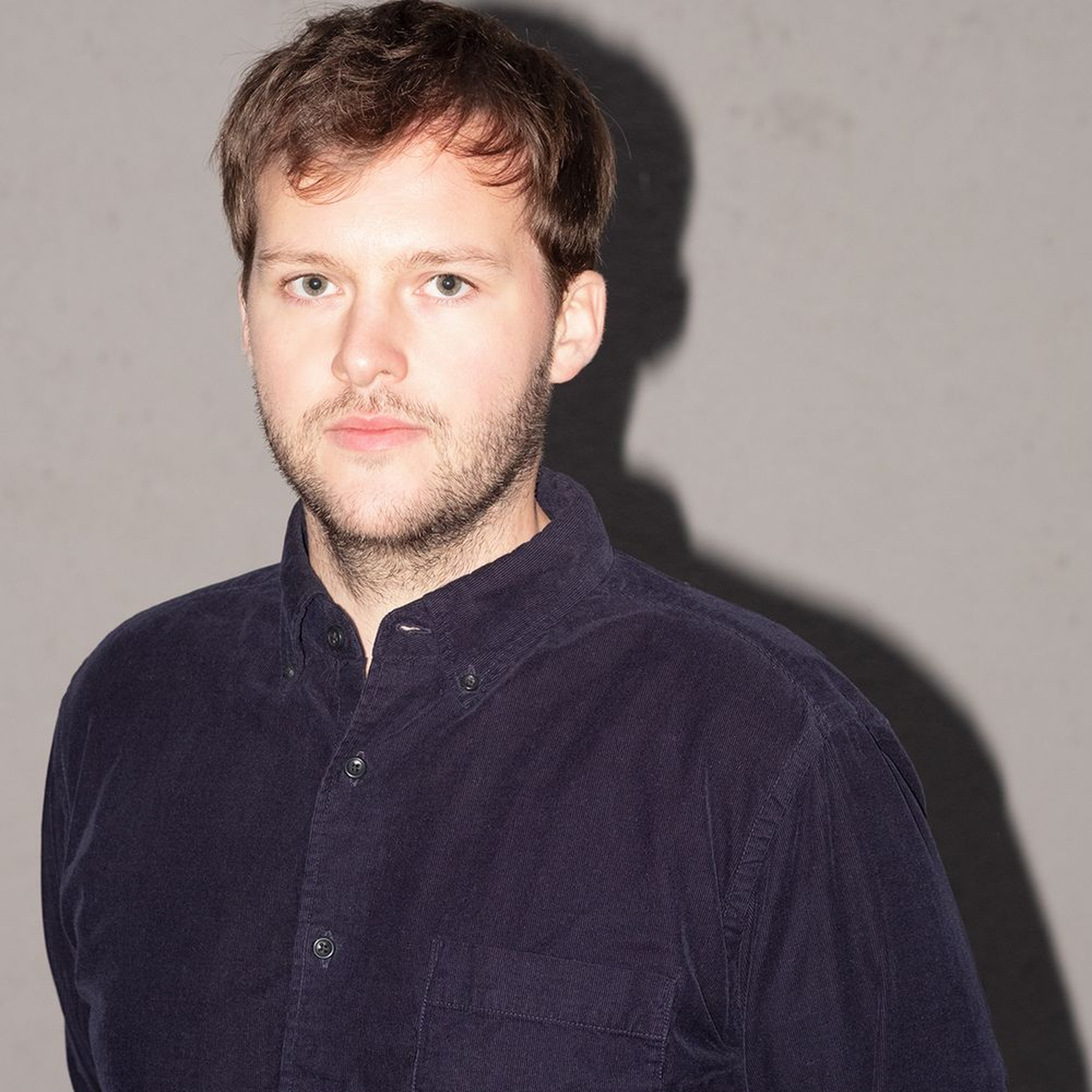 Growing up, was there anything more disappointing than coming home from school, only to discover vegetable soup was on the menu for dinner? The only exception for me was minestrone: I mean, everything tastes better piled high with Parmesan and a glug of olive oil, right? Since then, I've grown to love vegetable soups in all their seasonal guises. Today we're sharing a basic minestrone recipe that you can adapt according to what's in season in your area, or of course, what you happen to have on hand.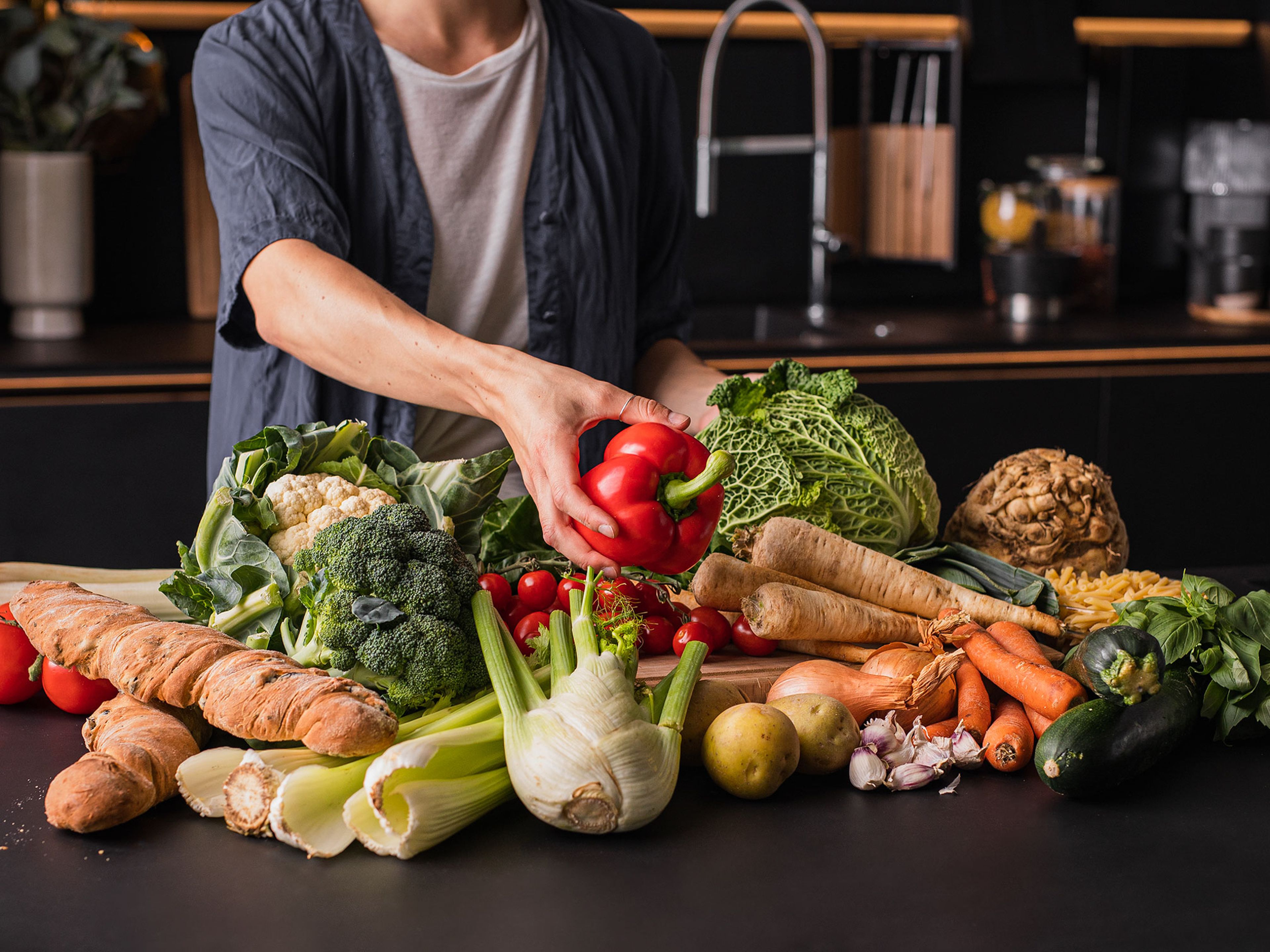 Italy's many minestrone recipes
If you're looking for 'the' authentic recipe—our apologies. Minestrone in Italian is more of an umbrella term for 'vegetable soup', and the variations are likely as many as there are families in Italy, with the season and time of year also playing a part. Wintery minestrones might see savoy cabbage, root vegetables, or Swiss chard added to the pot; summer, on the other hand, might favor zucchini, eggplant, and tomatoes. The Genovese version is light on the cabbage family, but is served with a dollop of pesto; in Apulia, you'll find turnip tops in the mix; while in Tuscany, regional cavolo nero and a handful of white beans make their mark–and, in an even craftier move, the whole thing is re-cooked the next day with old bread and tomatoes to be reborn as ribollita, a local bread soup.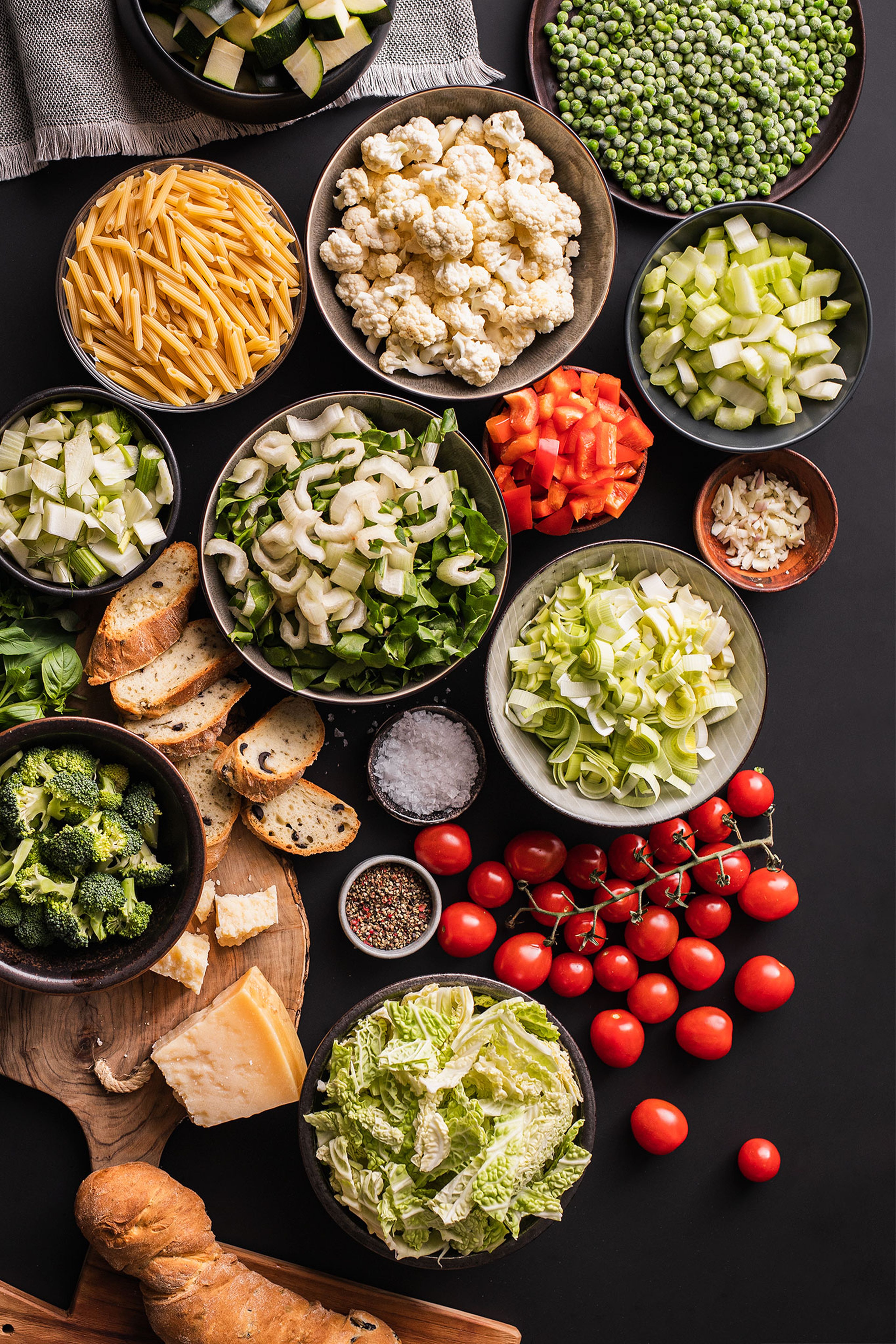 So, what do all versions of minestrone have in common?
There is one thing, however, that all versions have in common: Each makes use of fresh, in-season vegetables, cooked through to perfection, and is served with a generous dusting of Parmesan or pecorino. Naturally, no stock cubes or ready-made herb mixes make their way in—instead fresh fennel, rosemary, thyme, bay leaves, or sage infuse the pot. For a heartier version you can fry pancetta or dried mushrooms in olive oil to begin with.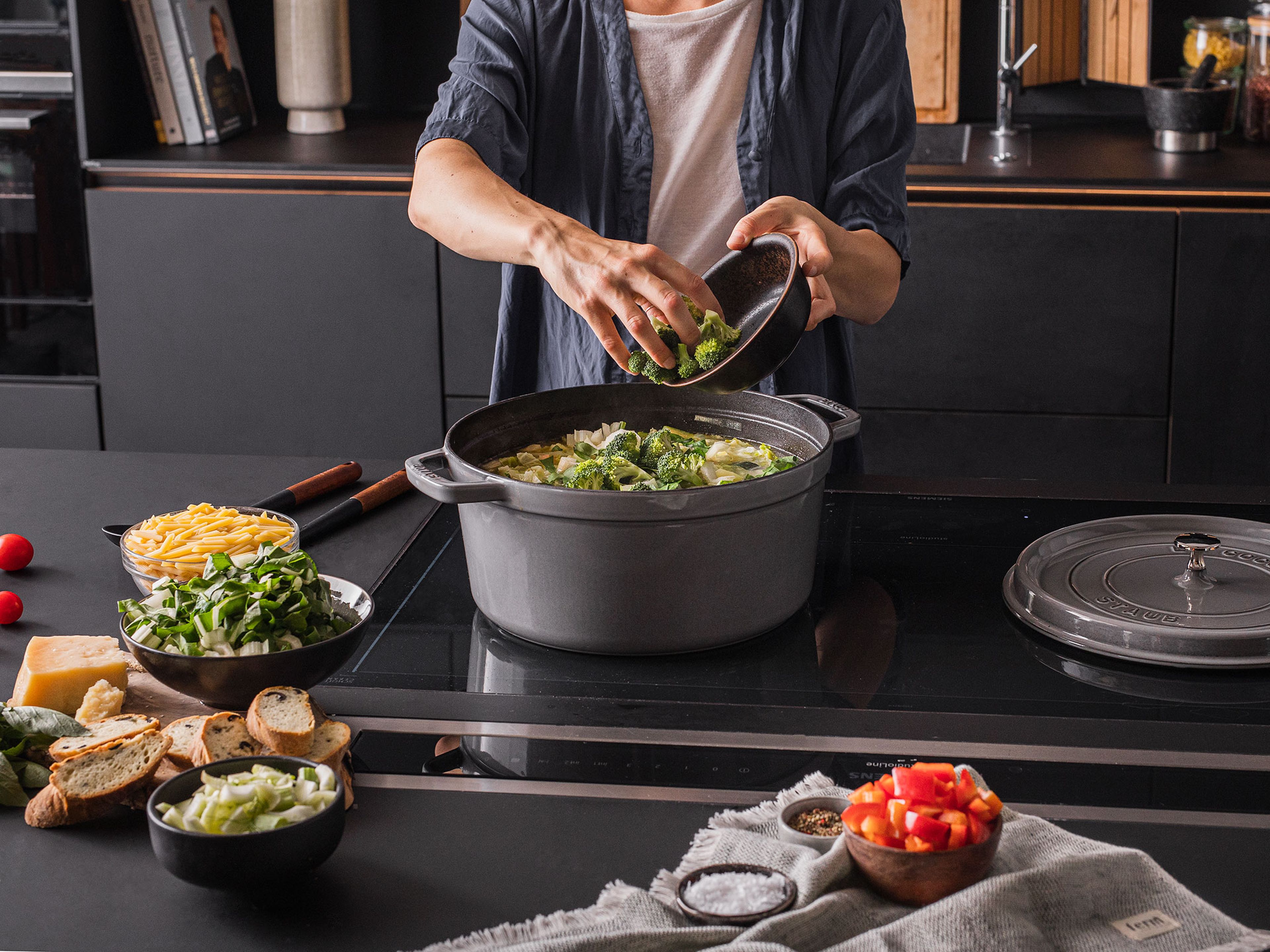 To help you get start, try Lisa's basic minestrone recipe. Feel free to substitute different vegetables, based on your preferences, what you can find at the market, or whatever's hiding at the back of your fridge.
Basic Minestrone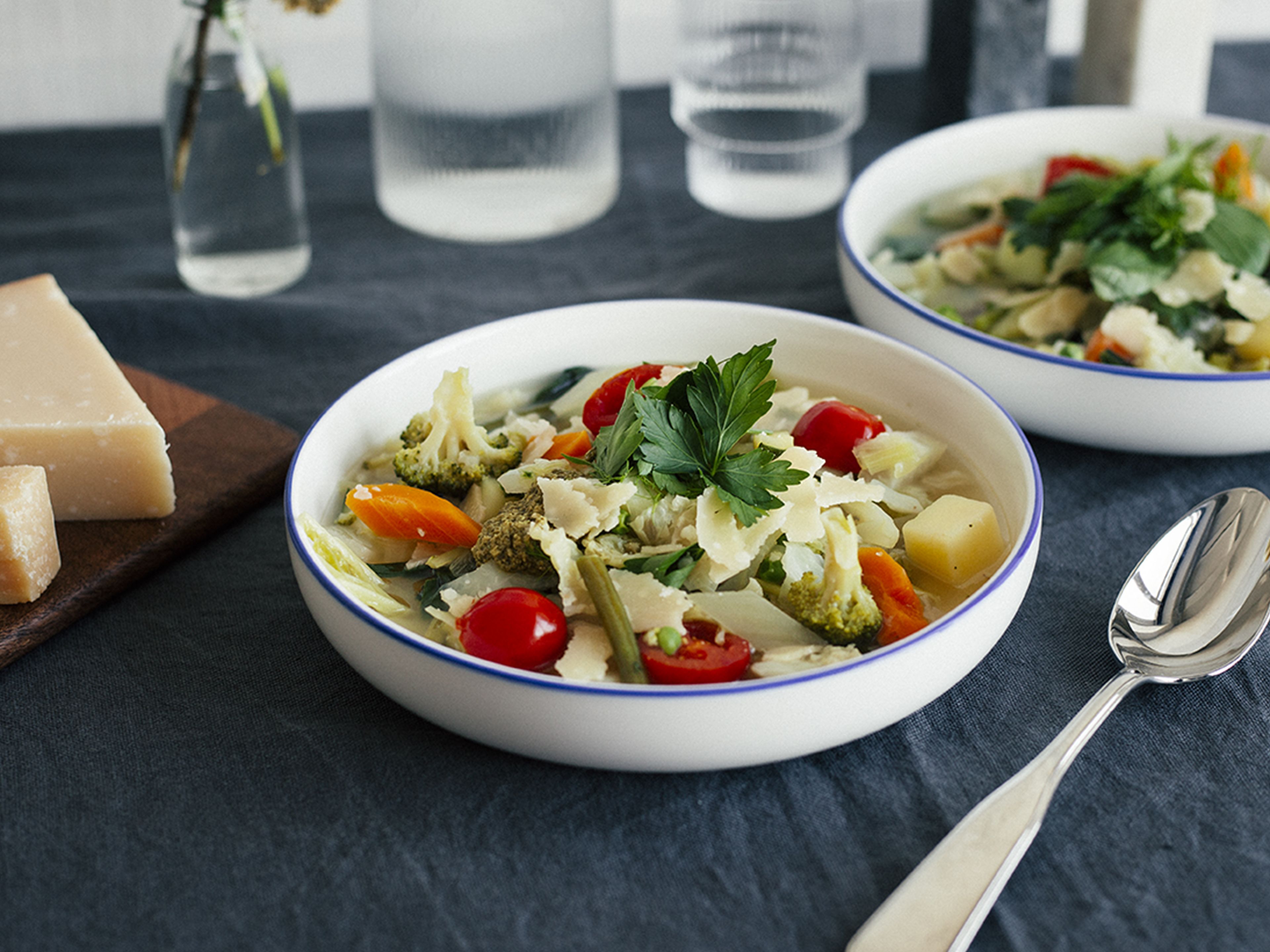 → Go to recipe
Here's your step-by-step guide
It's important that the vegetables still have a bit of bite to them in the end—there's nothing worse than mushy, waterlogged vegetables. We've made a handy infographic to help you work out how long different types of vegetables need in the pot, plus ideas for how to vary the recipe. Here's the order of ingredients to keep in mind: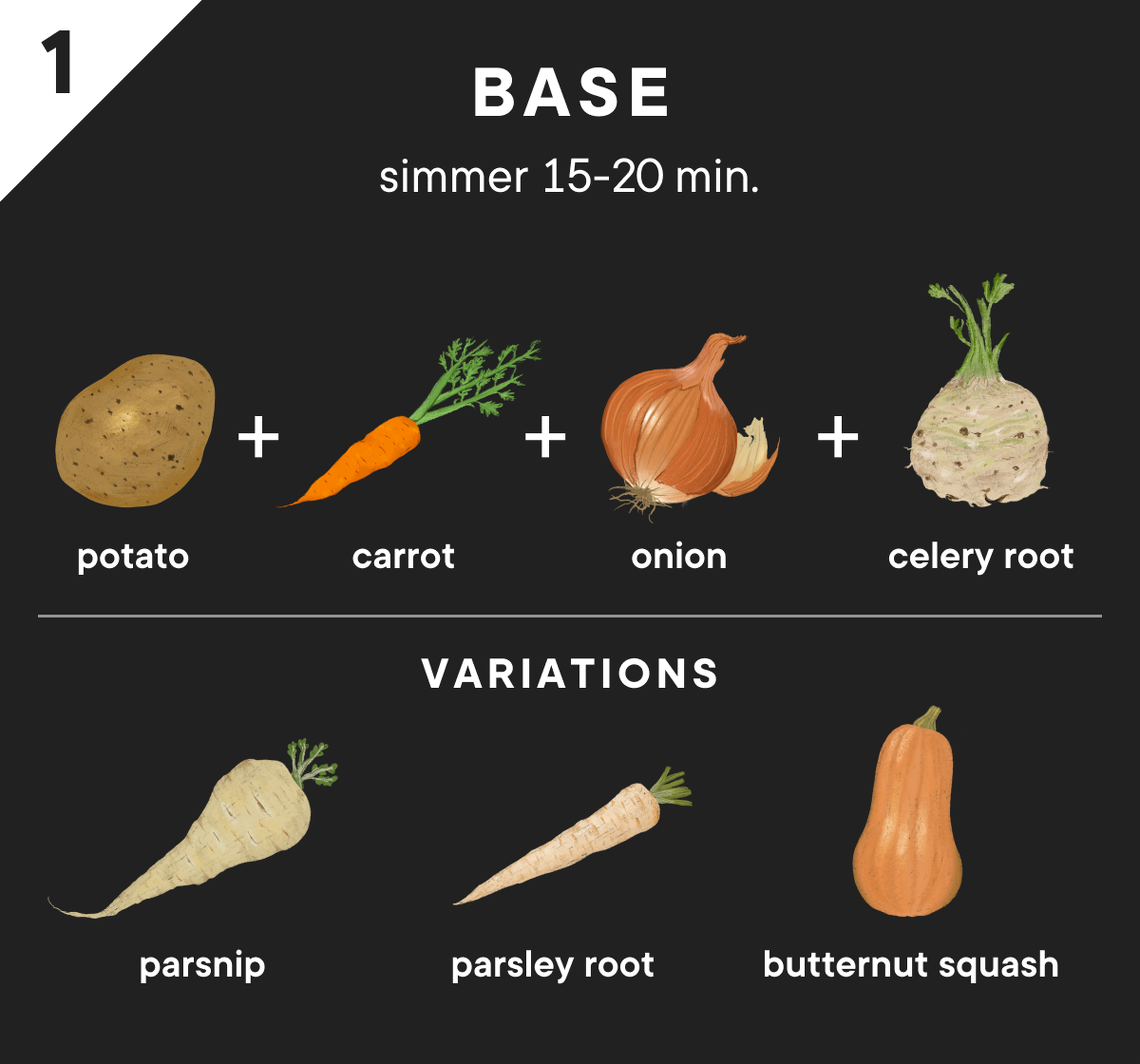 First of all, root vegetables and onions need to be sauteed. Beyond classic potatoes and carrot, you can also use parsnip, celeriac or butternut squash.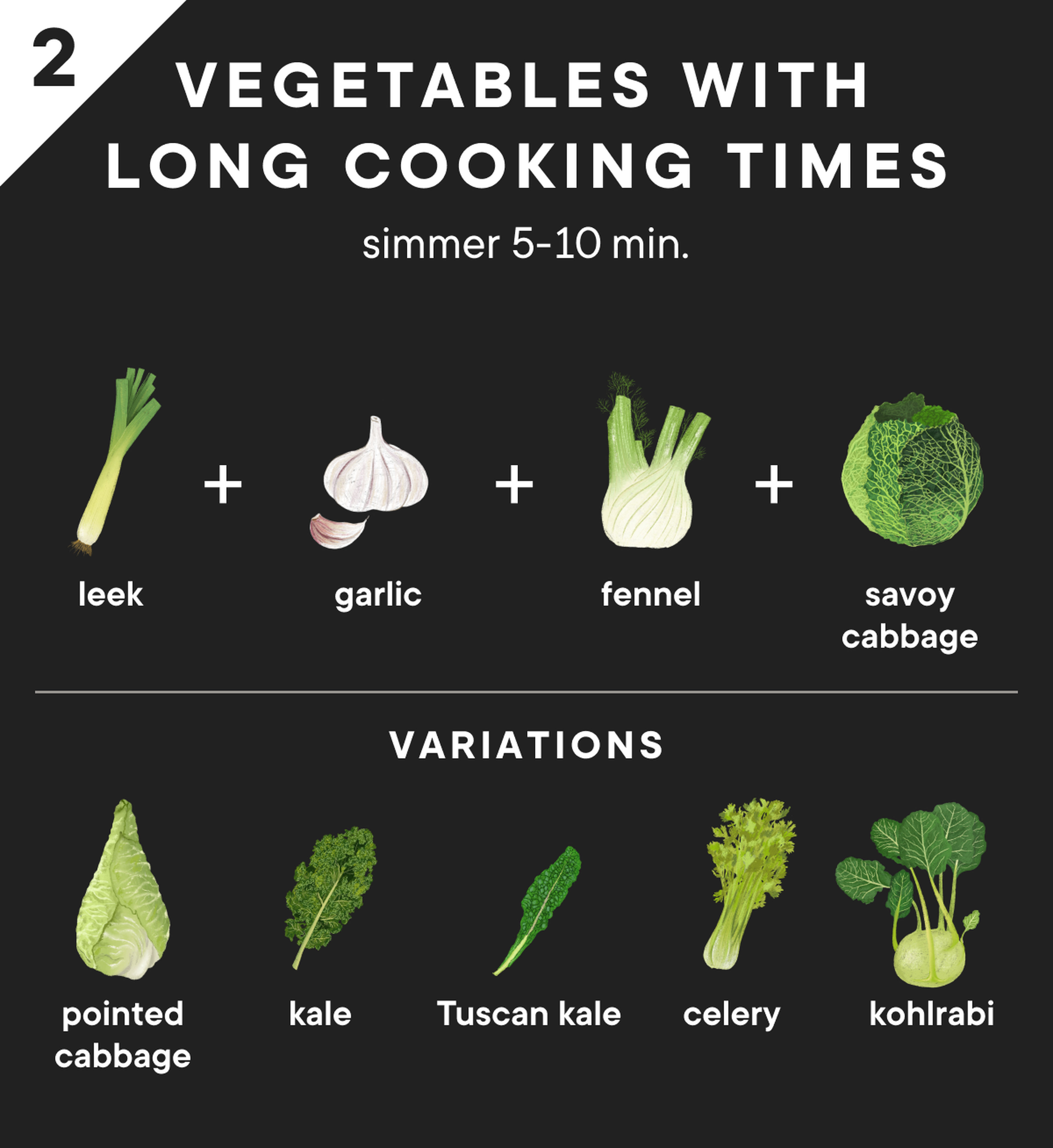 Next, it's savoy cabbage, leek, and fennel. In fact, you can use any kind of cabbage whether that's kale, pointed cabbage, or cavolo nero. Add vegetables like celery and kohlrabi in this step too.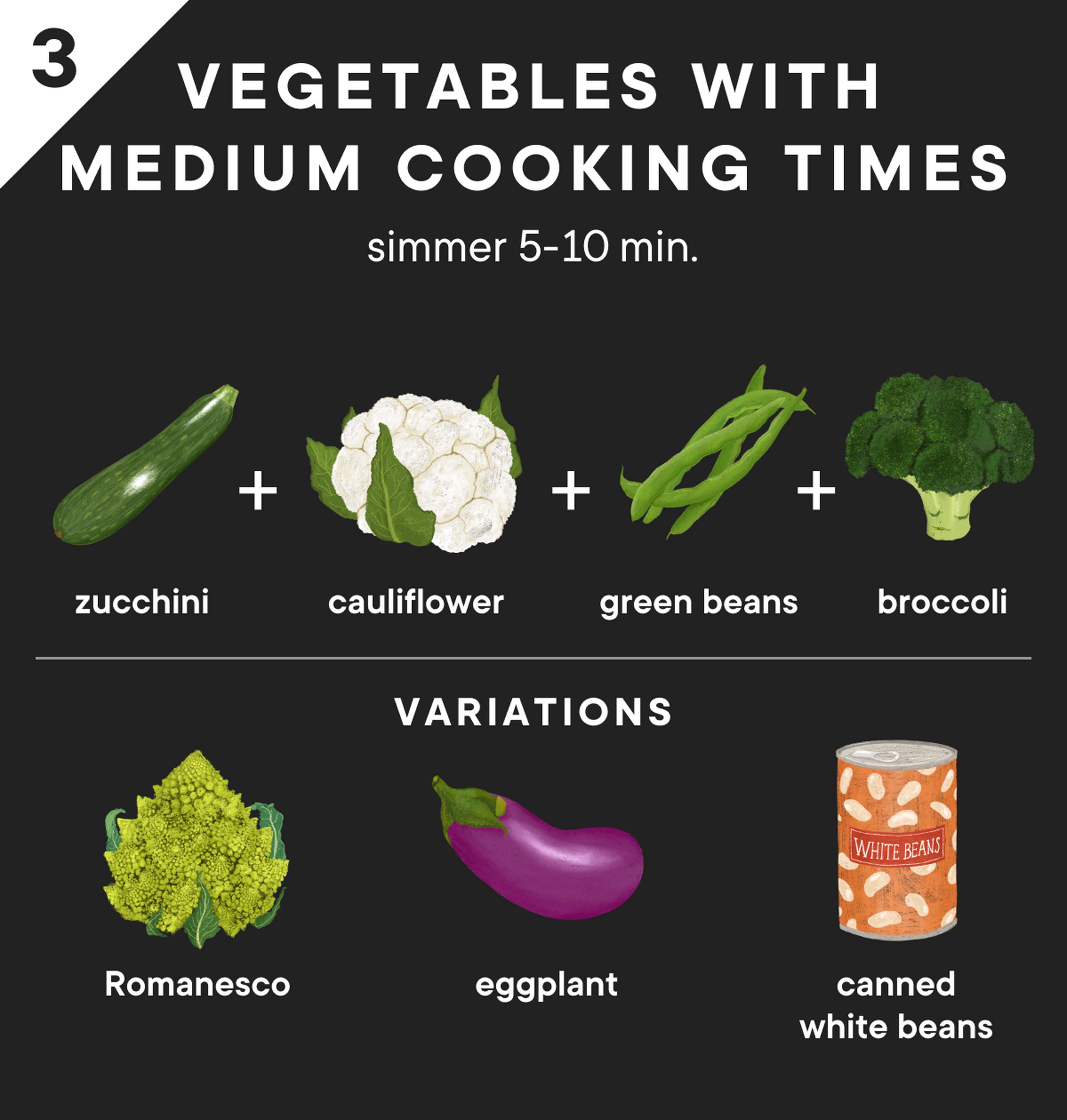 Now, we're looking for vegetables with a medium cooking time, in the case of this recipe, that's zucchini, green beans, cauliflower, and broccoli. You can also add things like eggplant, Romanesco, or drained white beans at this point.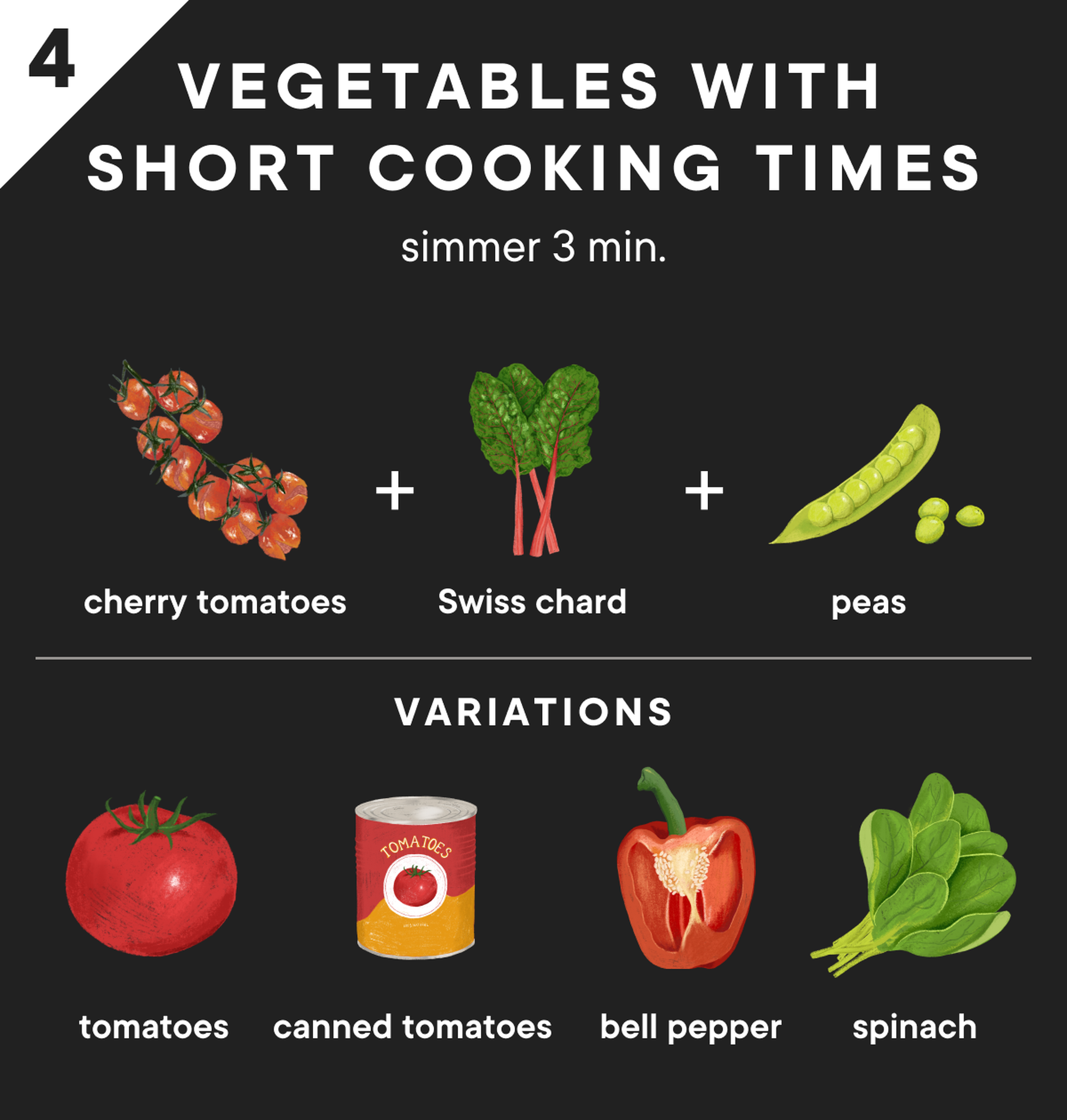 Finally, it's time for quicker-cooking vegetables like tomatoes, peas, and Swiss chard leaves. Don't have any cherry tomatoes? Roughly chopped tomatoes or drained canned tomatoes work just as well. You can also substitute the Swiss chard for spinach leaves.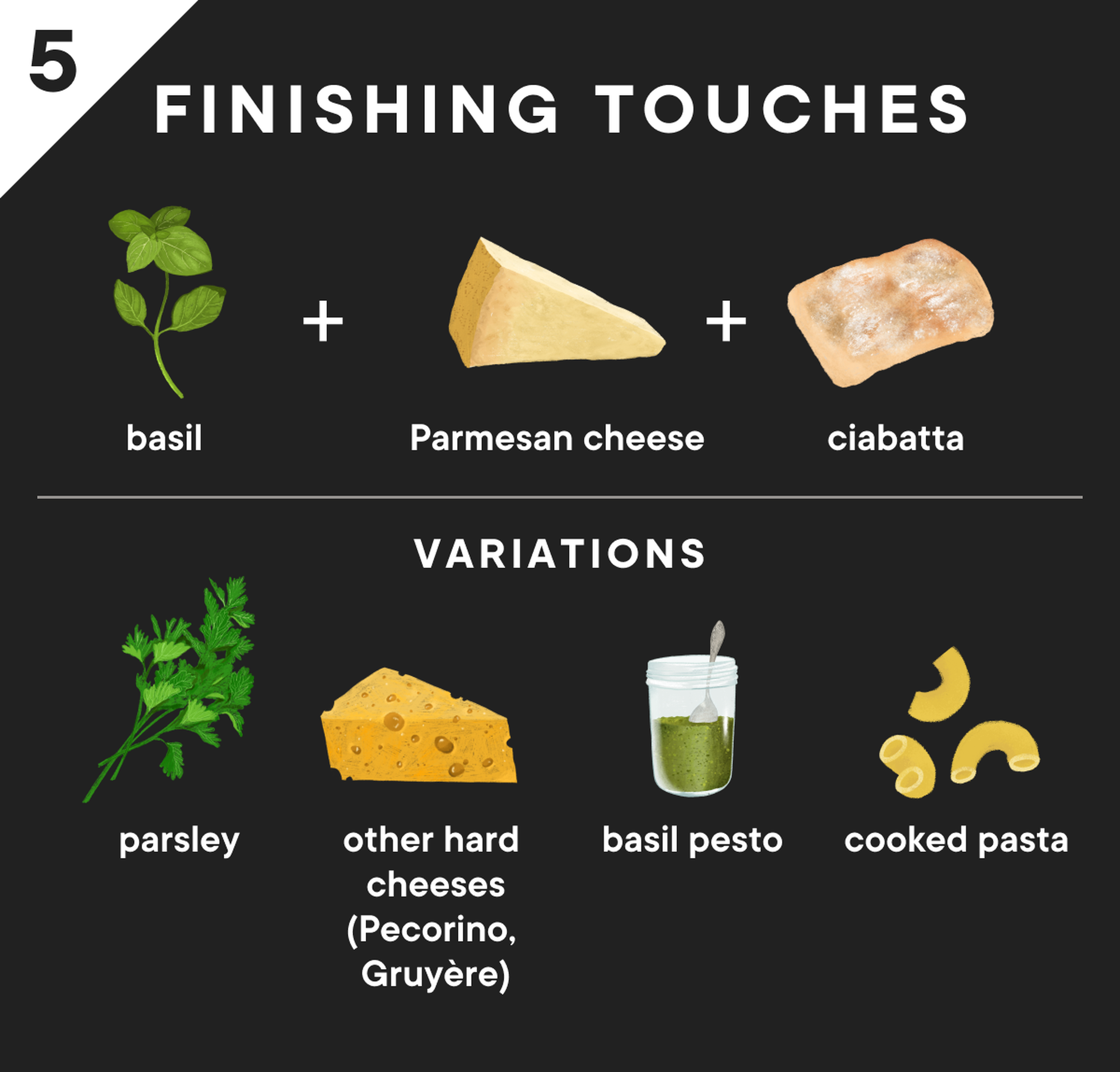 Don't forget the toppings! Pesto, Parmesan, or any other strong, hard cheese, add hearty flavour, soft herbs like basil or parsley freshen things up, and crusty bread or cooked pasta add an extra carby hit.
Now, make it your own!
Two final tips: When varying the recipe, don't be put off by using vegetables that don't strike you as particularly Italian! Curly kale, parsnip, or kohlrabi all make equally great additions to a minestrone: It's all about the pairings and creating balance! Be sure to a variety of different vegetables to avoid too-dominant flavors and textures—for example, too much cabbage or beans will make the soup too earthy, too many root vegetables and alliums and it may err too sweet. So, chop everything into bite-sized pieces and start improvising. Good luck!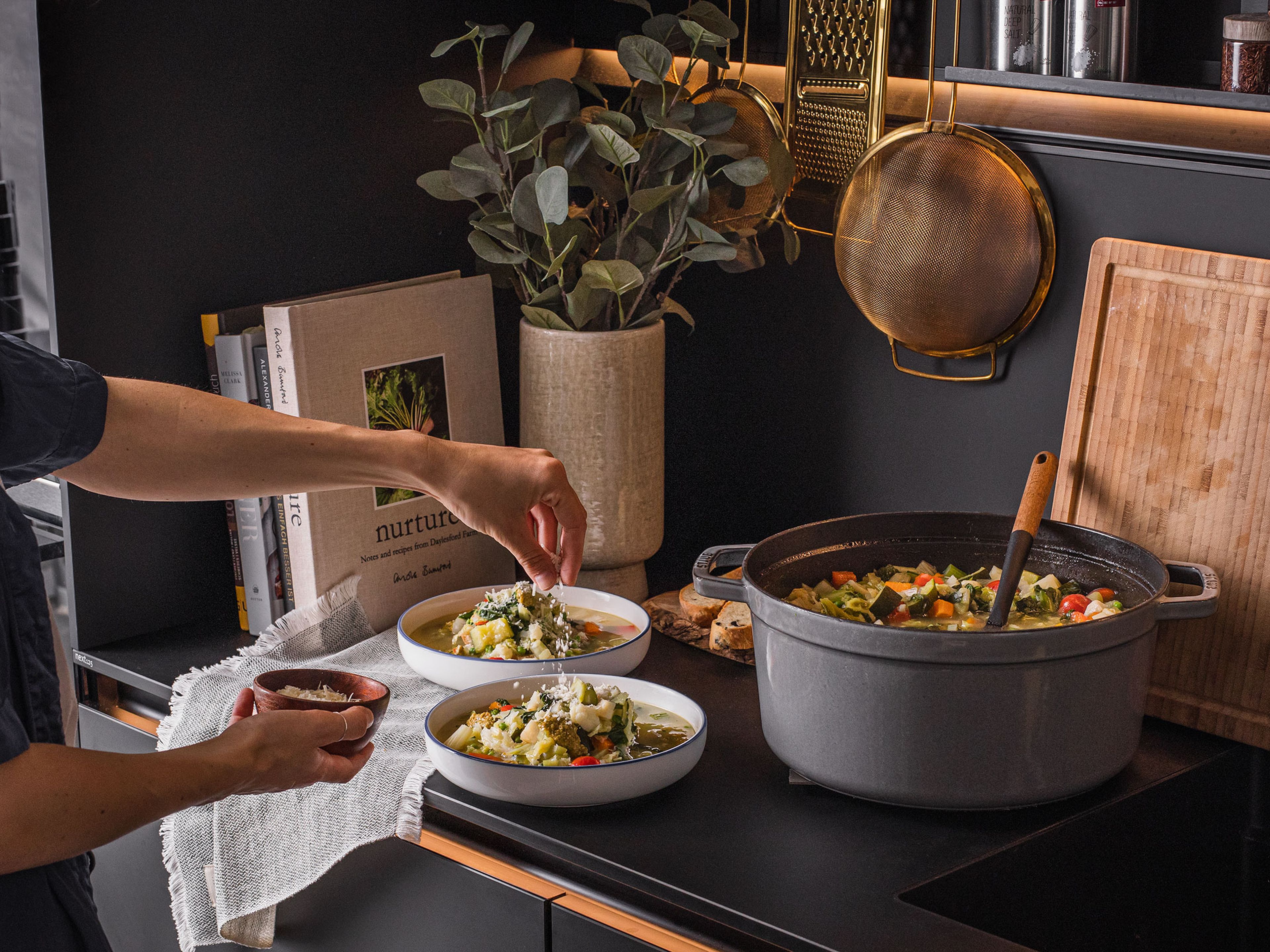 Published on October 17, 2020
More delicious ideas for you