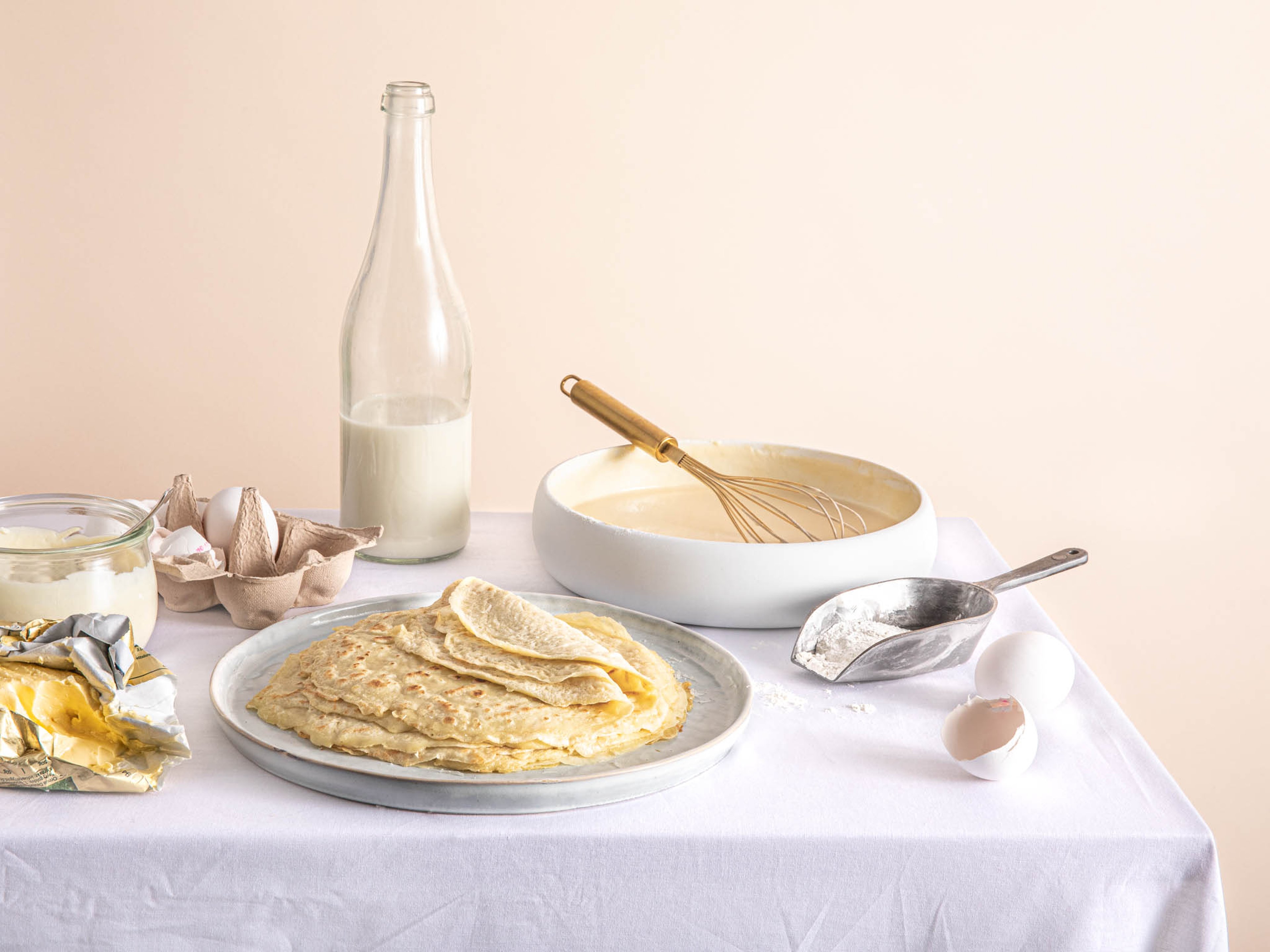 How to Make Crêpes at Home
All you need to know to get it right the first time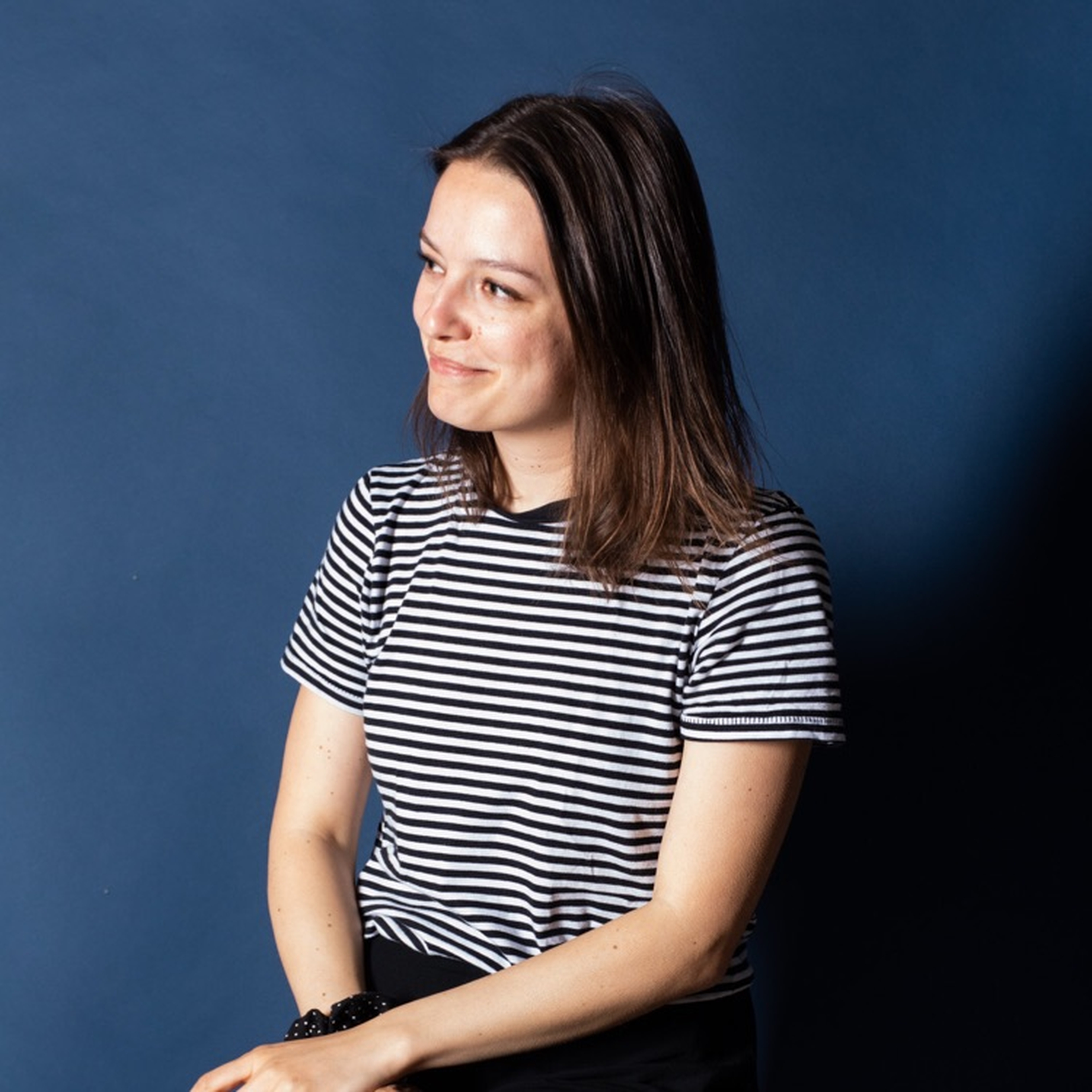 A crêpe is not a pancake. I don't have the heart to compare the wafer-thin, mostly sweet but slightly salty and crisp-edged delicacies with other international versions. Crêpes stand on their own.

Take some time to dive into the world of crêpe-making with us and learn how to make this classic your own. Just like any traditional base recipe out there, once you master the foundation, you can customize it to your own tastes and preferences, or experiment on a whim.

Here, we'll cover everything you need to know to make the perfect crêpes at home without a crêpe maker or special pan, no rocket science needed. We'll bring France (Brittany, to be exact) right to your doorstep.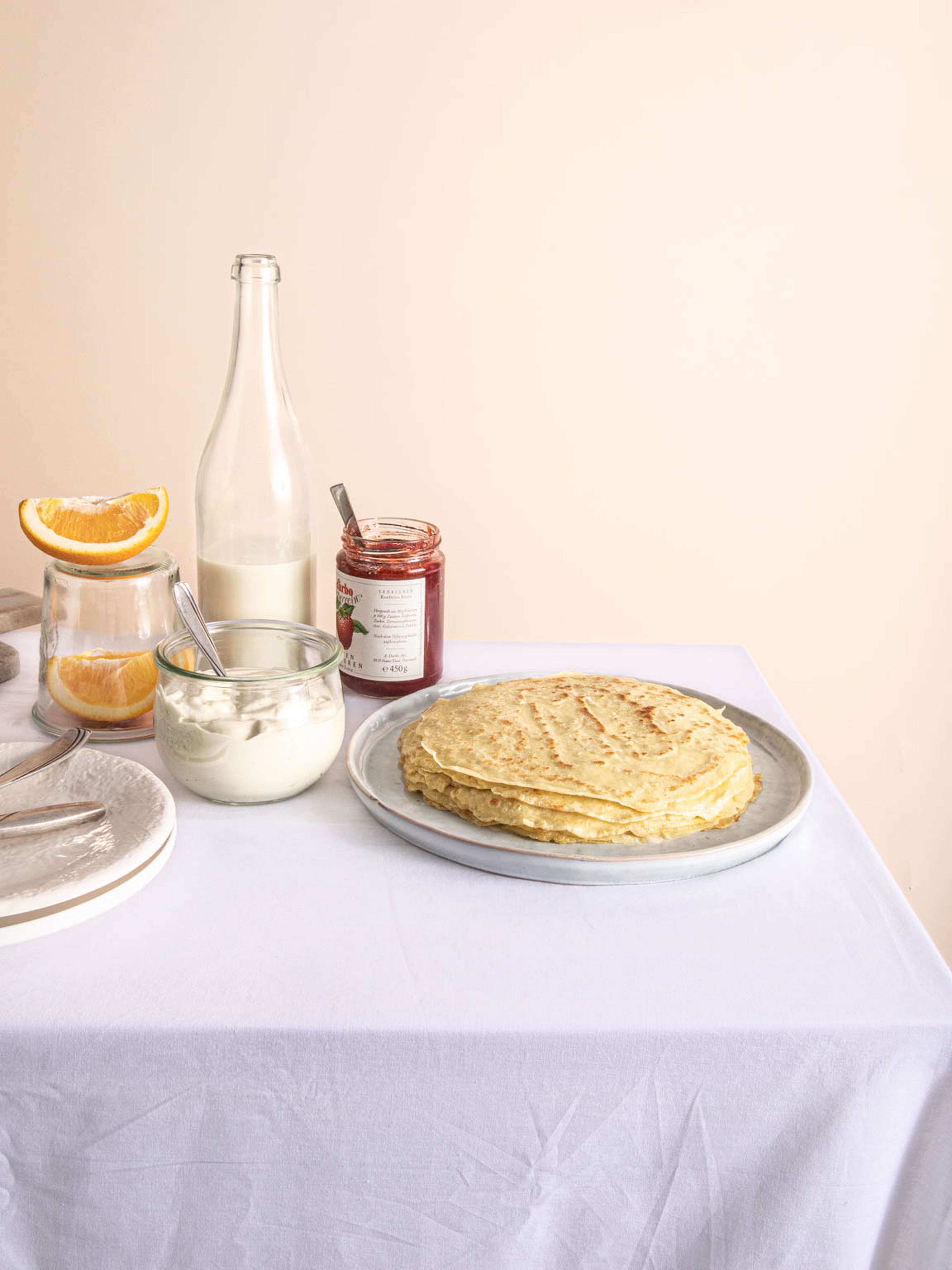 Do you need a crêpe maker or a crêpe pan?
Traditionally, crêpes are made using a round iron skillet that's larger in diameter than your average pan. In my option, however, the fewer, more versatile kitchen utensils you own, the more fun you have cooking and baking. If you own a heavy (which supports more even heating) pan with a good non-stick coating, you don't have to worry about buying a special version just to make crêpes. Just make sure the coating hasn't started to wear off so that the crêpes don't stick to the pan.
The basic crêpe recipe
Certainly, crêpes are popular across France, but you'll certainly find them at crêperies around the world en masse. But their origins are Brittany, the beautiful Western corner of France. At first, they were prepared using a batter made out of buckwheat flour (french blé noir), and are also called galettes—or crêpes au blé noir—not to be mistaken with a Breton shortbread of the same name. Today, we'll focus on the more common batter that's prepared with all-purpose flour, which suits particularly well for sweet fillings commonly paired with it.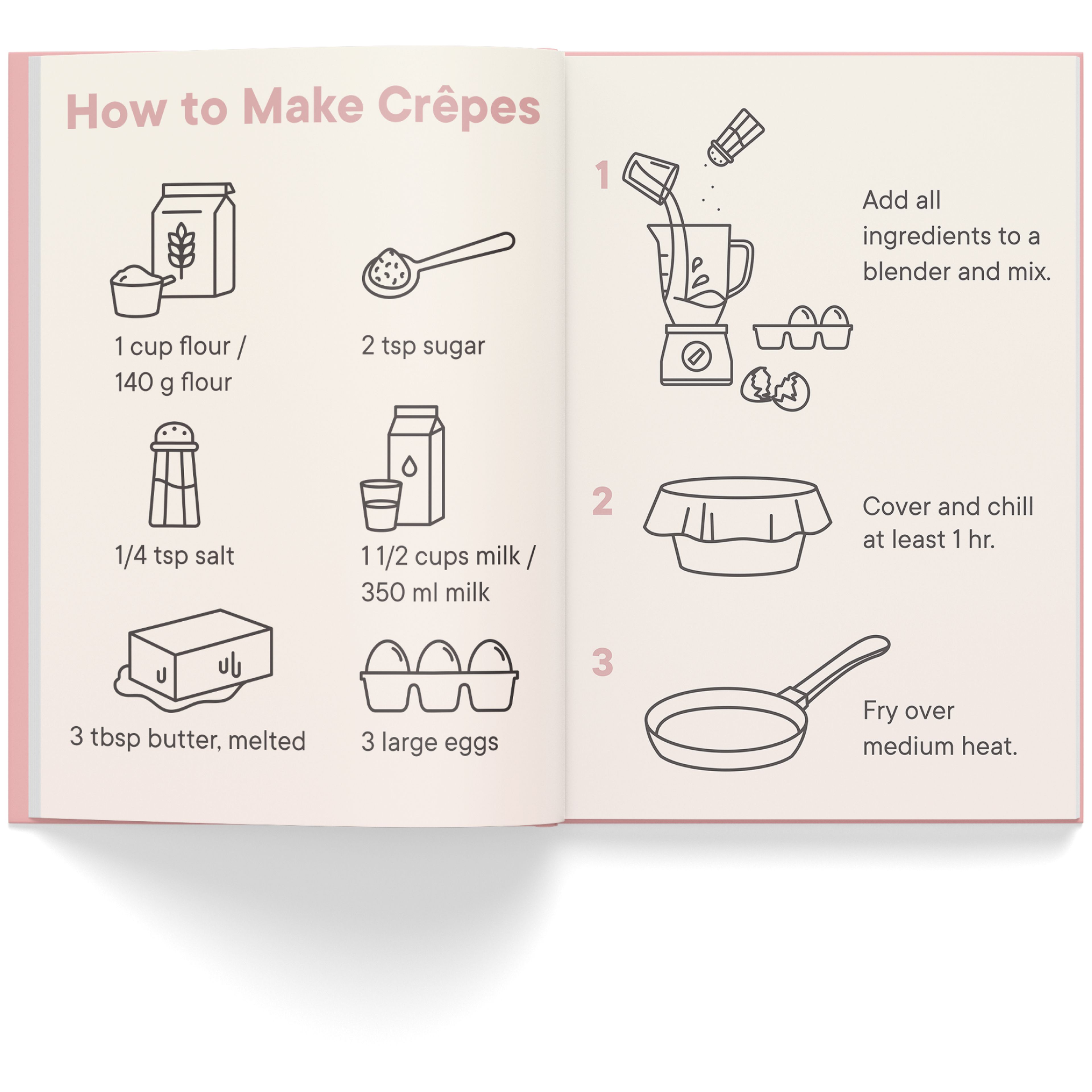 The ingredients
Flour, sugar, salt, milk, melted butter, and eggs turn into a liquidy batter. Unspectacular at first blush. But still, I recommend that you consider each ingredient individually to understand what each brings to the beloved recipe. When I was looking for the best recipe to write about, I noted the following: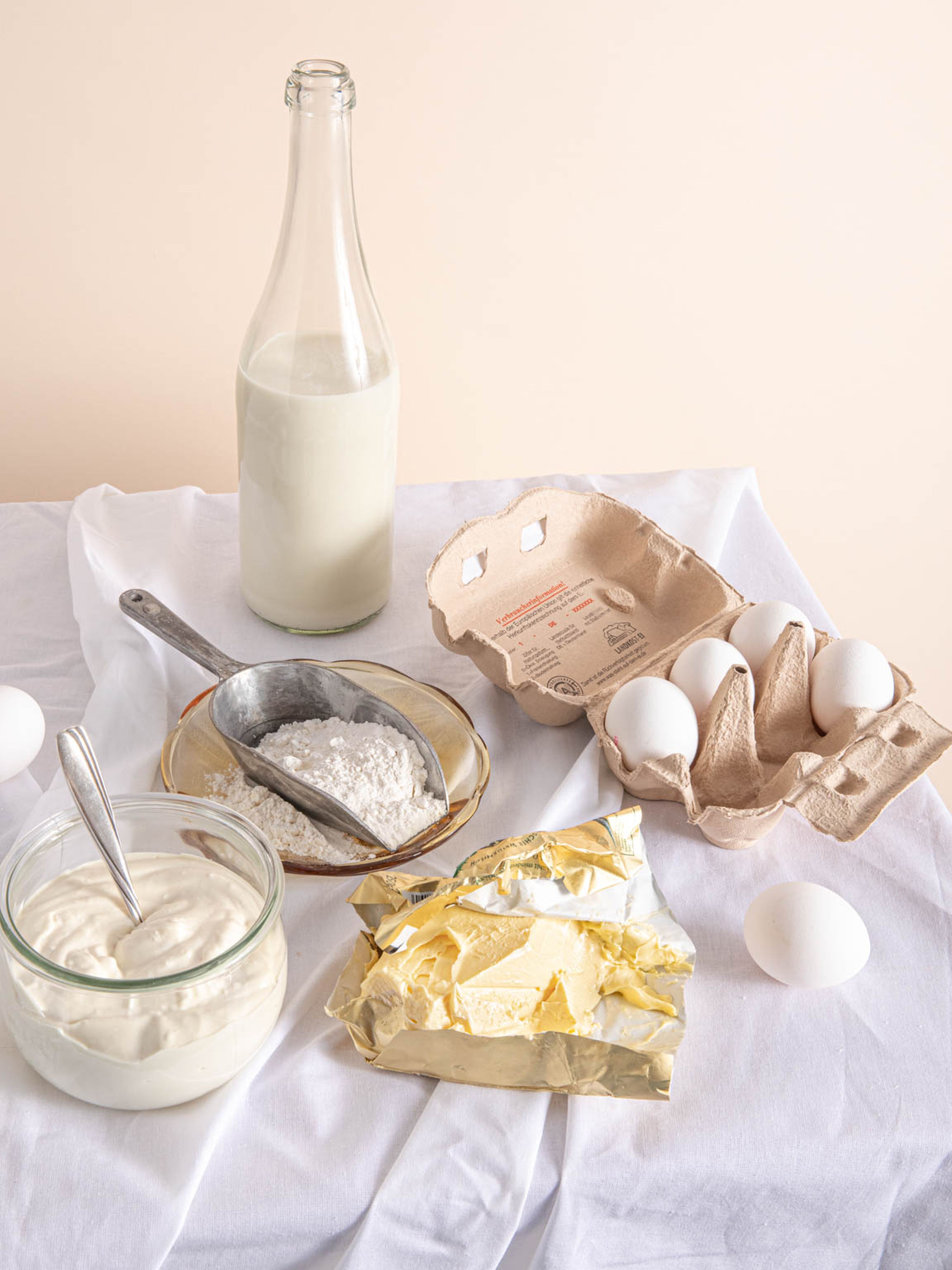 All-purpose FLOUR is best, but light spelt flour also works. Whole wheat flours and other protein-rich ones would make your crêpes overly chewy.

SUGAR is necessary for making them more tender and boosts flavor.

SALT is another flavor enhancer, even in sweet recipes—just as sugar does in savory ones.

Don't use whole MILK but rather lower-fat ones for perfect consistency. 1.5 to 2% is best!

Never skip melted BUTTER in your batter! First, it helps create a full-bodied taste, and second, it prevents your crêpes from sticking to the pan.
The batter
If you have a blender—great! Add all ingredients to it at once and start blending. If you have some trust issues with blenders (like me), take a more cautious route. Start by mixing all dry ingredients in a bowl first to incorporate salt and sugar evenly into the flour. Use the blender to mix the wet ingredients together, then add the flour mixture little by little on medium speed until a smooth batter forms.

This is the most important step: Let your batter rest, covered in the fridge for at least 1 hour. Don't skip this step, no matter what. It's as essential in the making of crêpes as it is in the preparation of a yeast dough. In both cases, resting helps to develop the gluten structure that in crêpes, helps to make them soft and tender.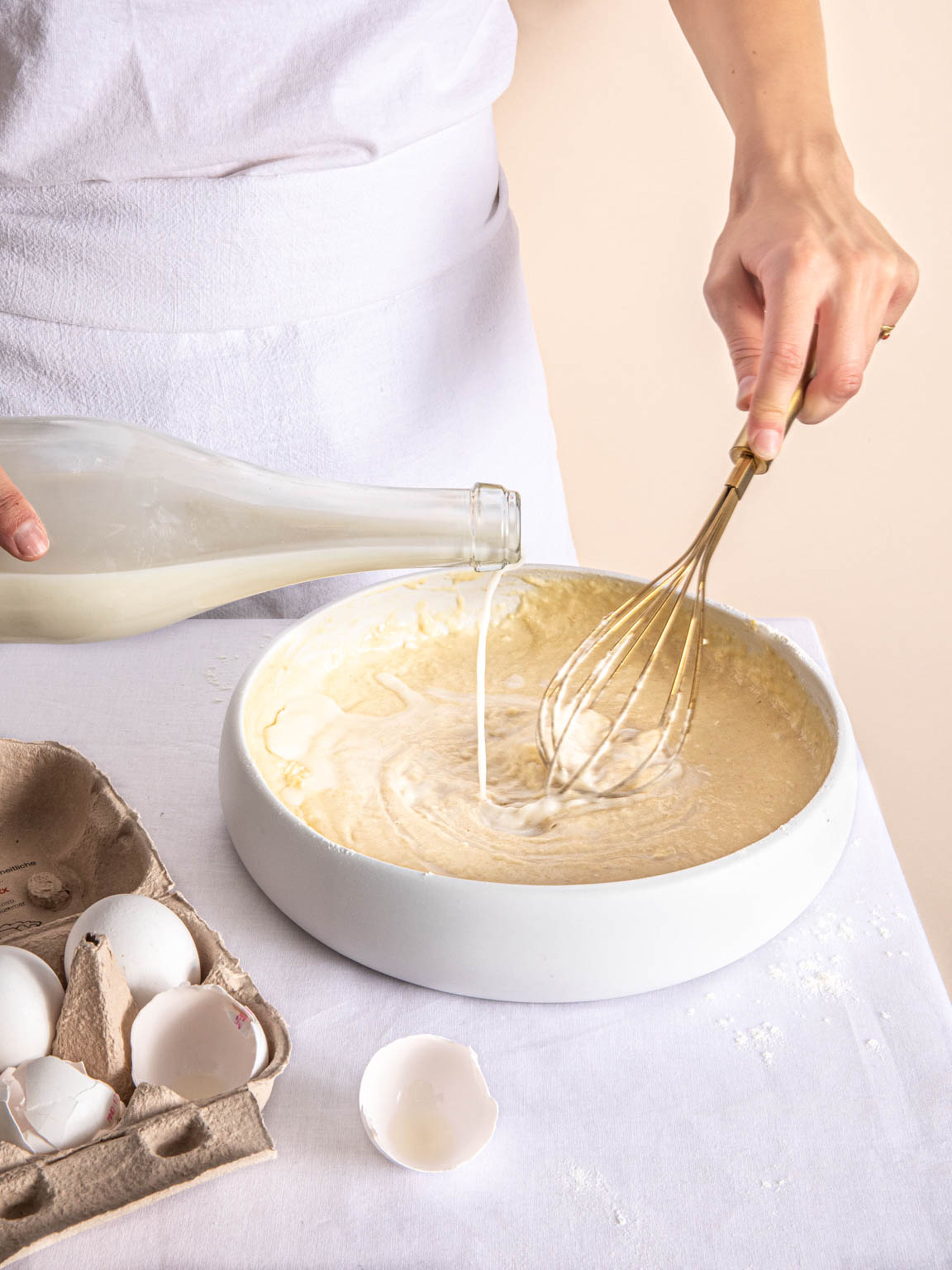 The method
Your first crêpe will not be perfect. That's fine, we expect that—there's no reason to give up. The first crêpe is actually your most important, as it's a test to show you if your pan is at the right temperature and if your batter tastes how it should. To be successful moving forward, good preparation is key, and patience, the secret ingredient. But, let's start at the beginning.

Heat your pan on high heat. We want the pan to be really hot. Prepare 1 to 2 tbsp melted butter in a bowl and get a brush ready. You'll want to brush your pan with a little bit of butter for each new crêpe. Keep some neutral vegetable oil handy, as well. A mix of both has proven to be really successful for me.

As soon as the pan is hot, reduce to medium heat. Coat the pan in butter and oil. Now measure your batter to make sure to not end up with thick pancakes. While a soup ladle is too much, a smaller sauce ladle is just perfect.

At this point, you're ready to add some batter to the middle of the pan and swirl to spread it evenly. Once the batter is in the pan, start swirling immediately in a slow circular motion. Once your crêpe is cooking, watch for when the edges begin to lift up after approximately 2 min. At this point, flip your crêpe carefully using a rubber spatula. Increase the heat a touch to finish and add the characteristic brown dots that pattern the best crêpes. Remove the crêpe from the pan and continue with the rest of the dough.
How to make vegan crêpes
No eggs, no butter, no problem. Anyone who wants to prepare a vegan crêpe batter can adjust the recipe above to the one below, following the same method. Just mix together the starch with cold water before combining the batter. You'll want to fry each crêpe in vegetable oil rather than butter.

- 140 g all-purpose flour
- 75 g cold water
- 15 g cornstarch
- 2 tsp sugar
- ¼ tsp salt
- 350 ml soy or almond drink
- 3 tbsp vegetable oil, tasteless

Et voilà: Here is your basic recipe for vegan crêpes—bon appétit!
The show pony recipe: Crêpes Suzette
A Crêpe Suzette is a classic, show-stopping (and irresistible) dessert recipe. The batter is refined with orange liqueur (or even only orange juice and zest, if you prefer). Once your crêpes are cooked through, they'll bathe in a flambéed orange-caramel sauce and be served topped with orange segments. It sounds fancy, but is absolutely easy to achieve. If you want to try them now, here is our step-by-step recipe.
One batter, endless possibilities
Crêpes Suzette is only one idea among endless possibilities. From savory crêpes to crêpe cakes to stuffed crèpes: Once you master the batter, you can fill your crêpes with exactly what YOU want. And to start off, here are some recommendations from our side:

Many fill their crêpes with Nutella, which is a solid choice. But how about drizzling yours with browned butter and a sprinkle of cinnamon sugar or a squeeze of lemon? You can also flavor crêpes with apple sauce, fresh fruit and powdered sugar, whipped cream, or yogurt. For those who are in the mood for savory options, you can choose to the skip sugar in the batter (or not) and fill them with tangy cheese (like fresh goat cheese) and caramelized onions, or opt for sour cream and smoked salmon, balsamic mushrooms and spinach, goat's cheese and fresh herbs—or a totally different combination you come up with. It's up to you!
More crêpe recipes to try:
Published on October 13, 2019
More delicious ideas for you