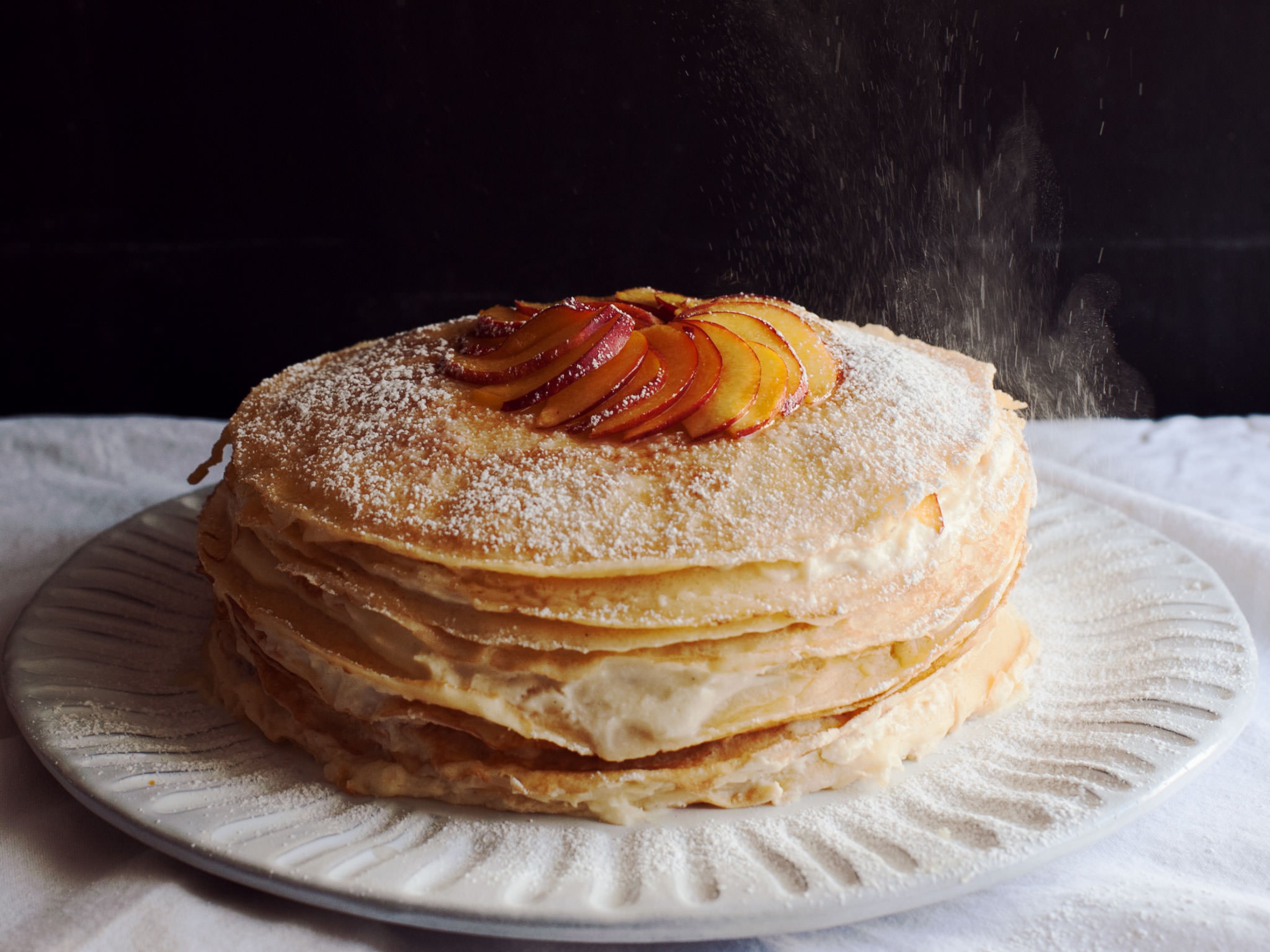 Nectarine-ginger mille crêpe cake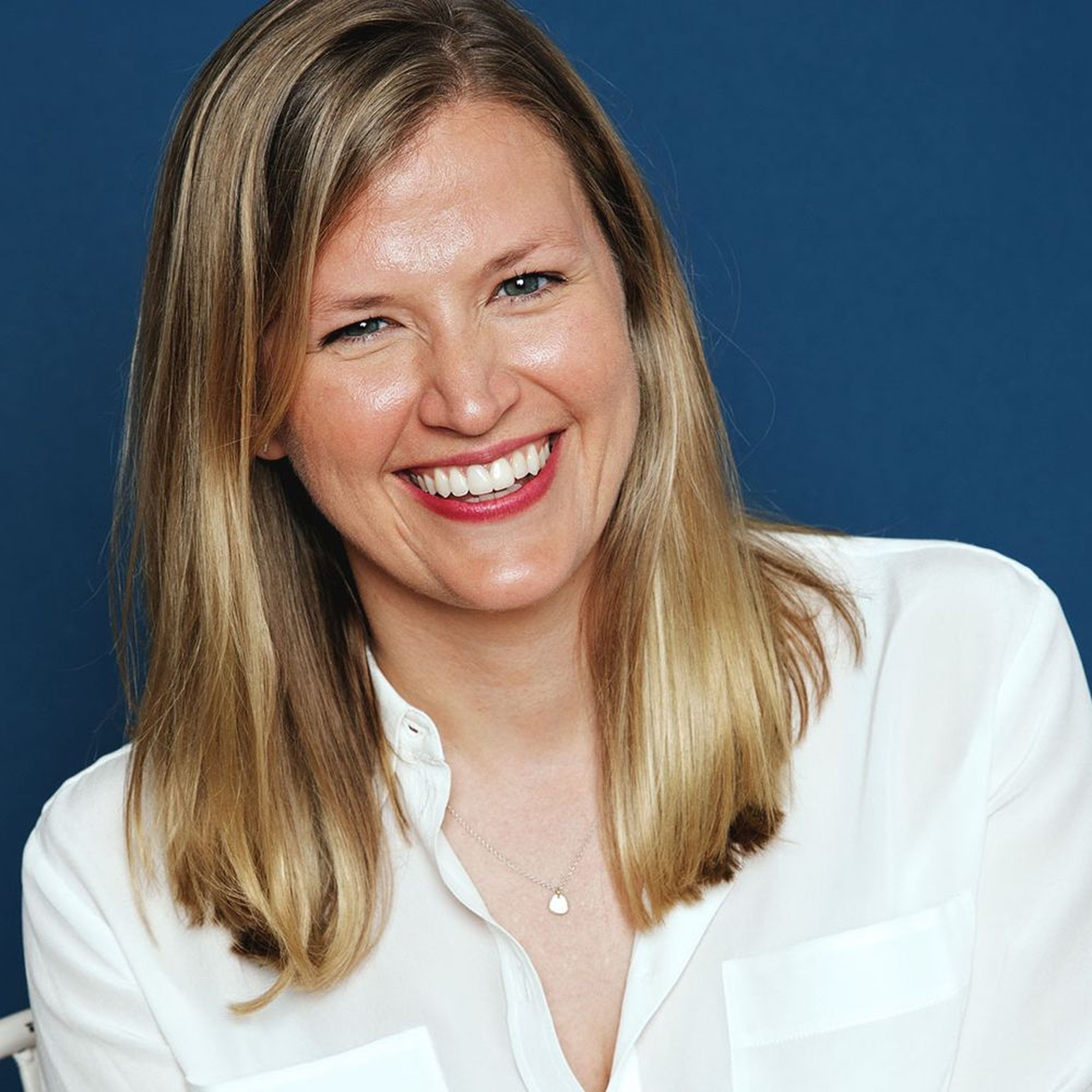 Ingredients
powdered sugar for dusting
Utensils
mixing bowl, whisk, plastic wrap, large mixing bowl, medium saucepan, 3 large mixing bowls, hand mixer with beaters, offset spatula, nonstick pan (23-cm/9-inch), mandolin, fine grater, rubber spatula, sieve
How-To Videos
How to scrape a vanilla bean
How to zest citrus fruits
Perfect pastry cream
How to separate eggs
Step 1/ 6

51⅔ g

all-purpose flour

8⅓ g

sugar

⅛ tsp

salt

Stir together flour, sugar, and salt.

Step 2/ 6

120⅞ ml

whole milk

⅔

eggs

7⅛ g

butter (melted)

⅛ tbsp

lemon zest

plastic wrap
large mixing bowl

In a large bowl, whisk together flour mixture with milk, eggs, melted butter, and lemon zest until smooth. For best results, cover bowl with plastic wrap and set aside to rest for at least an hour or refrigerated overnight.

Step 3/ 6

⅛

vanilla bean (split)

79⅛ ml

whole milk

22½ g

sugar

⅔

egg yolks

5 g

cornstarch

⅛ tsp

salt

80 ml

heavy cream

medium saucepan
3 large mixing bowls
whisk
hand mixer with beaters

Meanwhile, prepare pastry cream filling. Add vanilla bean to saucepan with milk. Heat milk over medium-low heat, just until it simmers. Turn off heat and let vanilla steep for at least 30 minutes. In a separate bowl, whisk together sugar, egg yolks, cornstarch, and salt until smooth. When milk is done steeping, scrape vanilla bean seeds into pan and discard pod. Reheat milk gently until warm, then whisk it slowly into egg mixture until combined. Transfer mixture back to saucepan and cook over medium heat, whisking constantly, until mixture starts to bubble and thicken. Continue to whisk vigorously for another minute, then remove from heat and transfer to a clean bowl. If the cream is lumpy, pass it through a sieve. Cover cream with plastic wrap, pressing plastic onto the surface of the pastry cream to prevent a film from forming, and refrigerate until cooled completely. Meanwhile, whip heavy cream to medium-stiff peaks. Fold it into cooled pastry cream and set aside.

Step 4/ 6

offset spatula
nonstick pan (23-cm/9-inch)

To make crêpes, place nonstick pan lightly greased with butter over medium heat. Pour about 1/4 cup of batter into the pan and swirl to coat as evenly as possible. Cook just until bottom starts to brown, about 2 minutes. Flip and cook other side briefly, another 30 seconds or so. Transfer crêpe to a plate. You should end up with about 20 crêpes.

Step 5/ 6

⅔

nectarines

3⅓ g

fresh ginger (frozen)

mandolin
fine grater
rubber spatula

To assemble cake, slice nectarines thinly with a mandolin. Place one crêpe on a serving plate, then spread about 1/4 cup of pastry cream filling on top, and top with another crêpe. Continue this way until all crêpes are used, saving your best looking one for last. Every fourth crêpe or so, top pastry cream with a layer of nectarine slices and grated ginger to taste.

Step 6/ 6

powdered sugar for dusting

Chill cake for at least 4 hours or overnight. Before serving, garnish with more nectarine slices and a dusting of powdered sugar.

Enjoy your meal!
More delicious ideas for you