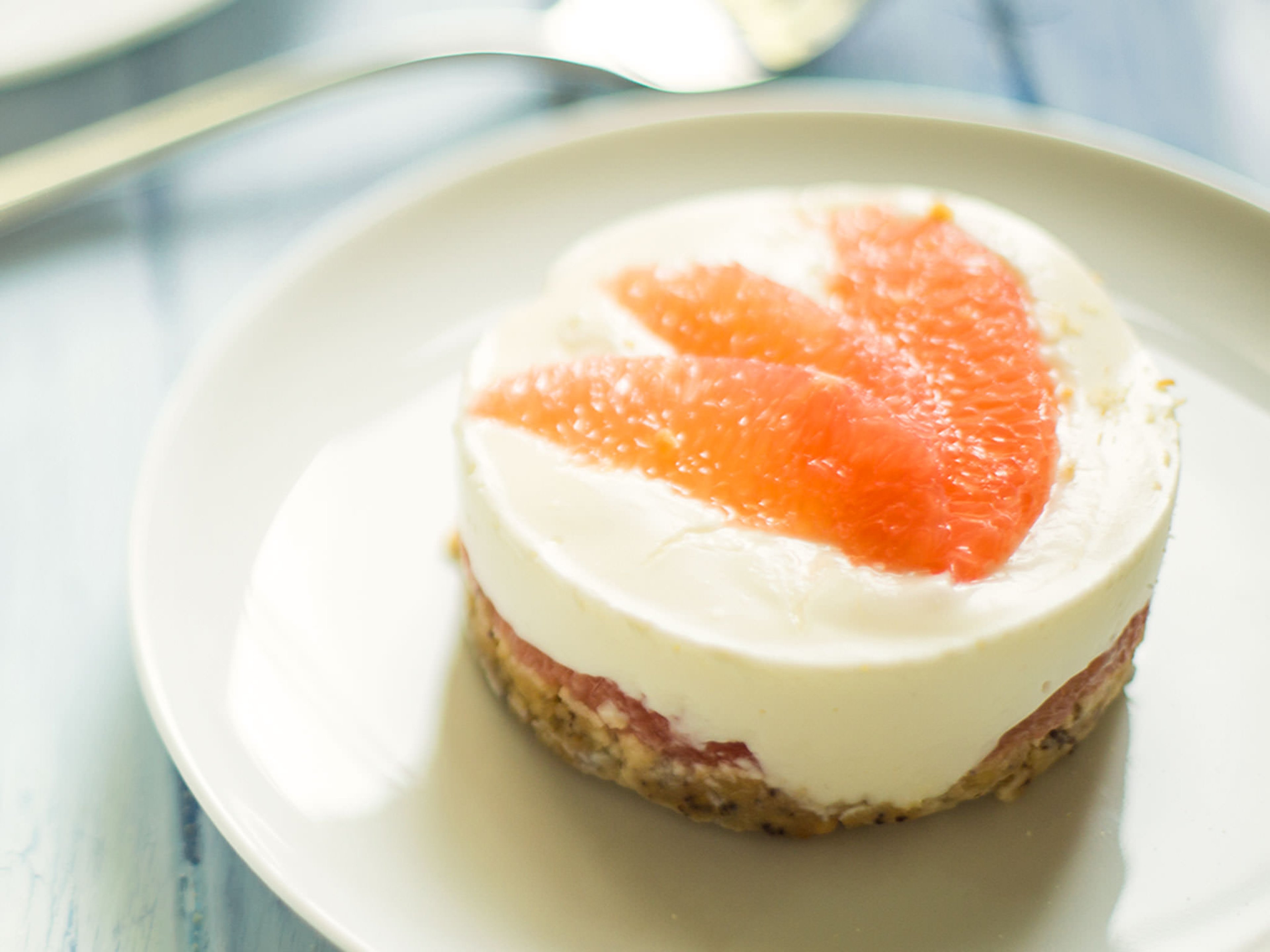 Mini cheesecakes with grapefruit
Utensils
small bowl, freezer bag, rolling pin, small pan, bowl, small baking forms with removable bottoms, cutting board, knife, saucepan, cooking spoon, large bowl, whisk, plates for serving
Easy no-bake cheesecake
How to segment an orange
How to measure
How to crumble cookies neatly
Step 1/ 9

Add gelatin sheets to a bowl with some water. Leave to soak for approx. 5 – 7 min.

Step 2/ 9

Place cookies into a freezer bag. Tightly seal and crush cookies with a rolling pin.

Step 3/ 9

Melt butter in a small pan over medium-low heat. Transfer cookie crumbs to a bowl, add poppy seeds, pour in melted butter, and stir to combine.

Step 4/ 9

small baking forms with removable bottoms

Spoon cookie mixture into bottom of baking forms and firmly press down to form crust.

Step 5/ 9

Use a sharp knife to peel and fillet grapefruits.

Step 6/ 9

Add soaked gelatin along with water and sugar to a saucepan. Slowly heat mixture over medium-low heat, stirring constantly. Be careful not to overheat. Once the gelatin and sugar have completely dissolved, remove from heat and set aside.

Step 7/ 9

In a large bowl, combine cream cheese and yogurt. Stir well to combine. Pour gelatin mixture into the cream cheese mixture and whisk to combine.

Step 8/ 9

To assemble, layer grapefruit slices in baking forms on top of cookie crust. Cover with the cream cheese mixture.

Step 9/ 9

Then arrange several grapefruit slices on top. Transfer baking forms to refrigerator and allow to set for approx. 2 hours. Remove from refrigerator and run a knife around the edges. To serve, press on bottoms of baking forms to separate from edges. Then remove bottoms of baking forms and transfer to plates to serve. Enjoy as a fresh treat!

Enjoy your meal!
More delicious ideas for you