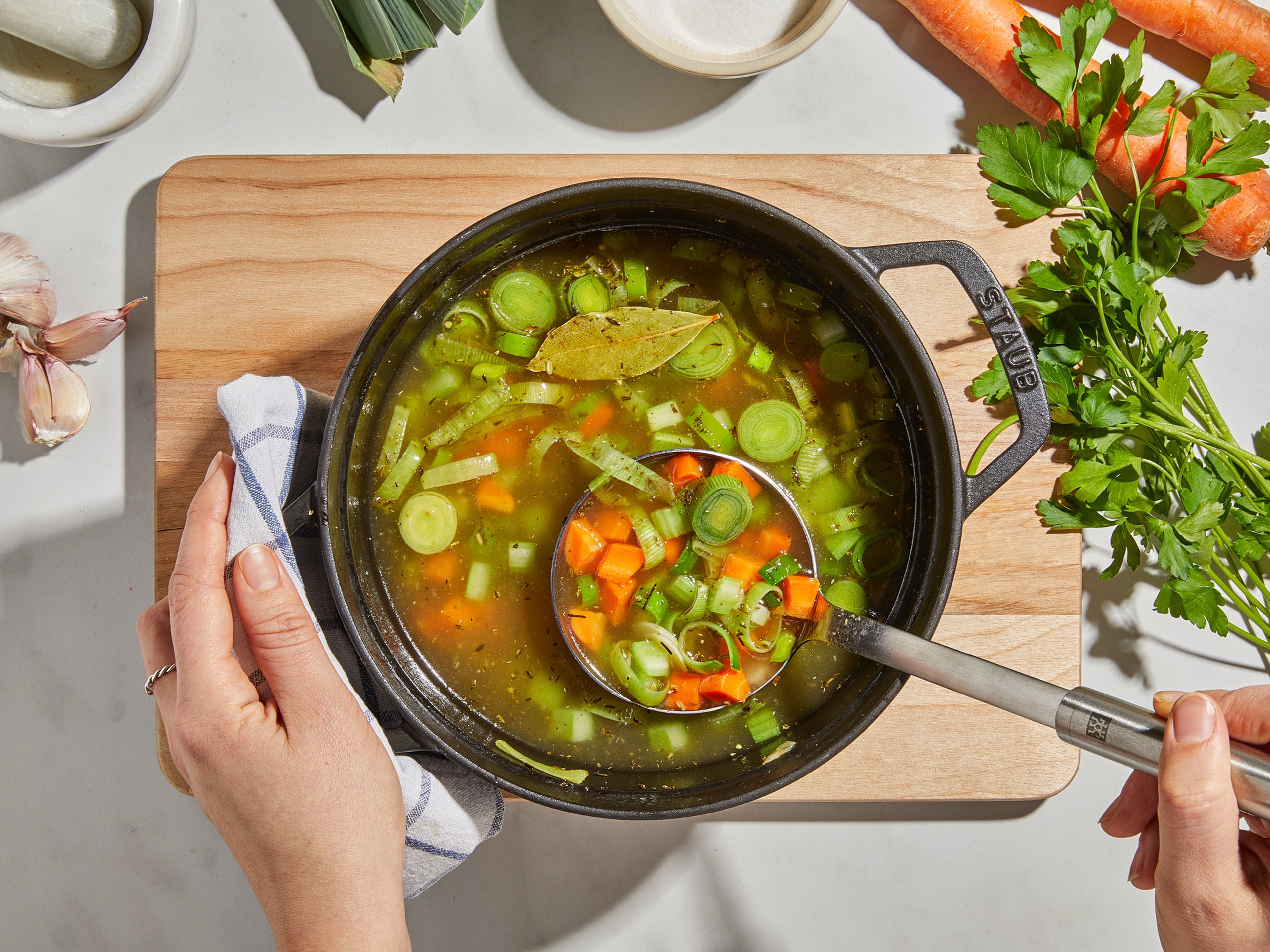 Say Goodbye to Bland Veggie Broths With These 6 Tips!
Plus, 2 *new* recipes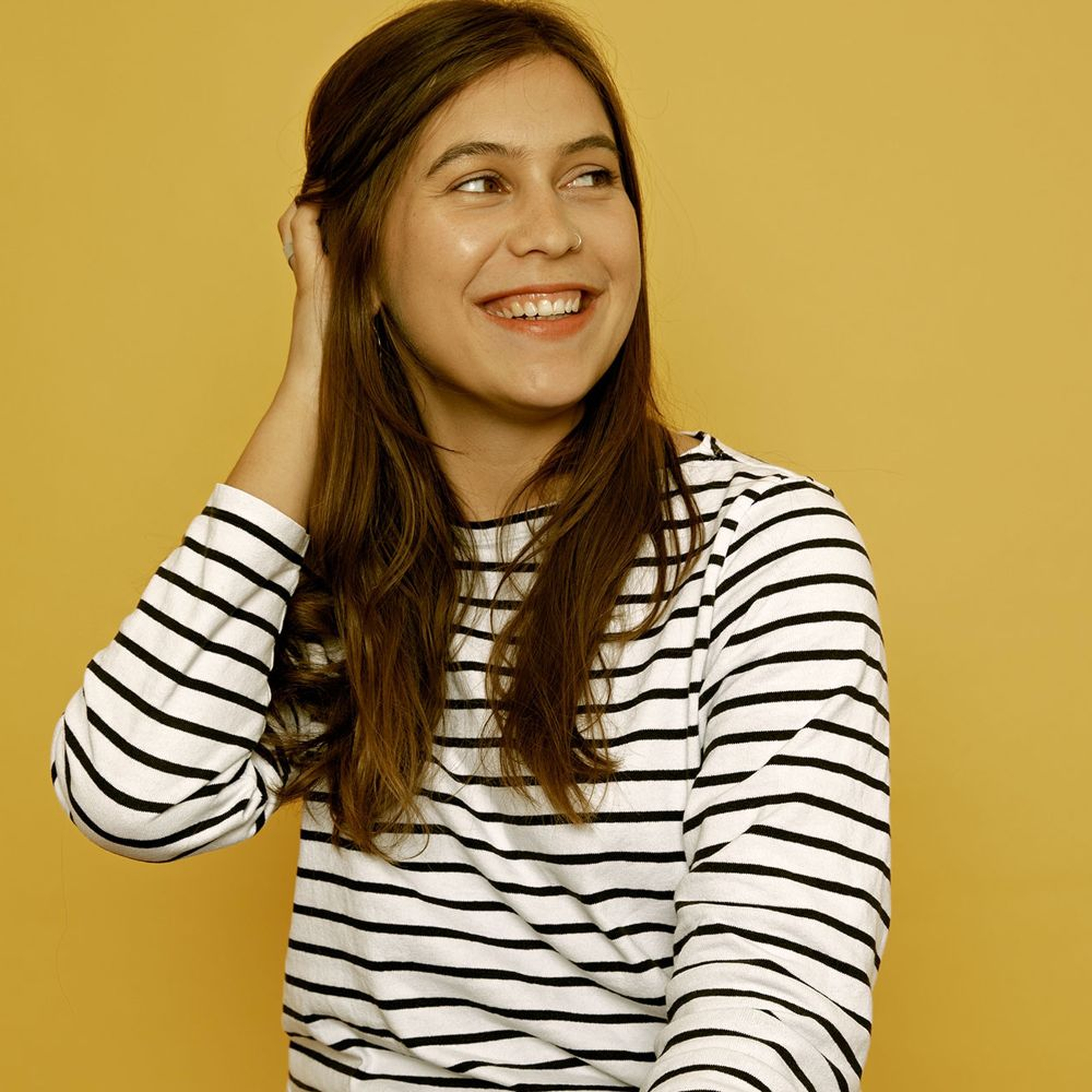 Broth made from scratch always sounds like a bit of an undertaking in the kitchen; something best reserved for a rainy day. They're often sidelined as something you add to a dish and rarely given the spotlight they deserve. But, we beg to differ! Firstly: The ingredients for a nourishing, shortcut vegetable broth are often hiding in plain sight in your kitchen and, I cringe to say it, it really is easier than you think! And secondly, what's more feel-good than a steaming, fragrant bowl to slurp from?
So cut the time and dial up the flavor! Unlike meat-based broths, with vegetable broths, you don't need a lot of time to simmer and develop flavor: Instead you can quickly bring together something both delicate and flavorful enough to hold its own (and this way, we're also not going to throw out the veg when we're done!)
If you've ever toyed with vegetable broth at home and were underwhelmed by something watery and bland, read on. With a few tricks, it's simple to set yourself up for quick, nourishing vegetable broths that are steaming with flavor, ready to be made into noodle soups and beyond.
A veggie broth needs a gentle layering of flavorings to shine, here are our essential tips: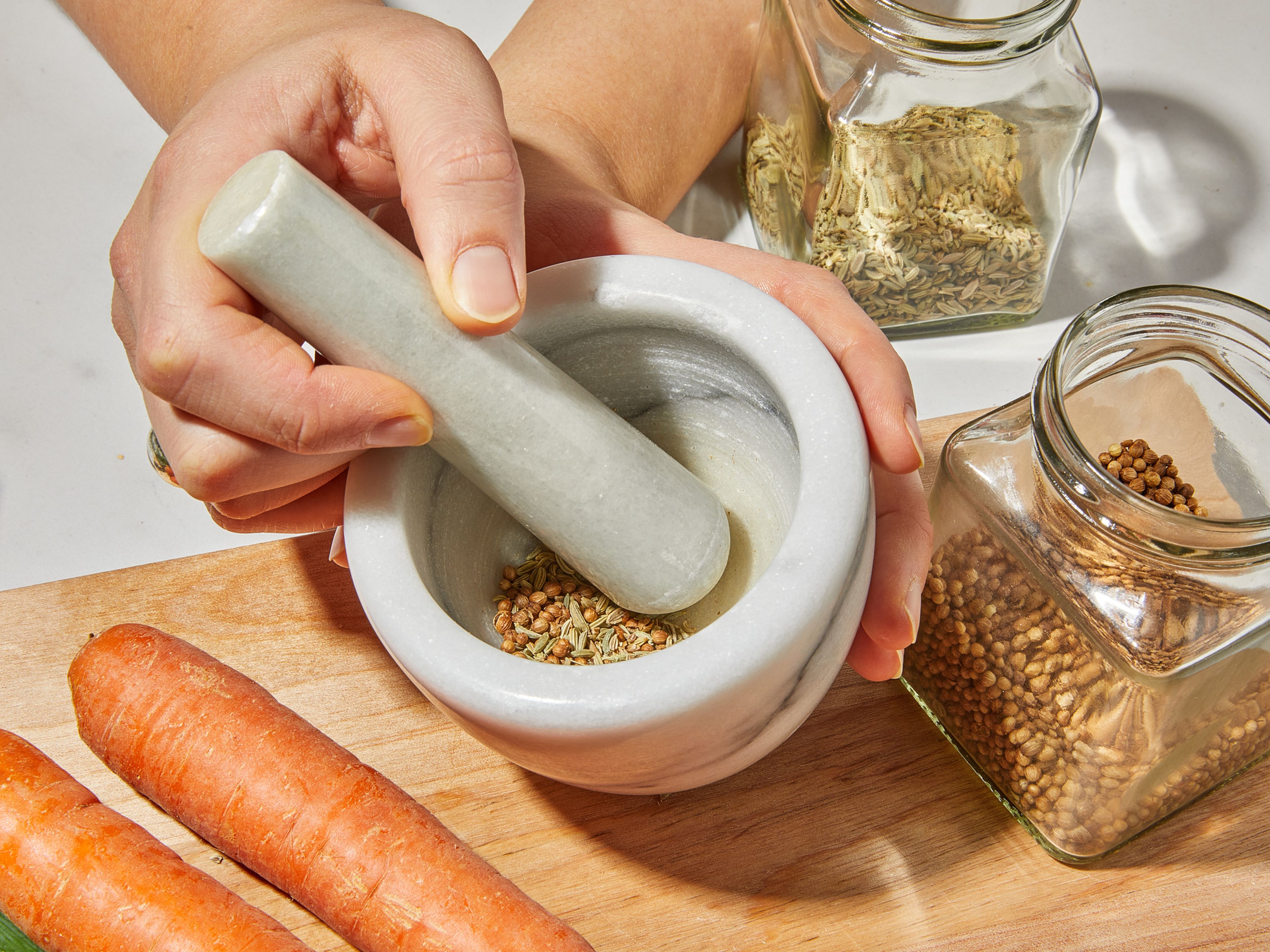 1. Choose sweet vegetables: Carrots, leeks, celery, or celery root are often bundled up together as soup buddies, and for good reason. When sauteed and simmered they release sweet vegetal notes which contrast the saltiness of a stock. Choose one to two of these as a base, and you're well on your way.
2. Use spices as well as herbs: Broths are somewhat synonymous with herbs, but spices really add a rich depth (which you'll know if you've ever made deliciously fragrant pho before). Not only do they pack more flavor than ground herbs, they won't settle on the top of your soup like a powdery film. Try crushed coriander seeds and fennel seeds, like Devan does in her simple vegetable noodle soup below, for a beautiful, fragrant base supplemented by an ever-helpful bay leaf. Depending on what flavor profile you're using you can use a touch of turmeric, star anise, peppercorns, allspice, and so on.
3. Never put onion in the corner: You can't make a broth without an appearance from at least one, but more often at least two of the holy trifecta: onion (or leeks or scallions), ginger, and garlic. Be generous here, as these will enrich the broth with fragrance and are the secret, I think, are the most soothing of soups!
4. Build savory and saltiness with miso: I always keep long-life, all-purpose white miso in my fridge to provide an equal dose of umami and salt wherever I need it; I think of it as nature's bouillon cube. Whisking a little into a broth just before serving can be an essential finishing touch of seasoning that really adds depth that is at once sweet, savory, and salty. You can also pair it with light soy sauce, like I do in my recipe below for a nourishing vegetable broth served with dumplings.
5. Make it hearty with dry mushrooms: Dried mushrooms are hidden gems of flavor. Simply simmer them in the broth or let them sit in boiling water for their savory, woody flavors to emerge. They take a thinly flavored broth to something much bolder. You can reach for dried shiitake for Asian-inspired soups (particularly in clear broths) or use mixed forest mushrooms or porcini for creamy European-style soups.
6. A pinch of salt and sugar: I think of seasoning with a pinch of salt and sugar (to virtually anything) as having a kind of MSG-effect on a dish that really dials up the existing flavors in a dish. It's especially helpful when dealing with a delicate balance of flavors, like say, a broth!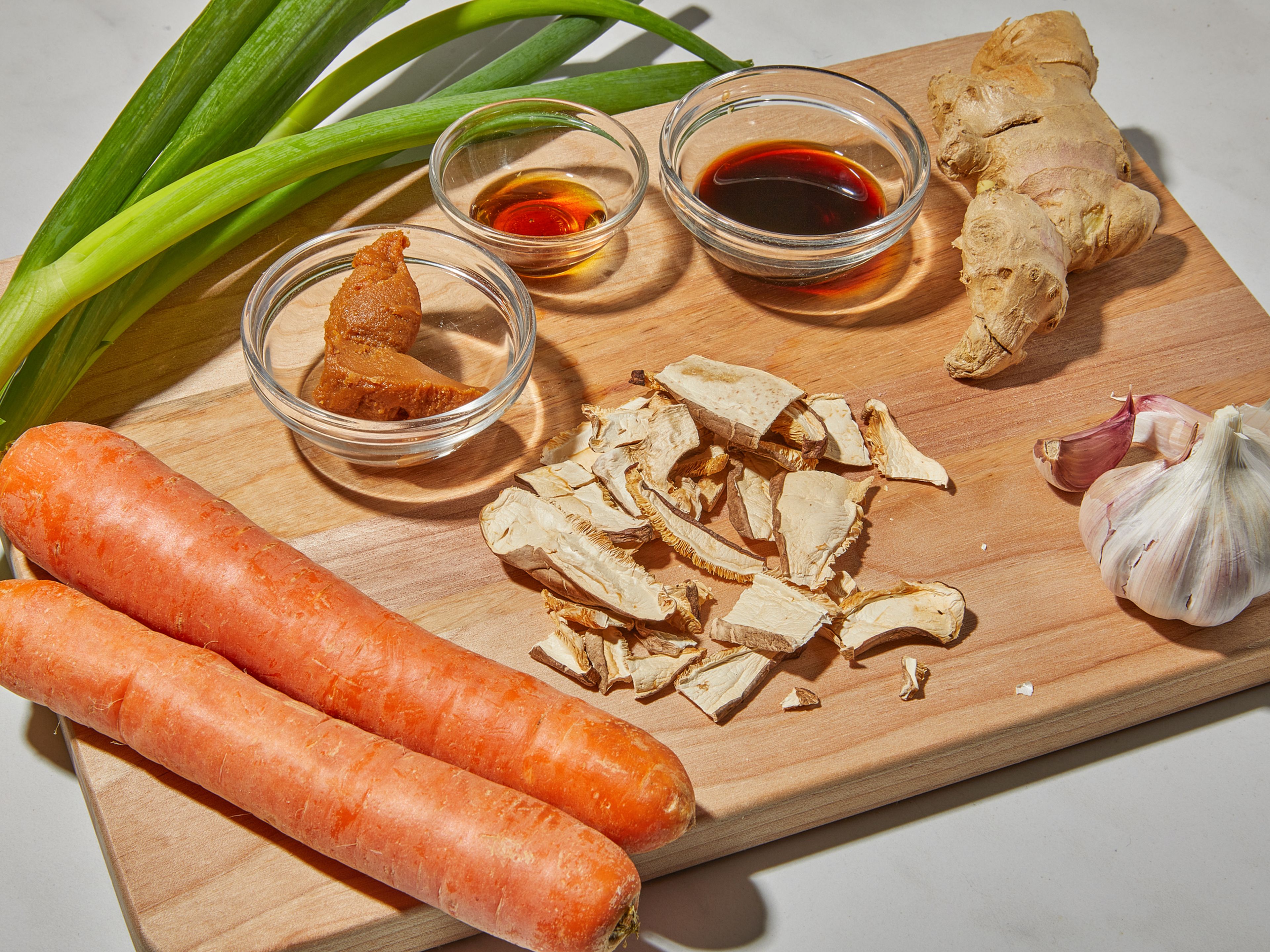 Here are 2 *NEW* quick brothy recipes that show you just how to rustle up flavor in 20 min.
Easy vegetable noodle soup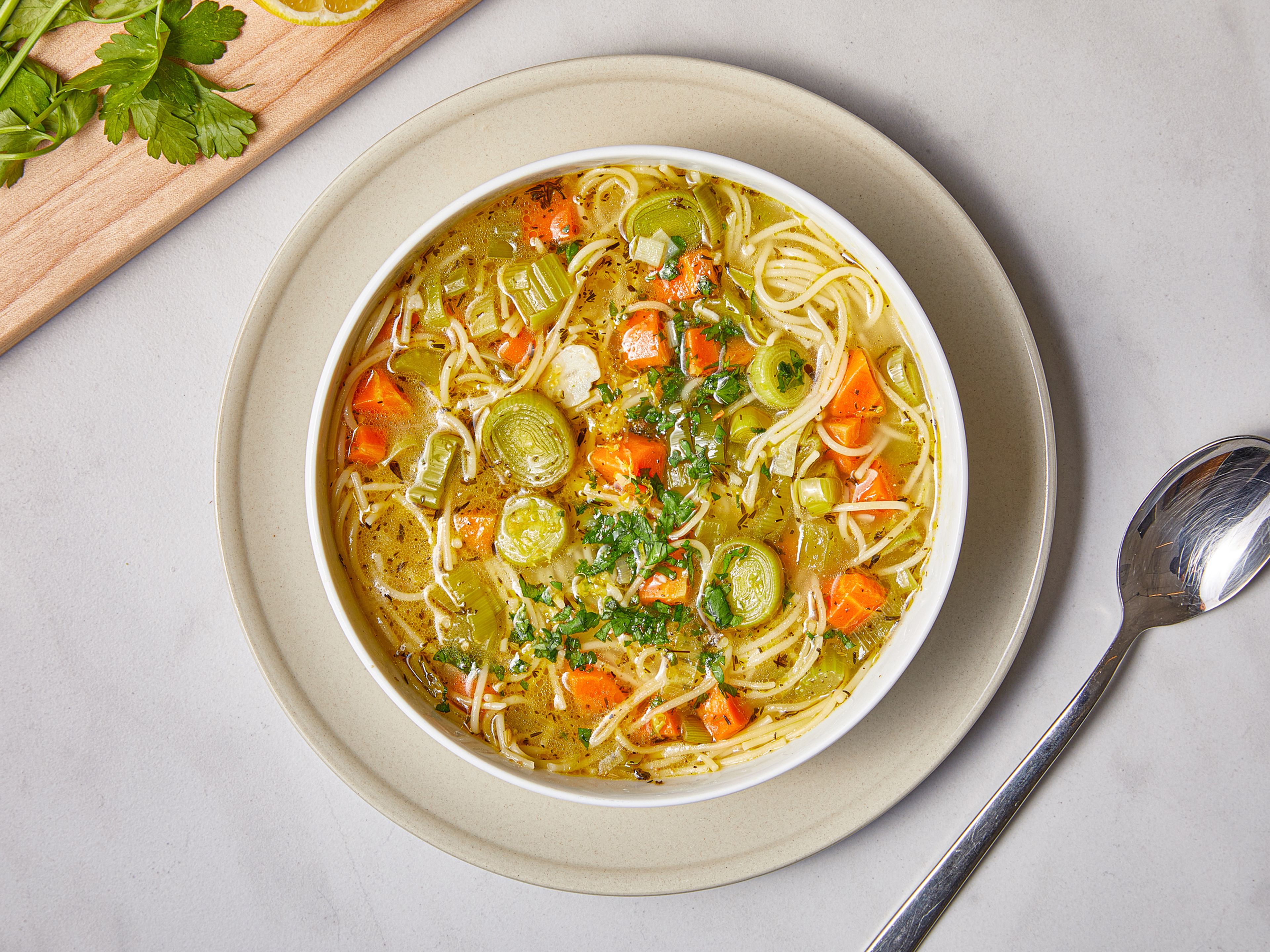 → Go to recipe
Think of this as vegetable soup for the soul: The cousin of chicken noodle soup.   The genius combination of freshly-crushed fennel and coriander seeds and dried thyme plus sweet leeks, carrots, and celery, and a hint of lemon juice and zest create a bright, slurpable soup that I'll be making again and again (and in just 20 minutes, too!)
Quick brothy dumpling soup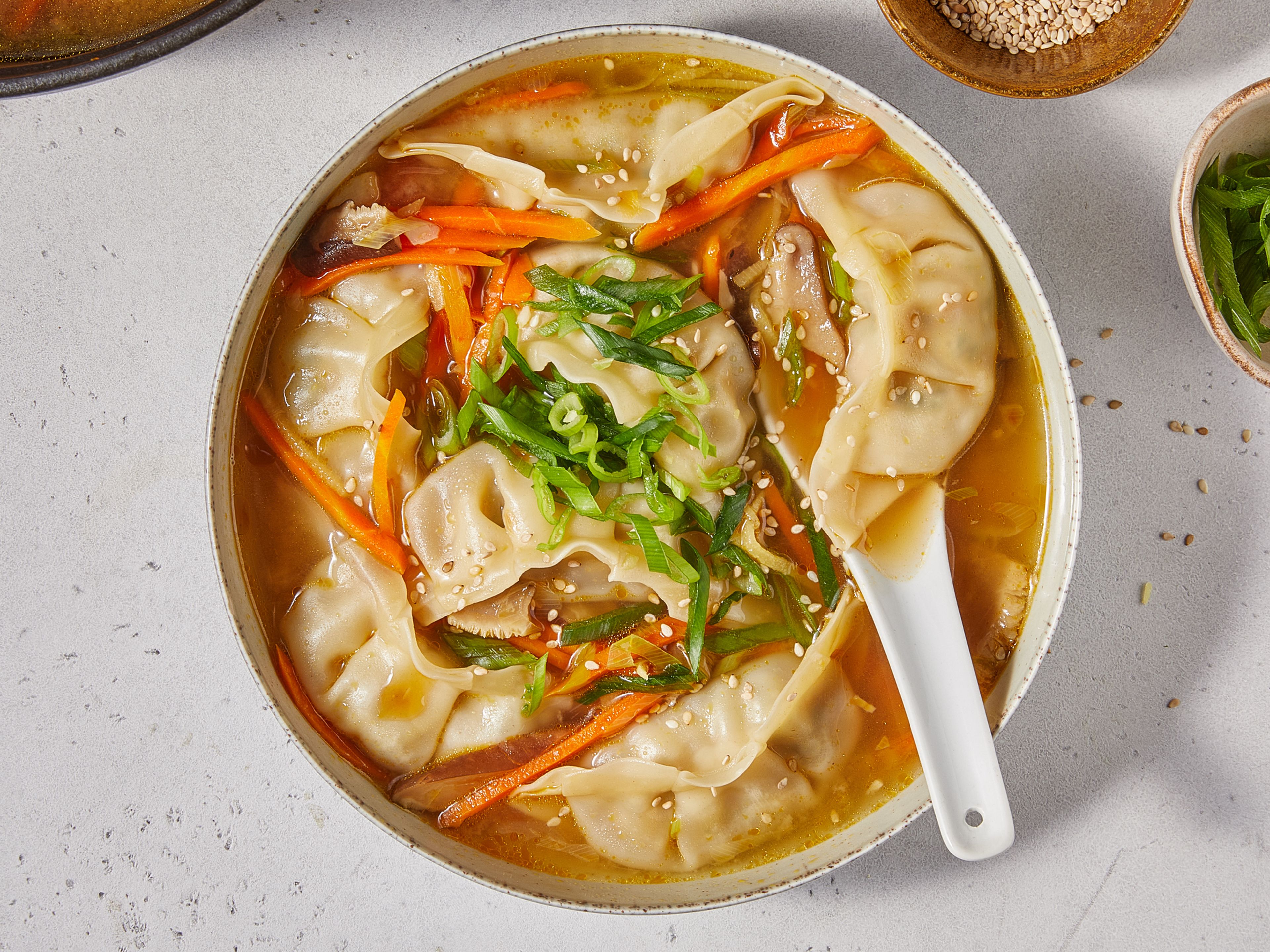 → Go to recipe
This is a pantry soup that I make on the regular. It starts with ginger, garlic, and scallions, then meets dried shiitake and carrots and ends with miso and soy sauce. I like it best with vegetable tofu and dumplings pulled from the freezer, but it's equally great as a noodle-soup base.
If you have any more questions about building flavor in vegetable broths: ask us in the comments section! 
Published on February 9, 2022
More delicious ideas for you