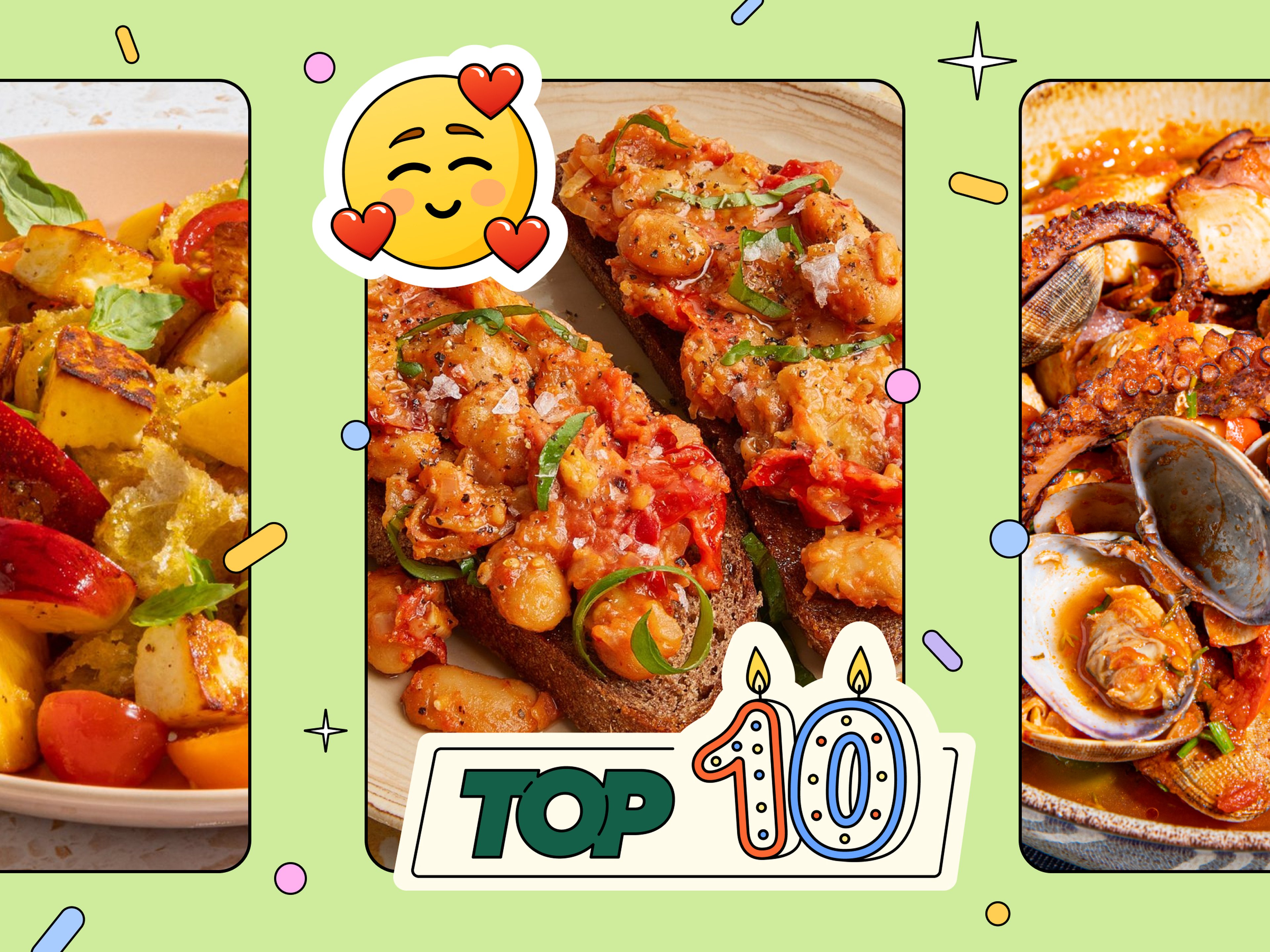 10 Favorite Recipes From The KS Team
Our team won't do without these dishes, here's why
Food Editor at Kitchen Stories
Kitchen Stories turns 10! To celebrate our 10th birthday, we are launching a series of Top-10 articles that lists the very best of Kitchen Stories: most loved recipes, best cooking hacks, quickest weeknight dinners, personal team favorites, and most controversial recipes. Ready for the best of the best? Here we go:

By the way: You'll find some of these recipe favorites and many more delicacies in our brand-new Kitchen Stories cookbook Everyday Cooking from October 2. Pre-order in our shop now! (Available in German language only, shipping to Germany, Austria and Switzerland.)
10 Personal Favorites From The Kitchen Stories Team
We may love all of our recipes, but we'd be lying if we said we don't have favorites. For our 10th birthday, I talked to 10 Kitchen Stories team members, who each chose a favorite recipe from our platform, shared why they like to cook it and how they've served it.

Get ready for the drool-worthy tales of our team discovering new dishes and cooking techniques – they even come with valuable tips to elevate the recipe to the next level!
1.
Burst cherry tomato and miso pasta with sesame crunch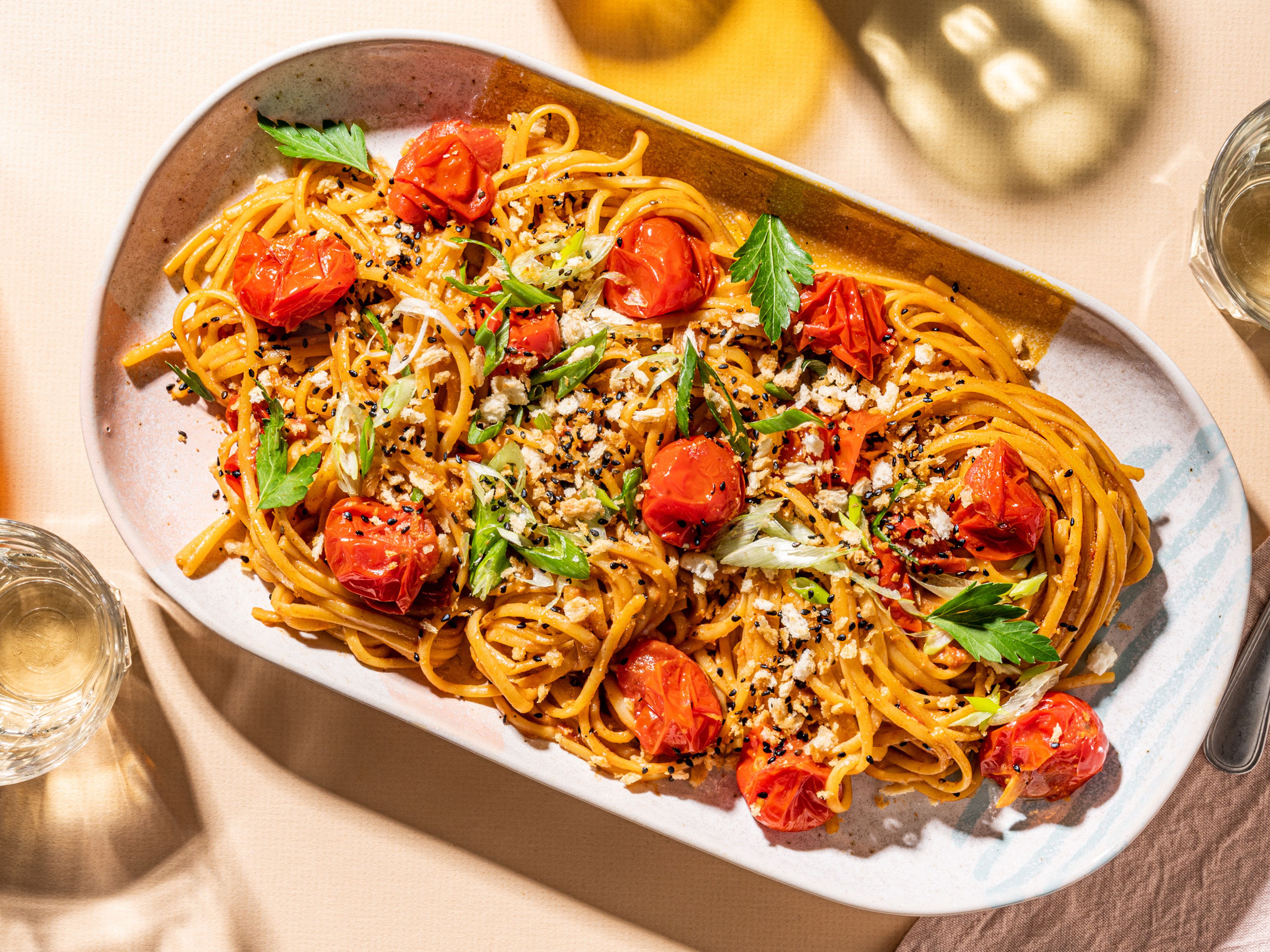 → Go to recipe
Our social media manager Annelie Klockgeter made this dish on a hot summer's evening. We had it over a couple of glasses of wine, and it was a perfect match! This dish is a real showstopper in terms of presentation and flavor, but doesn't take as much effort. The miso paste is the real flavor bomb that brings in a new kind of depth to what is otherwise a common tomato pasta. Since then it has gone on my regular rotation of dishes I cook for friends, and it's been a winner every time!
- Owen (Video & Photo Producer)

Tip: Don't be afraid of anchovies, they add so much flavor and suit this dish perfectly!
2.
Easy roasted white beans with tomatoes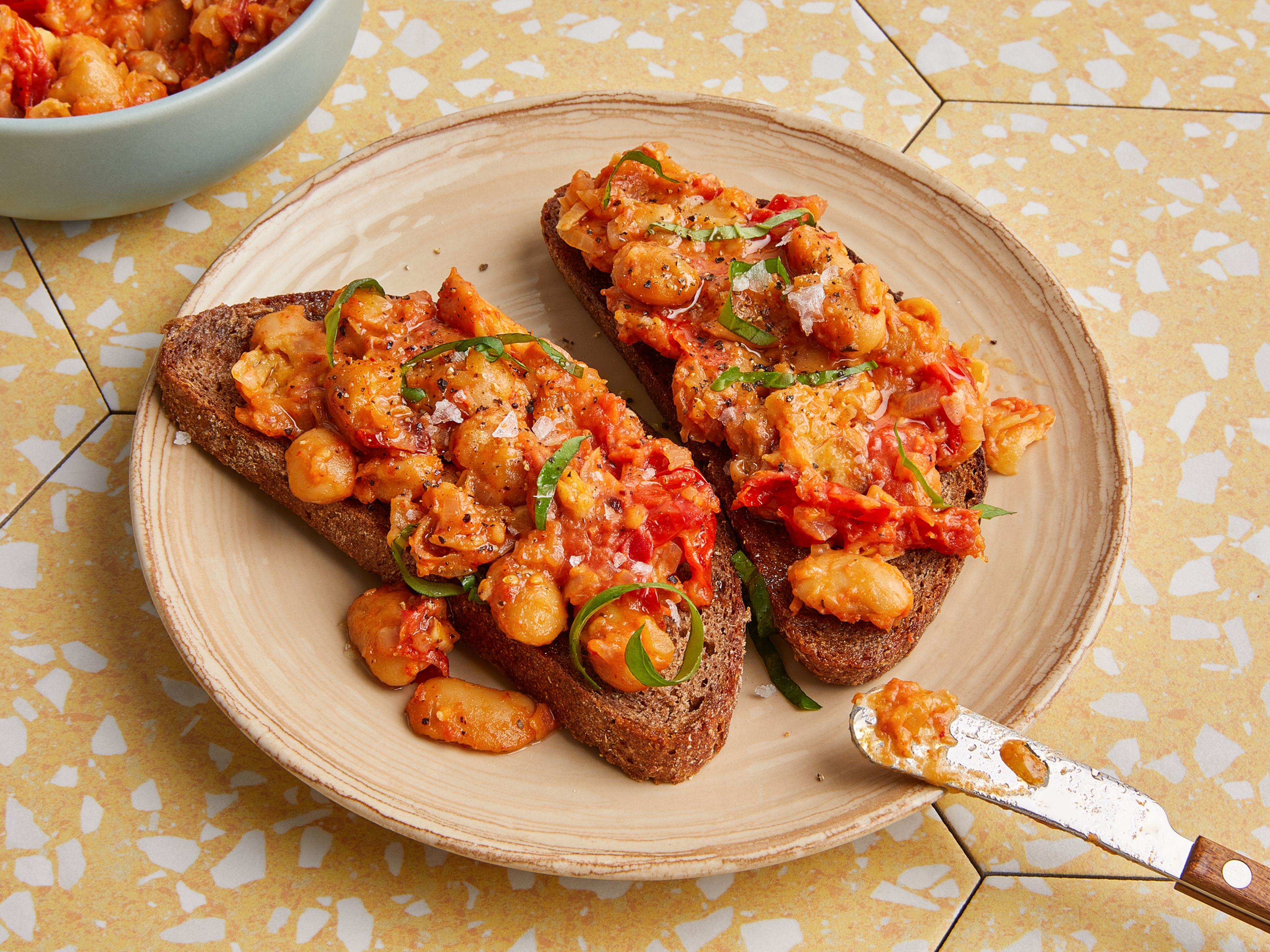 → Go to recipe
This recipe totally blew my mind and has become a staple quick and easy weeknight meal ever since I first tried it! The simplicity of the ingredients is key to the charm of this recipe. But rest assured, it's still bursting with Mediterranean flavors (literally): the creamy beans are infused with sweet and juicy cherry tomatoes, spices and aromatics. - Jing (Food Editor)

Tip: I recommend topping it off with our Butterbrot Baby spice mix or some flaky sea salt – it makes all the difference.
3.
Vegan mushroom goulash with dumplings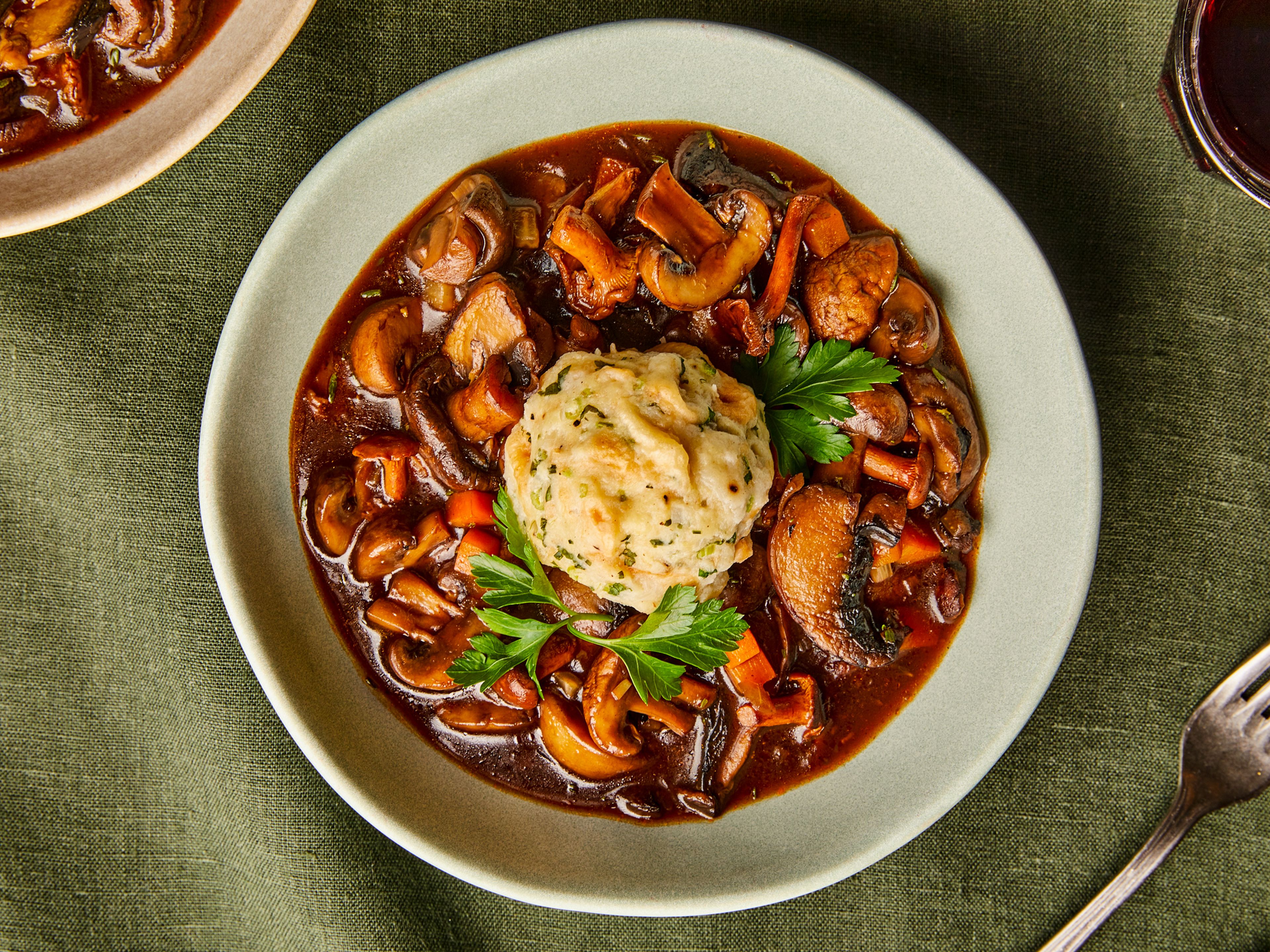 → Go to recipe
When the recipe was published, I tried it with my best friend mainly because we were curious to see if it would work without meat. And I'm happy to say we were absolutely blown away by the result! Honestly if I had to choose one dish to eat all winter long, it would be this one. Not only is it super easy to prepare, the sauce is just so creamy and flavorful. I stopped counting the times I served it, but one of my favorite memories is when I cooked it for my whole family (typically meat eaters) on Christmas, and they loved it just as much. - Jule (Community Management)

Tip: We prepared it with spätzle, which made it even quicker!
4.
Crispy vegan rice paper dumplings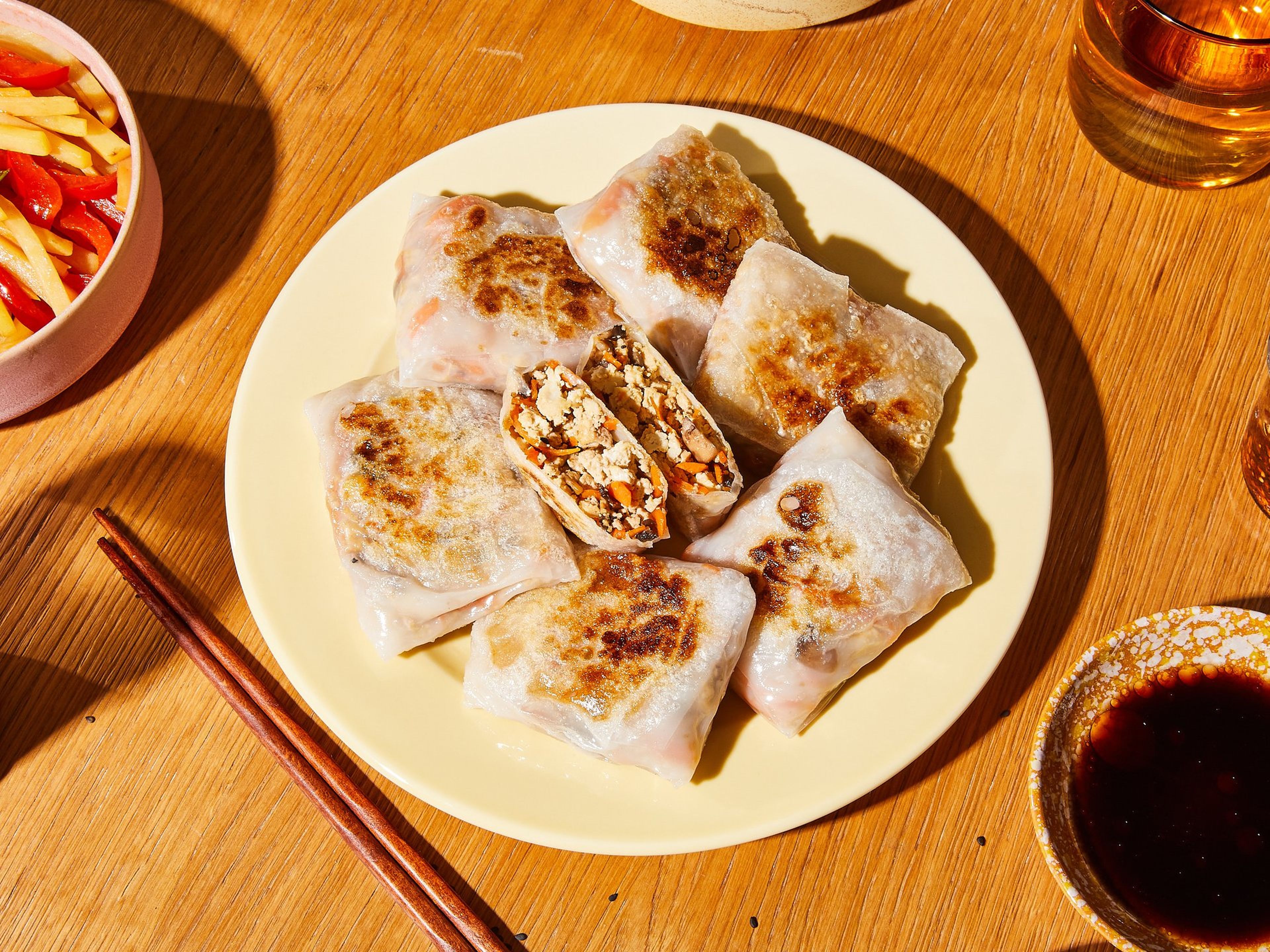 → Go to recipe
These dumplings hit the mark every time. They come together quickly, with minimal mess, and deliver everything you want from a fried dumpling; crispy-chewy wrapper, aromatic filling and enough structure to hold together. It's a perfect pantry dumpling for mid-week, or as part of a family-style dinner party. I've been known to lay out an assembly line and get my friends involved for speedy production en masse.
- Harriette (Food Editor)

Tip: I adjust the filling slightly depending on what's on hand or on my mind - prawns, canned water chestnuts and chives are all worthy additions.
5.
Make Sicilian seafood stew with Christian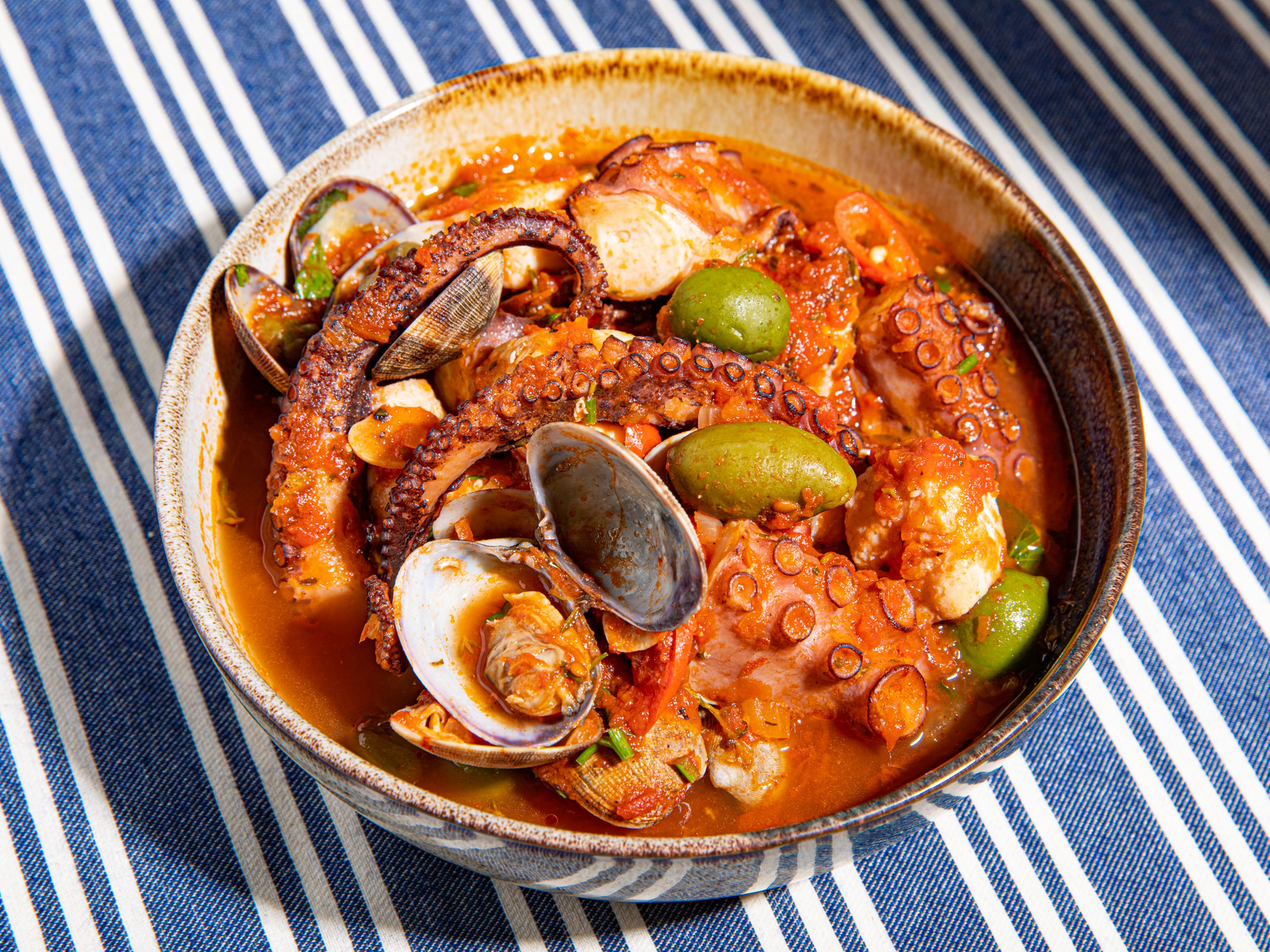 → Go to recipe
I tried this recipe right after it came out and I absolutely fell in love with it. It is so full of many different Mediterranean flavors and takes you right to Sicily! It is also one of the best recipes to impress your friends – the presentation delivers plenty of wow-factor, but the dish is surprisingly easy to cook. - Alex (CEO)

Tip: Choose the right tomatoes: They build the basis of the stew and have a massive impact on the final result. If you want it really fancy, use monkfish instead of swordfish.
6.
5-ingredient manakish (Lebanese flatbreads)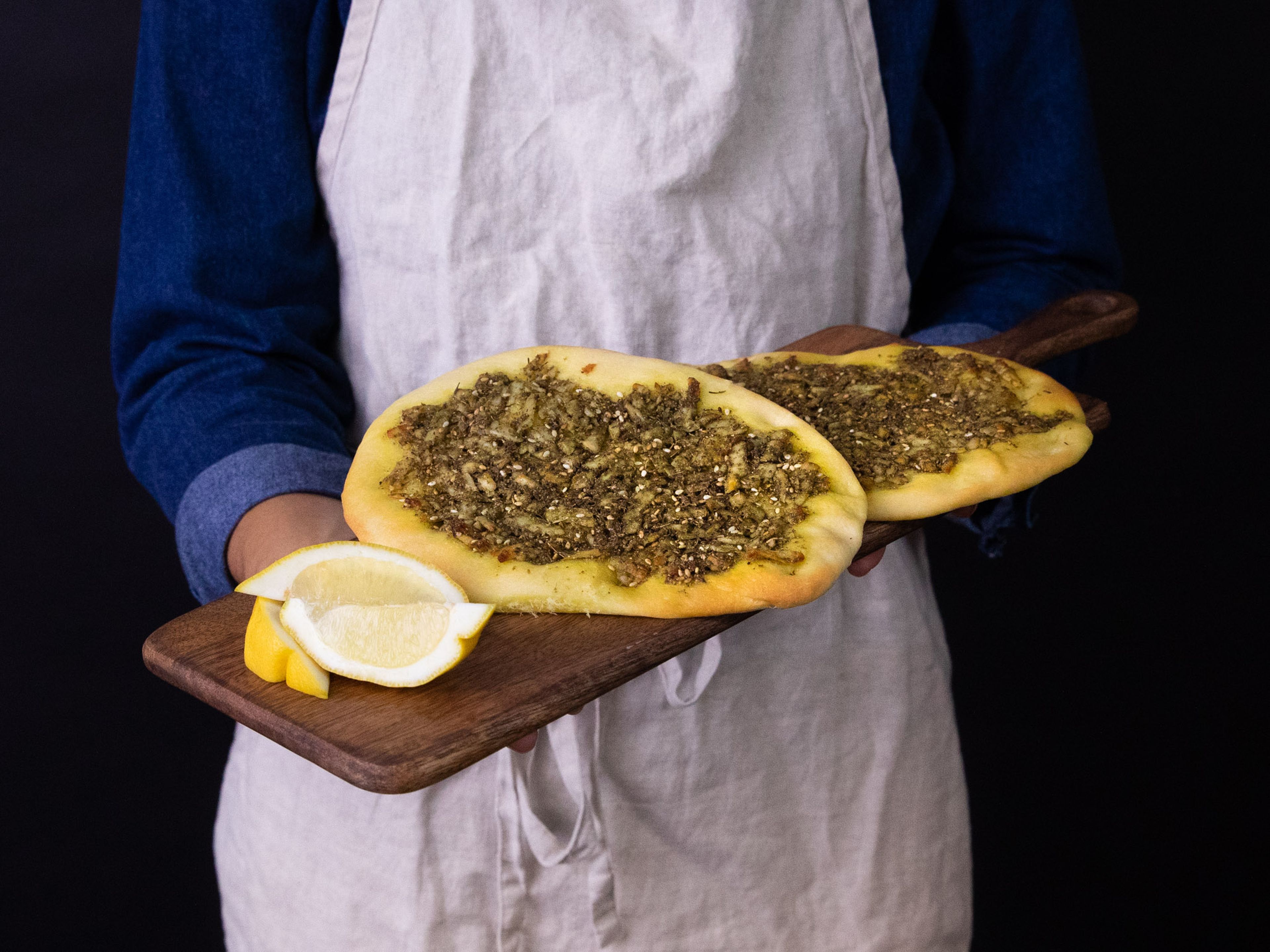 → Go to recipe
I'm a huge fan of levantine cuisine and this recipe goes perfectly with all the other sides and dips, e.g. muhammara, fattoush, hummus, and kofta kebab. I even made my own zaatar mix to go on top of this recipe, which can be served by itself as a small side on its own. - Vanessa (Partner Editor)
7.
Dal soup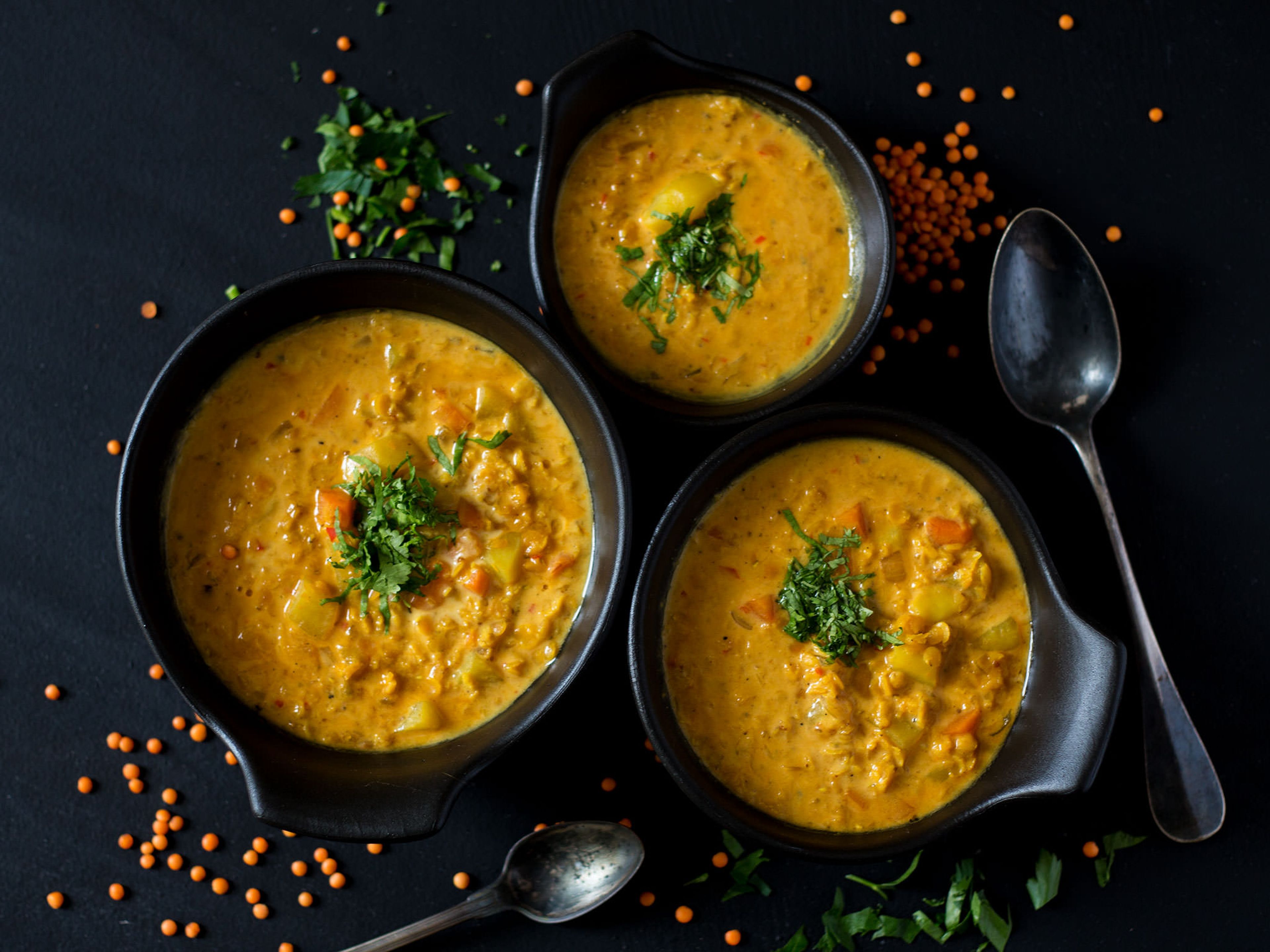 → Go to recipe
I am a huge fan of stews. After mostly cooking the classic 'German' lentil or pea soup, I wanted to try out something different! I had seen this recipe a few years ago during my early days at Kitchen Stories, so I just thought - let's have a go. I like that it is quite a simple one-pot recipe, while the mix of spices creates a big impact. I have cooked it again a few times for my family and friends - everyone loved the taste and welcomed the 'not-so-German' stew into our routine!
- Leonie (People Operations Manager)
8.
Tartiflette (French potato, bacon, and cheese casserole)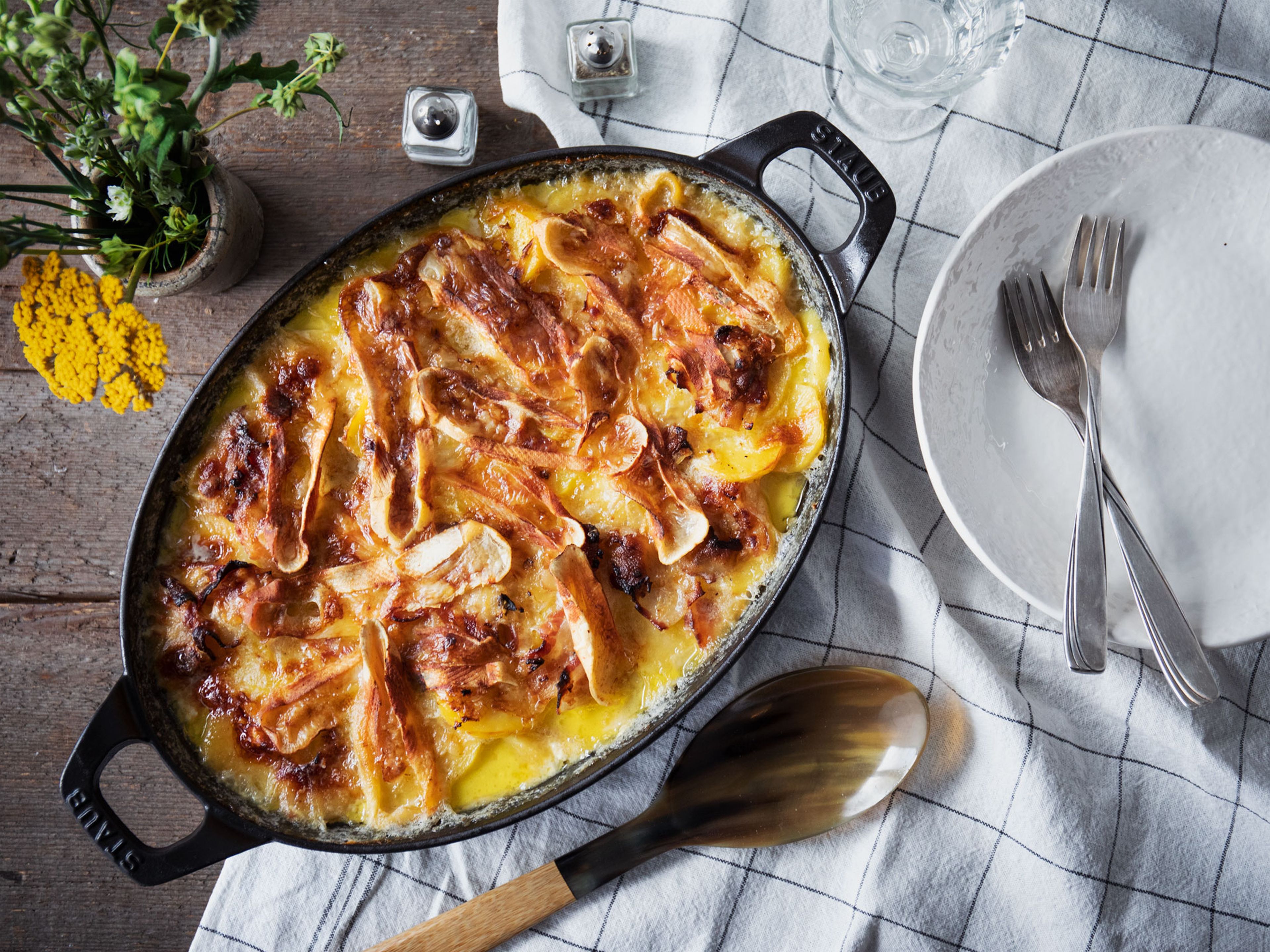 → Go to recipe
It combines everything I absolutely love: potatoes, ham, cheese and white wine. Who could say no? I love how little time it takes and how easy it is to make. It feels like a warm hug! I have cooked the recipe and had friends, family or nobody over – it is absolutely enjoyable all the same. - Lea (Team Lead Key Account)
9.
5-ingredient panzanella with nectarines and halloumi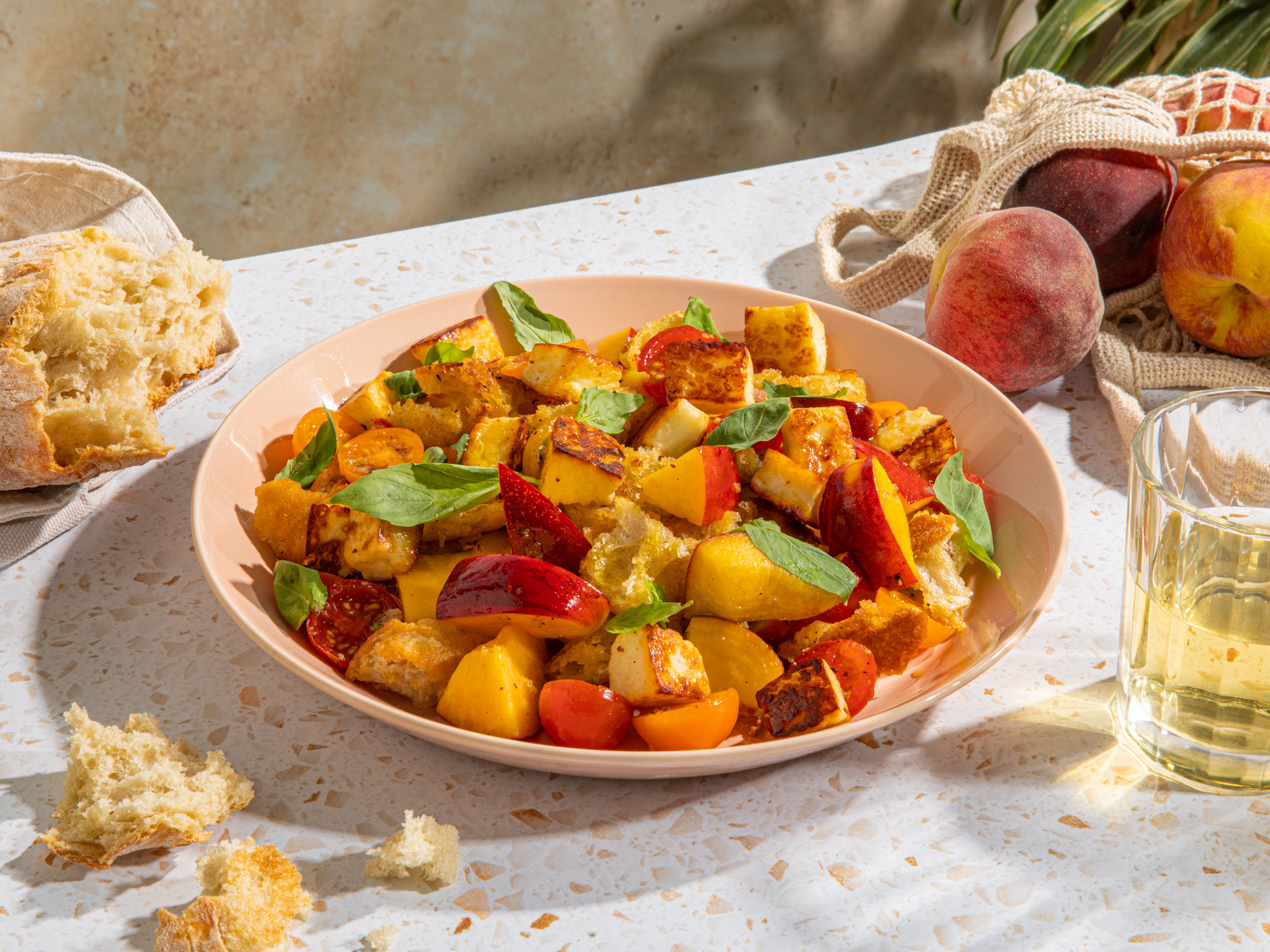 → Go to recipe
Sometimes it's the simplest things in life that give the biggest joy, just like this beautiful salad with only 5 ingredients. I also love the fact that a bread based dish can still be labeled as a "salad". I'm a huge halloumi lover, especially when it's fried golden brown and crispy. Tomatoes and the toasty, crunchy bread pair so well with the juicy nectarines. In summer this is one of my very favorite lunches. - Caro (Food Editor)

Tip: Prep a huge bowl and then enjoy it together with the loved ones–just like we did in our office the other day!
10.
Vegan tantanmen (sesame ramen with soy mince)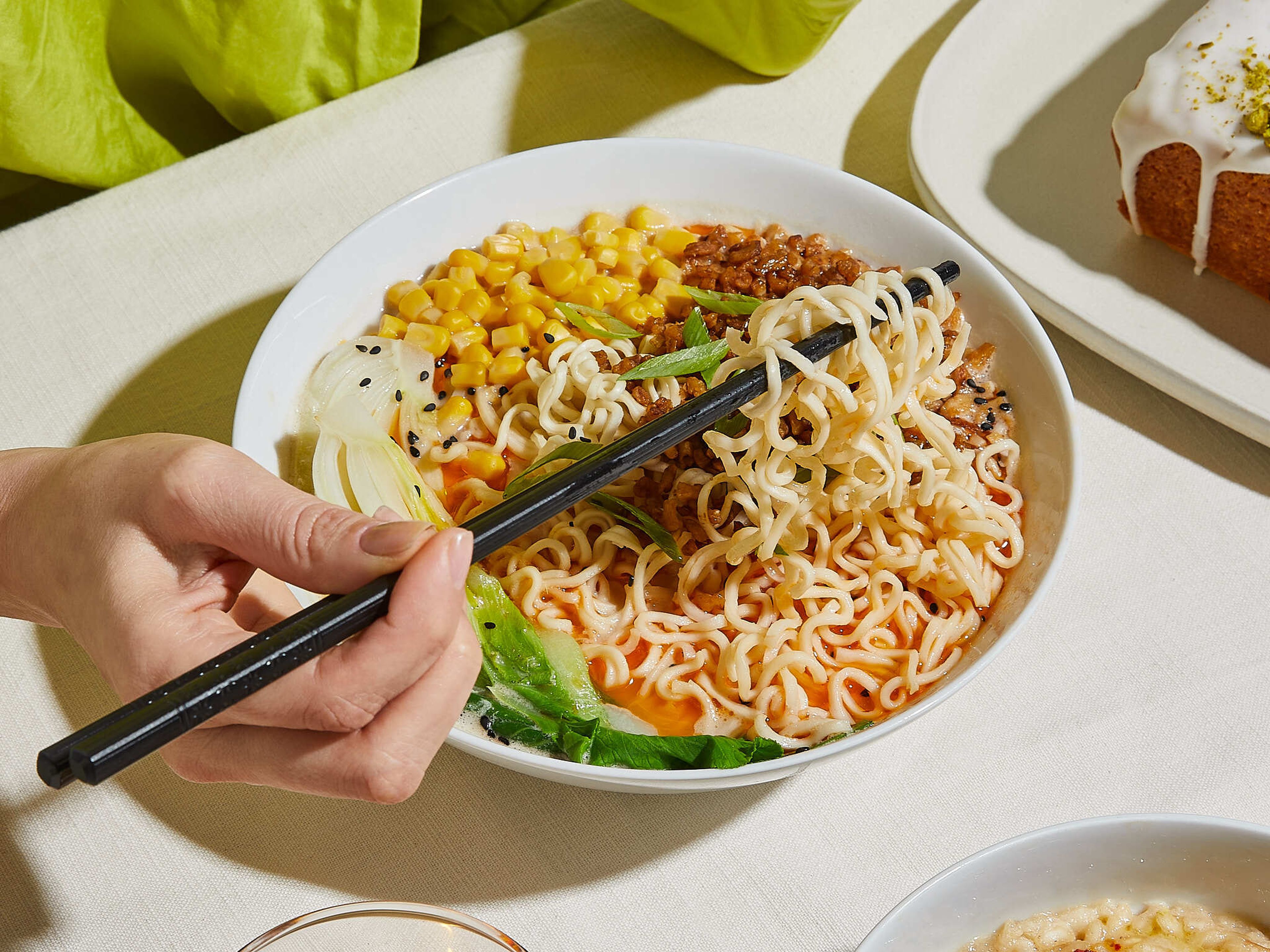 → Go to recipe
I first discovered ramen when I moved to Berlin 3 years ago. I couldn't get enough of it and wanted to recreate the hearty, full-bodied broth at home. So I tried Caro's recipe and loved it so much that I have cooked it more than 10 times now. Whenever I want to feel good–Caro's Ramen. I'm in a bad mood–Caro's Ramen. I want to treat myself–Caro's Ramen! - Luise (Corporate Communications)

Tip: I chop all the ingredients first, put them in small bowls and only start cooking when all the ingredients are in front of me. That way I keep an overview of my process and keep it efficient. Also, the broth tastes even better the next day (and the day after that)!

What are some of your ultimate favorite recipes from Kitchen Stories? Tell us in the comments and why!
Published on October 1, 2023
More delicious ideas for you