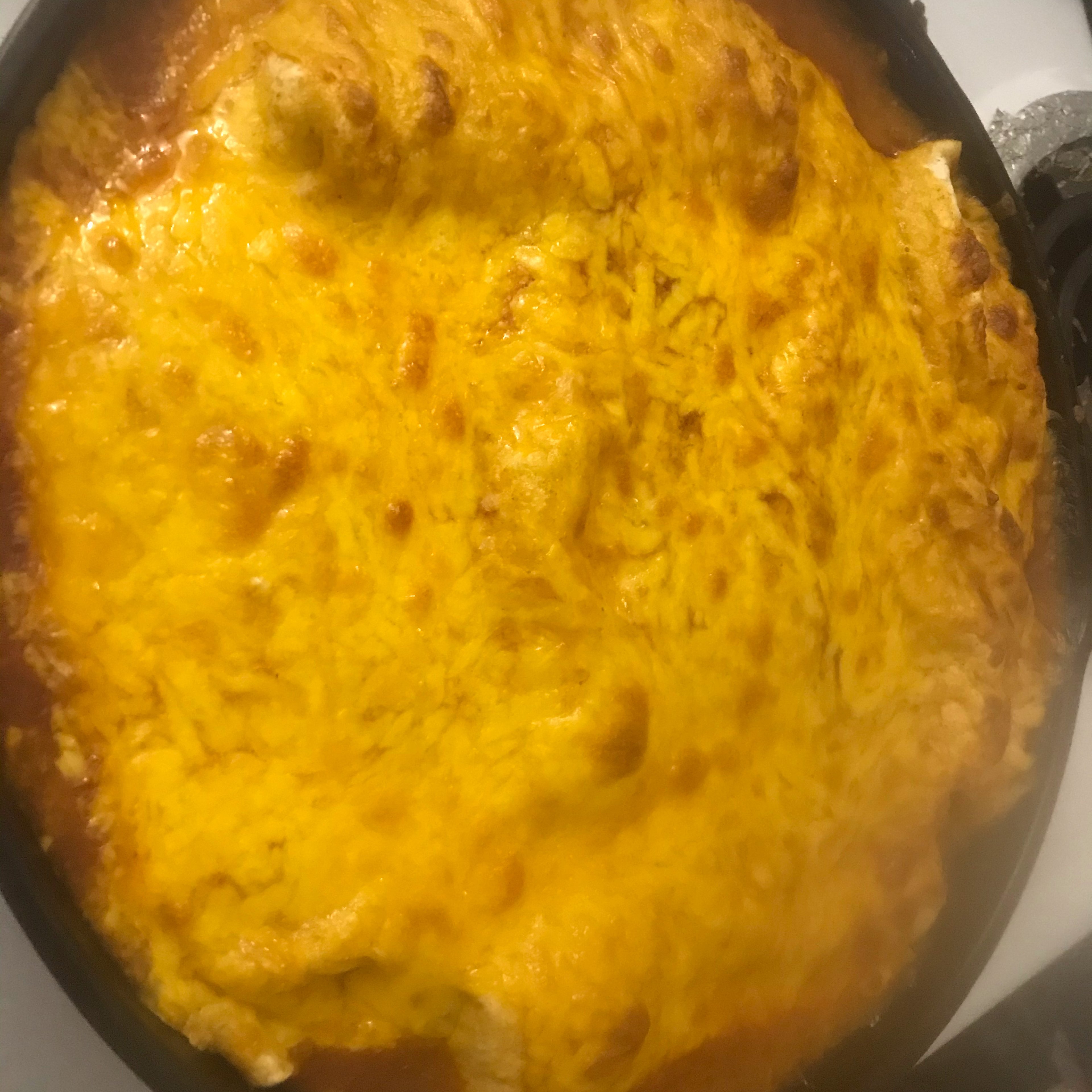 Easy Cheesy Enchiladas
"This is a family favorite and toddler approved dish and is so easy you can even prep the veggies the night before for an easy dish to prepare ! "
Step 1/ 7

1

chicken breasts

6⅔ fl oz

enchilada sauce

Take your chicken out of the package and put it in a big pot.Than poor 1 can 10oz of enchilada sauce in with it plus 1 can of water (I just reused the can of enchilada sauce so about 10oz of water. Let that boil for 25-30 minutes until cooked

Step 2/ 7

⅛

yellow bell pepper

⅛

green bell pepper

⅛

baby orange bell pepper

⅓ cup

onion

Take all of your bell peppers and cut and clean them, they all need to be about 1/2 an inch thick long ways. Than slice your onion thin long ways. I'm cooking for only 3 so I only used half of each bell pepper and 1 small whole onion

Step 3/ 7

Take all of your peppers and onions and put them in a pan with 1/2 a cup of the juice from the chicken boiling and add it to your peppers along with a pinch or so of taco seasoning. Let that cook and stir it every 2 minutes until soft.

Step 4/ 7

Once your chicken is cooked all the way through take each one out and shred it. I personally use a mixer to make it easier but you can do this with two forks. Once done add this back to the same pot you cooked them in along with your bell pepper onion mixture . Now add another pinch or two of taco seasoning and cook about 5 minutes.

Step 5/ 7

Now on a separate dish put a flour tortilla down and put your mixture of the chicken bell pepper onion mixture into it and a little shredded cheddar cheese roll them up and put them in a baking dish repeat this step until your satisfied with how ever many you want.

Step 6/ 7

Last step once you have lined your baking dish with all of your stuffed tortillas pour one can 10oz of the enchilada sauce over all of it! Don't be afraid to use the whole can. Once done top the entire dish with shredded cheddar cheese I used about 3 cups it just depends on how many your making

Step 7/ 7

Bake in oven on 350 for about 20 minutes or until the cheese is all melted I turn on my broiler the last 5 minutes just to get the cheese crunchy and yummy! This is a family favorite and toddler approved dish.

Enjoy your meal!
More delicious ideas for you