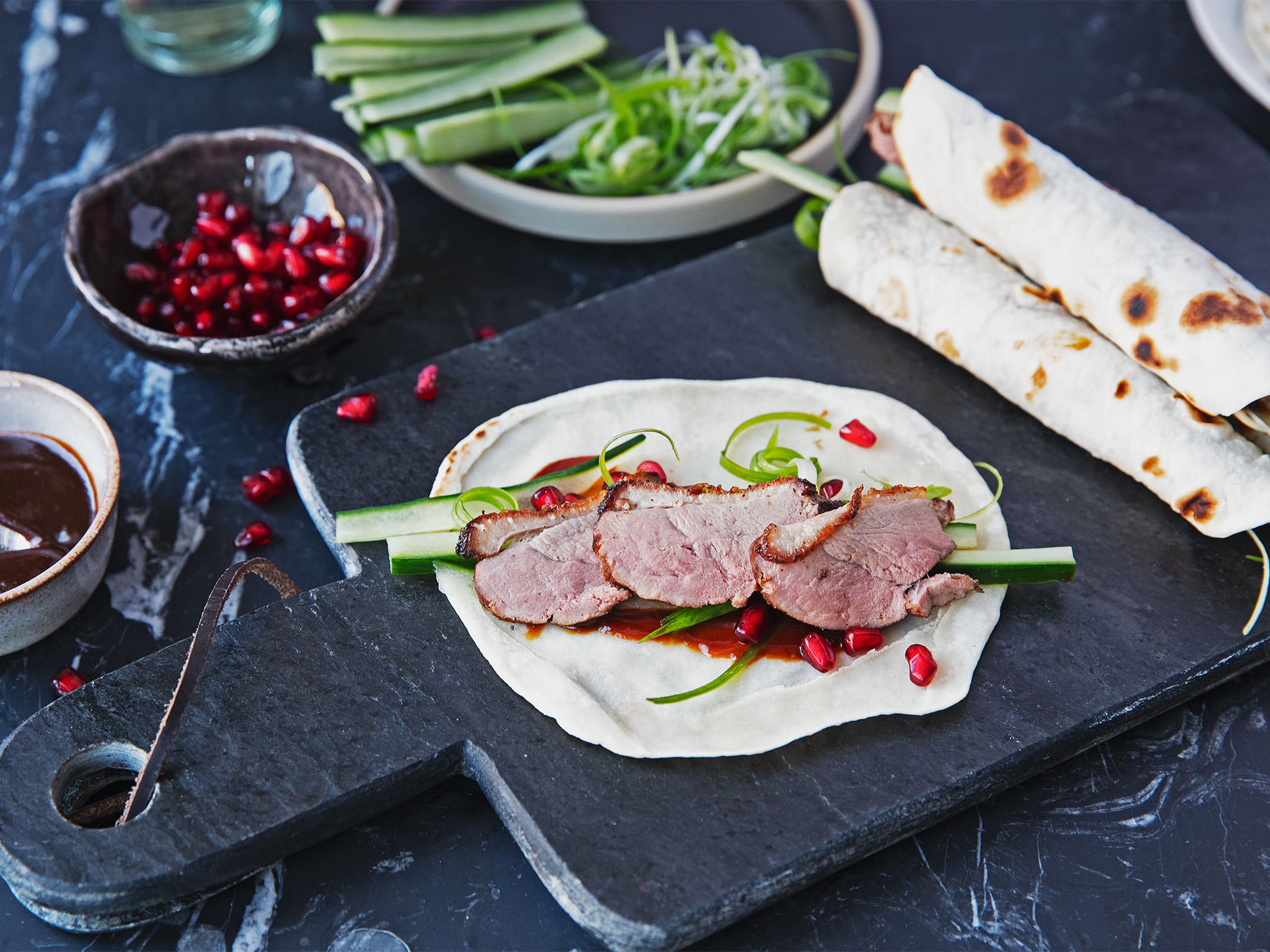 Duck pancakes with cucumber, pomegranate, and hoisin sauce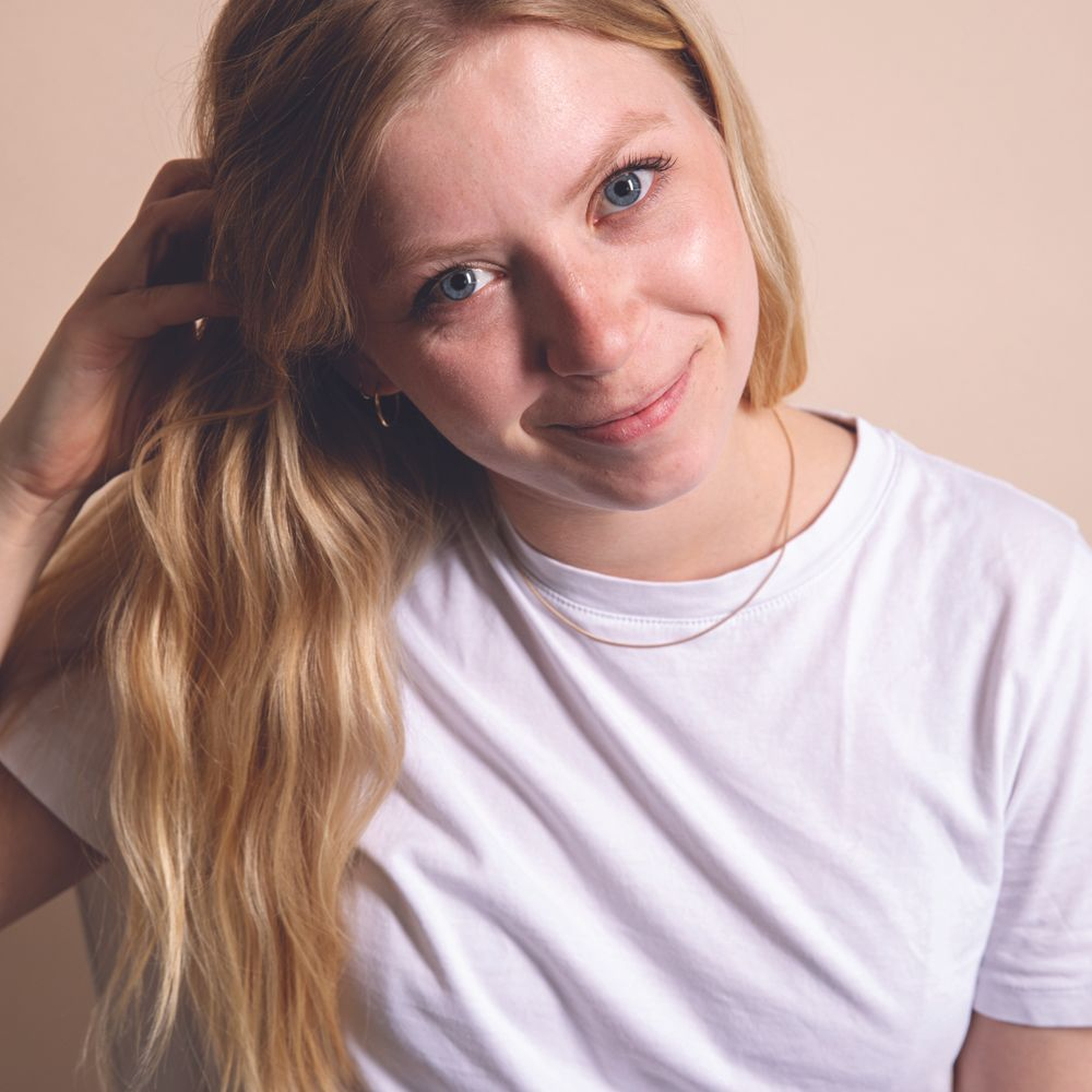 "I never thought of making duck pancakes at home but after trying it once, I realized it's not that difficult, it just takes some time. It's a recipe I've made again and again—simple and ingenious!"
Ingredients
Chinese five-spice powder
Utensils
2 bowls, whisk, 2 baking dishes, pot, chopsticks, 2 kitchen towels, oven, 2 frying pans, 2 spatulas, 2 cutting boards, 2 knives, pastry brush, rolling pin
How-To Videos
How to secure a cutting board
How to cut green onions
How to deseed a pomegranate
Step 1/ 8

1½ tbsp

corn syrup

2 tbsp

dark rice vinegar

2 tsp

soy sauce

1 tsp

smoked paprika powder

1 tsp

Chinese five-spice powder

1

duck breasts

For the marinade, combine corn syrup with dark rice vinegar, soy sauce, smoked paprika powder, and Chinese five-spice powder. Rub marinade on the meat-side of the duck breasts, leaving the skin uncovered, and marinate in the fridge for at least 1 hr.

Step 2/ 8

125 ml

water

175 g

flour

salt

pot
bowl
chopsticks
kitchen towel

For the pancakes, bring water to a boil. Mix flour with salt, add the boiling water, and mix well, using chopsticks. Once cool enough to handle, knead for approx. 8 min., or until a smooth dough has formed. Cover with kitchen towel and let rest for approx. 1 hr.

Step 3/ 8

oven
frying pan
spatula
baking dish

Preheat the oven to 80°C/175°F. Transfer duck breast to a frying pan, skin-side down, and sear until the skin is golden brown. Flip and sear the other side for approx. 3 min. Transfer to a baking dish and bake for approx. 1.5 hrs., or to desired level of doneness.

Step 4/ 8

½

pomegranate

½

cucumber

1

scallions

Meanwhile, halve and deseed pomegranate. Quarter and core cucumber. Cut cucumber and scallions into thin strips and set everything aside.

Step 5/ 8

½ tsp

vegetable oil

flour (for dusting)

For the pancakes, roll dough into a thin log and divide into approx. 24 equal pieces. Roll into balls and gently press them down. Brush half of them with some oil, then press another dough ball on top of each (at this point you'll have 12 stacks of two dough balls each). On a floured working surface, roll each stack of dough balls into thin pancakes.

Step 6/ 8

frying pan
spatula
kitchen towel

Heat a frying pan over medium-high heat. One after another, transfer the pancakes to the frying pan and let cook for approx. 30 sec., or until they slightly inflate. Then flip and cook again until lightly browned. Allow to cool, then carefully pull each pancake apart. You should have 24 pancakes. Cover them with a clean kitchen towel and set aside.

Step 7/ 8

Turn up the oven to 230°C/450°F and roast duck breasts for approx. 5 – 7 min., or until the skin gets really crispy. Remove from the oven and thinly slice.

Step 8/ 8

Spread pancakes with hoisin sauce, top with cucumber, scallions, pomegranate seeds, and duck slices, then wrap them one after another. Enjoy!

Enjoy your meal!
More delicious ideas for you