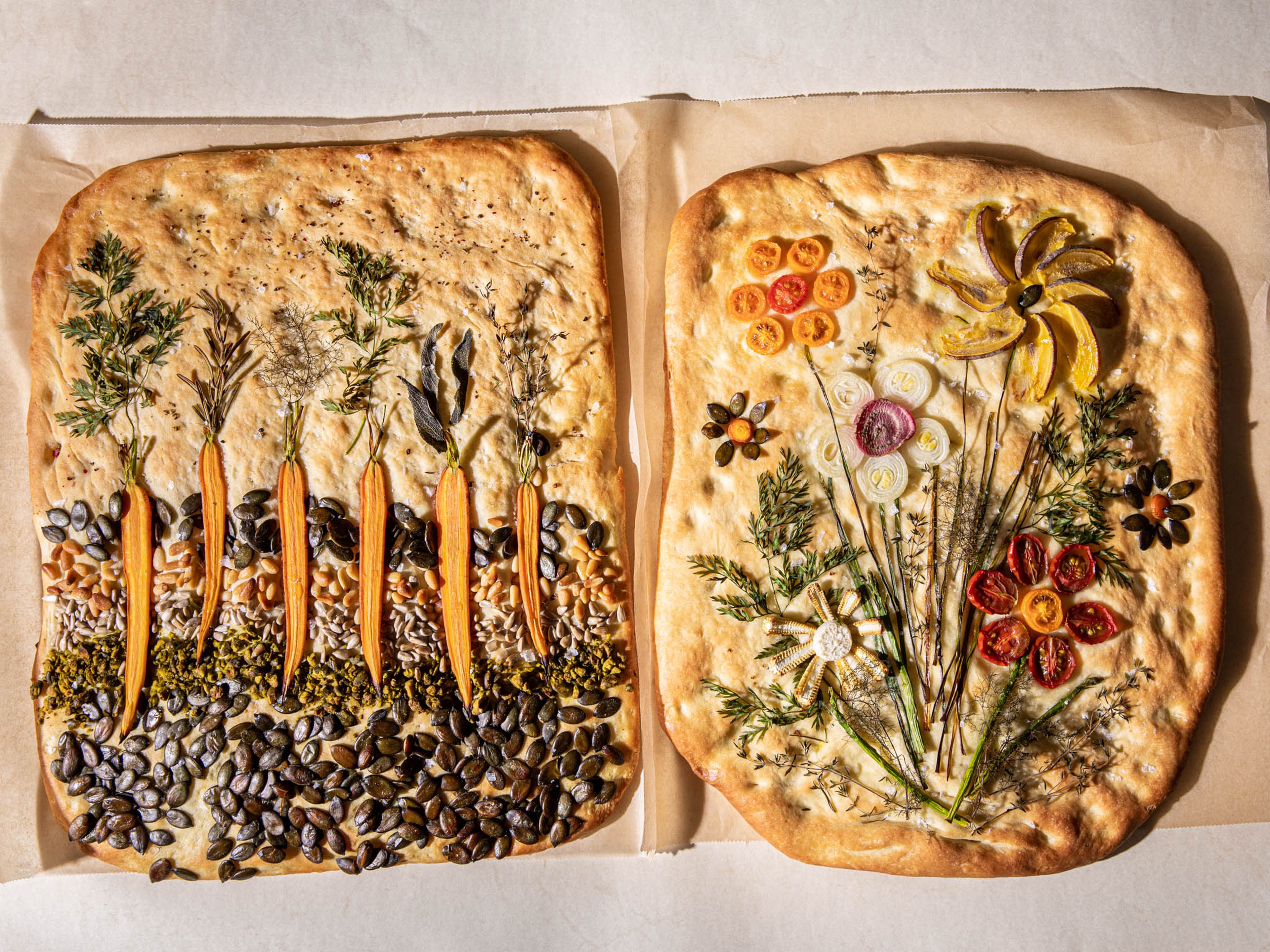 What's the Deal With Garden Focaccia?
And how to make it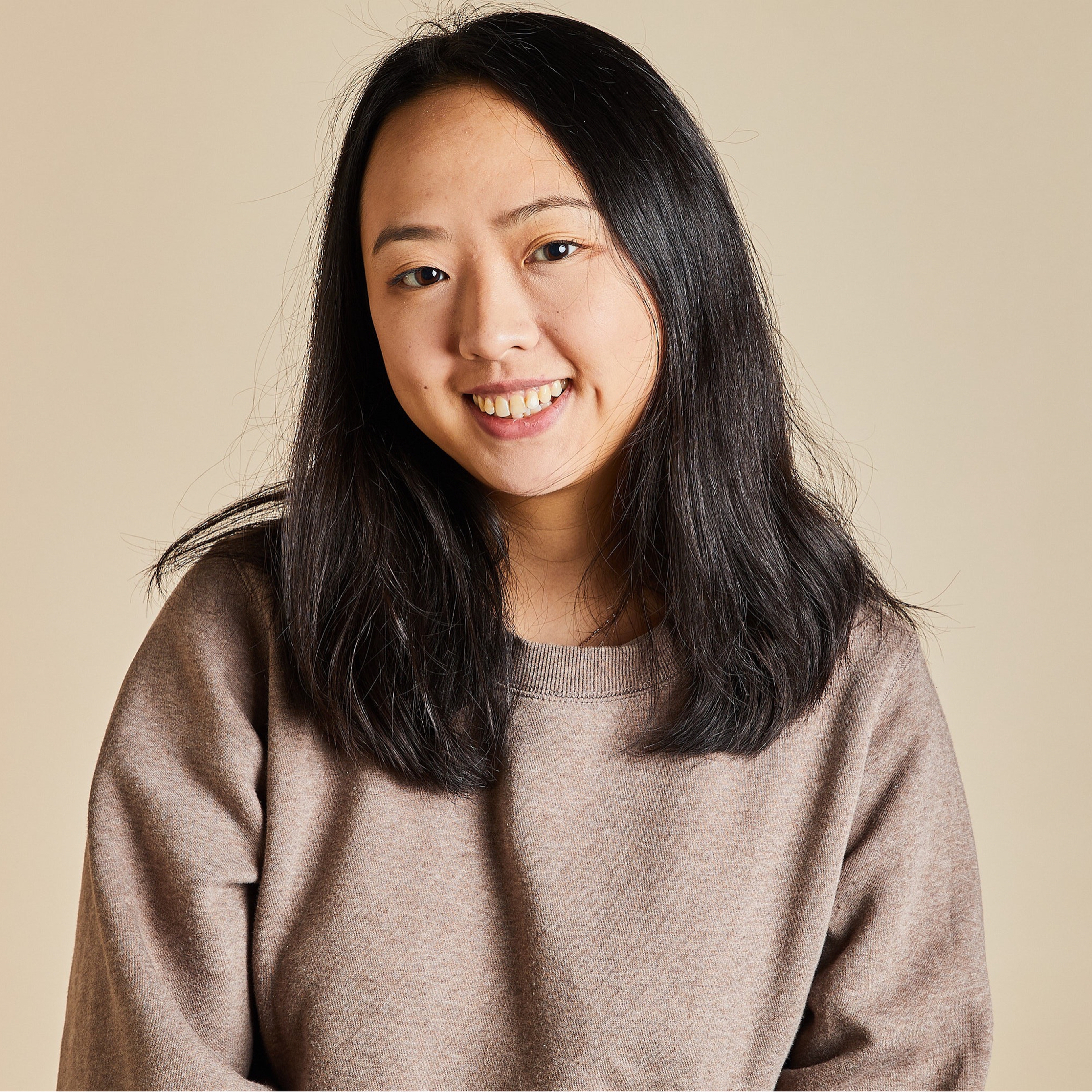 After "kitchen tamagotchi" sourdough and foamy-dreamy dalgona coffee, we are now onto the equally (or more) Instagrammable food trend: garden focaccia. You might have come across it in your Instagram feed during quarantine: a colorful decorated focaccia bread that resembles a garden. The trend is believed to have started from a homebaker in the US in early 2019, and enjoyed its fame during the spring. We may be a bit late to the party, but we believe summer is the best time to make it. From plump and stunning tomatoes to juicy melons, just look at all the colorful produce at the market!
While no one could really resist a fluffy, crispy, oily piece of focaccia bread, decorating focaccia elaborately can be something soothing and therapeutic, especially since most of us can't physically be in Italy this year.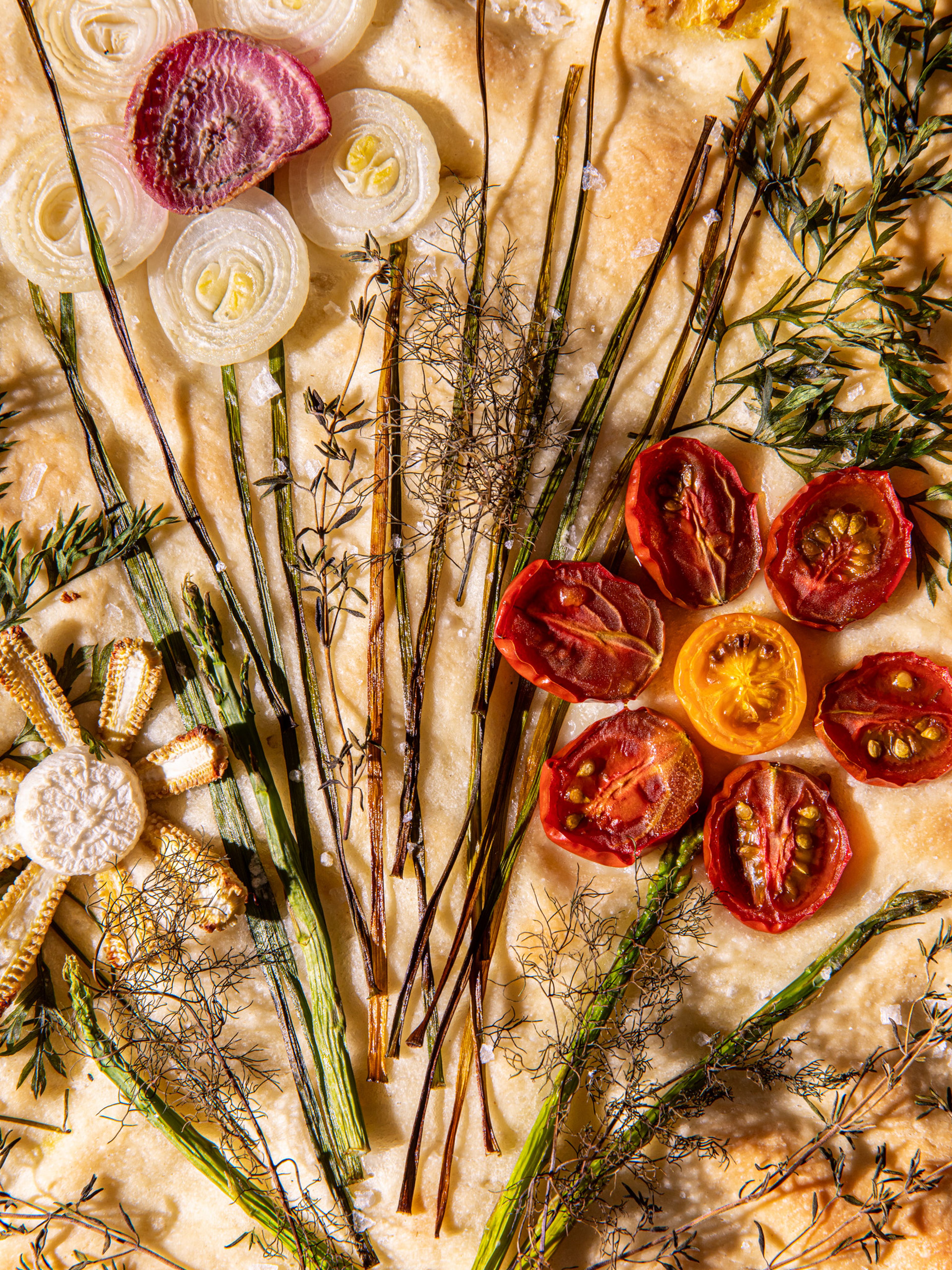 Similar to the art of scoring bread, for me, decorating focaccia has some escapist, poetic depth to it. In the age of social-distancing, making garden focaccia can be a wonderful project for families with children and can be a great transportable finger food for a picnic by the lake.
To make it, we first need a focaccia dough. For a very basic but no less brilliant recipe, try this one by our chef Hanna. Follow until step 10, then roll up your sleeves to start your art creation.
Elements to play with
Our chef Christian landscaped four different focaccia gardens and he absolutely had some fun with it. There's no strict rule for what ingredients to use, so toss in whatever you have on hand—this is an especially good way to use up leftovers, like herbs, seeds, and vegetables. A good thing to keep in mind is how the finished product will look after baking. You want it to look like something you'd actually want to eat!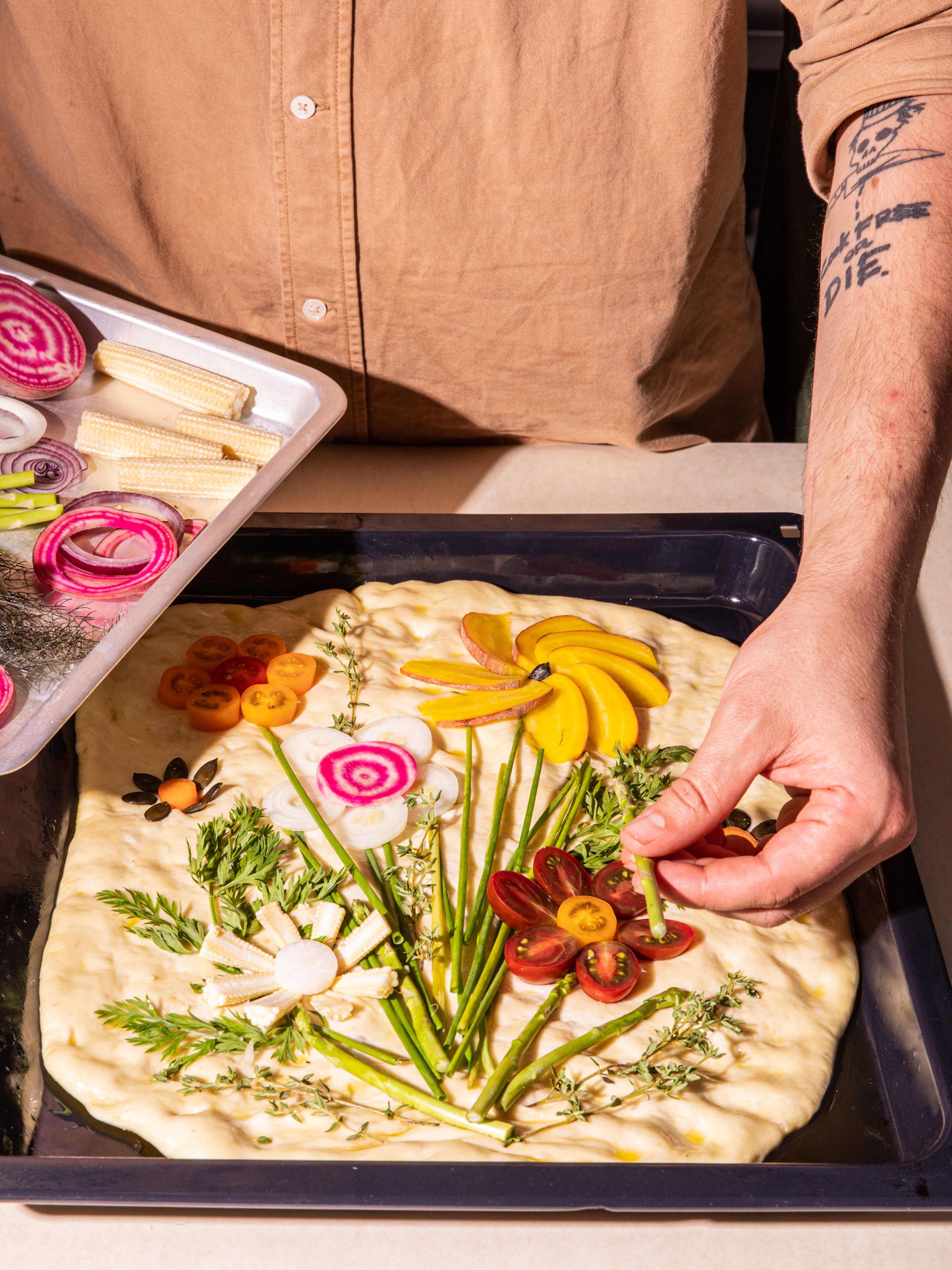 Here are some ideas for your imaginary garden:
To make soil: nuts and seeds
To make stems and leaves: herbs (scallions, chives), halved asparagus or thin carrots
For shapes of flowers and fruit: red onions, olives, beetroots, bell pepper, sliced whole garlic, mini corn, or even edible flowers
Let your creativity flow and start with simple herbs to something even more elaborate. Recreate a famous painting like Starry Night or The Scream. Most of the decorated garden focaccia look prettier before baking, so take pictures here! Don't forget a drizzle of olive oil to keep the dough moist and sprinkle on some sea salt for flavor. Send your artwork in the oven where they will be nicely browned and you will be awarded with an airy bite!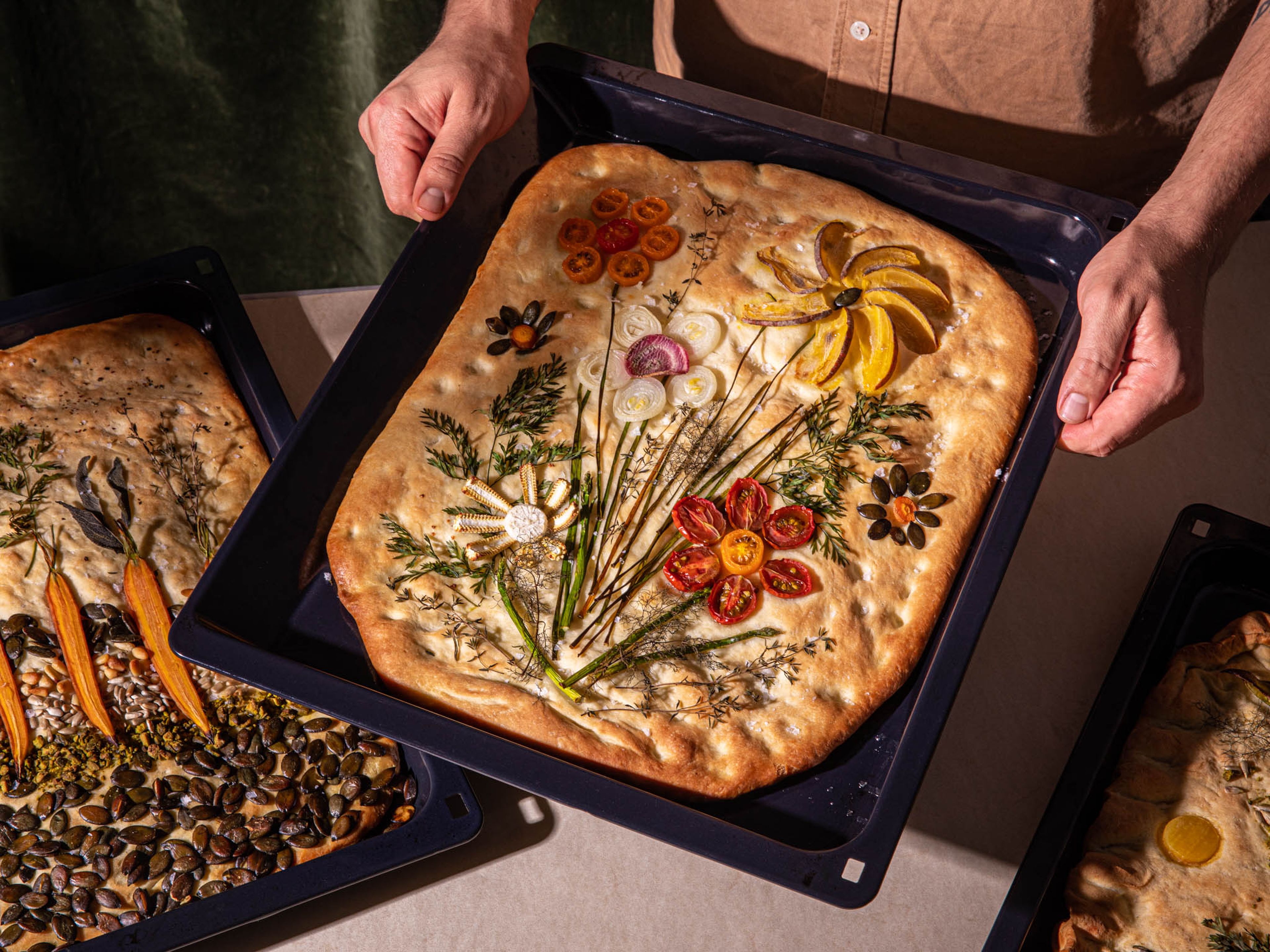 Summer vacation and what it stands for might be, or already has been, radically changed this year. At the end of the day, we still have olive oil, flour, and some imagination.
Published on August 10, 2020
More delicious ideas for you