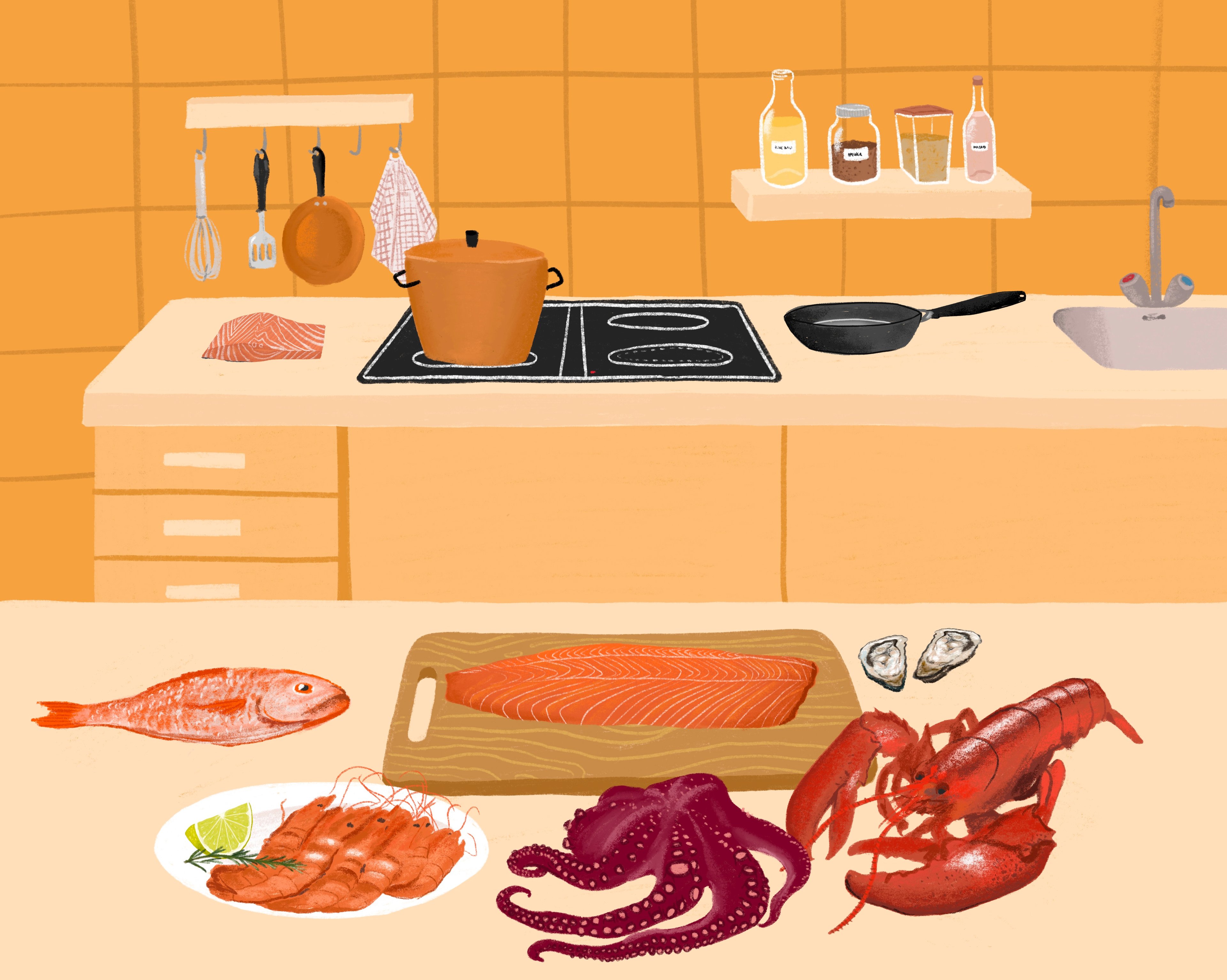 Letter from the Editor: Food for Future
A month-long discussion on how to eat better, for yourself and the environment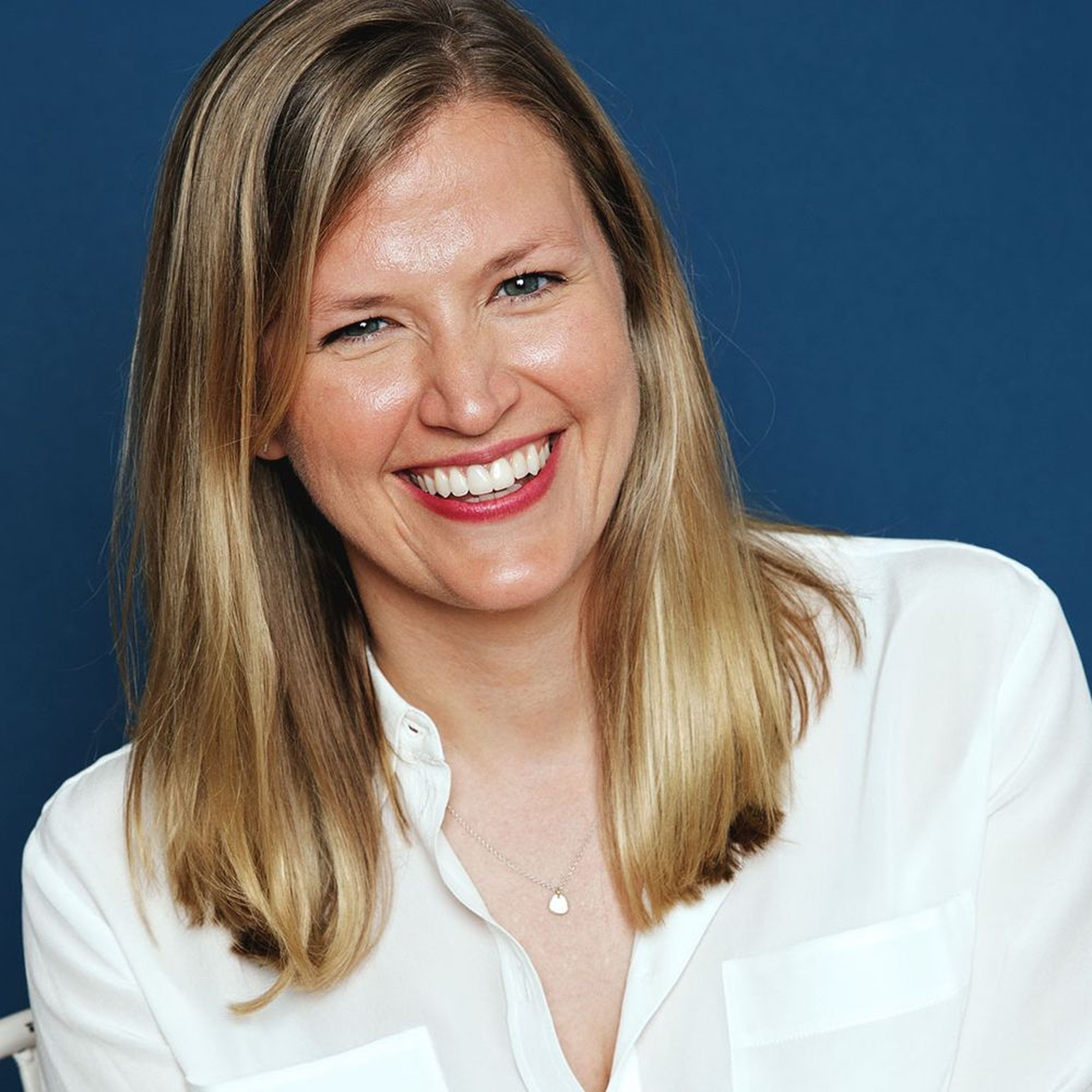 I'm sure you're familiar with Greta Thunberg, the incredible 17-year-old Swedish activist that has made huge waves in the last years with her stance on climate change. Through her climate strike movement, Fridays for Future, she's started an important global dialogue about what it will take to reduce our carbon footprint and protect the world we know for generations to come. 

It might be strange to you that Kitchen Stories, a platform dedicated to empowering home cooks with recipes and cooking tutorials, should get involved in such political discussions. And you're right—day to day, our focus is to be a source of positivity and promote a sense of community. But our food system accounts for about one-quarter of the world's planet-warming greenhouse gases, and that fact alone means that it's also our responsibility to take part in this important discussion. We want to invite you to join it, too. 

We know as much as anyone that conversations around what to eat, where to get it from, and what to avoid are confusing and difficult to keep up with these days. We're also realistic: It's nearly impossible to eat perfect for the environment 100% of the time. There's too much (often conflicting) information to absorb and, practically speaking, there are obstacles at every turn in terms of accessibility and transparency in food sourcing and pricing. It's an uphill battle—and that's exactly why we think it's important to talk about within our community.

We want to hear what your challenges are, how we can help, and provide you with insights, tips, and stories from our team on their own journeys to do better by our environment. The goal here is not to eat perfect—just better—for ourselves, the environment, and the generations to come after us. 

What are your most burning questions regarding food and the environment? Tell us in the comments!
A sneak peak of what's to come
Each week in the month of June, we'll look into a hotly contested food category and explore the key facts and figures you'll need to better shop for and eat it going forward. Of course, there will be climate-friendly recipes aplenty for you to try along the way, too—some of which we hope make it into your regular rotation!
Week 1: Meat(less?)
We're kicking off the month with the most obvious (and problematic) ingredient in our food system: Meat. Together, we'll have a look at its singular impact on the environment and see what compromises we can make in our daily eating habits to offset it. Are there meatless recipes that can stand up to their classic counterparts, even for meat lovers? And if we do want to eat meat, what are the recipes that do their best to reduce waste? We hope these questions and more will be answered throughout the week. 

Our articles on the topic:
- Eating for the Planet: The case for less meat
- The Best Ever, Only-Recipe-You'll-Ever-Need: Vegetarian Bolognese
Zero waste roast chicken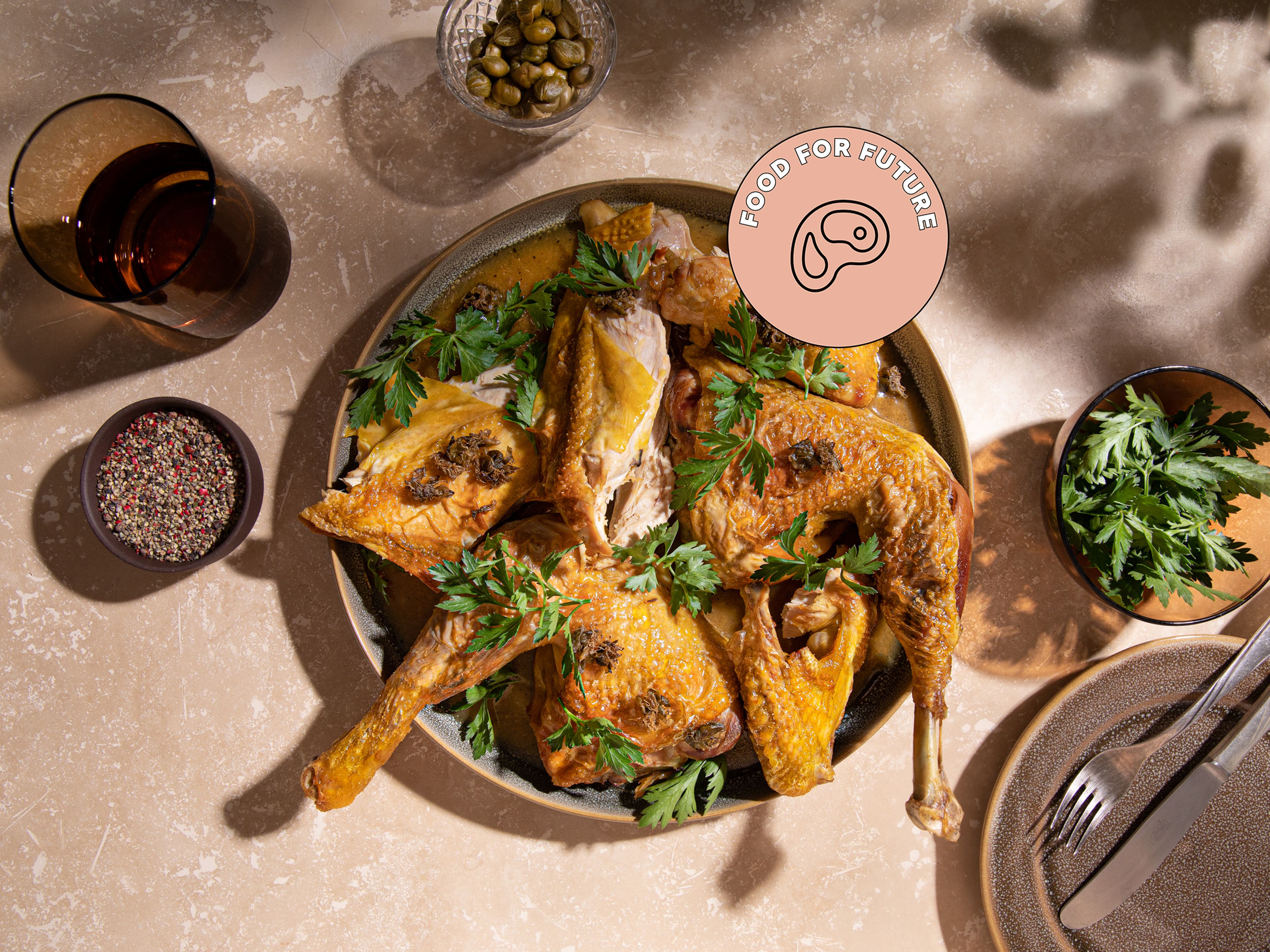 → Go to recipe
Meatless meatballs with tomato sauce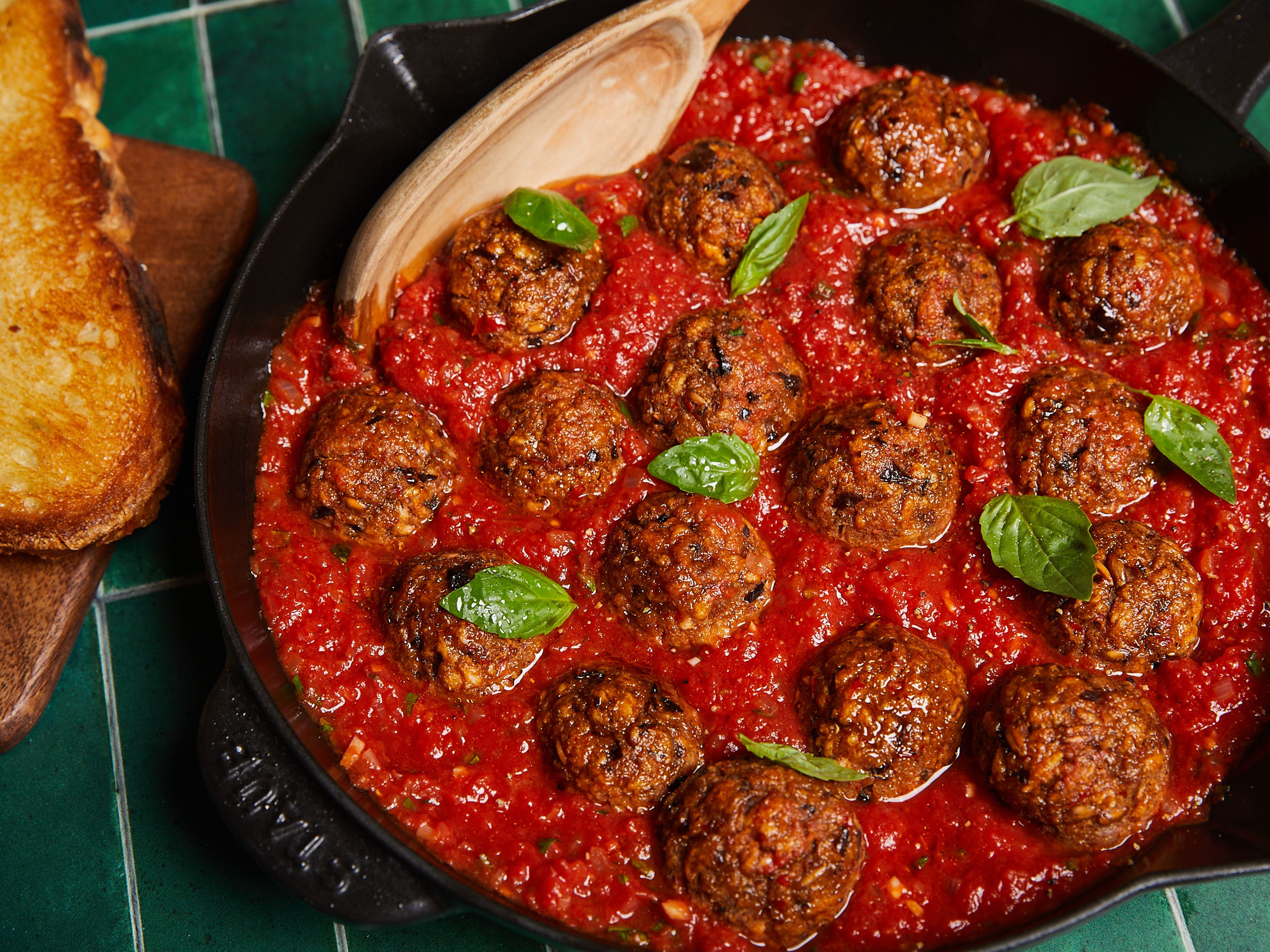 → Go to recipe
Week 2: Soy you want to talk about meat alternatives?
So now that we know reducing our meat consumption overall would have positive implications for the environment, what should we turn to as our primary protein source? Soy has been the main contender in many people's diets for years, but its cultivation and consumption raise other challenging concerns and questions. This week, we'll take a closer look into meat alternatives, and possibly introduce you to ones you're not yet familiar with (have you heard of seit an?). To round out the week, get your kitchens ready for one of your new favorite recipes: Meatless mapo tofu.

Our articles on the topic:
- Can Soy Stand in for Meat?
- Seitan for Beginners
Make crispy seitan schnitzel with Hanna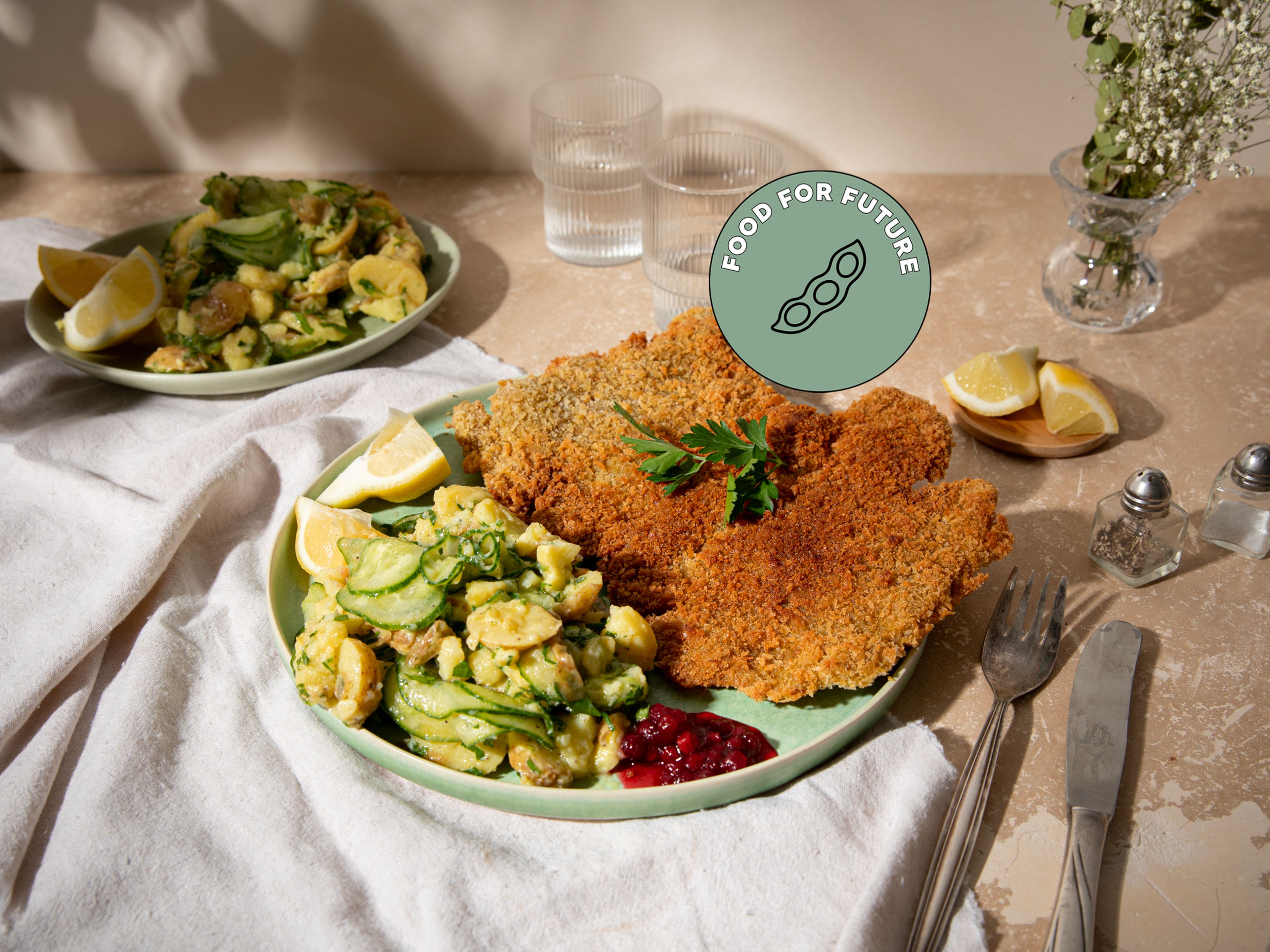 → Go to recipe
Vegan mapo tofu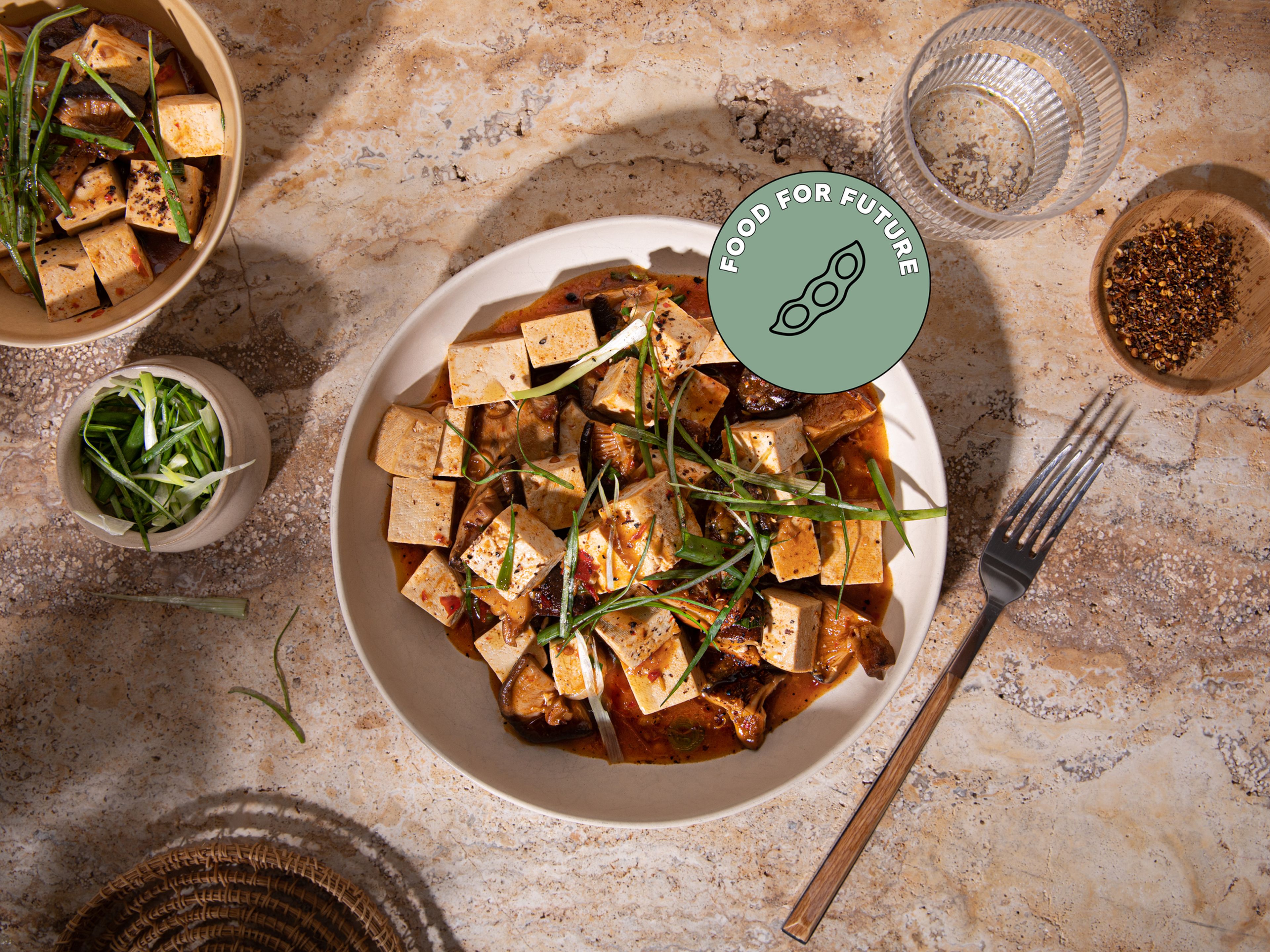 → Go to recipe
Week 3: The Debate on Dairy
Milk, butter, cheese, oh my! Dairy might be one of the hardest categories to think about giving up or reducing in our diets. In fact, after polling our community on whether they would be more willing to give up dairy or meat with climate change in mind, only 26% of people chose dairy. While there are accepted milk substitutions aplenty (nut, oat, soy), it becomes trickier to find welcome replacements in the categories of cheese and, less so, butter. So how do we mitigate our love for dairy products with the knowledge that they, too, are great contributors to our carbon footprint? Read on this week and talk it through with us—plus, stay tuned for killer vegan recipes for mac and cheese and cheesecake, plus a guide to plant-based yogurts. You may be surprised how convincing a dairy-free lifestyle can be!

Our articles on the topic:
- Eating for the Planet: The Case for Less Dairy
- Exploring the Wide World of Plant-Based Yogurts
No-bake coconut-blueberry cheesecake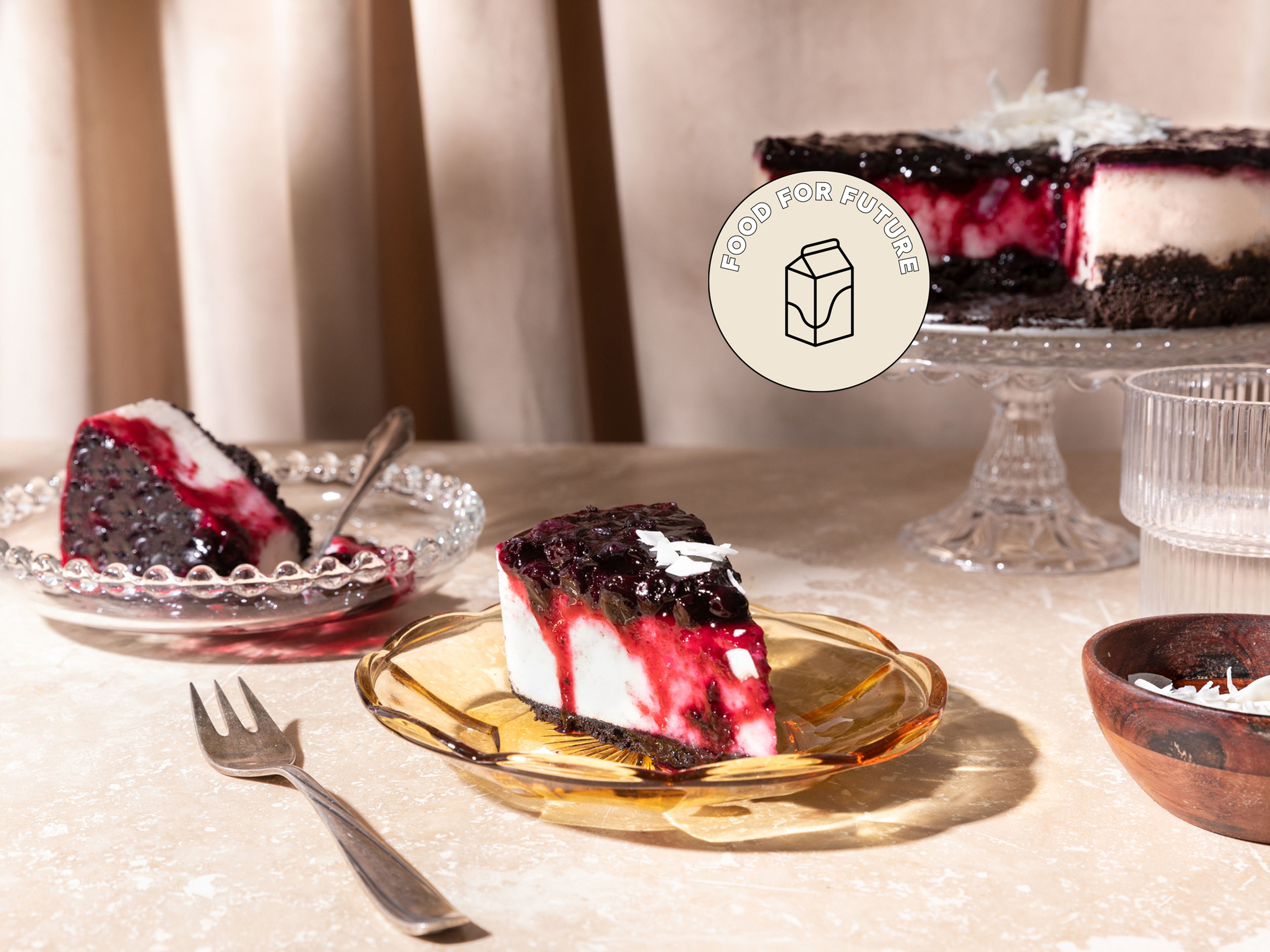 → Go to recipe
Vegan mac and cheese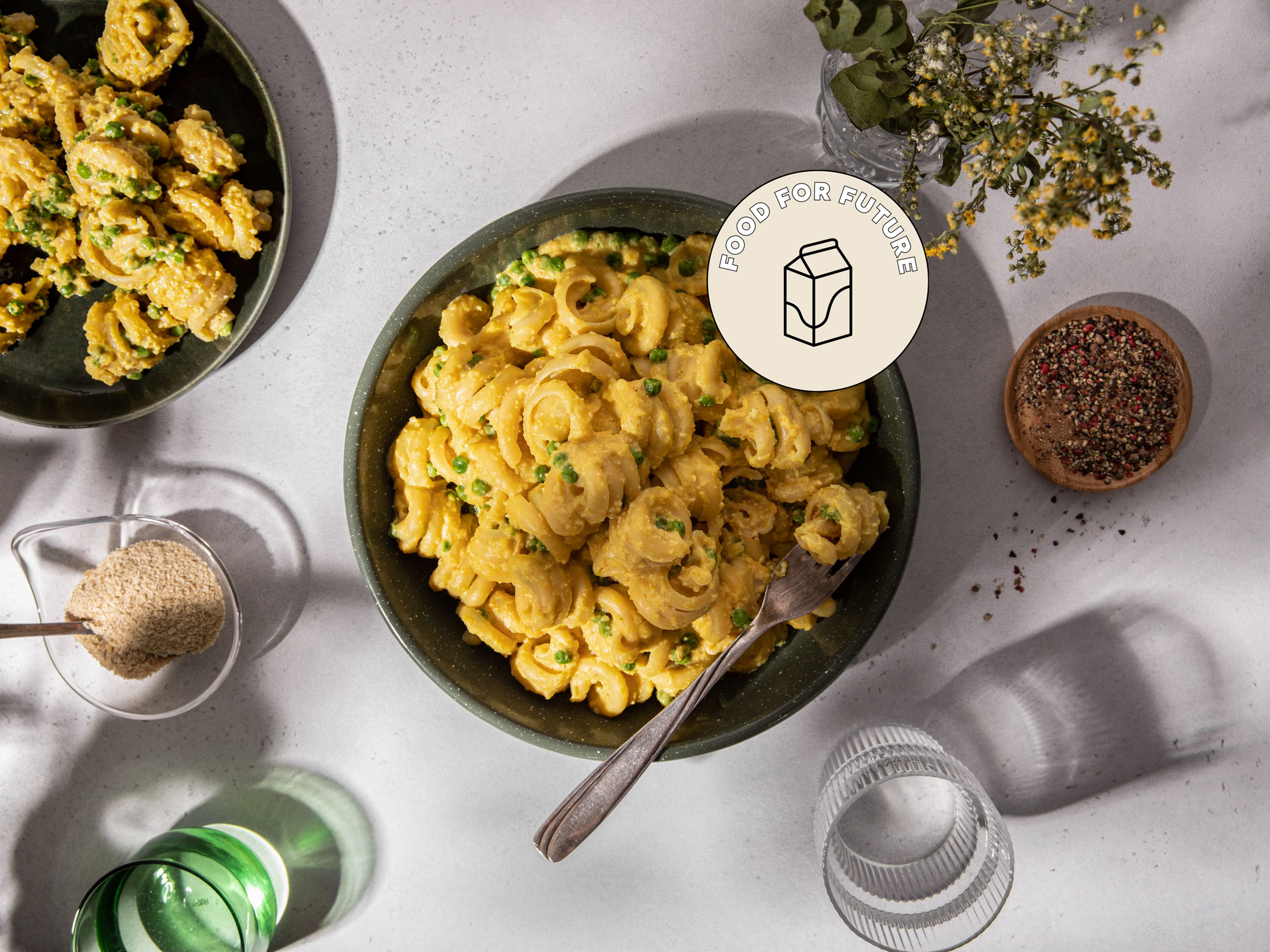 → Go to recipe
Week 4: The Seafood Dilemma
For our last week of our Food for Future campaign, we're diving in (so to speak) to one of the trickiest topics of all. It can seem that almost every kind of seafood we consider for our diets is somehow problematic—especially those that are most beloved around the world (we're looking at you salmon and tuna). Plus, the fish that we're encouraged to eat for being more sustainable are often species that we have less experience with and affinity for. But is there a way for us to open our minds to lesser known fish, and expand our palates to new tastes? This week, we'll visit a fishmonger and try to find some answers and introduce you to new recipes, including a classic fish burger (with a fish that's perhaps lesser known to you) and an irresistible green curry with shellfish.

Our articles on the topic:
- Eating for the Planet: How to Think More Consciously About Our Seafood Consumption
- A Guide to Buying Fish and Seafood
Green curry with shellfish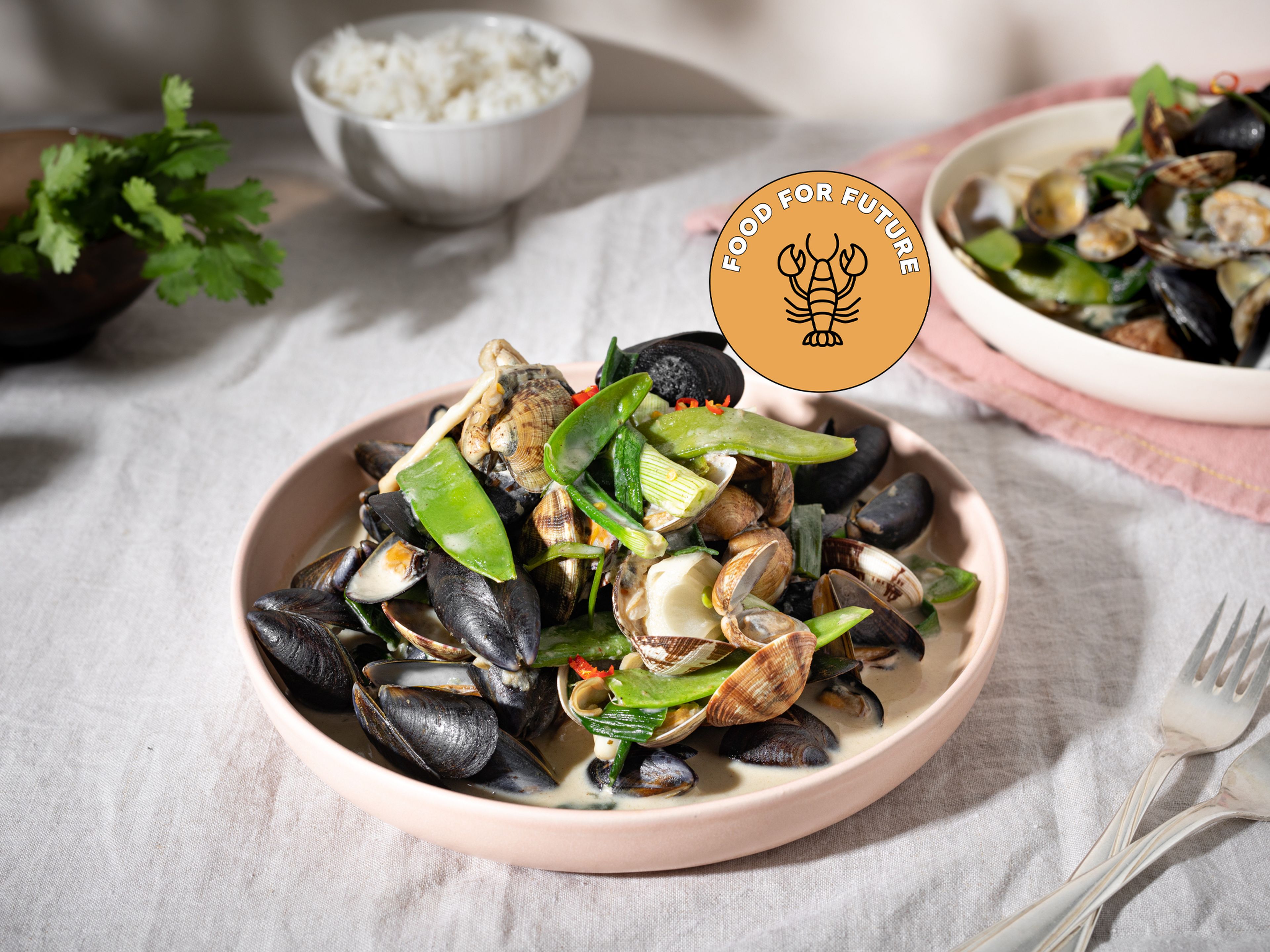 → Go to recipe
Make a fish and chips burger with Steven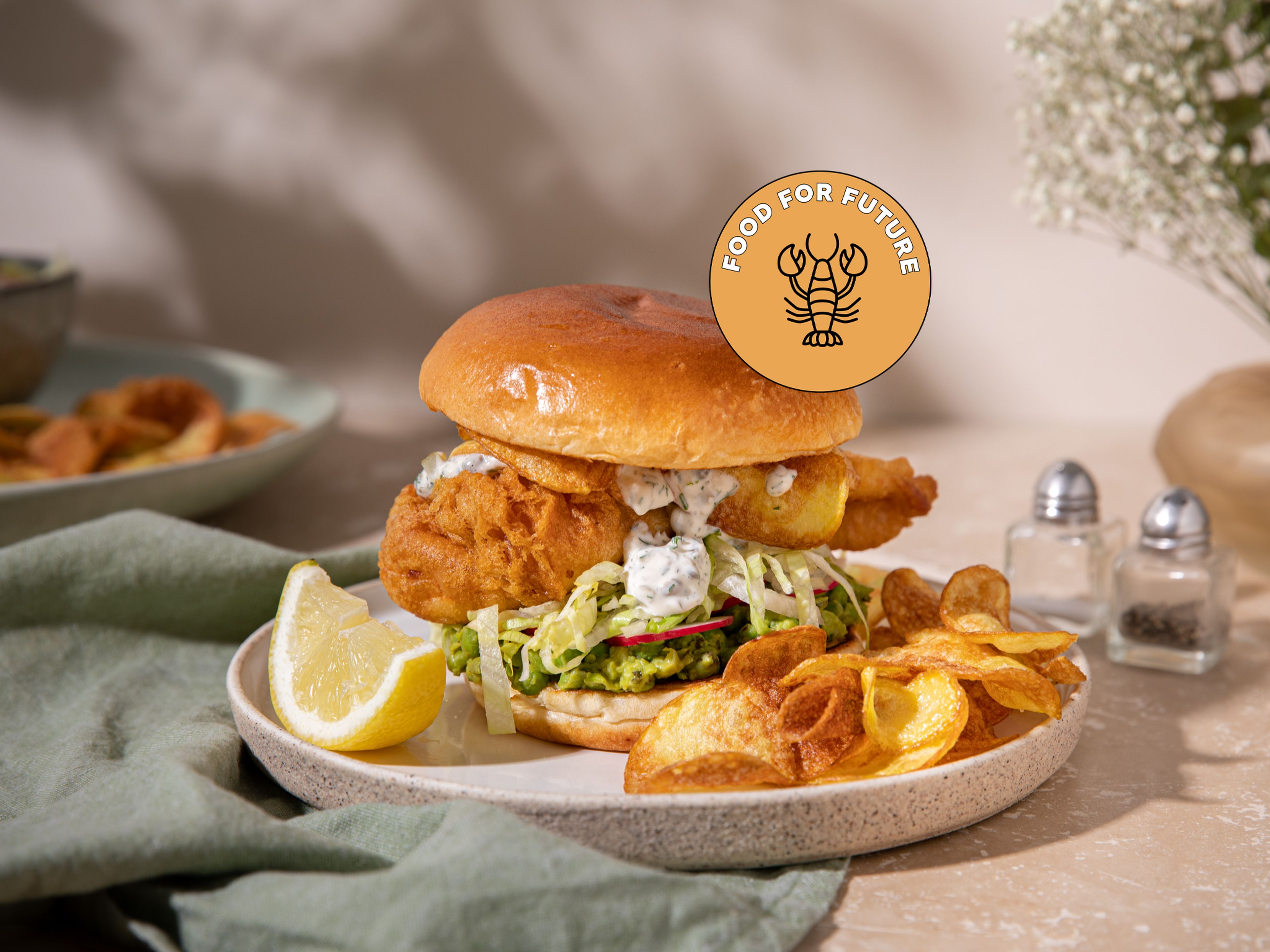 → Go to recipe
How have you liked our Food for Future campaign this month? We want to hear from you—sound off in the comments with your questions and ideas, or upload your own climate change-fighting recipes for us to try!
Published on June 1, 2020
More delicious ideas for you