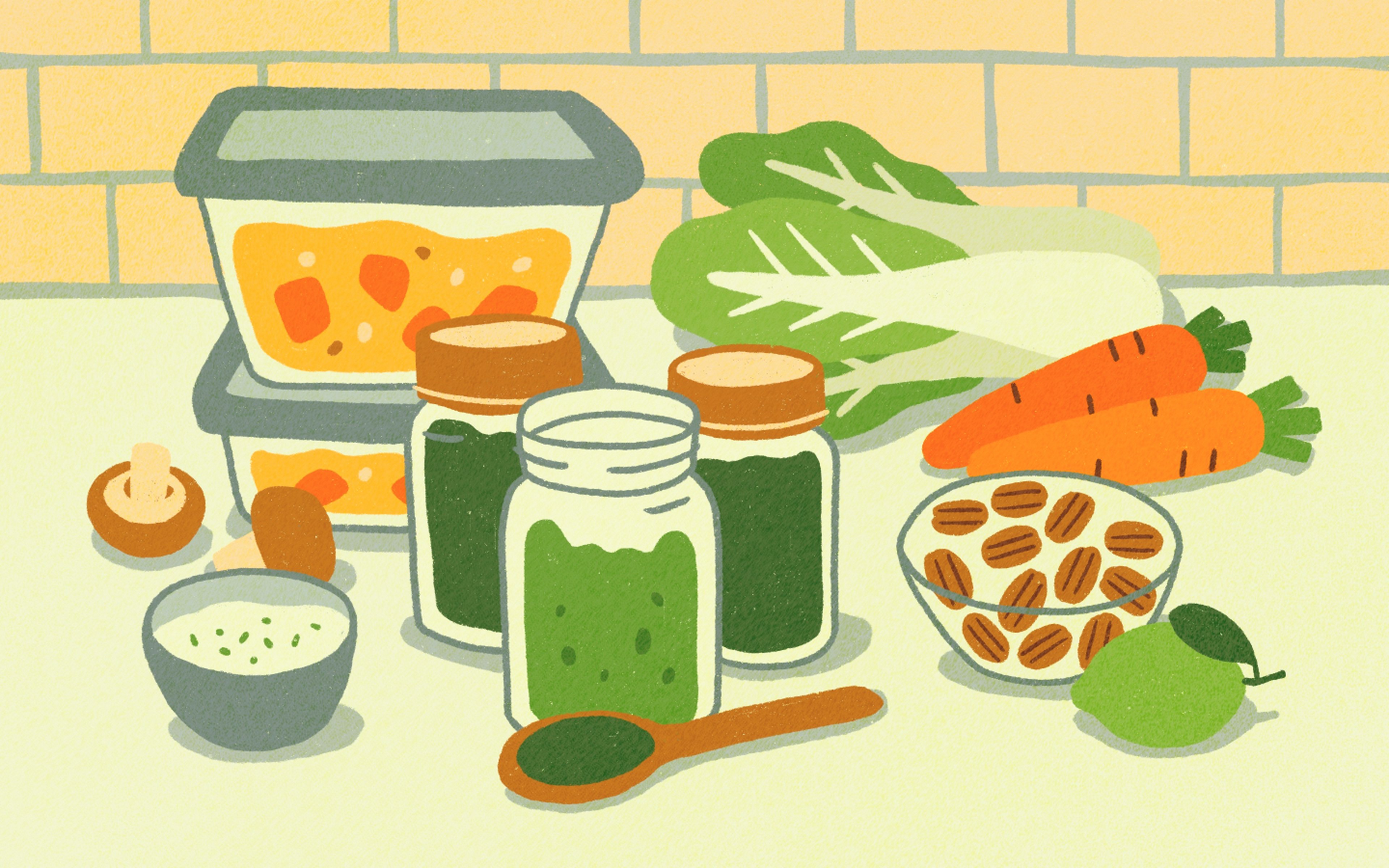 A Vegetable Forward Weekly Meal Plan for Non-Meal Planners
Eating smarter doesn't have to mean planning smarter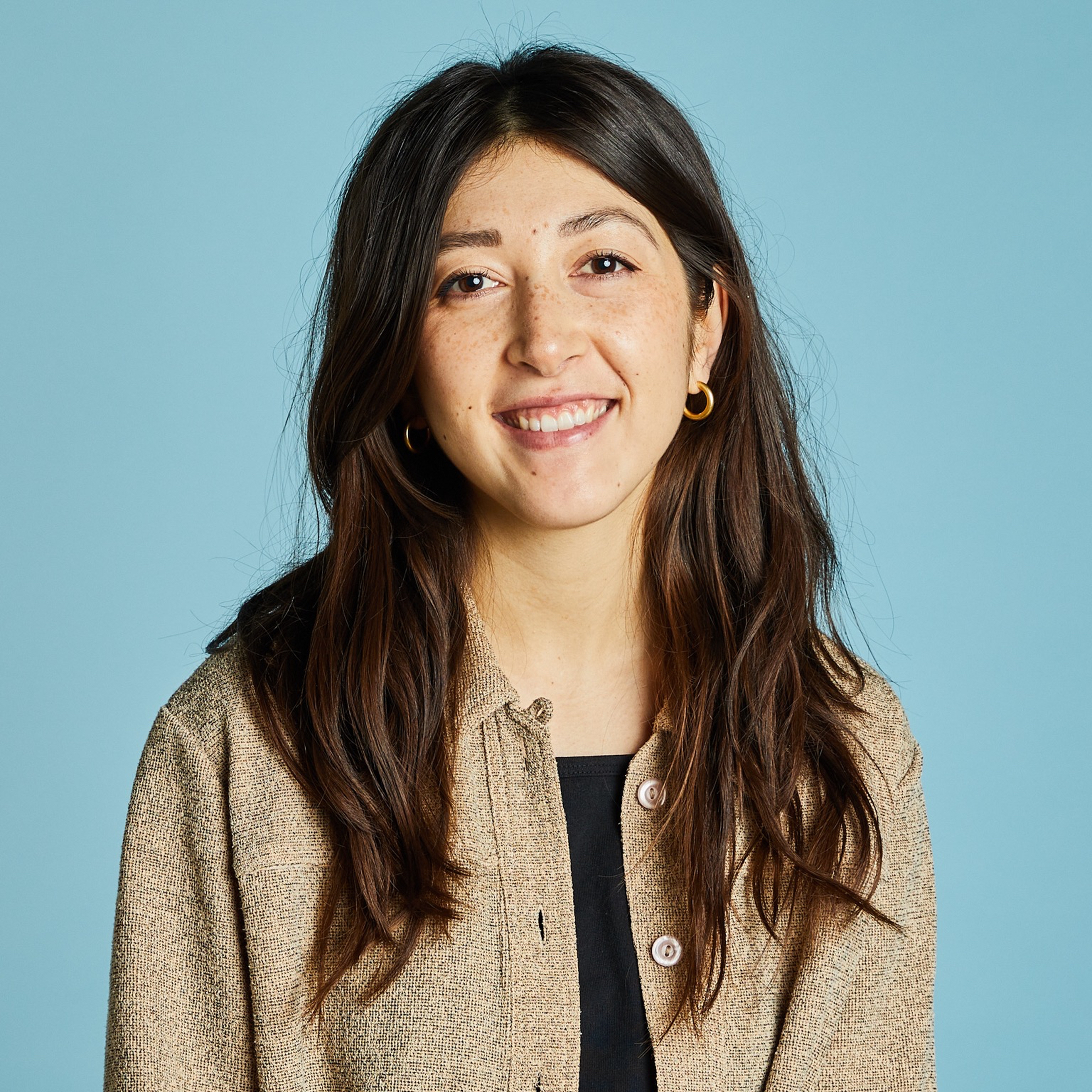 I want to start out by laying it all out on the table: Meal planning is not my thing. I have a friend who, along with her partner, meal preps every Sunday— without fail—so they'll have lunches and dinners, either fully cooked or partially prepared for easy, pull-from-the-fridge meals throughout the week.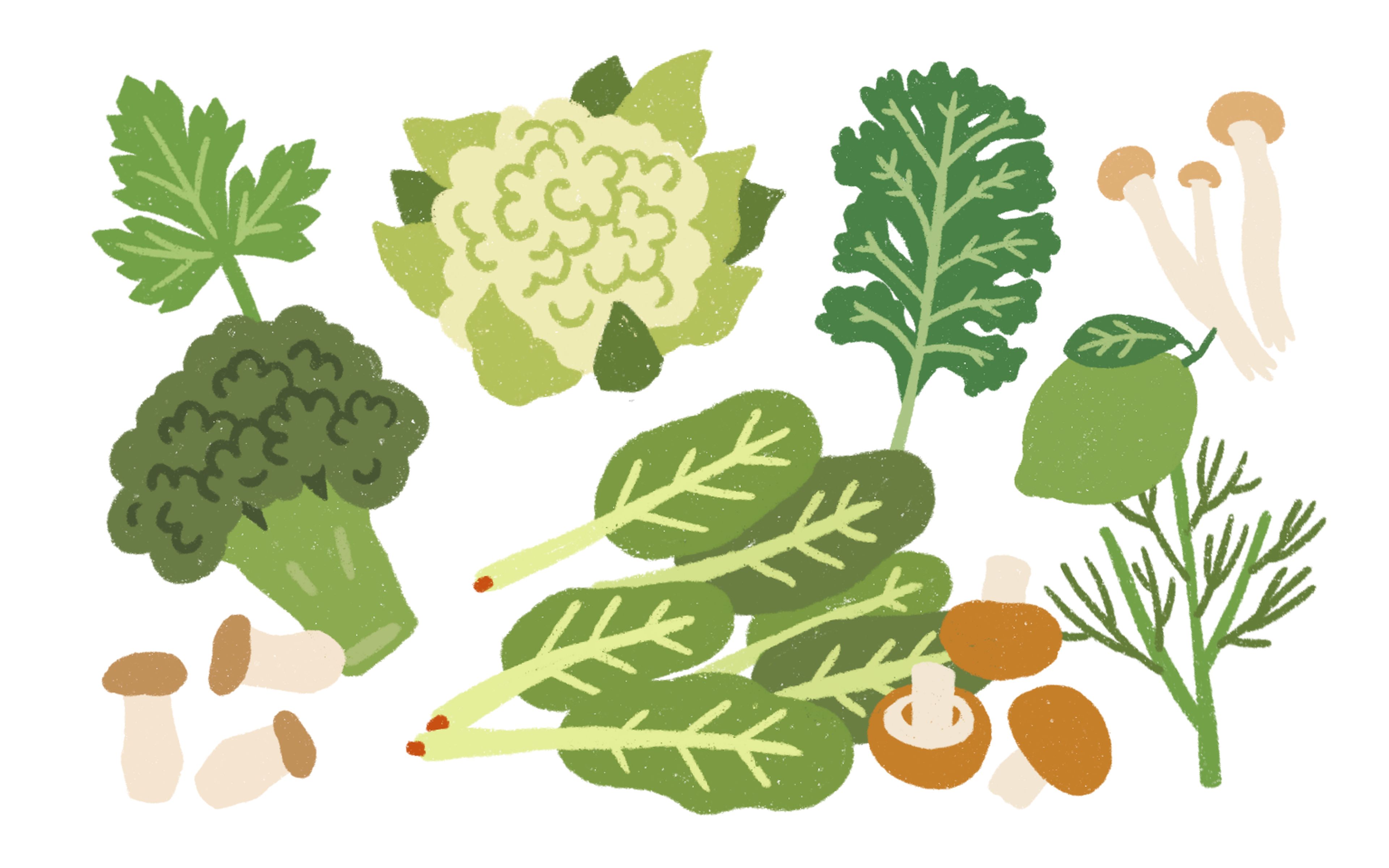 When she first told me about this, it blew my mind. It seemed like a daunting task to the unfamiliar but, the more I thought about it, the more I realized that I actually do meal prep to some extent already. My way might be a bit more flexible, a bit more "relaxed,"—something like meal planning for the non-meal planner. So here's my version: a loose outline to the week based on staples I have on hand and a handful of ingredients, sauces, and hearty veg I can pick up all at once and prep throughout the week.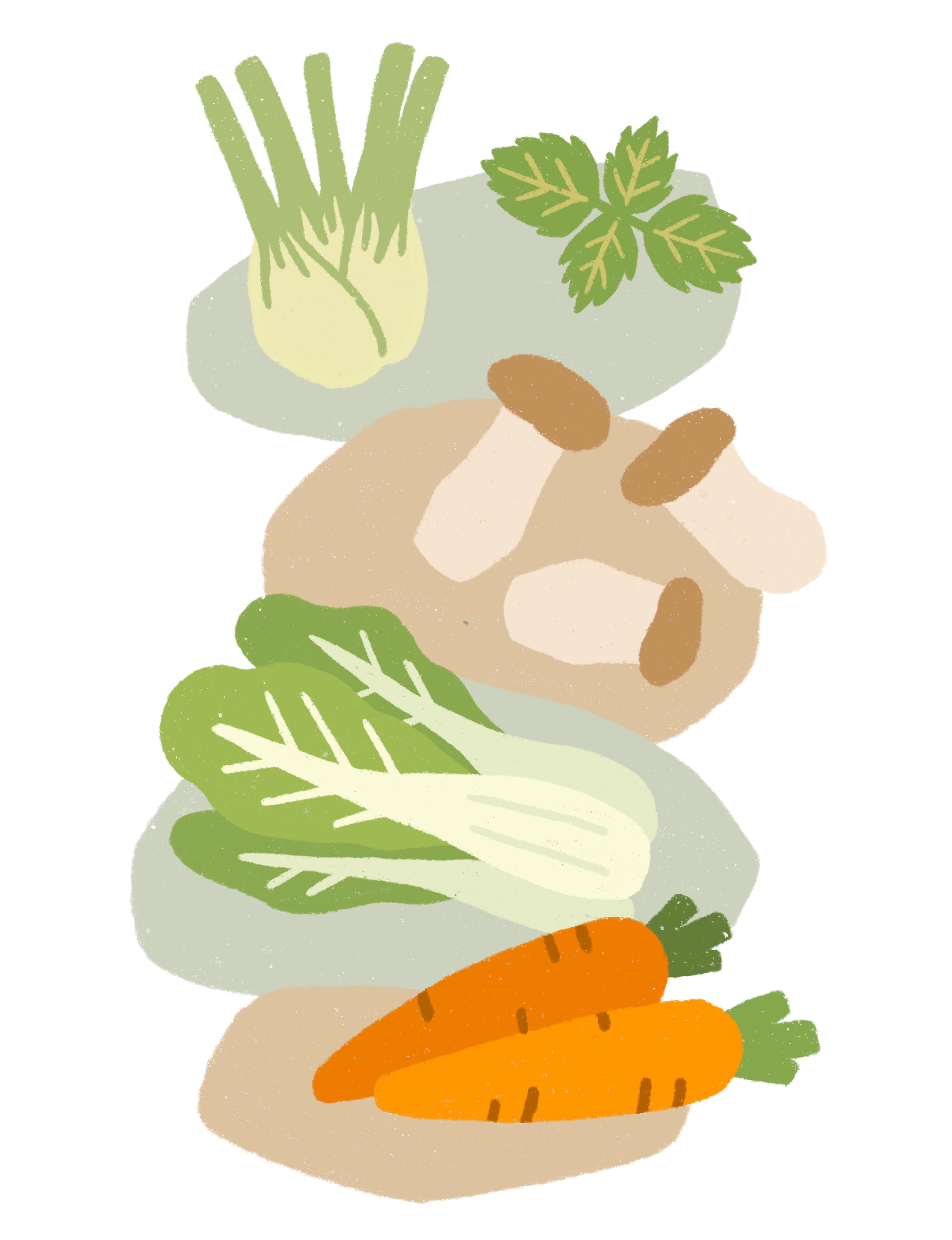 If you, like me, believed meal planning was not for you, try this loose veg-forward "plan" out for yourself—you might be just as surprised as I was to find that meal planning might be something you can conquer, no stress or devoted prep days necessary.
Monday, or day 1: Pasta with pesto and a veg
A classic dish to turn to when you're looking for an easy weeknight meal is pasta. It's quick to cook, almost always on hand, and can be served simply with a pat of butter, salt, and pepper, or dressed up in innumerable ways. Pesto is one of my go-tos to "fancy" up a plate of pasta, and Ruby's pistachio pesto is simple yet offers something unique in both texture and flavor. To fill out a simple pasta and pesto, prep a veg like green beans, broccoli or broccoli rabe, asparagus, snow or sugar snap peas, or leafy greens like swiss chard or kale while the water is being brought up to a boil, then add the pasta, cook, and add the veg to cook directly in the pot with the pasta.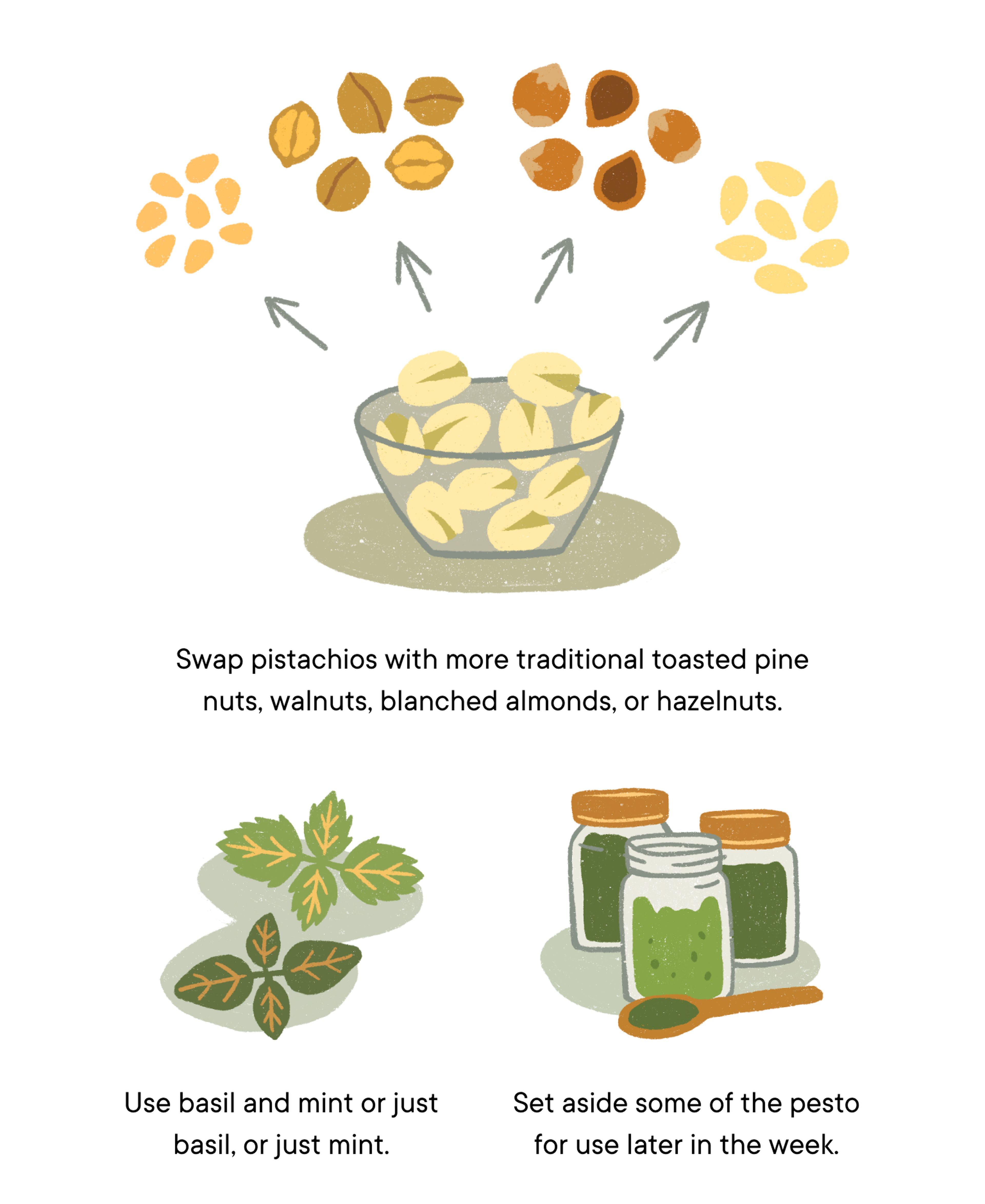 Tuesday, or day 2: Versatile sweet potato and lentil curry soup
This is one of our most popular 5-ingredient dinners and has become a staple pull-it-from-the-pantry (vegan!) weeknight dinner for us and our community. The most interesting thing about it, to me, is just how versatile it is. While the sweet potato, red lentils, and coconut milk are set, the other ingredients and even the way you chose to serve it are up for experimenting with.

Wednesday, or day 3: Grain bowl with roasted veg and your favorite dressing
Those roasted cubes of sweet potato from yesterday will find a home here in this hearty "salad." Cook your favorite grain whether that's quinoa, couscous, farro, millet, pearl barley, or brown rice. While the grain is cooking away, warm up your roasted sweet potato in the oven or prep and roast another hearty veg you have on hand. You might even layer the leftovers into a jar for lunch the next day.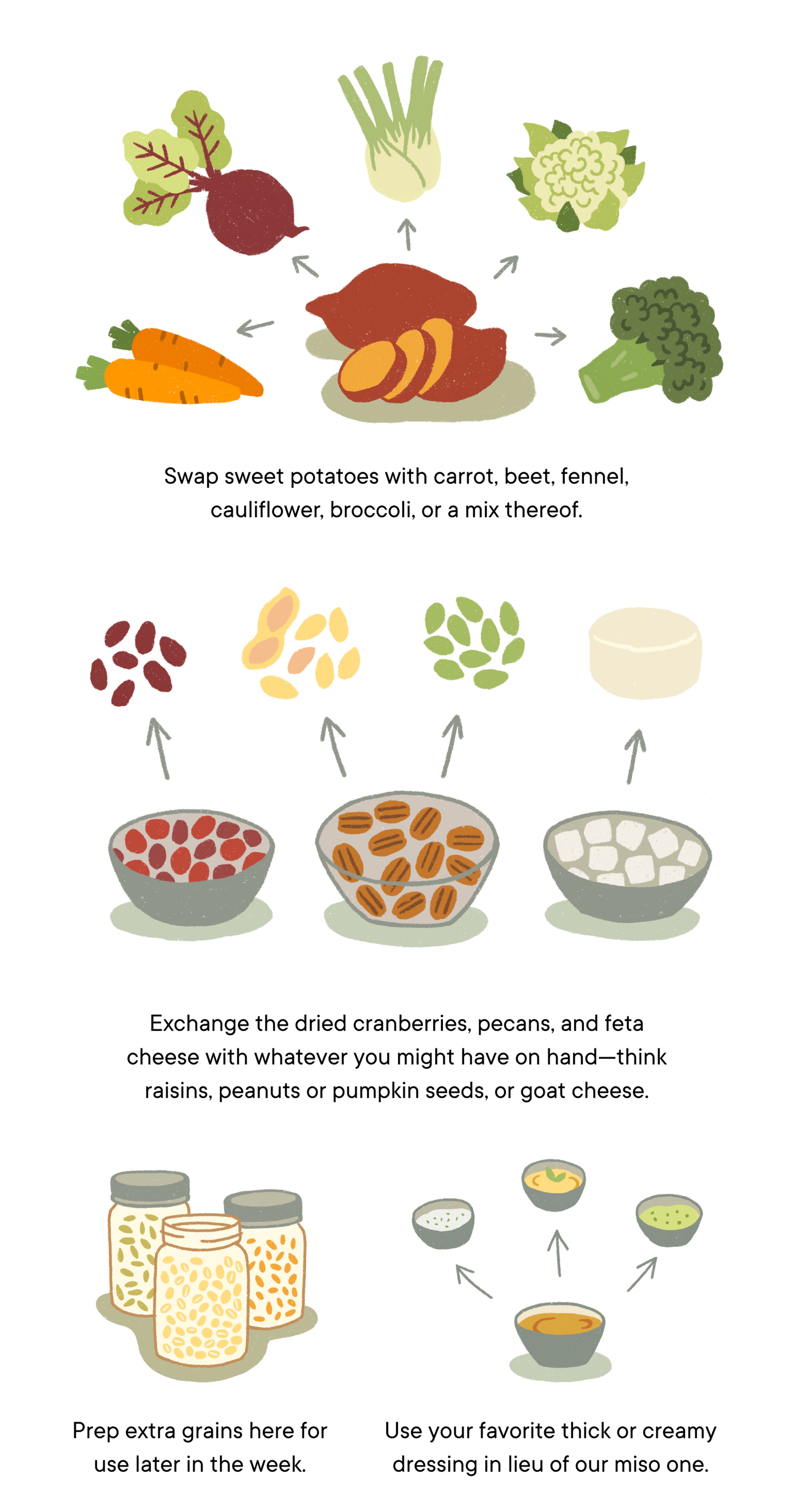 Thursday, or day 4: Loaded smashed potatoes
Super crispy smashed potatoes are all the rage right now, and for good reason. They're simple, satisfying, and can be the base for a weeknight meal that uses up the odds (half a container of yogurt) and ends (a nearing-the-end-of-its-life bunch of cilantro) hanging out in the fridge.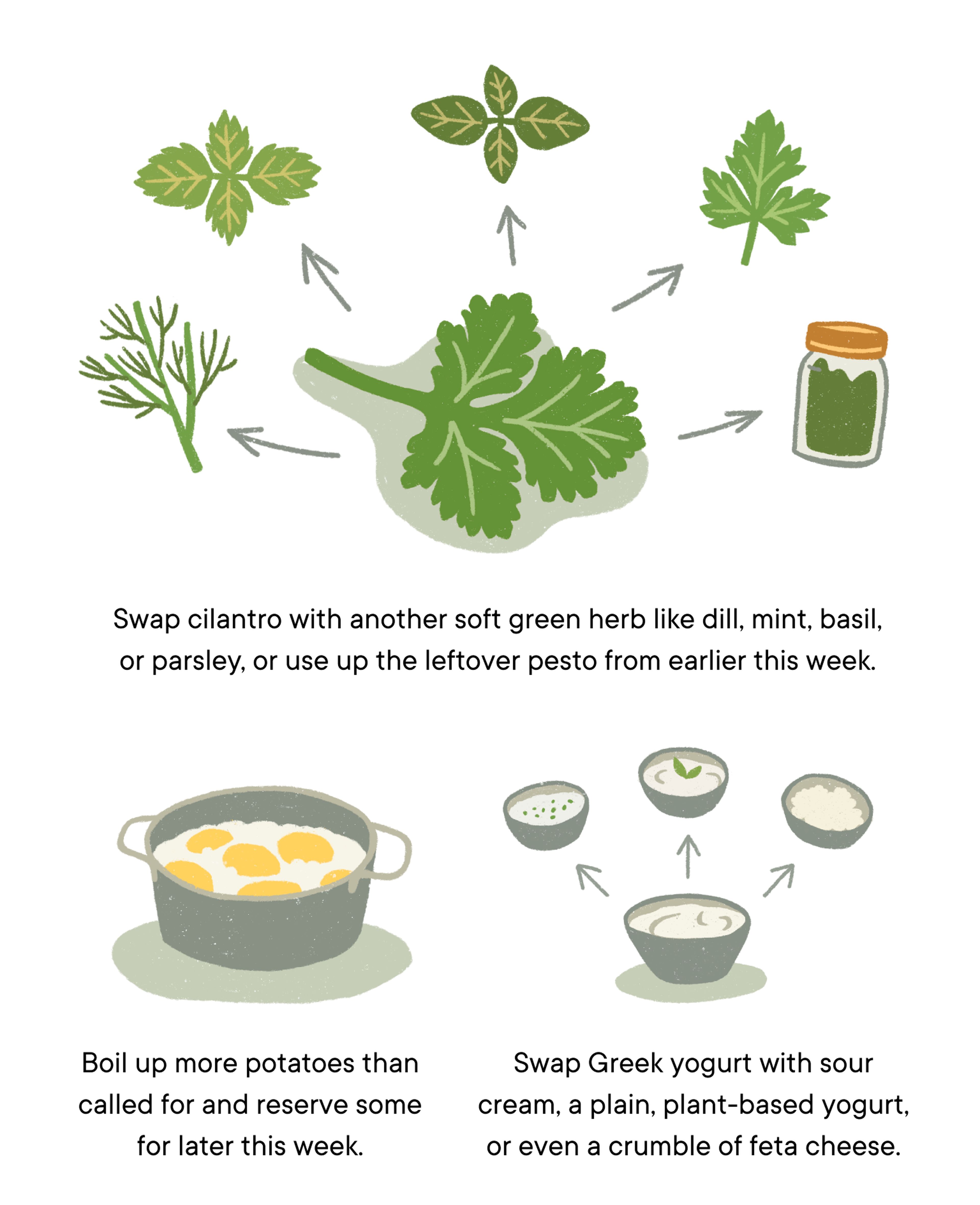 Friday, or day 5: Simple any grain congee with mushrooms and an egg your way
Congee might not be something you're familiar with, but it's a soul-satisfying savory porridge eaten all over Asia. Typically made with rice, it can actually be made with any grain you like, then topped up just the same—with anything you'd like. Take your leftover grains from Wednesday, or day 3, and put them into a pot with a piece of ginger, scallion, garlic, and water or broth. Cook until thickened and porridge-like, and in the meantime prep your toppings. I like simply sliced and sautéed shiitake mushrooms with some garlic and ginger, a drizzle of sesame oil, and a jammy egg.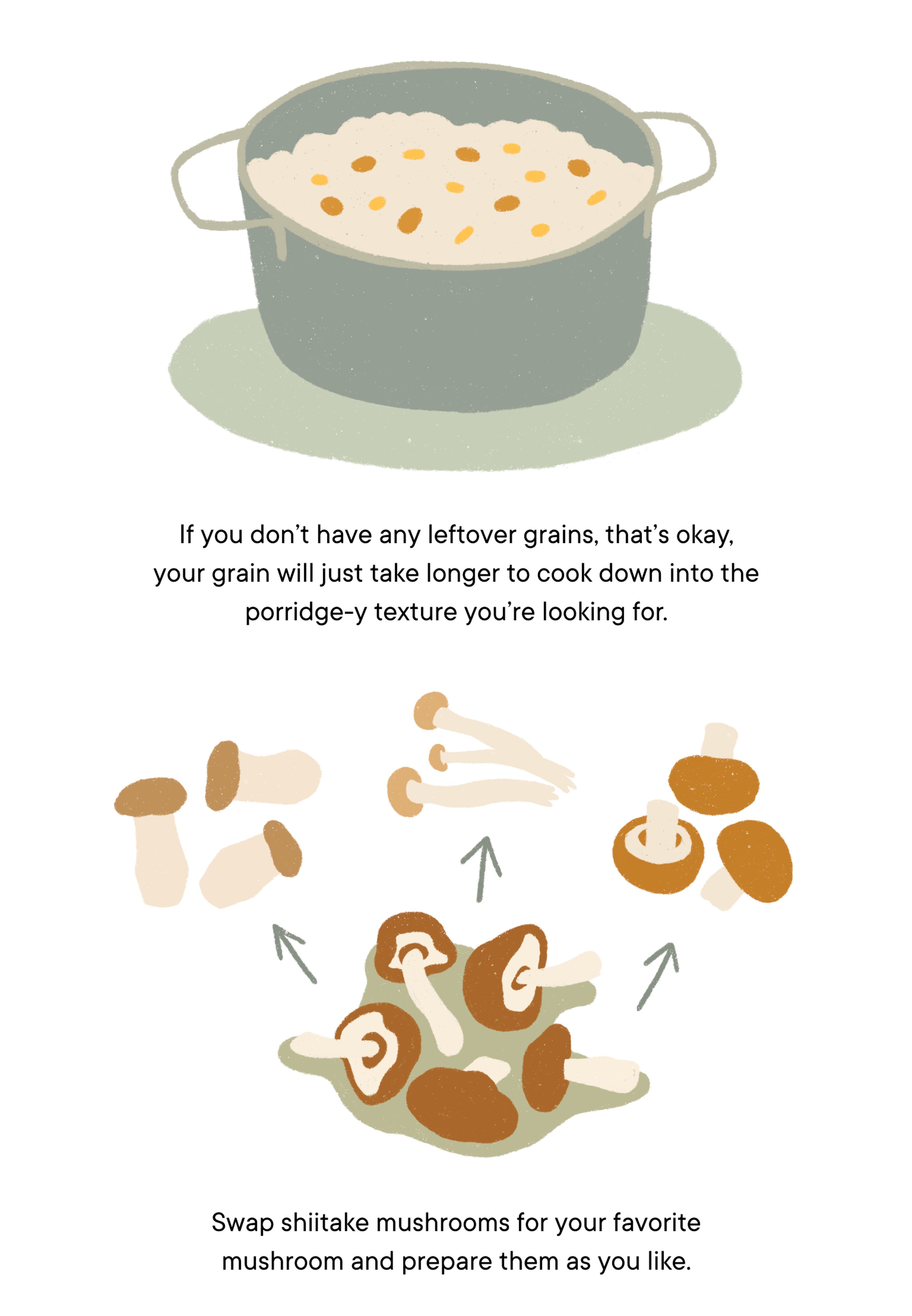 Saturday, or day 6: Crispy tofu and veg stir fry
A stir fry suits for just about any day, any time, so of course it's a great fit for any non-meal planning meal planner. This one crisps up tofu and pairs it with bok choy, something you can take a lesson from and switch up as you wish.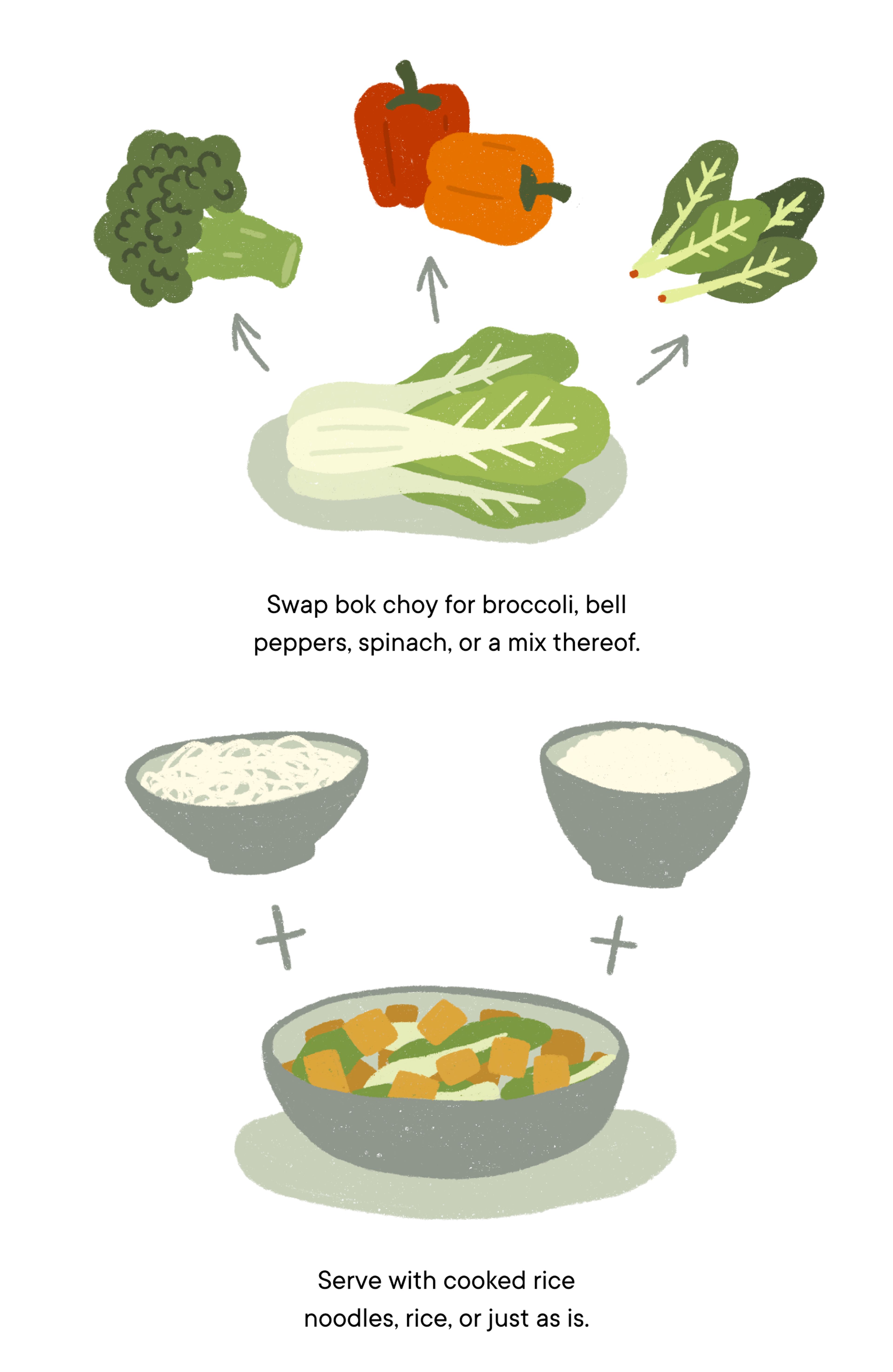 Sunday, or day 7: Fridge-clearing frittata
The final day has come at last, and all that's left to do is take a look in the fridge and find leftovers, odds and ends, and some eggs. A fridge-clearing frittata is a great way to put those things to use. Leftover herbs can be used as garnish or chopped up and cooked into the frittata and just about any vegetable makes a great match with eggs.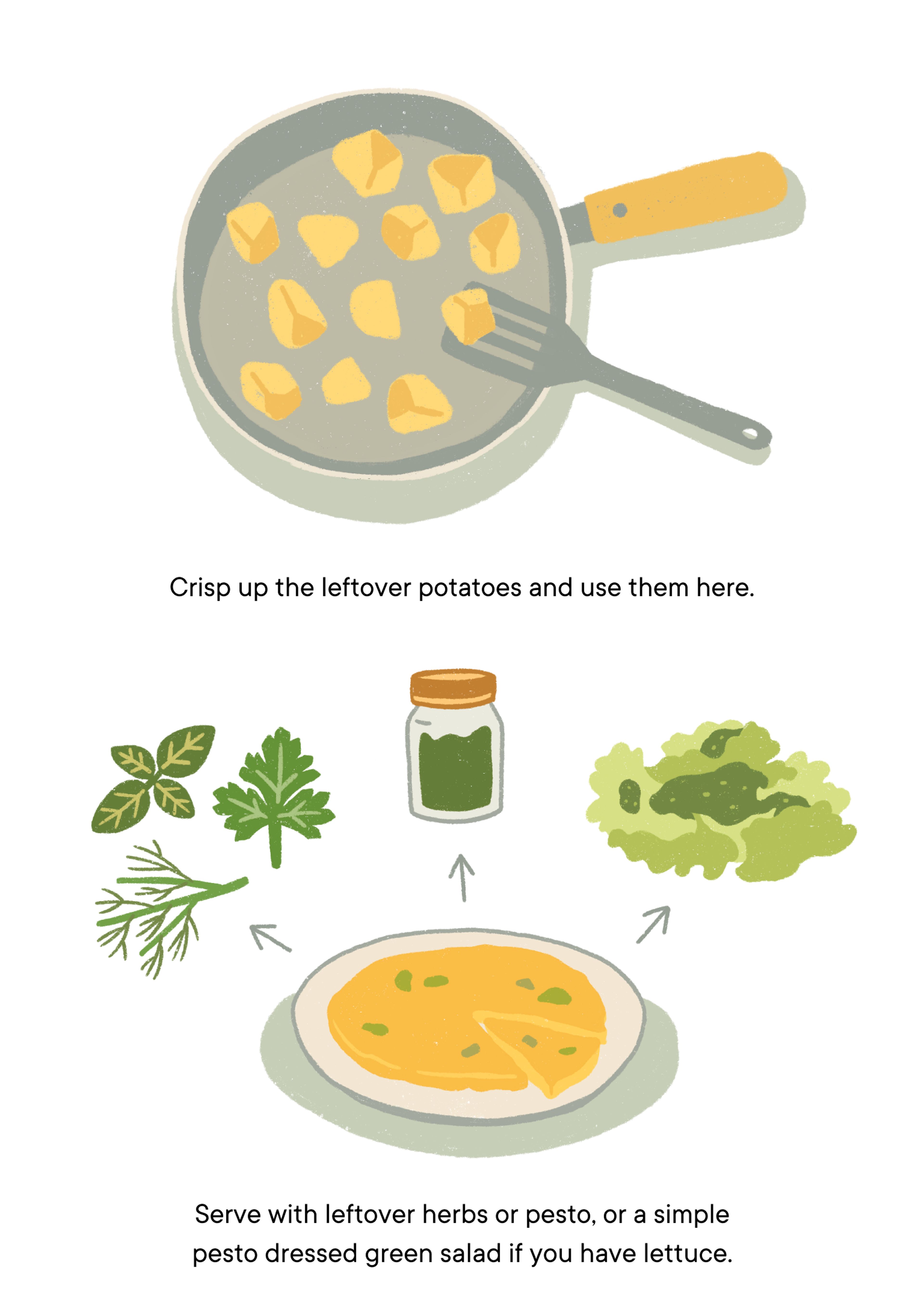 Published on May 4, 2020
More delicious ideas for you