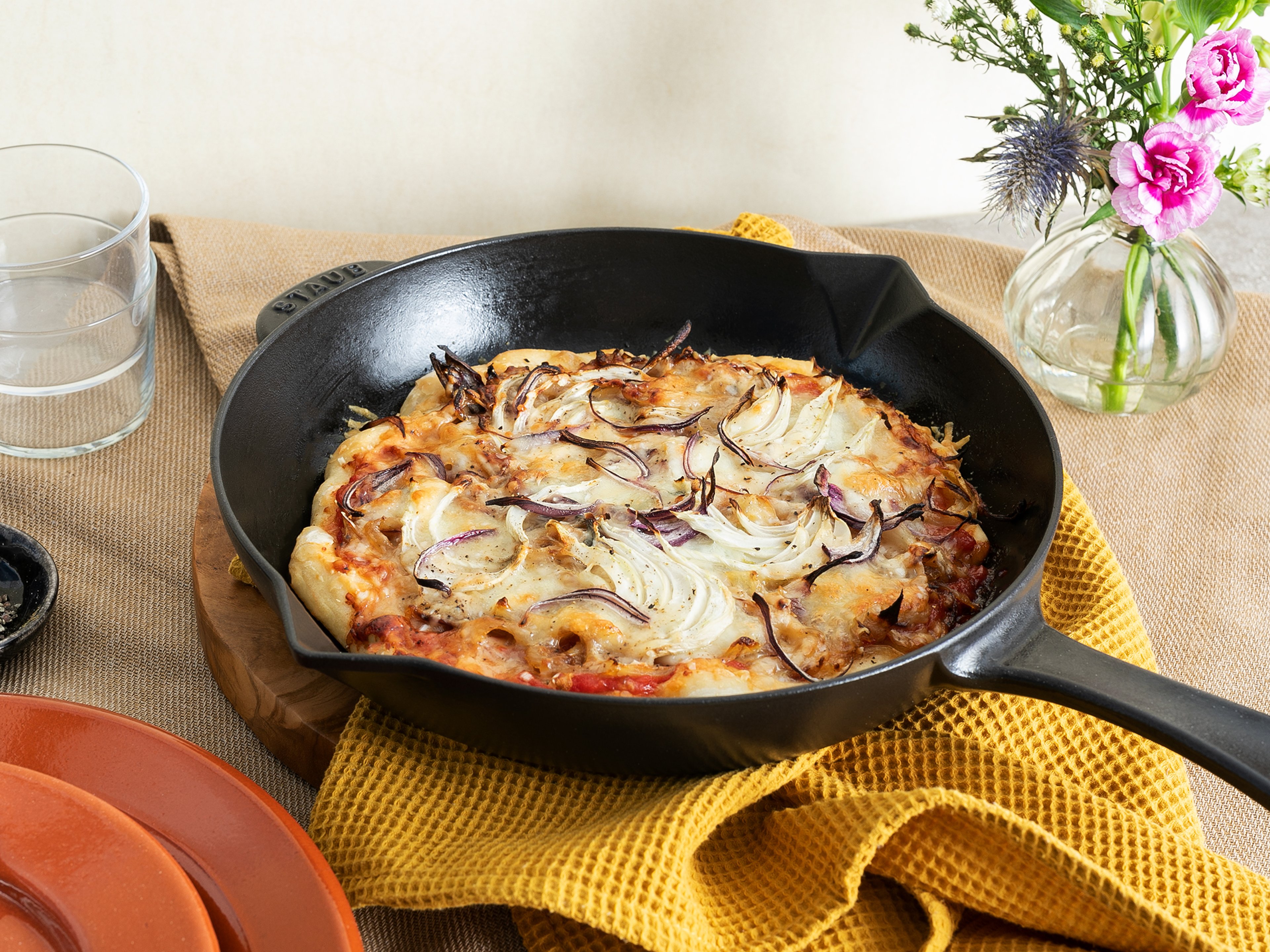 Skillet pizza with onions and fennel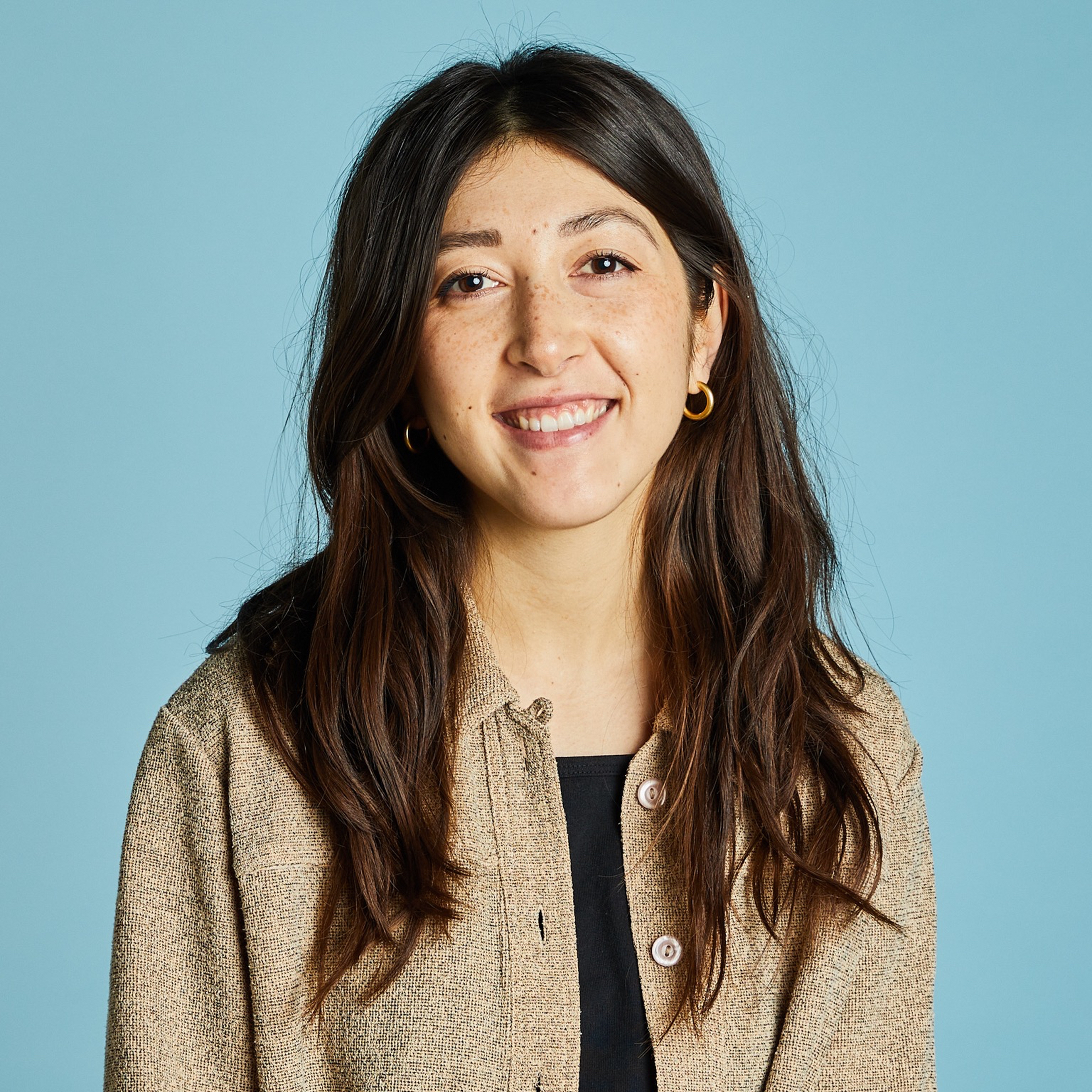 Utensils
2 bowls, rubber spatula, kitchen towel, mandoline, cutting board, knife, frying pan, spatula, oven, cast iron pan
Homemade tomato sauce
Homemade pizza dough
How to prepare fennel
How to grate cheese
How to knead dough
Step 1/ 6

75 g

Italian 00 flour

75 g

flour

½ tsp

salt

½ tsp

active dry yeast

½ tsp

olive oil

100 g

water (warm)

Add flour and salt to a bowl and mix to combine. Add yeast, olive oil, and warm water to another bowl and mix to combine. Create a well in the center of the flour mixture and add the yeast-water mixture. Mix until the dough comes together, then knead with your hands in the bowl for about 3 min. Let rest for approx. 15 min.

Step 2/ 6

Knead rested dough on a lightly floured work surface for about 3 min., then cover with a clean kitchen towel and let rest at room temperature for at least 2 hr.

Step 3/ 6

1 bulb

fennel

1

red onion

1

shallot

1 clove

garlic

2 sprigs

thyme

100 g

mozzarella cheese

mandoline
cutting board
knife

In the meantime, use a mandoline to thinly slice fennel, reserving any fronds for garnish. Peel and thinly slice onion, red onion, and shallot using the mandoline. Peel and mince garlic. Remove thyme leaves from sprigs. Slice mozzarella cheese.

Step 4/ 6

2 tbsp

olive oil

salt

pepper

Heat a frying pan over medium-high heat. Add half the olive oil, then add half the fennel and red onion and all the garlic, shallot, and thyme leaves. Reduce heat to medium and cook, stirring often, until mixture is super soft and lightly browned, approx. 30 min. Remove from heat, season to taste with salt and pepper, and set aside.

Step 5/ 6

100 g

canned crushed tomatoes

Once the dough has rested, preheat the oven to 250°C/480°F and move a rack to the highest position. Knead dough lightly on a lightly-floured work surface until it's about the size of the cast iron skillet you will use to cook the pizza. Set the cast iron skillet over medium-high heat. Once the skillet is hot, add remaining olive oil, then transfer crust to the skillet. Let cook for approx. 1 min., then spoon on the sauce evenly over the crust.

Step 6/ 6

50 g

grated Parmesan cheese

Spread the caramelized fennel-onion mixture over the pizza as evenly as possible. Top with sliced mozzarella, then sprinkle with remaining fennel and red onion. Season with salt and pepper and top with grated Parmesan cheese. Drizzle the pizza with a bit more olive oil, then transfer to the oven and bake for approx. 10 min., or until the cheese is melted and the top is golden brown. Remove from the oven and let cool, approx. 5 min. Transfer to a cutting board to slice and serve. Enjoy!

Enjoy your meal!
More delicious ideas for you