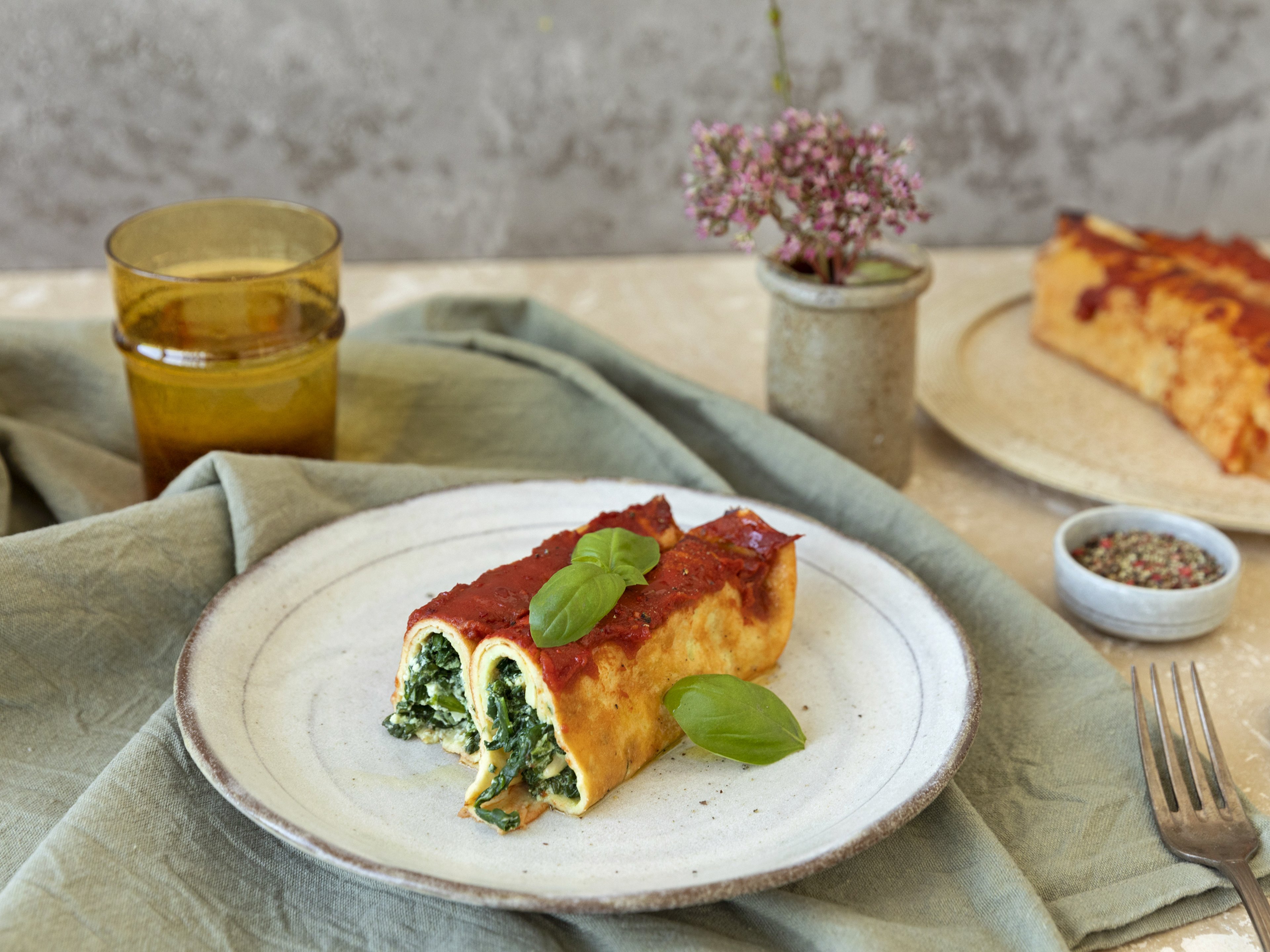 Spinach and pine nut crespelle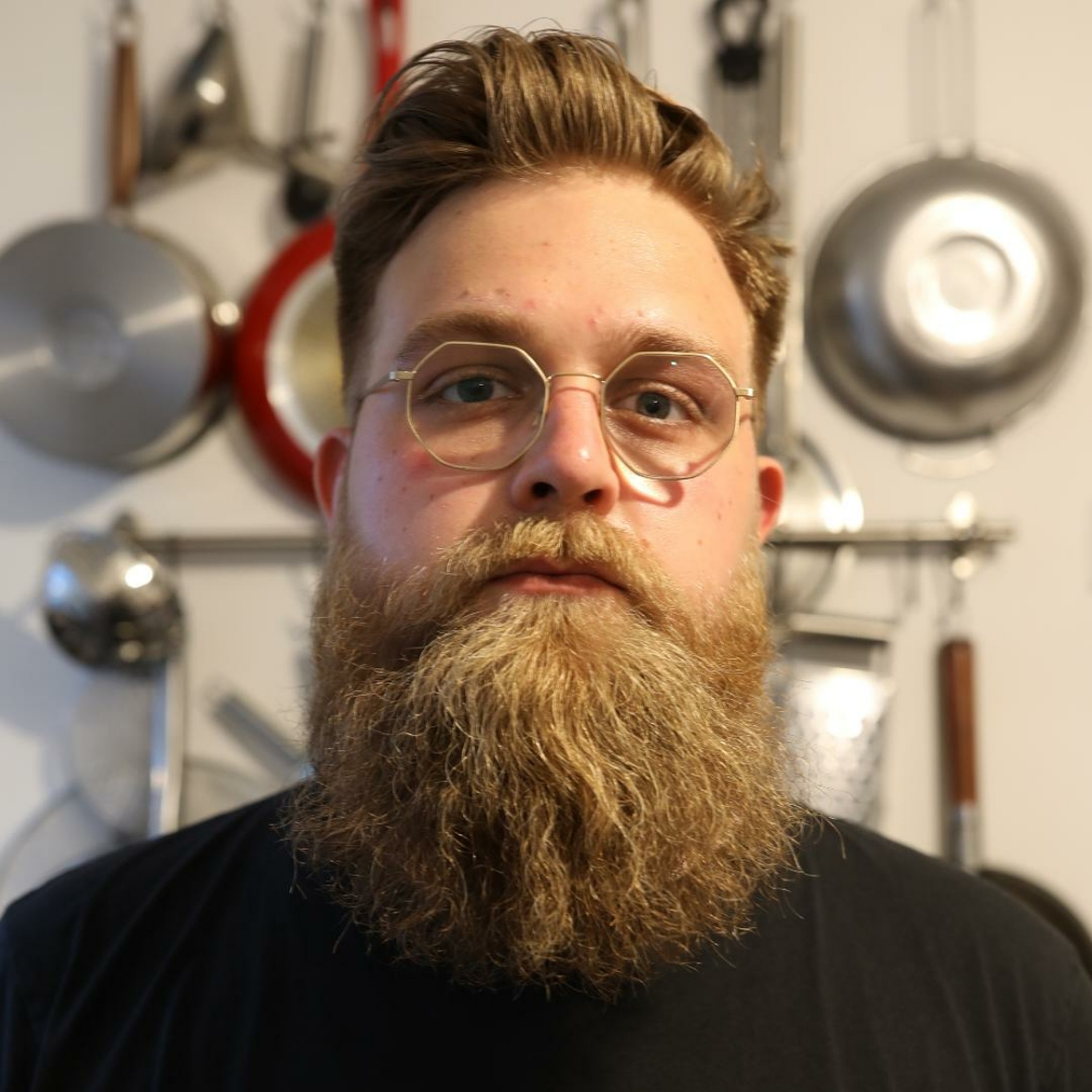 "Crespelle are an Italian version of crépes, and can be served savory or sweet. This version of crespelle al forno is a cheesy, comforting dish full of flavor. It's perfect for a weeknight dinner or as a showstopper to impress your friends. Be sure to use vegetarian-friendly Pecorino if you're cooking for vegetarians."
Utensils
colander, kettle, fine grater, cutting board, sieve, whisk, frying pan (large), ladle, spatula, baking dish
Homemade Ricotta
Homemade tomato sauce
How to chop herbs
Step 1/ 5

500 g

spinach

50 g

Pecorino cheese

5 g

parsley

60 g

flour

7½ g

salt

colander
kettle
fine grater
cutting board
sieve

Working in batches if necessary, place spinach in a colander in the sink and pour over boiling water until wilted. Rinse immediately with cold water and squeeze out as much liquid as possible before setting aside. Grate one quarter of the Pecorino cheese and roughly chop the parsley. Sift flour together with salt and set aside.

Step 2/ 5

3

eggs

7½ ml

olive oil

150 ml

milk

Beat the eggs with the olive oil until slightly pale. Add the flour in small amounts at a time, being sure to beat out any lumps before adding more. Slowly stream in milk, whisking constantly until you have a very thin batter. Stir in Pecorino and parsley. Cover and leave to rest in the fridge for at least 20 min., up to overnight.

Step 3/ 5

frying pan (large)
ladle
spatula

Warm olive oil in a large frying pan over medium high heat, and use a kitchen towel to wipe the oil around the pan. Ladle some prepared batter into the frying pan and immediately swirl the pan to cover with an even layer of batter. When the crespelle starts to pull away from the pan at the edges, it's time to flip. Continue cooking until lightly browned on both sides but still very flexible and set on a plate to cool. Repeat the process until all batter is used. Reduce heat to medium low and wipe away any oil with a kitchen towel. Toast the pine nuts in an even layer in the pan and toast until lightly browned.

Step 4/ 5

½ clove

garlic

200 g

ricotta cheese

1¼ g

dried chilis

Preheat oven to 180°C/350°F. Finely grate cheese and mince garlic. In a large bowl, mix the ricotta, spinach, pine nuts, Pecorino, garlic, and chilli flakes. Season with salt and pepper and divide into equal amounts for each of your crespelle. Spoon a portion of the filling onto a pancake and form into a log about the width of your baking dish. Fold the sides of the pancake over and roll like a cigar before placing seam side down in your baking dish. Repeat for every pancake.

Step 5/ 5

Top the crespelle with marinara sauce until just covered all over. Bake for 20 - 22 min. at 180°C/350°F until bubbling on the sides. Top with extra grated Pecorino, a drizzle of olive oil and chopped parsley to serve. Enjoy!

Enjoy your meal!
More delicious ideas for you