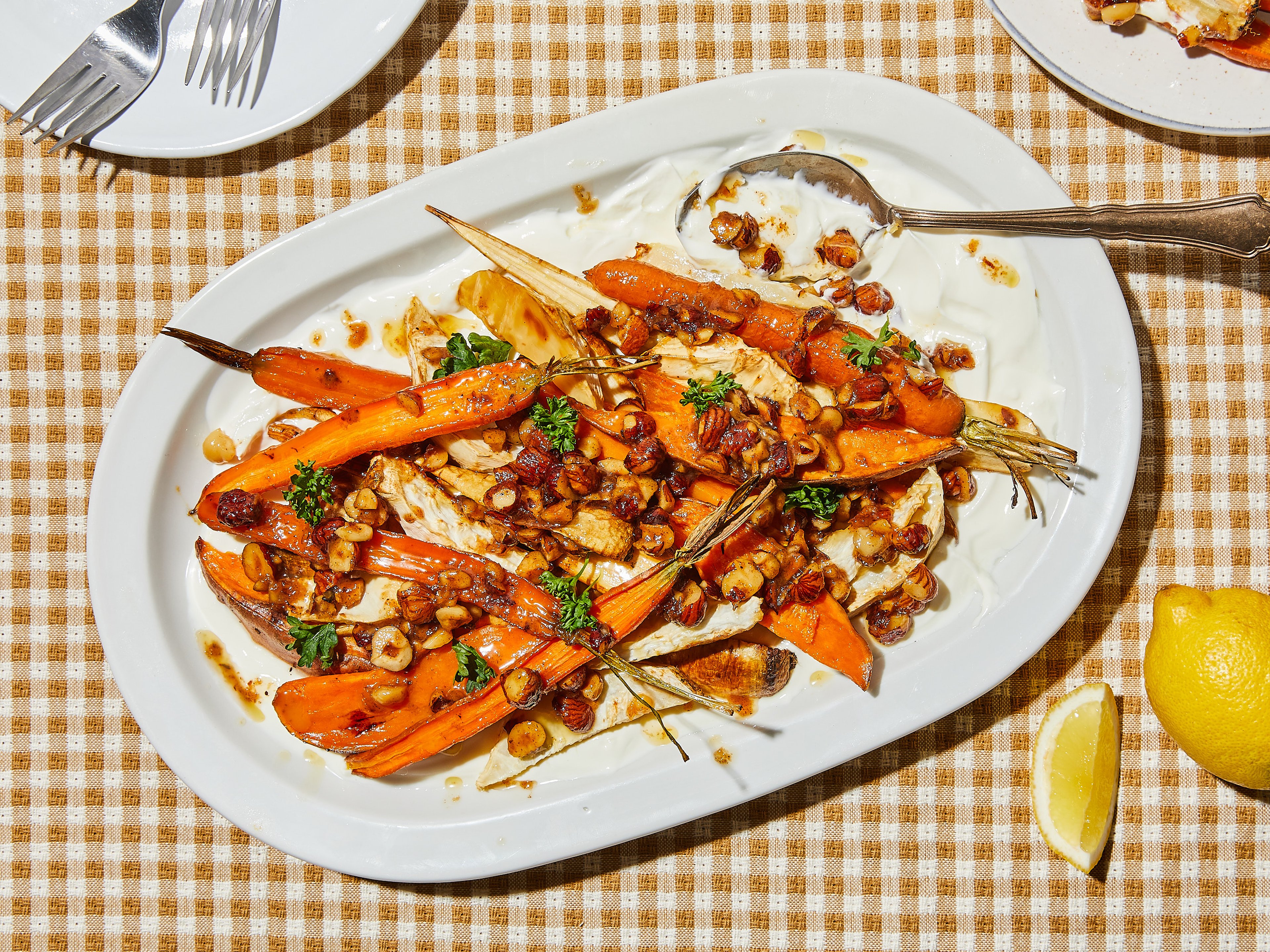 Roasted root vegetables with brown butter and hazelnuts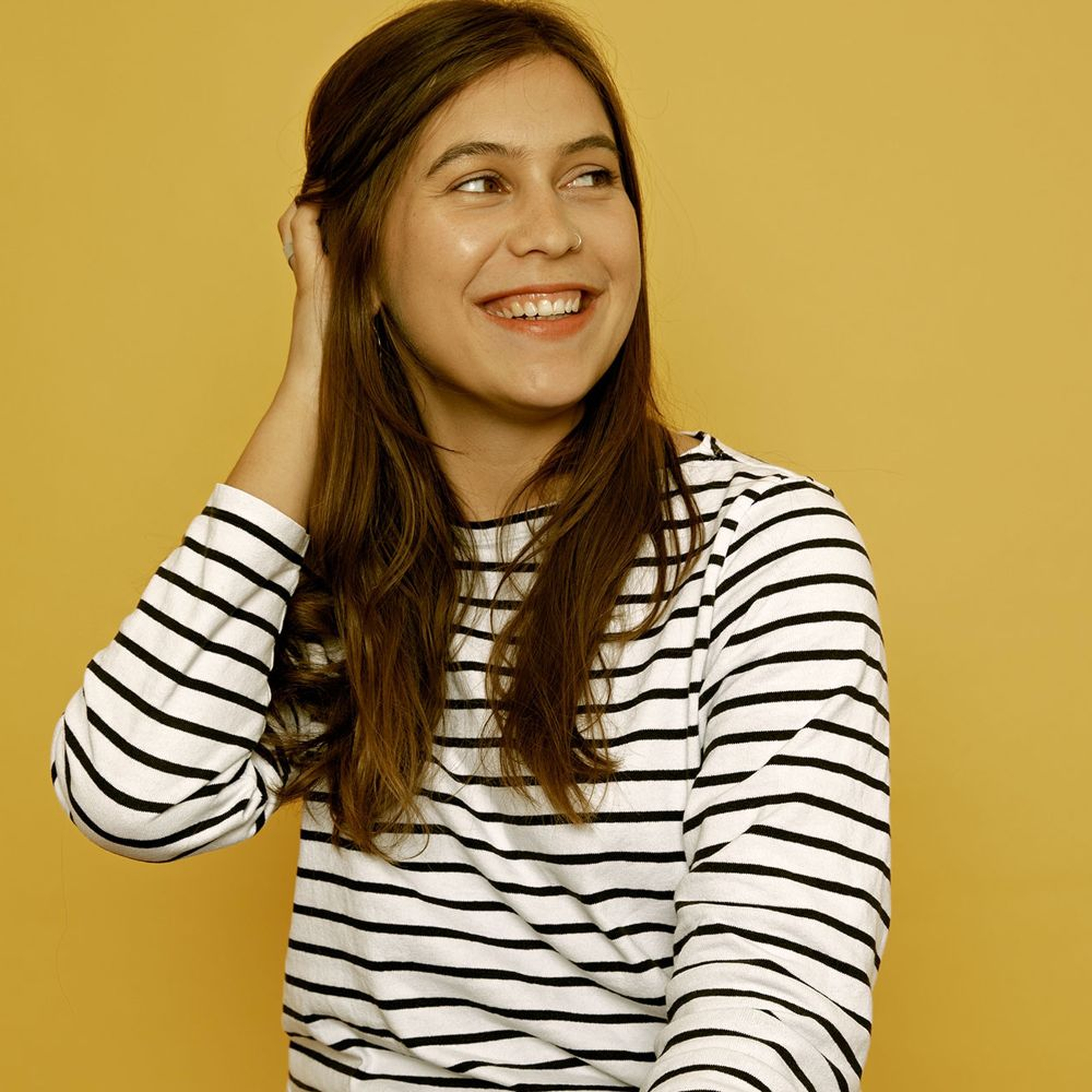 "Want a shortcut with more flavors? Try our VEGGIE WUNDER seasoning in this recipe! For me, the best way to work with root vegetables is to let them caramelize, which brings out their uniquely sweet, nutty flavors. This a very moreish dish that does that and more, dialing up the flavor with a complementary dressing of brown butter, hazelnut, and maple syrup. This is technically a side dish, which works excellently alongside roasted meats or as a medley of veg dishes, but if I say so myself, it's a real show-stealer (and is usefully both vegetarian and gluten-free, in case you're serving guests)! I like to serve on yogurt for a tangy contrast, but you could also go for labneh. To turn it into a main, try to serve it on some warm bulgur wheat or brown lentils, too."
Ingredients
Kitchen Stories Veggie Wunder seasoning (optional)
Utensils
oven, peeler, cutting board, knife, baking sheet, Veggie Wunder seasoning, grater, frying pan, citrus press, cooking spoon, bowl (small), fork, platter
How to prepare celery root
How to toast nuts
How to zest citrus fruits
3 easy ways to juice a lemon
Step 1/ 3

83⅓ g

celery roots

83⅓ g

carrots

83⅓ g

parsnips

83⅓ g

sweet potatoes

olive oil

⅔ tsp

Kitchen Stories Veggie Wunder seasoning (optional)

⅛ tbsp

maple syrup

flaky sea salt

1⅓ cloves

garlic

oven
peeler
cutting board
knife
baking sheet
Veggie Wunder seasoning

Preheat oven to 180°C/350°F. Peel celery root. Wash the sweet potato, parsnip and carrots and pat dry. Slice all lengthwise into long wedges, then halve again, if desired. Spread vegetables out onto a baking sheet, drizzle with olive oil, some of the maple syrup, and season with our VEGGIE WUNDER seasoning (if using) and some flaky sea salt. Add whole, unpeeled garlic cloves to the baking sheet. Transfer to the oven and bake for approx. 30 – 40 min., until they are cooked and just beginning to brown.

Step 2/ 3

20 g

hazelnuts

⅛

lemon

23⅓ g

butter

½ tbsp

maple syrup

grater
frying pan
citrus press
cooking spoon

While the vegetables are roasting, roughly chop the hazelnuts. Zest and juice the lemon. Approx. 10 min. before the end of the roasting time, add hazelnuts to a dry frying pan over medium heat and toast until they are just beginning to brown. Then, add the butter and continue to cook on medium heat until it foams, begins to brown and smell nutty, approx 1 – 2 min. Remove from the heat and whisk in remaining maple syrup and lemon juice.

Step 3/ 3

50 g

full-fat Greek yogurt

3⅓ g

parsley

flaky sea salt

Remove vegetables from the oven. Remove the garlic and carefully squeeze them to release the creamy inner into a bowl. Use a fork to mash into a paste. Then, whisk the garlic paste into the warm hazelnut butter dressing and mix well to combine. To assemble, spread Greek yogurt onto a large serving platter. Top with the roasted root vegetables and drizzle with the hazelnut brown butter. Garnish with lemon zest, tear curly parsley over the top, and sprinkle with flaky sea salt. Enjoy!

Enjoy your meal!
More delicious ideas for you