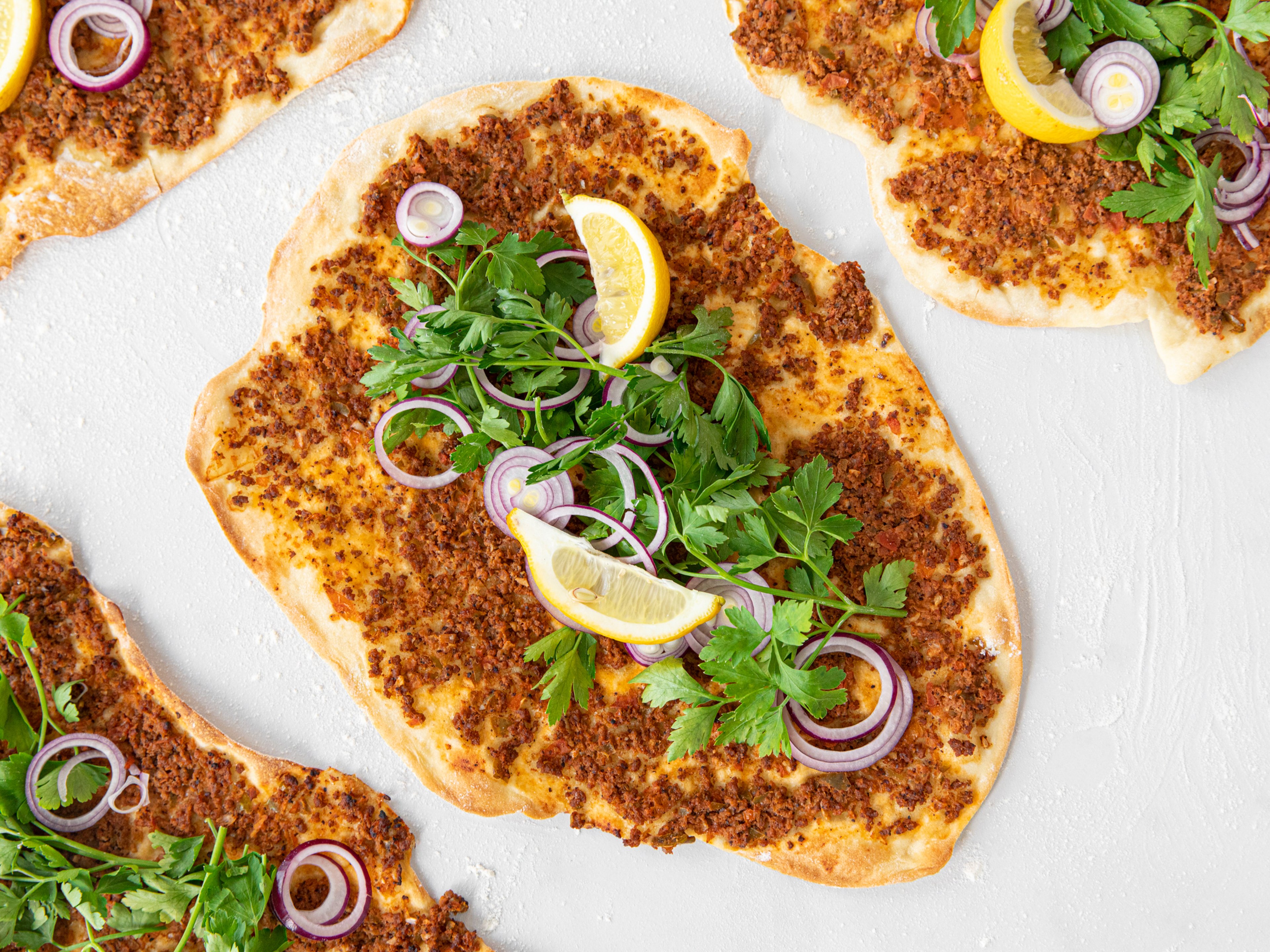 Lahmacun (Turkish pizza)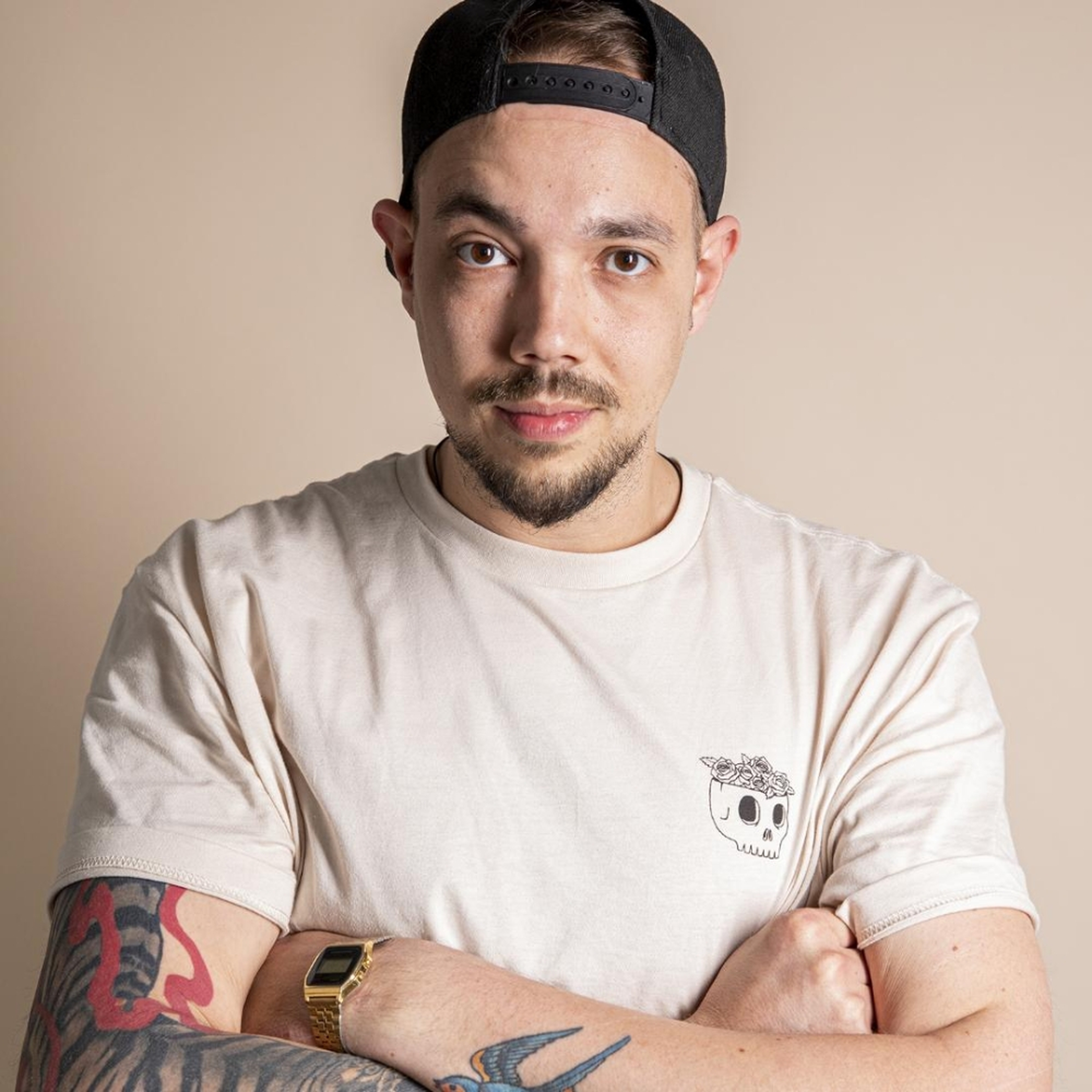 "Want a shortcut with more flavors? Try our AROMEN REICHTUM seasoning to substitute the cumin! Lahmacun is a yeast dough-based flatbread. It's also often called Turkish pizza or Armenian pizza, even though it has a very thin dough and is not made with cheese. The origin is debated, but it's popular in many countries that were once a part of the Ottoman Empire and is most commonly attributed to Armenia or Turkey. This version is based off of the Turkish versions we find all over Berlin. The dough is spread with a thin layer of a very strong and aromatic mixture of minced meat, onion, and tomato. It's a traditional snack food usually eaten straight from the oven with lots of herbs and onions."
Ingredients
biber salcasi (Turkish pepper paste)
Kitchen Stories Aromen Reichtum seasoning (optional)
Utensils
liquid measuring cup, 2 bowls (large), kitchen towel (damp), cutting board, knife, food processor, Aromen Reichtum seasoning, oven, baking sheet, rolling pin, parchment paper
How-To Videos
How to prepare garlic
Basic yeast dough
How to cut an onion
How to measure
Step 1/ 4

133⅓ g

flour

83⅓ ml

water (lukewarm)

1⅔ g

active dry yeast

⅓ pinch

sugar

1 tbsp

olive oil

⅛ tsp

salt

liquid measuring cup
bowl (large)
kitchen towel (damp)

Dissolve the yeast in lukewarm water in a large bowl with a pinch of sugar and leave sit for approx. 5 min. Add flour, olive oil, and salt and knead thoroughly. Lift the dough out of the bowl and spread a little olive oil on the bottom of the bowl. Place the dough back and coat it with the olive oil. Cover with a slightly wet kitchen towel and let rise in a warm place for approx. 45 min.

Step 2/ 4

100 g

ground beef

⅓

onion

⅔

tomatoes

⅓

green bell pepper

⅓ clove

garlic

⅔ tbsp

biber salcasi (Turkish pepper paste)

½ tbsp

tomato paste

⅓ tbsp

ground cumin

⅓ tbsp

Kitchen Stories Aromen Reichtum seasoning (optional)

½ tbsp

sumac

⅓ stalk

parsley

⅔

red onions

⅓

lemon

salt

pepper

cutting board
knife
food processor
bowl (large)
Aromen Reichtum seasoning

Chop the onion, tomatoes, bell pepper, and garlic, then blend very finely together with the Turkish pepper paste, tomato paste, cumin or our AROMEN REICHTUM seasoning (if using), sumac, salt, and pepper in a food processor. Add the mixture to the minced meat and mix everything to combine. Pluck parsley leaves, slice red onion into thin rings, and cut lemon into wedges for serving.

Step 3/ 4

oven
baking sheet
rolling pin
parchment paper

Preheat the oven to 250°C/475°F top/bottom heat. Divide the dough into 6 portions and shape into even balls. Place the balls on a lightly floured baking sheet, cover, and let rest for approx. 10 – 15 min. Roll out one dough ball thinly, place on a baking sheet with parchment paper and spread with about 2 tbsp of the beef mixture; the beef mixture should be spread out thinly and evenly. Bake for about 6 – 10 min. or until the lahmacun is lightly golden coloured. To speed things up, you can also use two baking sheets at a time to bake two pizzas at a time.

Step 4/ 4

Remove the Lahmacun from the oven and drizzle with a little lemon juice. Serve with parsley and red onions. Enjoy!

Enjoy your meal!
More delicious ideas for you