Step 1/3
300

g

daikon radish

10

g

ginger

2

tbsp

mirin

¼

tsp

salt

1

tbsp

sugar

3

cloves

garlic

150

ml

soy sauce

75

ml

red wine

2

tbsp

honey

1

pinch

black pepper

1

red onion
cutting board
knife
grater
2 bowls (large)
Grate daikon radish and ginger and transfer to a large bowl. Add mirin, salt, and sugar. Stir to combine, then set aside. Mince garlic. In a second large bowl, mix soy sauce, red wine, honey, garlic, and black pepper. Roughly chop red onion and set aside.
Step 2/3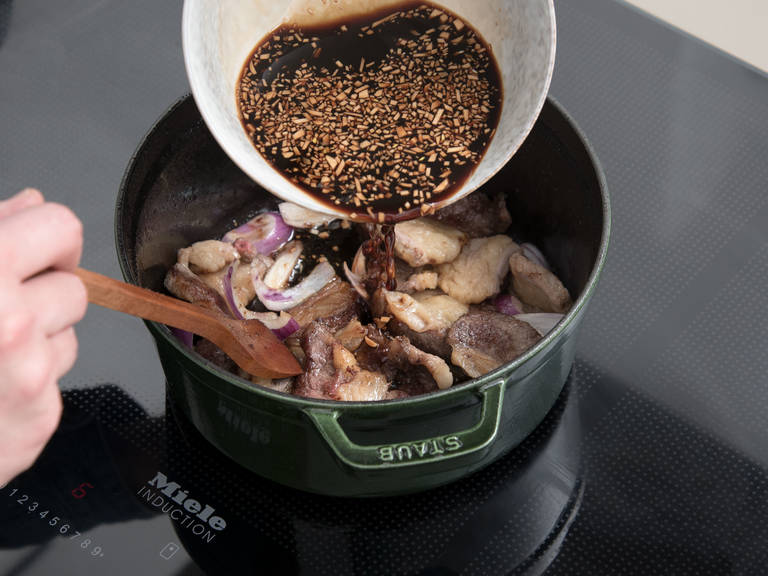 400

g

short ribs
vegetable oil for frying
paper towels
cooking spoon
pot (with lid)
Portion the meat and rinse under cold water, then pat dry with paper towels. Heat oil in a pot over medium-high heat and sauté the ribs on both sides. Remove ribs from pot and let drain on a paper towel-lined plate. Transfer ribs back to the pot, add the chopped red onion, and deglaze with garlic-soy sauce mixture. Mix thoroughly, scraping up the brown bits from the bottom of the pot. Cover the pot and bring to a boil over medium-high heat for approx. 25 min., then reduce heat to low and simmer, covered, for approx. 20 min.