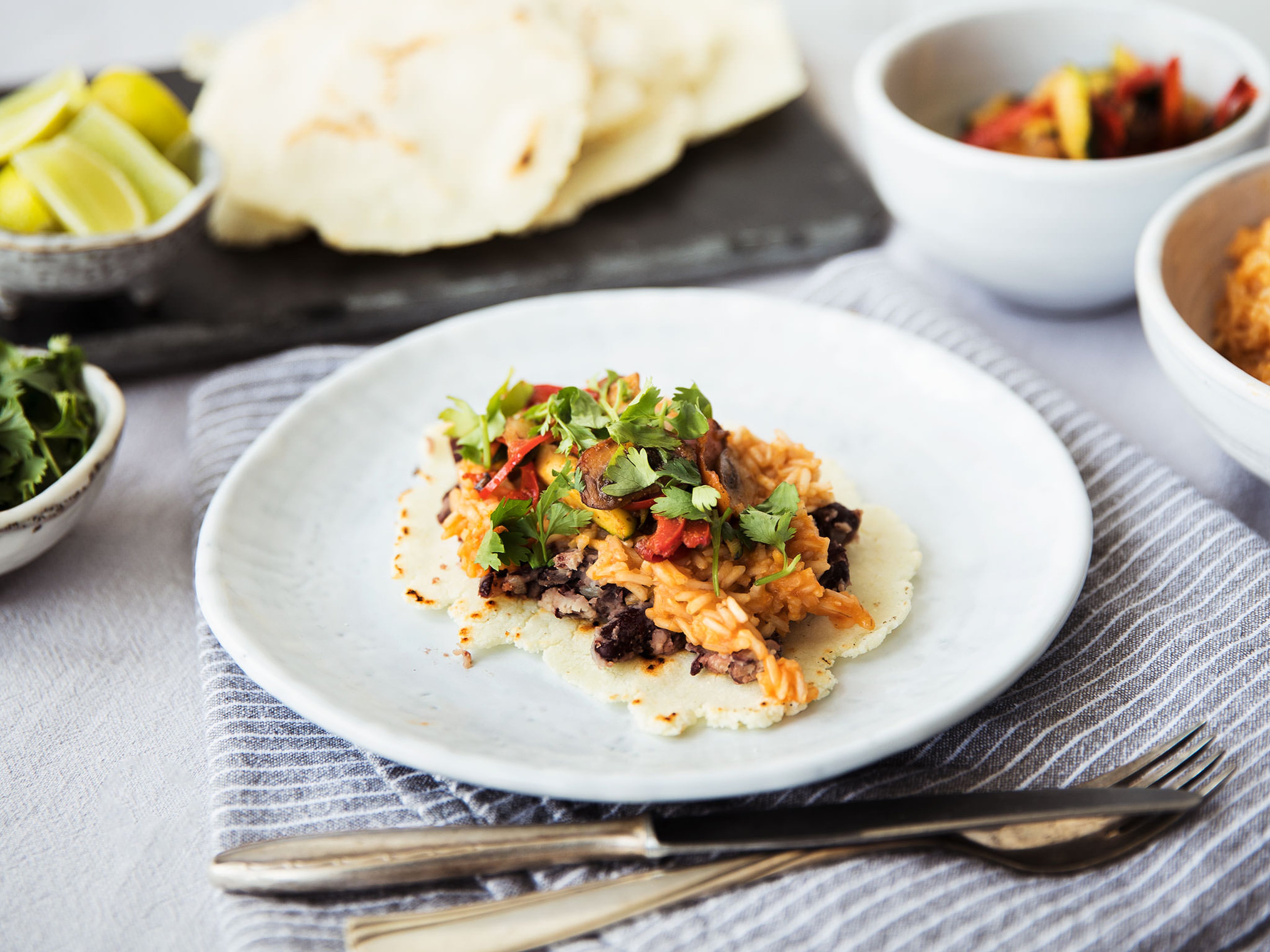 Bean and vegetable tacos with homemade tortillas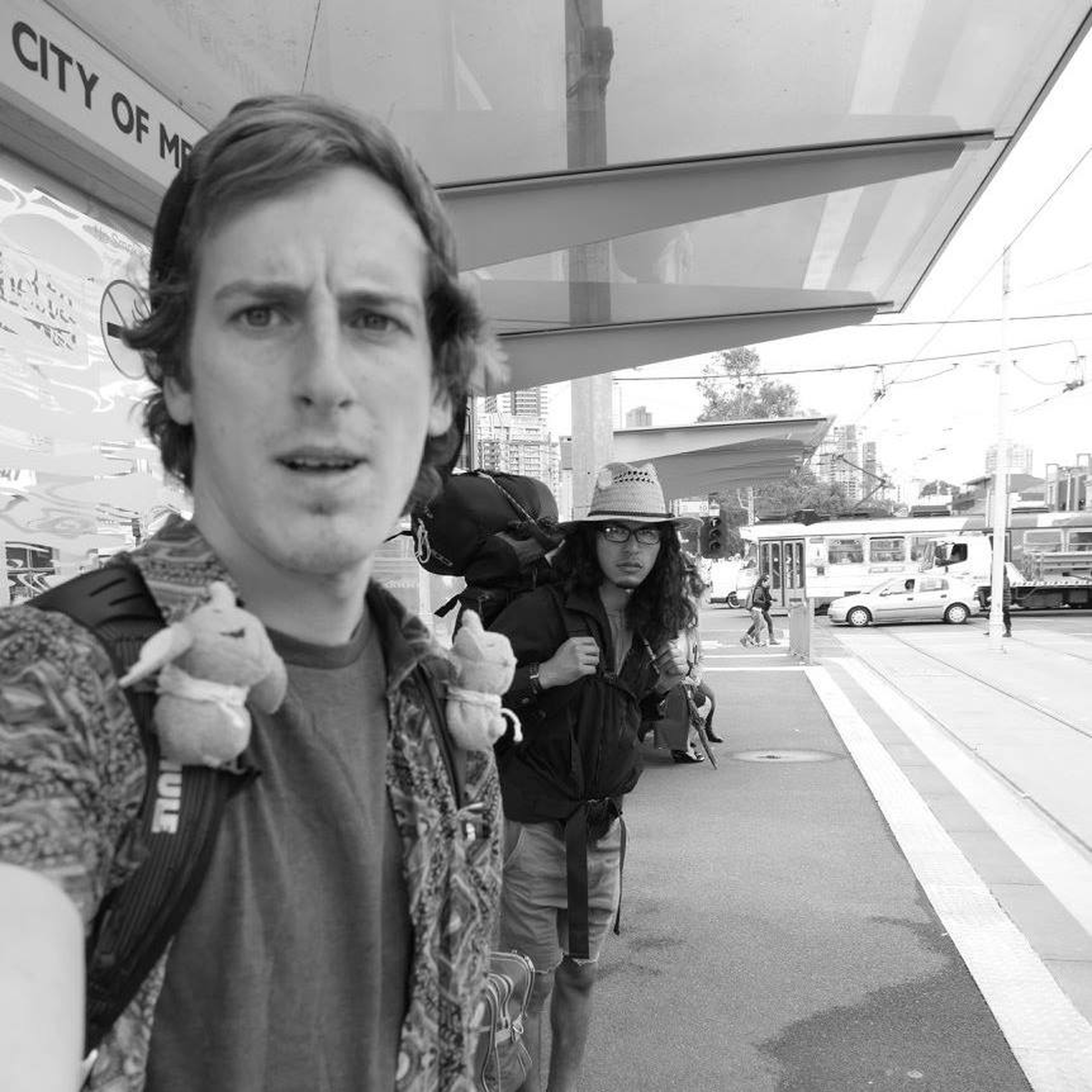 "Our goal when coming to Australia was to open up our own food truck with the intention of sharing good plant-based food with good people for free. Our "Food Wheel Drive" tacos are vegan and gluten-free."
Utensils
blender, cutting board, knife, frying pan, cooking spoon, bowl, plastic wrap, rolling pin, kitchen towel, nonstick pan, potato masher, colander
How to prepare a chili
How to prepare garlic
How to cut a bell pepper
How to clean mushrooms
How to cut an onion
How to easily clean a blender
Step 1/ 9

⅛

onion

⅔

tomatoes

⅓

chili peppers

⅓ cloves

garlic

50 ml

water

salt

blender
cutting board
knife

We start by making a tomato base to cook the rice in. Throw some of the onion, tomatoes, chili peppers, garlic, salt, and water into a blender and blitz to combine.

Step 2/ 9

⅛

onion

31⅔ g

brown rice

vegetable oil for frying

The next step is to cook the rice. In a frying pan, fry a bit of onion in oil and then add the rice. Fry for approx. 2 min. Add the tomato base, bring to a boil and simmer until the rice is cooked.

Step 3/ 9

50 g

masa harina

58⅓ ml

water

Next, we will make the tortillas. Mix the masa harina, water, and salt in a bowl until you get an elastic consistency. Then roll the dough into smaller balls.

Step 4/ 9

Grab two flat surfaces (such as cutting boards) to flatten the tortillas, or use a rolling pin. Stack your tortillas with plastic wrap in between so they don't stick together.

Step 5/ 9

kitchen towel
nonstick pan

Heat the tortillas in a nonstick pan on both sides. Store them in a clean kitchen towel to keep fresh while you prepare the vegetables and beans.

Step 6/ 9

⅛

onion

133⅓ g

canned kidney beans

frying pan
potato masher
colander

Next, we will make the beans. Cut the onion. Drain and rinse the beans, heat some oil in a pan, fry the onion, then add the beans and mash them in the pan, or leave them whole because they will still taste great.

Step 7/ 9

⅛

carrot

⅛

onion

⅛

chili peppers

⅛

bell pepper

⅛

zucchini

½

button mushrooms

⅓ cloves

garlic

paprika powder

chili powder

garlic powder

pepper

Finally, we will make the veggies. We just like to sauté whatever vegetables we have in the fridge and in this case we will use carrot, onion, chili peppers, bell pepper, zucchini, mushrooms, and garlic. Chop all vegetables. Add oil to your pan, then add garlic, chili, and all the vegetables that take longer to cook first, like onions and carrots. Sauté for a few minutes, then add the rest and fry until soft. Season to taste with paprika powder, chili powder, garlic powder, salt, and pepper.

Step 8/ 9

cilantro for serving

lime for serving

Now that everything is ready, we will assemble the tacos. Take tortilla and add beans, rice, veggies, and top it off with cilantro and lime. Enjoy!

Step 9/ 9

Want to share your recipe with our awesome community? Each week, we'll be choosing your best recipes to test cook, photograph, and publish on Kitchen Stories for the world to see! Simply email us at community@kitchenstories.io and send us your recipe.

Enjoy your meal!
More delicious ideas for you