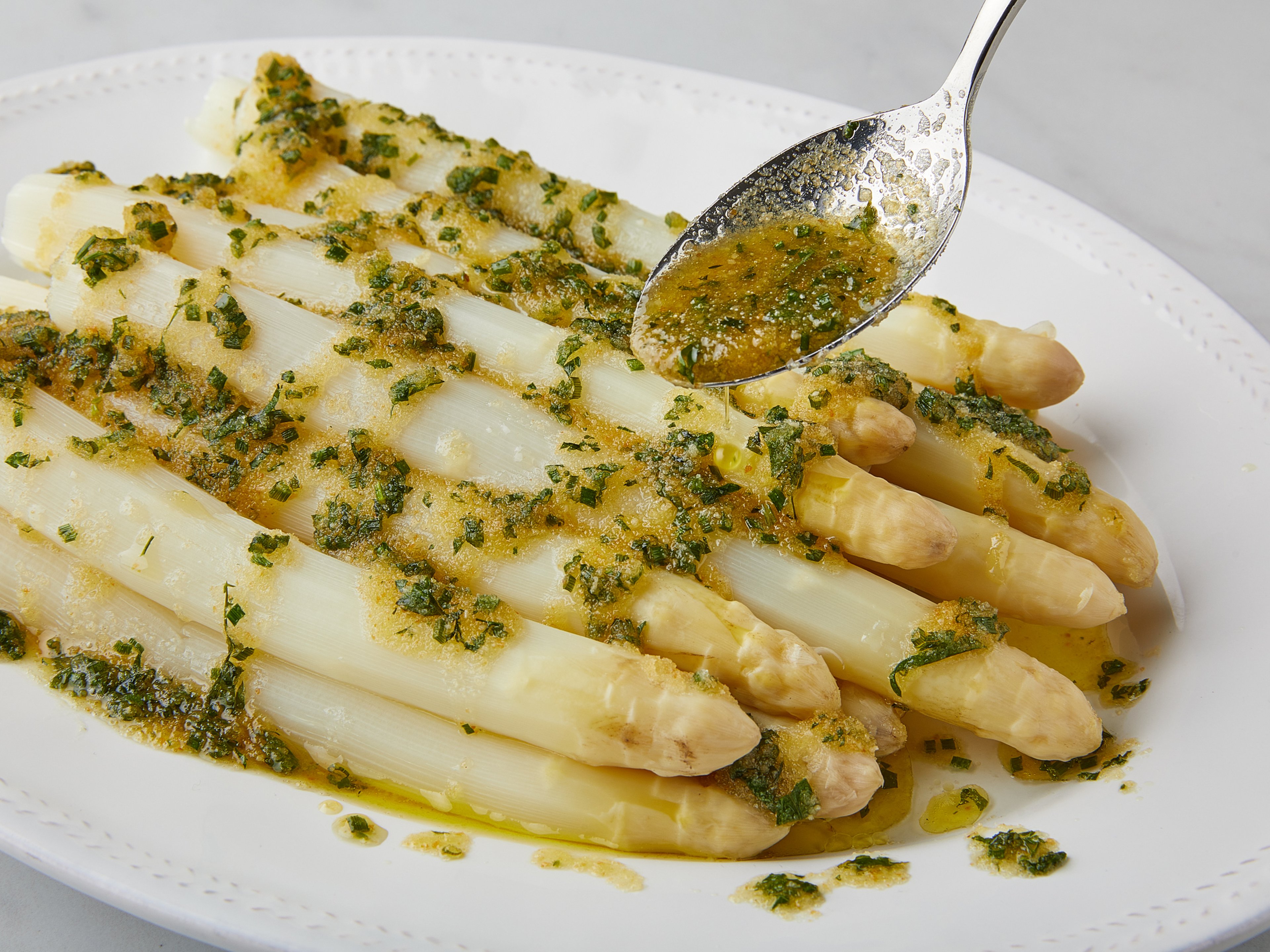 The Best Way to Cook White Asparagus? The German Way!
Bring out the best from this beloved German vegetable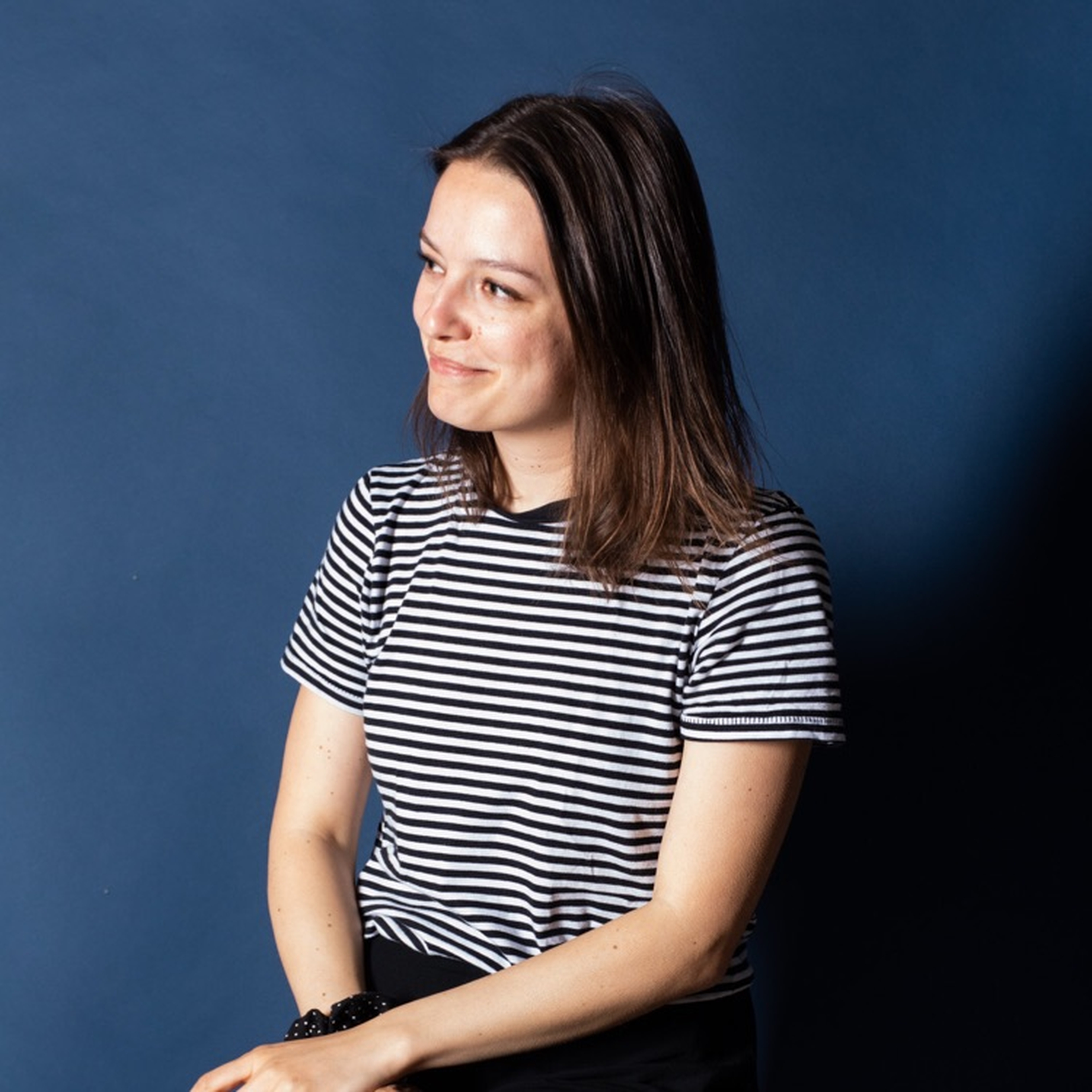 When it comes to cooking, you never stop learning. A small tip in the right direction can transform a dish from just okay to out-of-this-world delicious: So to help you cook with confidence (and stop sifting through confusing Google results) we've set up our very own Cooking Hotline. It's time to ask us your burning cooking questions: Submit them here!
Here in Germany, spring means one thing, and one thing only: Asparagus season. From April through June, just about every restaurant menu will have a dish (or maybe a few) featuring the pale stalks of white asparagus beloved by the entire country. However, for our chef Christian, there's only one true way to cook and eat this seasonal delicacy to bring out its delicate flavor and best texture.



Step one: Bring a large pot of water to boil, then season it properly before adding your peeled white asparagus stalks. Christian adds the juice from half a lemon, a generous pinch (or two) of salt (just like you would for cooking pasta), and the same amount of sugar. Next, it's important to carefully taste the water. If the salt, sugar, and acid balance each other out, you've done well and your water is ready. If not, add more salt, sugar, or lemon juice until it does.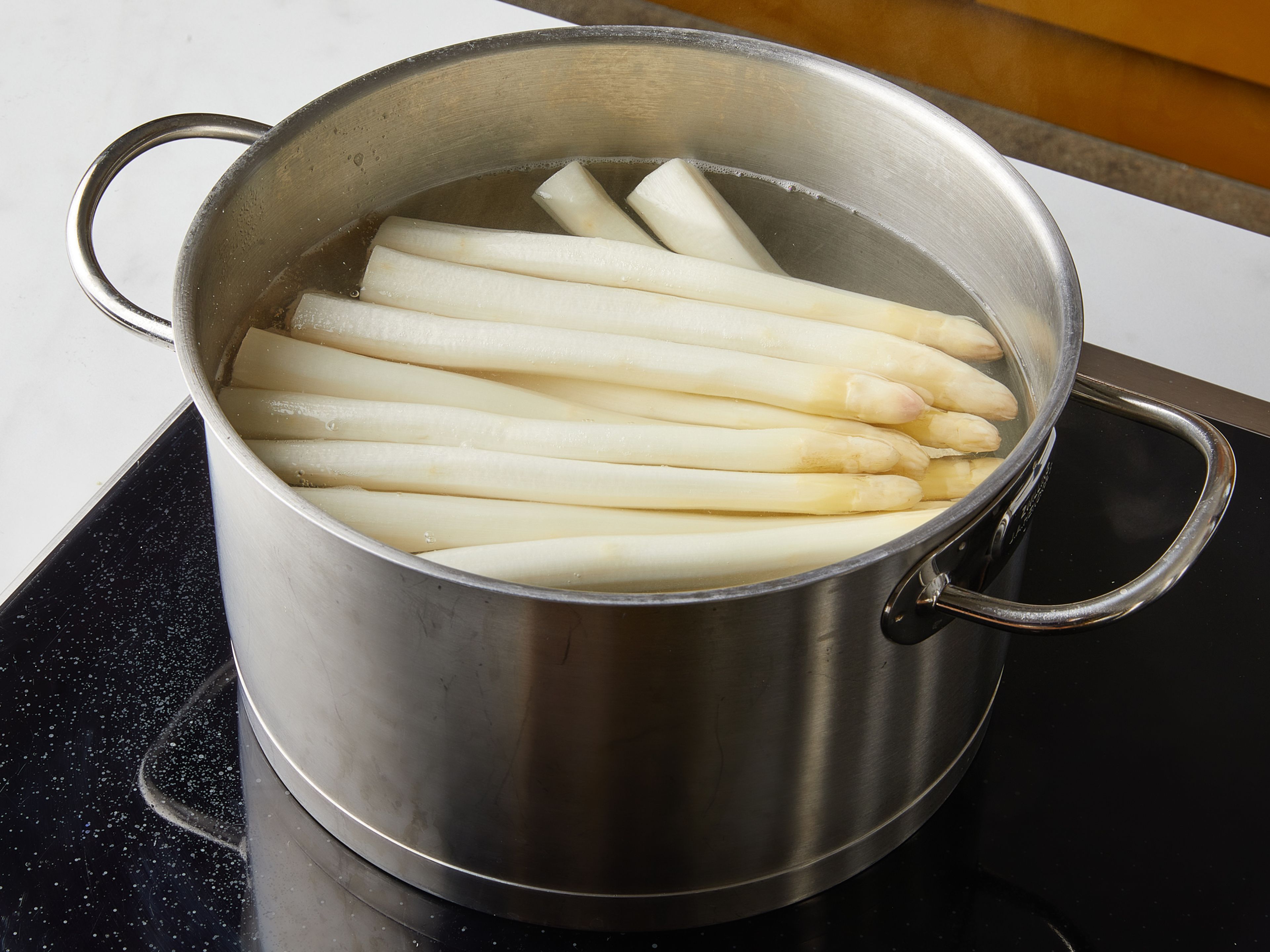 Step two: Once the water is boiling again (after seasoning), add your peeled asparagus stalks. You'll notice that once the asparagus hits the hot water, it will stop boiling. As soon as it begins to boil again, after about 8 – 10 minutes, test a stalk of asparagus by slipping a knife into the spear. If it slips through easily, the asparagus is cooked properly and can be drained and served immediately. If it's still hitting some resistance, check it every 30 seconds until it's done. That's it!

Classic white asparagus with new potatoes and hollandaise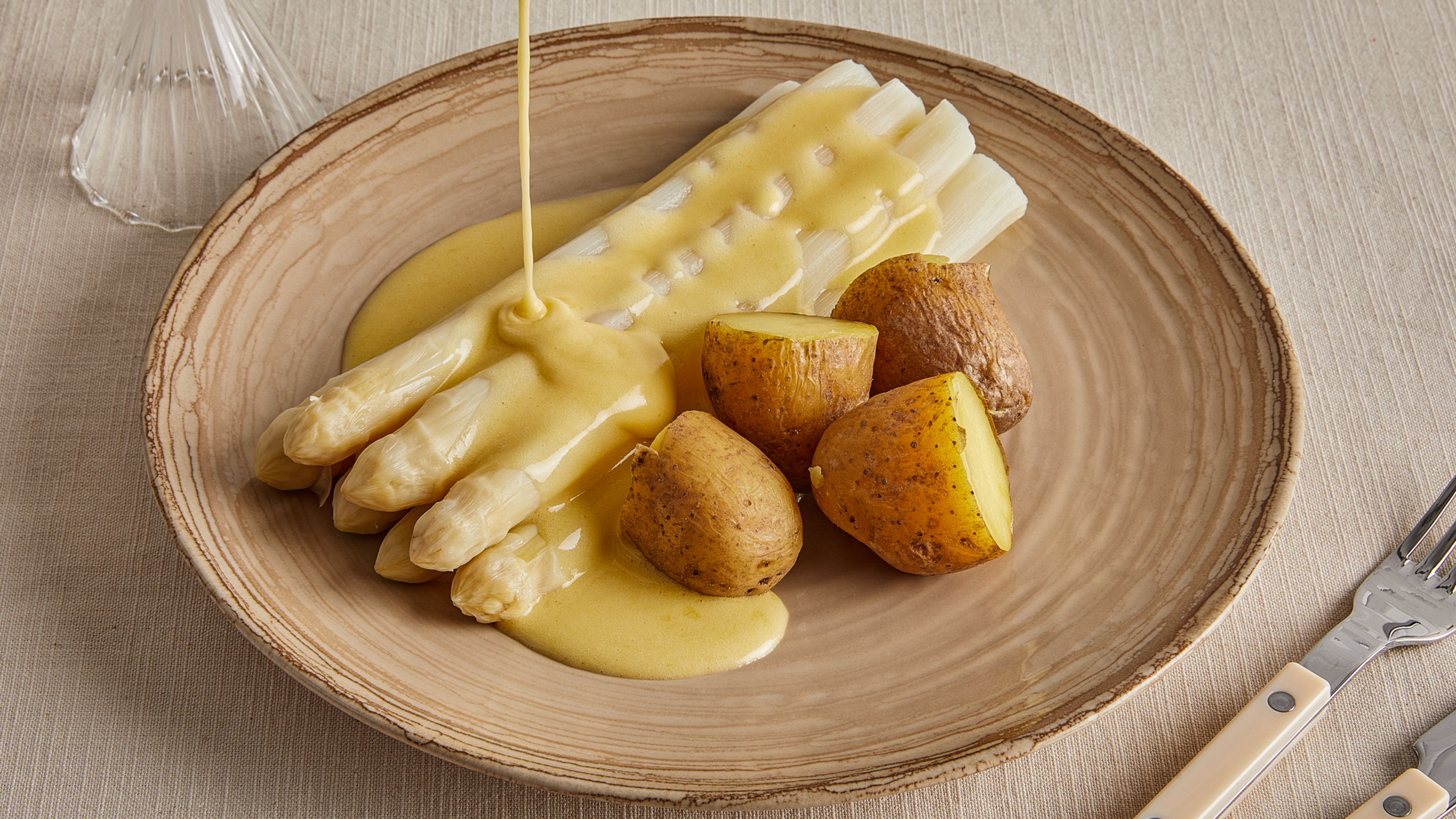 → Go to recipe
What to serve with your perfectly cooked white asparagus? Hollandaise sauce, of course!
Because Christian is Christian, he wanted to serve his white asparagus with a homemade hollandaise sauce and tender boiled new potatoes. For a well-seasoned, "fancy" homemade hollandaise, follow the instructions in the recipe link below, or take a shortcut (on time and dishes, not flavor!) and swap that one out for his super fast, super simple blender hollandaise instead. Enjoy your white asparagus cooking adventures!
Super easy blender hollandaise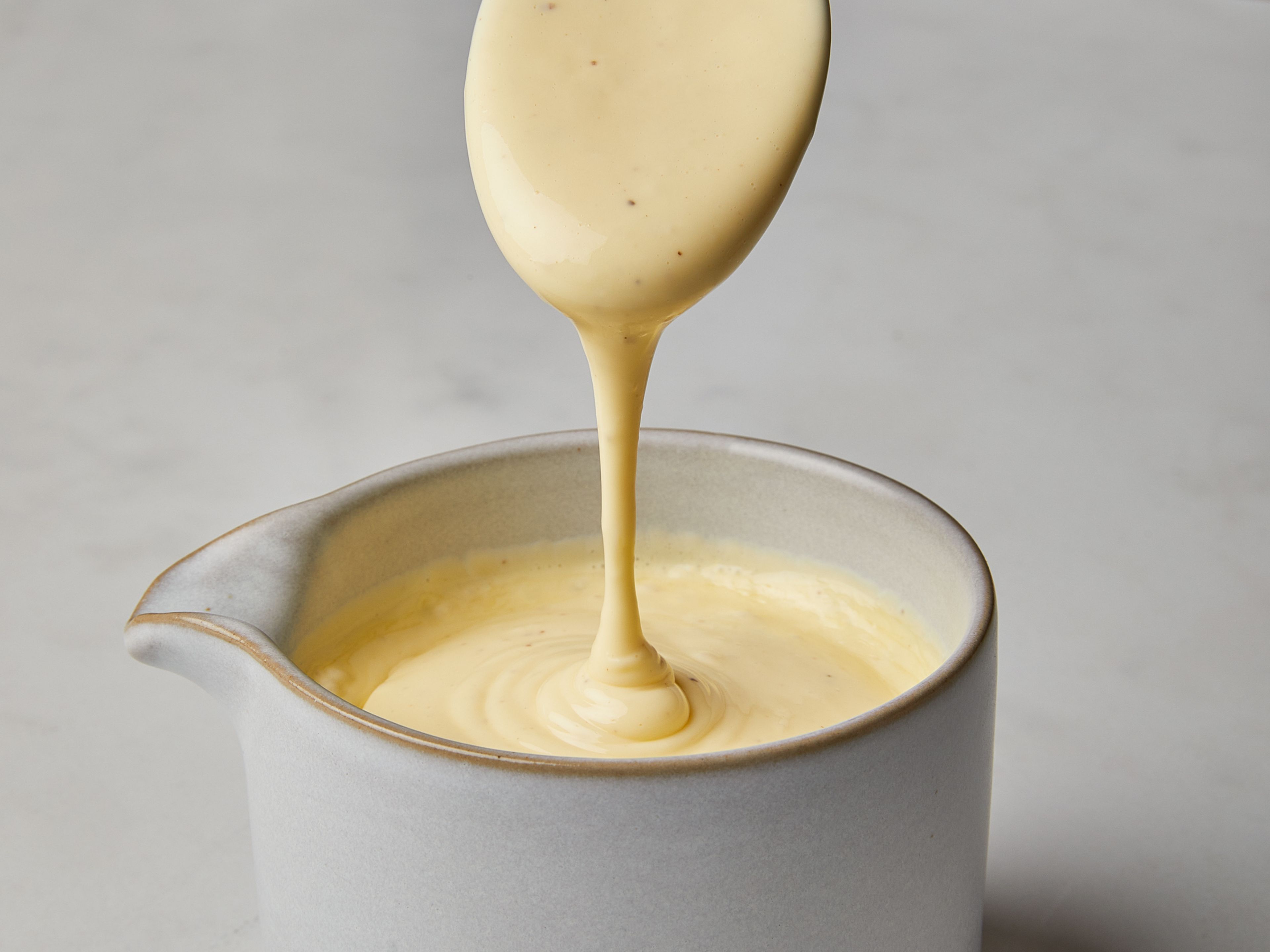 → Go to recipe
Published on April 26, 2022
More delicious ideas for you