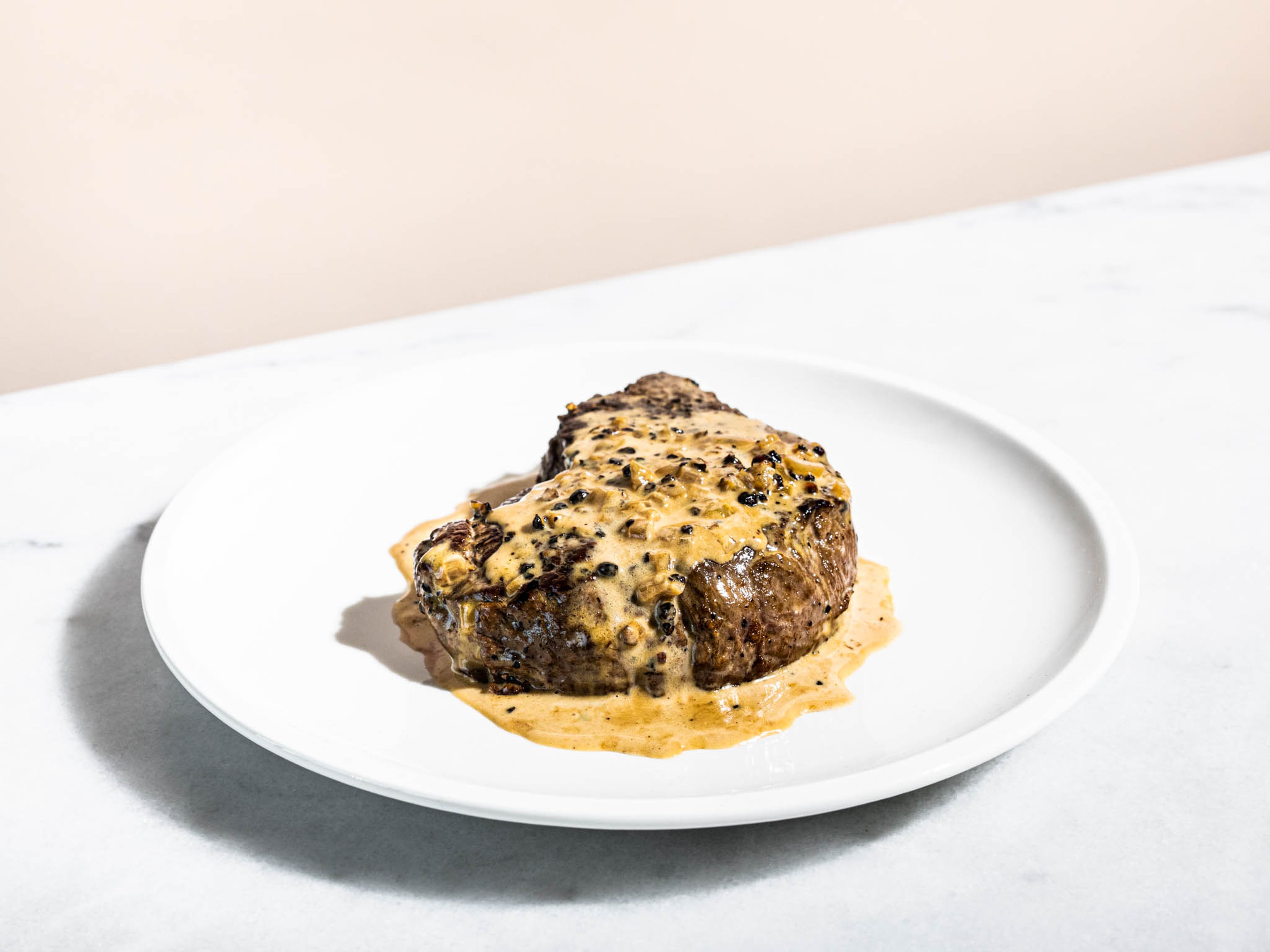 Is Steak au Poivre the Most Chinese Steak?
A dish that is globally loved, even by my Chinese parents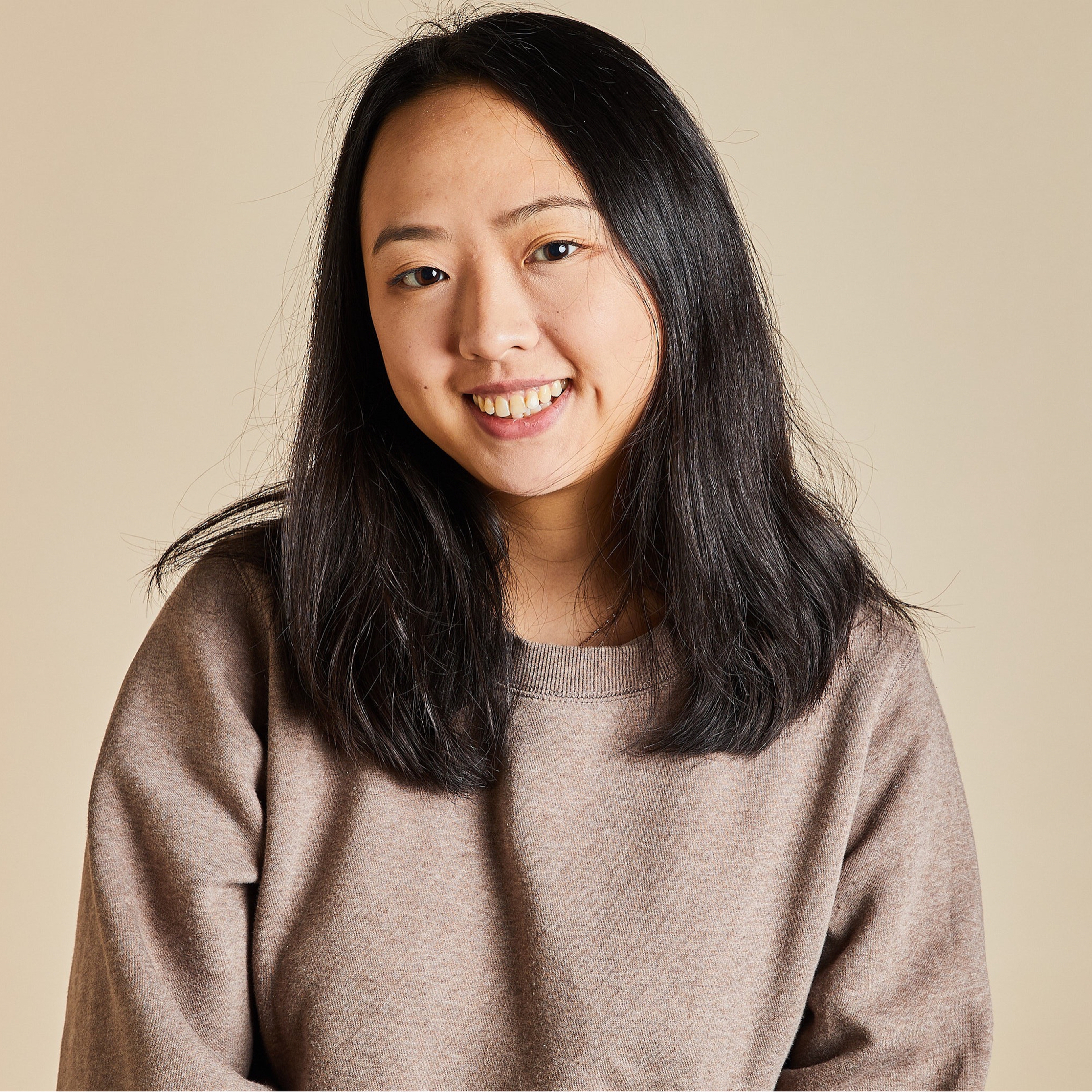 It might sound weird or even offensive to say that steak au poivre (a classic French dish) is the "most Chinese" steak recipe. So why would I say it? Because it reminds me of a dish—steak with pepper sauce—I had a lot growing up in so-called "Western steak houses."
When we were testing this recipe, it reminded me of one specific memory when my family flew from China to visit me for the first time in Europe. We were sitting in a cozy restaurant in Luca, Tuscany and ordered the famous Florentine T-bone steak. My dad stared blankly at the steak for a few seconds before asking me, "Where is the pepper sauce?" There was no pepper sauce that day, although we all agreed the steak was good—if only in a minimalistic, it-feels-like-it's-missing-something sort of way.
My point is, steak au poivre is most certainly not something only to be enjoyed in fancy French restaurants. It is, at its core, a very simple, if quite luxurious recipe: Pepper-crusted, seared steak with an easy pan sauce. You can make the steak and sauce at home in just about 25 minutes (with just one pan!) and serve it with a few simple sides as a fancy-ish meal for guests—an excellent idea for all but perhaps especially if those guests happen to be your Chinese, steak with pepper sauce-loving parents.
The pepper
In French au poivre means "in pepper" or "peppered". So we know that pepper is pretty much the star here. There are all kinds of ways to season steak, but spicy, floral black pepper is one of the best.

We'd recommend using full peppercorns and a mortar and pestle for the best result. It may sound ancient but in this recipe, it makes sure the steak has a nice, coarse pepper crust and releases the full-bodied peppery flavor. If you tried to use too finely ground pepper—that magic would be lost. If you don't have a mortar and pestle at home, you can also place the peppercorns in a plastic bag or wrap them up in a kitchen towel, and use a heavy meat tenderizer or pan to coarsely crush them.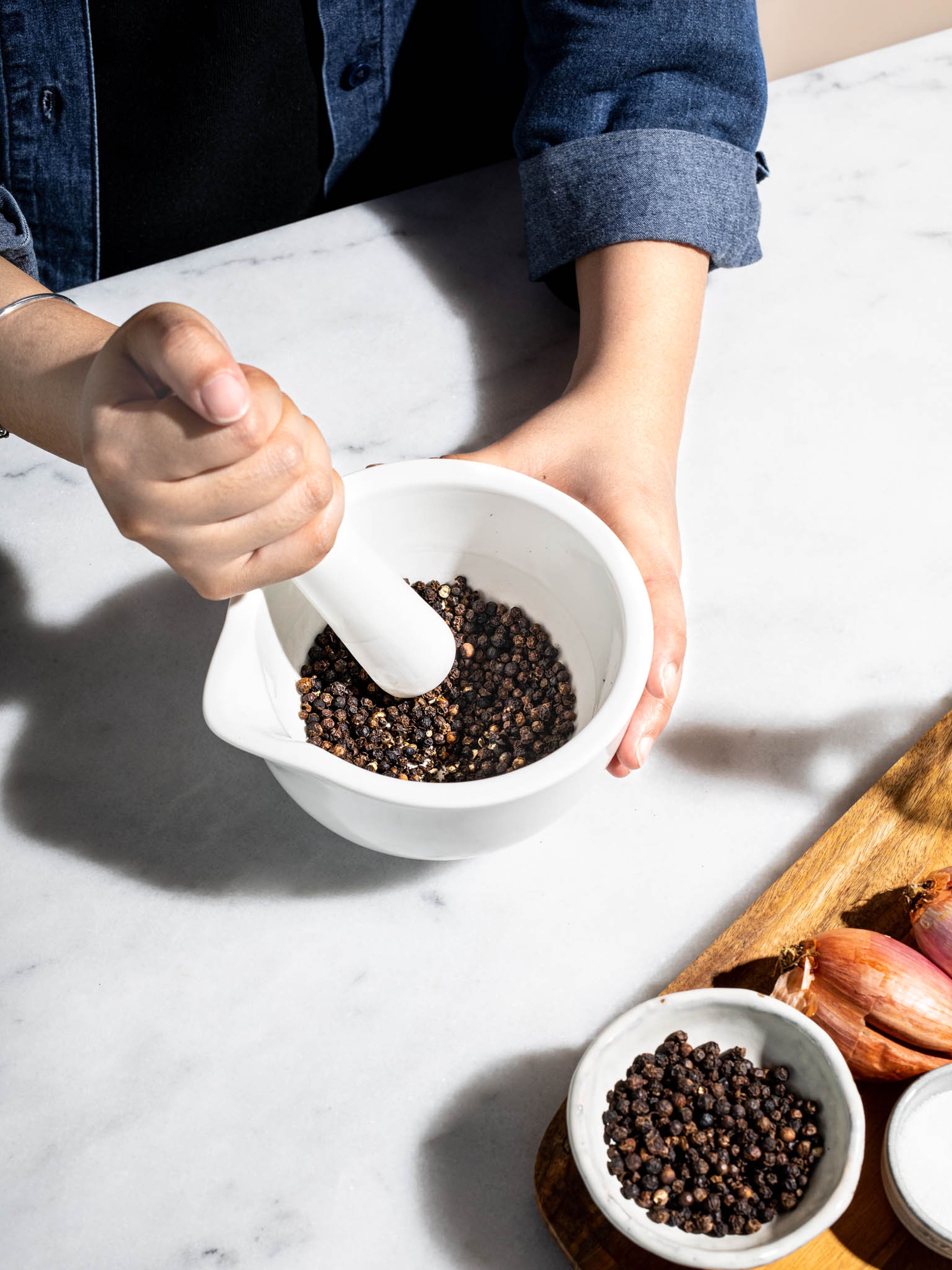 Christian recommends using Cambodian Kampot peppercorns which have a distinct, strong, and piquant flavor. However, combining two or three different peppercorn varieties (like white and pink peppercorns along with black or Kampot) will yield a more sophisticated taste. New York Times Cooking does a version that even mixes Sichuan and black peppercorns, which will make for a more mouth-numbing taste.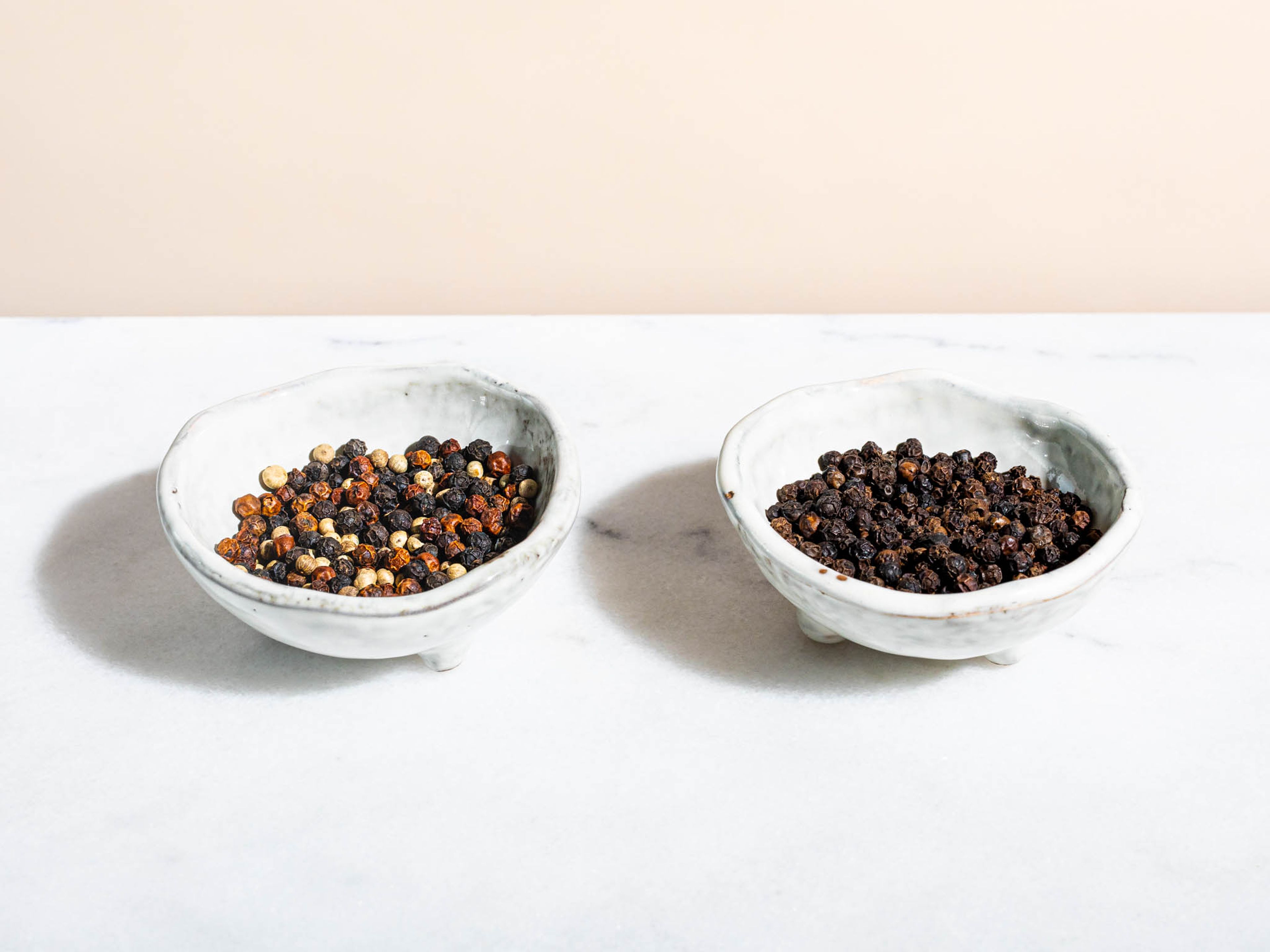 The steak
After you've got your peppercorns crushed, you'll need to crust the steak with them—but what cut should you use? The classic recipe calls for filet mignon, a rather expensive and lean cut. You could instead opt for fattier boneless rib eye or strip steaks. As simple as the dish itself is, investing in a pricier cut will certainly pay off.

To prepare the steak, remove it from the fridge between 30 minutes and an hour ahead of time. Season the steak on both sides with salt and pepper—as per the standard routine—then use your hands to press a generous amount of coarse peppercorns on both sides of the steak.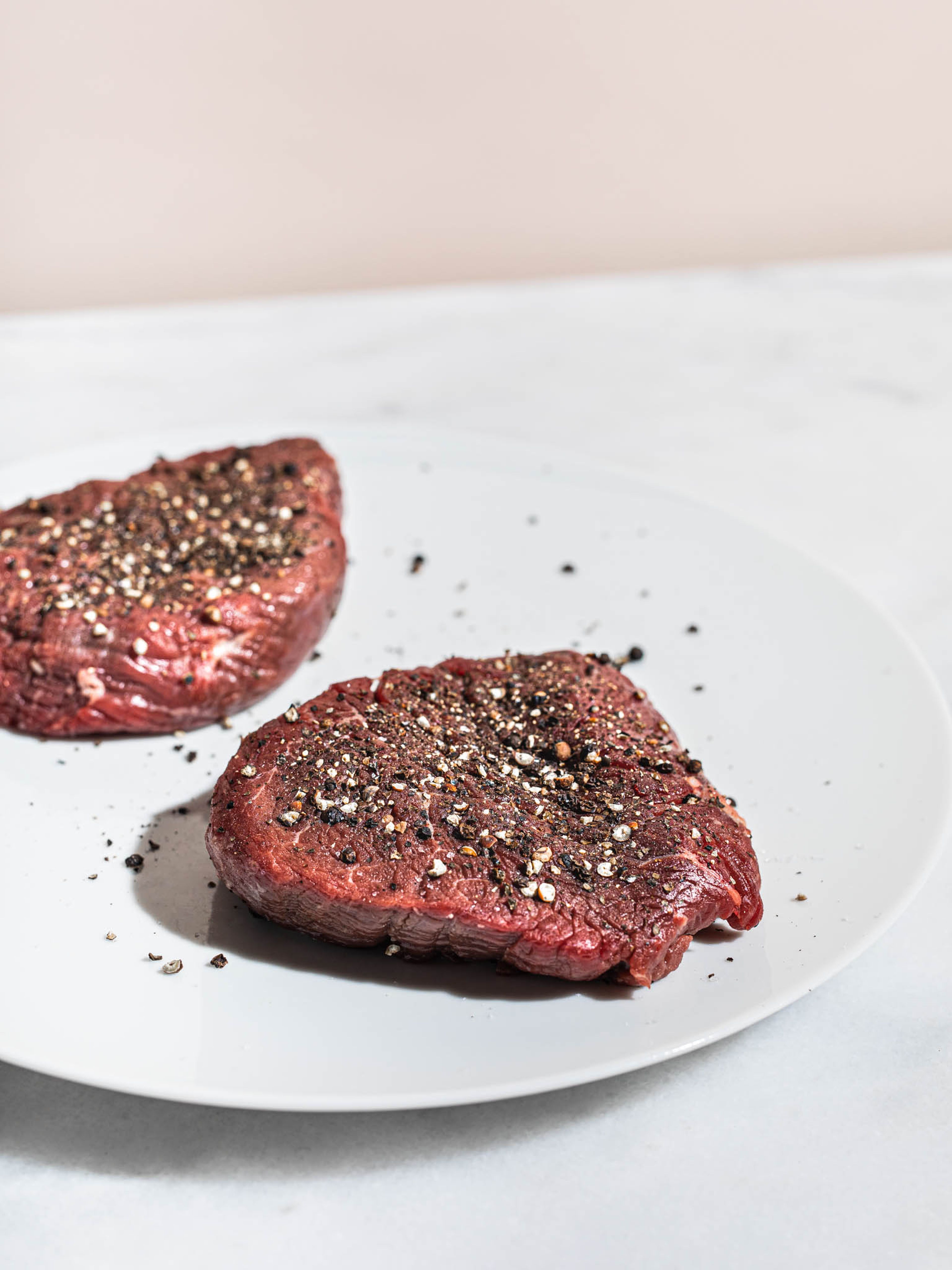 I would suggest using a cast iron pan to sear the steak because it has better heat distribution than normal pans and will more evenly sear the steak. Heat the pan over high heat. When it starts to smoke, add a drizzle of vegetable oil, then add the steak—which should immediately start to sizzle. For a medium-rare steak (my personal preference), sear both sides for about 3 to 4 minutes; read more about cooking steak here. Once it's done to your desired level, wrap it in a piece of aluminum foil to rest and keep warm until the sauce is done.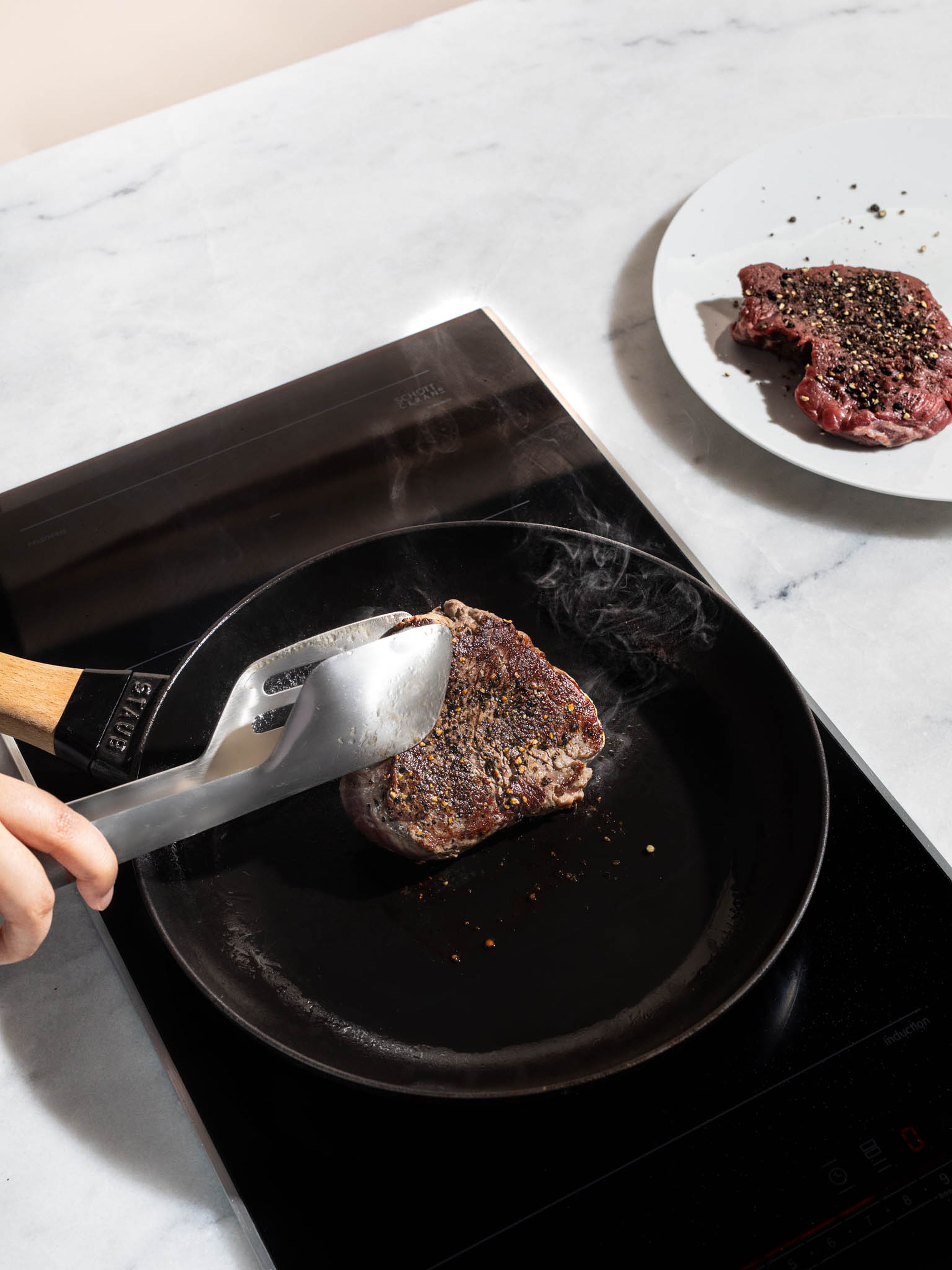 The pan sauce
One thing great about the pan sauce is that it can be made directly in the same pan where the steak is seared to make use of any leftover browned bits or pepper pieces. Added shallots, butter, cream, and cognac round it out to make a full, creamy sauce—just add minced shallots directly into the pan after you remove the steaks and sauté until transparent. Add butter, then deglaze with heavy cream and cognac. Simmer until reduced by about half.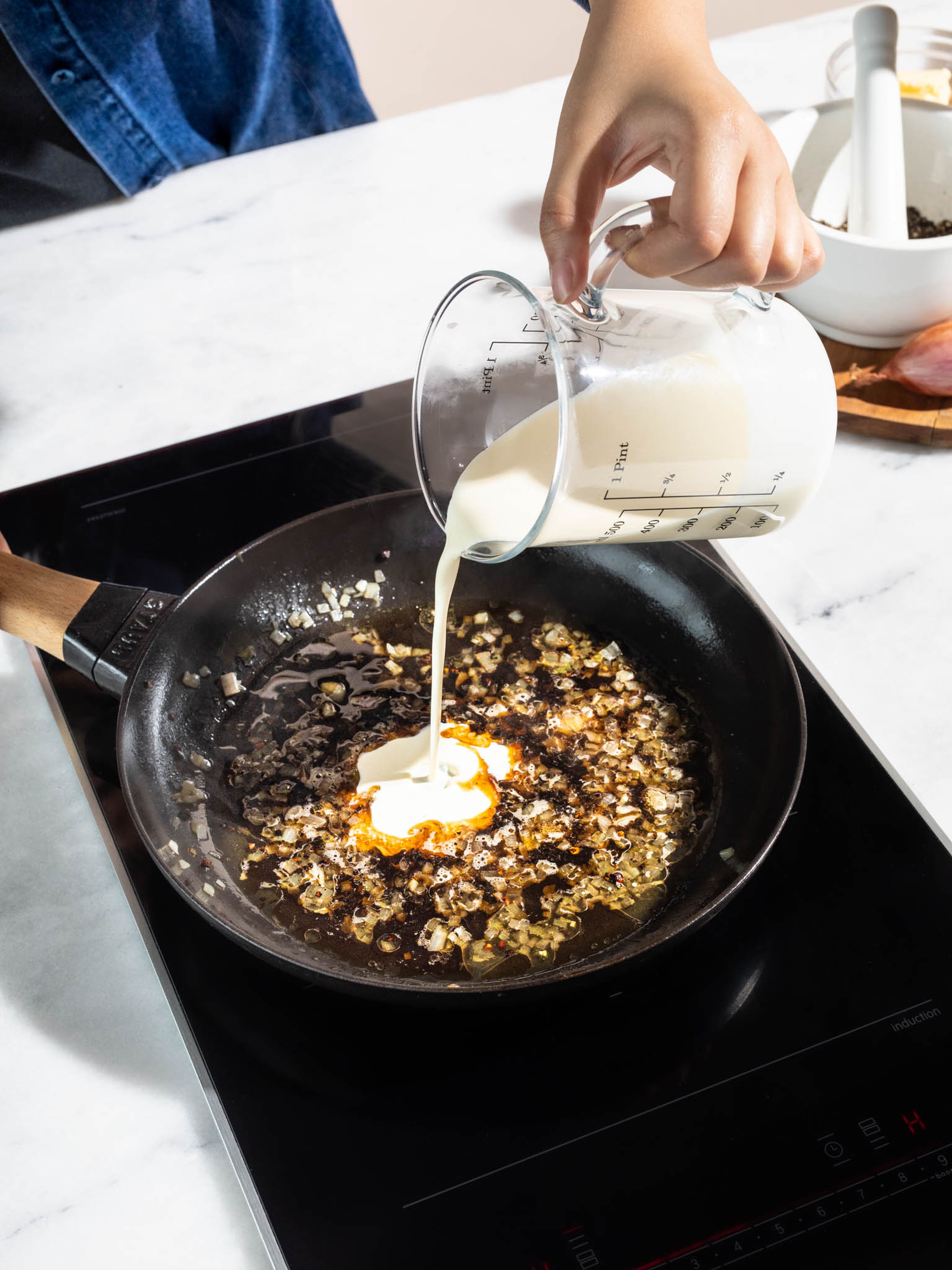 In some recipes, brandy, whiskey, or sherry wine are used instead of cognac, but if you want to stick to the most truthful French recipe—use cognac. If you have any leftover crushed peppercorns, add them to the sauce for an even deeper colour and extra pungent flavor. Some also suggest adding beef stock to intensify the beef flavor, but in my opinion, if the beef is high-quality, there wouldn't be an added benefit to the stock. To finish, you can add some herbs, preferably parsley to it.
The recipe
As simple as this classic dish it, the taste is one I'll never find boring. The first thing that hits you is the creaminess of the sauce that coats your mouth, then the tender bite of the steak with a fragrant, peppery undertone. Only when you finish the whole bite will you feel the punch and spice from the pepper, which will cling on your tongue for a few seconds before inevitably fading into the next bite.

The classic sides for steak au poivre (or any steak) can be mashed (or French fried) potatoes and green beans. Christian's pepped up the classic bean by making small bundles and wrapping them in bacon—which are fried in the same pan as the steak and are absolutely worth the extra effort. Try them out when you're next craving for steak comes around—perhaps tonight?
Classic steak au poivre (French pepper steak) with mashed potatoes and green bean bundles
→ Go to recipe
Published on October 18, 2019
More delicious ideas for you