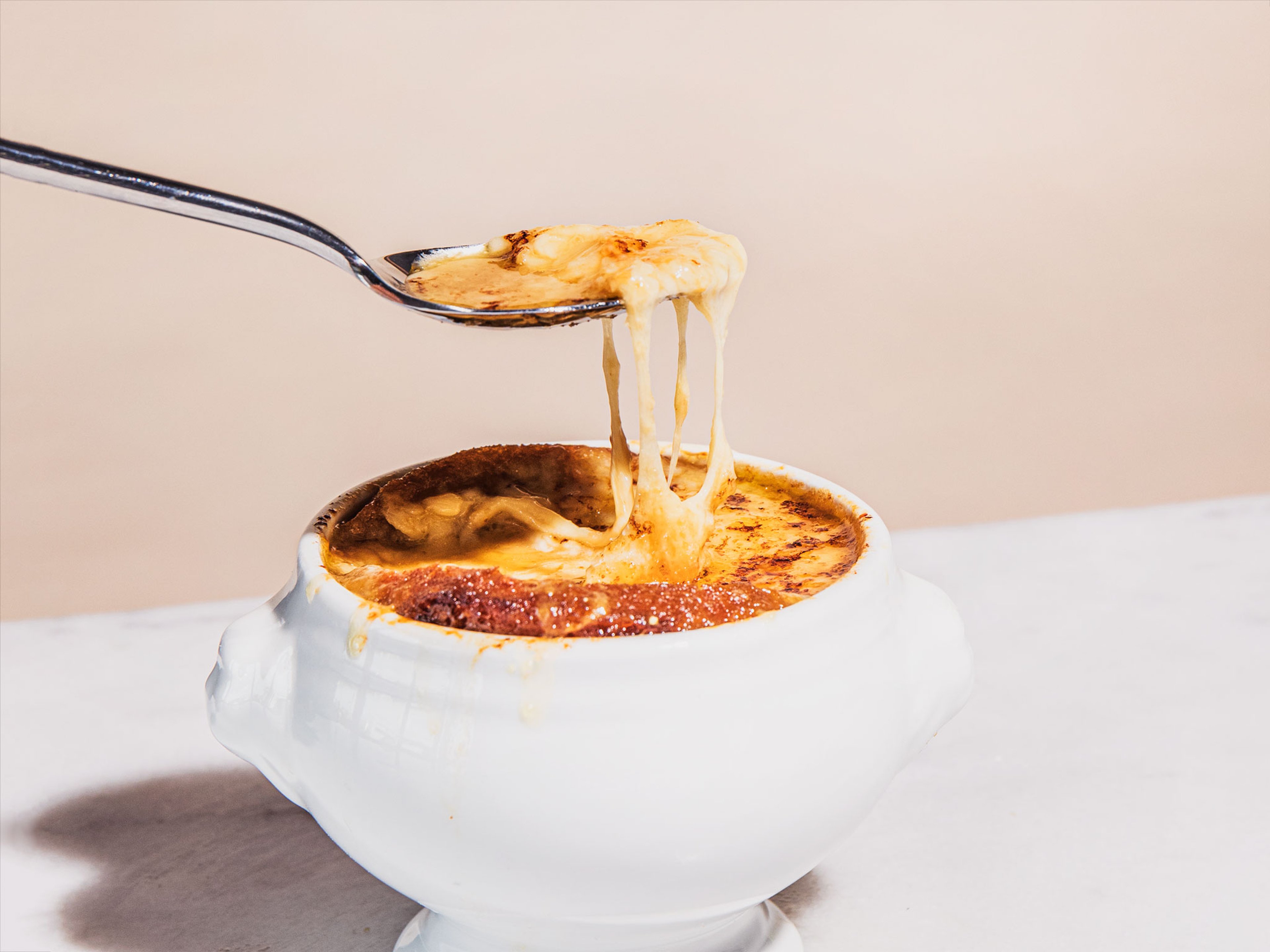 French Onion Soup Taught Me to Love Onions
Why onion skeptics (and everyone else) will adore this classic soup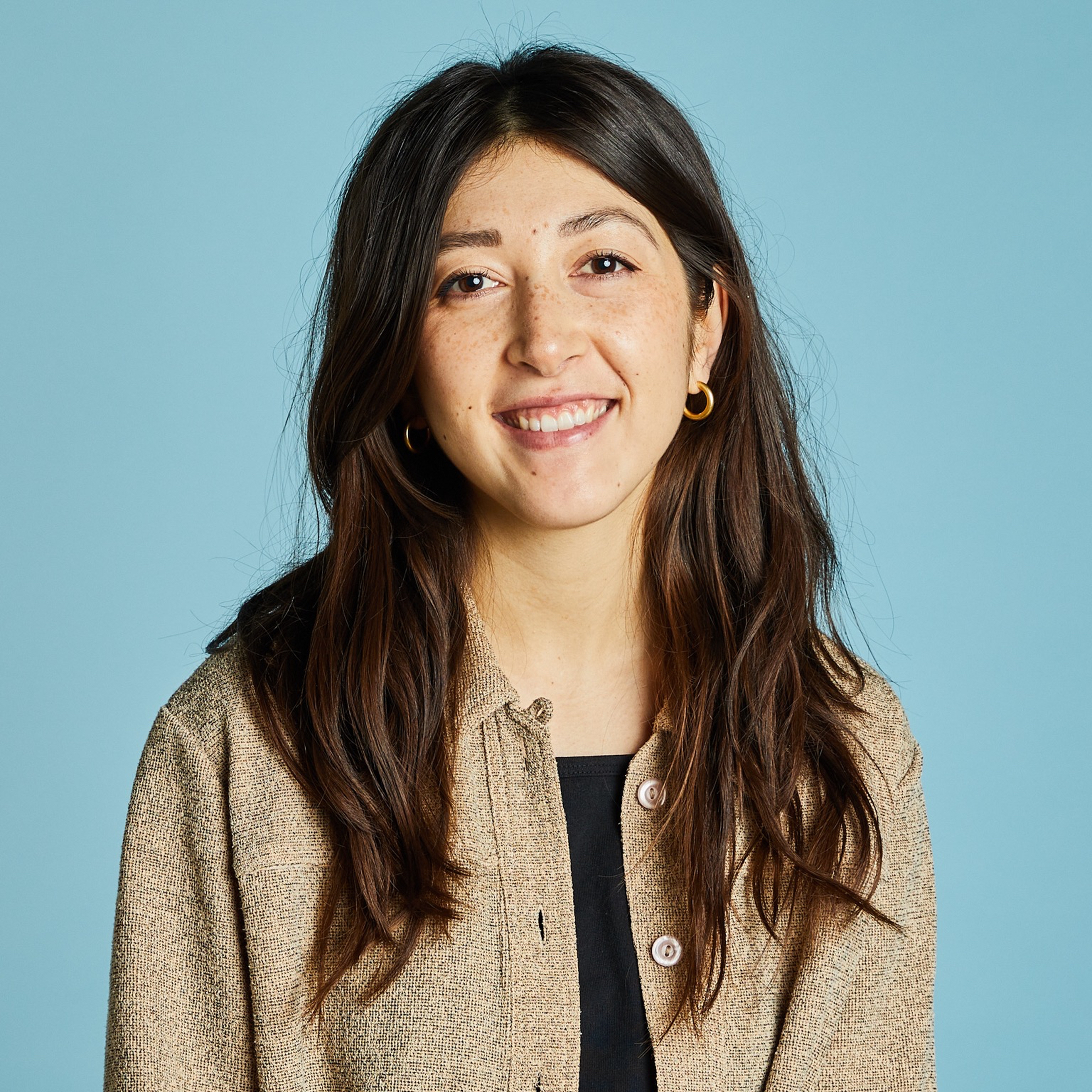 French onion soup (or soupe à l'oignon gratinée as it's known in France) was how I learned to love onions. The first few times I may have (okay, definitely did) eaten the soup in a way that left a pile of "forgotten" onions abandoned in the bottom of my bowl, but once I stopped avoiding and actually tasted them—tender, sweet, buttery, and nothing like the crunchy, sharp, or overwhelmingly onion-y onions I'd tasted before—I realized how delicious they could be, and the soup served as my gateway to discover a world of fantastic flavor I'd been avoiding altogether.
Swimming in an ochre broth fragrant with thyme and topped off with a "crispy-gone-soggy" crouton covered with gratinated cheese, I'm certain I'm not the only onion-hater who took a chance on this soup and found salvation at the bottom of the bowl—I mean if you top just about anything unpleasant with a layer of bread and melty cheese you're bound to be that much more convincing, right?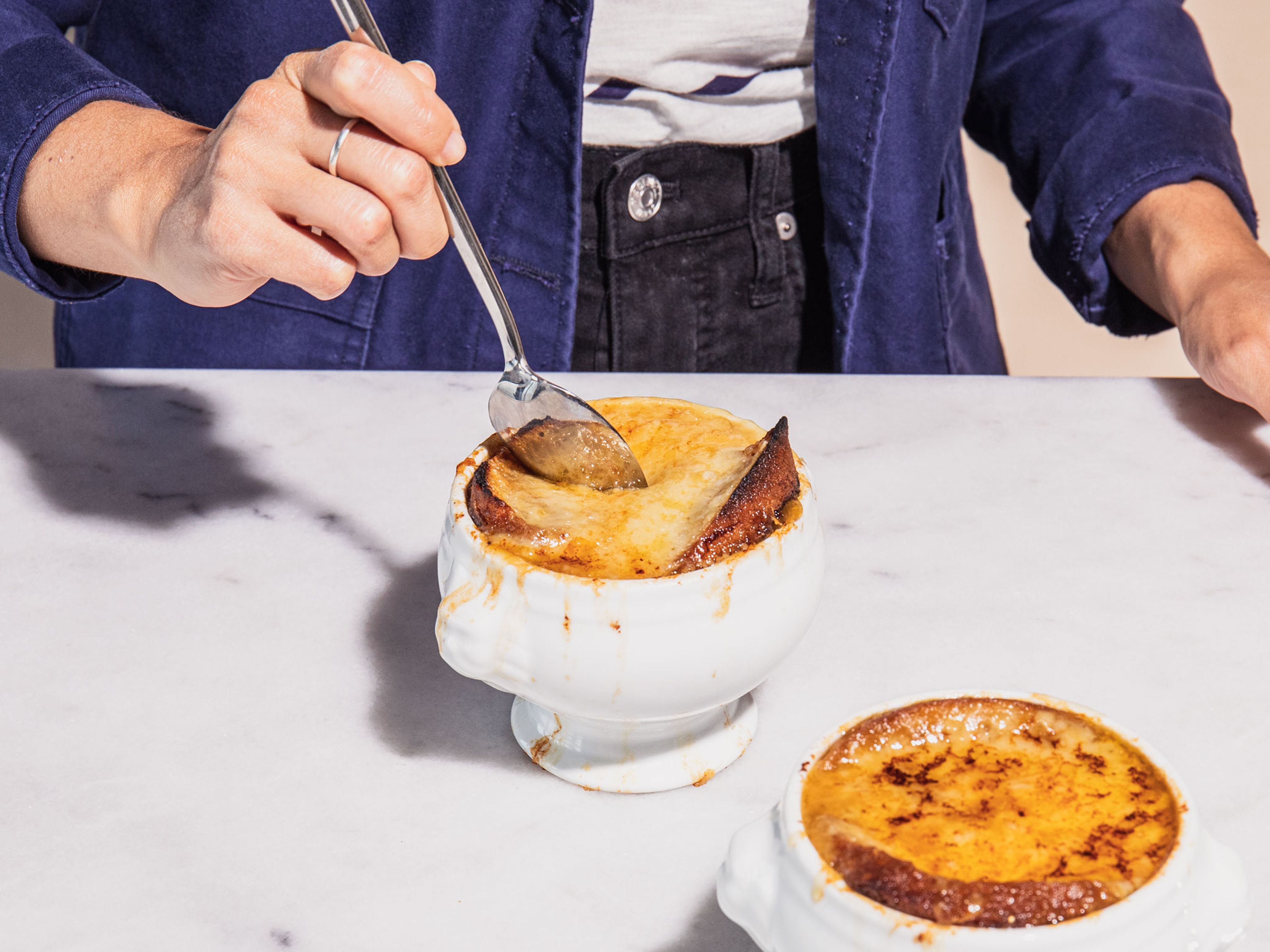 It's a simple recipe that only has a few different components (the onions, the broth, the croutons, and the cheese) but, at its core, a bowl is made or broken by one ingredient and one technique—the caramelized onions.
The onions
I'd make French onion soup if only to surround myself with the distinctive smell of caramelized onions as they slowly soften, reduce down, and brown in plenty of European-style butter. But which kind of onion makes the best base for this soup? Sweet, yellow, or red? Maybe even shallots? Our contributor Eni opts for larger yellow onions in her recipe, but you can also use a mix of sweet, red, yellow and shallot for a well-rounded, more balanced flavor profile.
Once you've chosen your onions and have them all thinly sliced, it's time to get caramelizing. There are different opinions here on what a caramelized onion should look like—some would call barely browned, translucent onions caramelized while others would scoff at the thought of anything less than "jammy" in texture and deep brown being called caramelized. I tend to be snobby and agree with the second—and have only one (albeit very important) tip when it comes to caramelizing onions: grab a book and set up a chair by the stove, you're going to be there for at least one hour.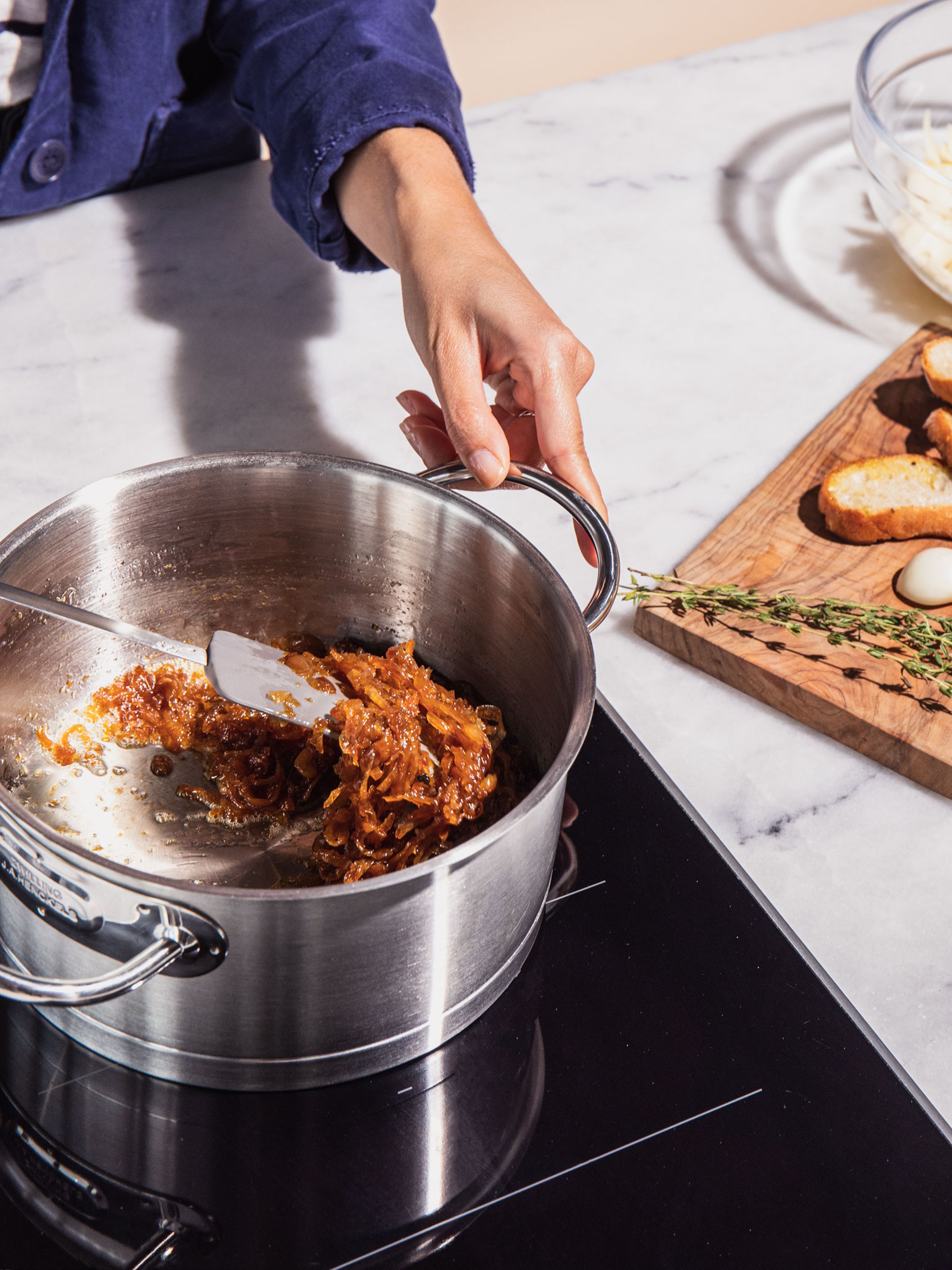 Serious Eats has a great guide to making caramelized onions, but if you're not down to reading a full article and just want to know what you're in for, here's a quick and dirty rundown:
1. Add the onions and butter (or oil) to a cold pan and bring up to heat over medium-high.

2. Once the onions start to soften, stir and lower heat to medium or medium-low.

3. Continue to stir and scrape the bottom of the pan every minute or so as onions start to brown more. Turn heat down as needed to avoid burning and deglaze with a few tablespoons of water when needed to help scrape up the brown bits on the bottom of the pan.

4. Once they reach that deep ochre color you want and they're soft and sweet all the way through—this will take at least 45 minutes—remove them from the heat and season with salt to taste or simply leave them in the pan and move on to the next step of your French onion soup recipe.
The broth, croutons, and cheese
After the onions are caramelized, they need to simmer for awhile in the broth. Classic recipes for French onion soup call for beef broth and a splash of brandy or sherry, but Eni's recipe opts instead for white wine and vegetable stock to keep the recipe vegetarian. While there's no right or wrong here, I tend to like the rich, meaty depth of flavor you get in a homemade beef or chicken stock.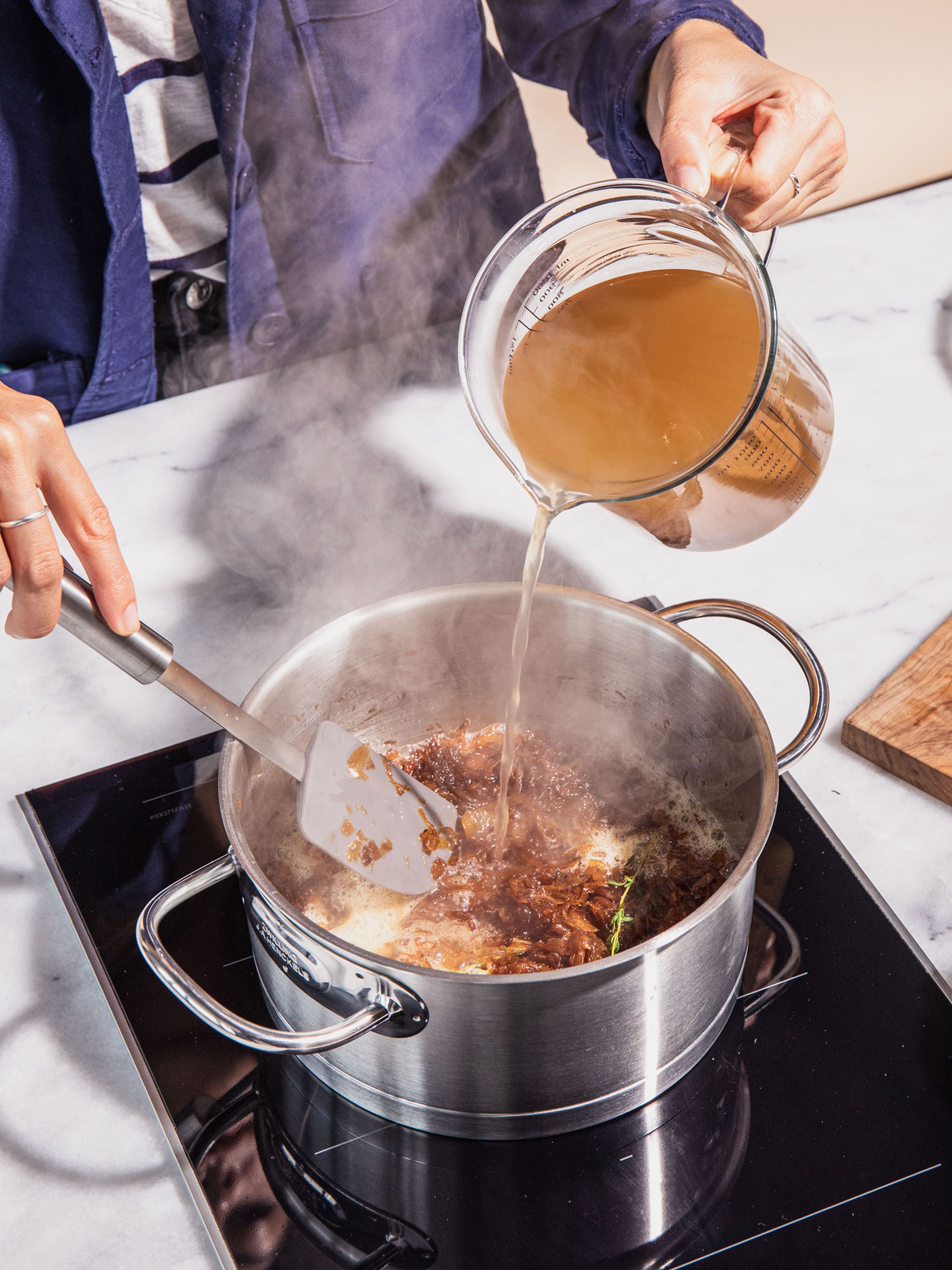 Last but not least, it's time to talk about the reason many of us are first attracted to French onion soup: the croutons and the cheese. Some versions of the soup toast slices of baguette, rub them with garlic, and layer them into the soup—starting at the bottom, adding the soup, and finishing with a slice on top—before topping the bowl with the cheese and sending it under the broiler, but if you're not down with the aforementioned "crispy-gone-soggy" crouton, toast 'em, rub 'em (if you want), and serve them on the side.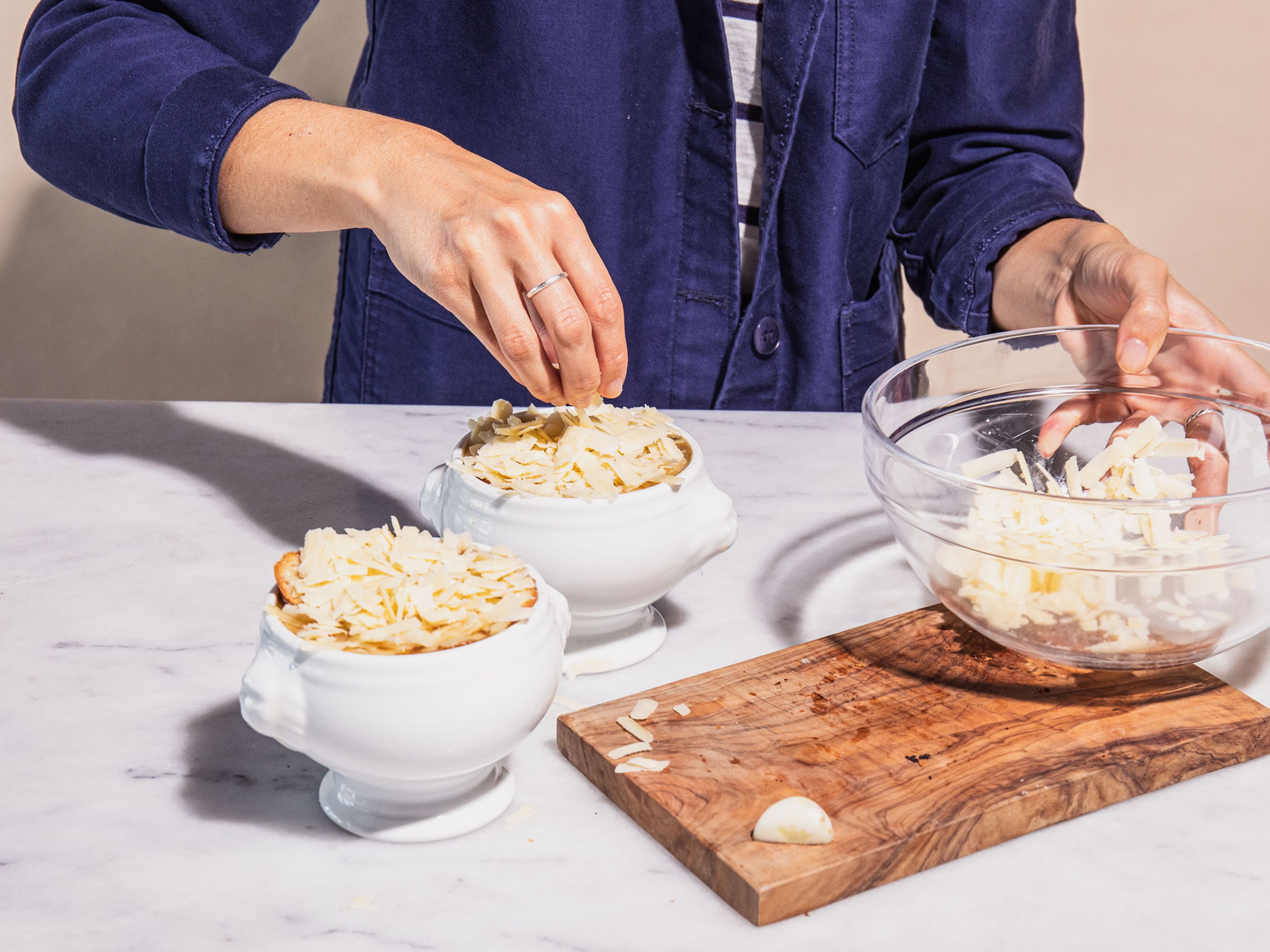 Traditionally, Comté is the cheese of choice for soupe à l'oignon gratinée, but as it can't be found by everyone, everywhere, Gruyère cheese is a popular substitute. The only tips here? Opt for a medium or large-sized grate on the cheese and use plenty of it—if you can see the soup through the cheese-covered crouton, you've done something wrong.
French onion soup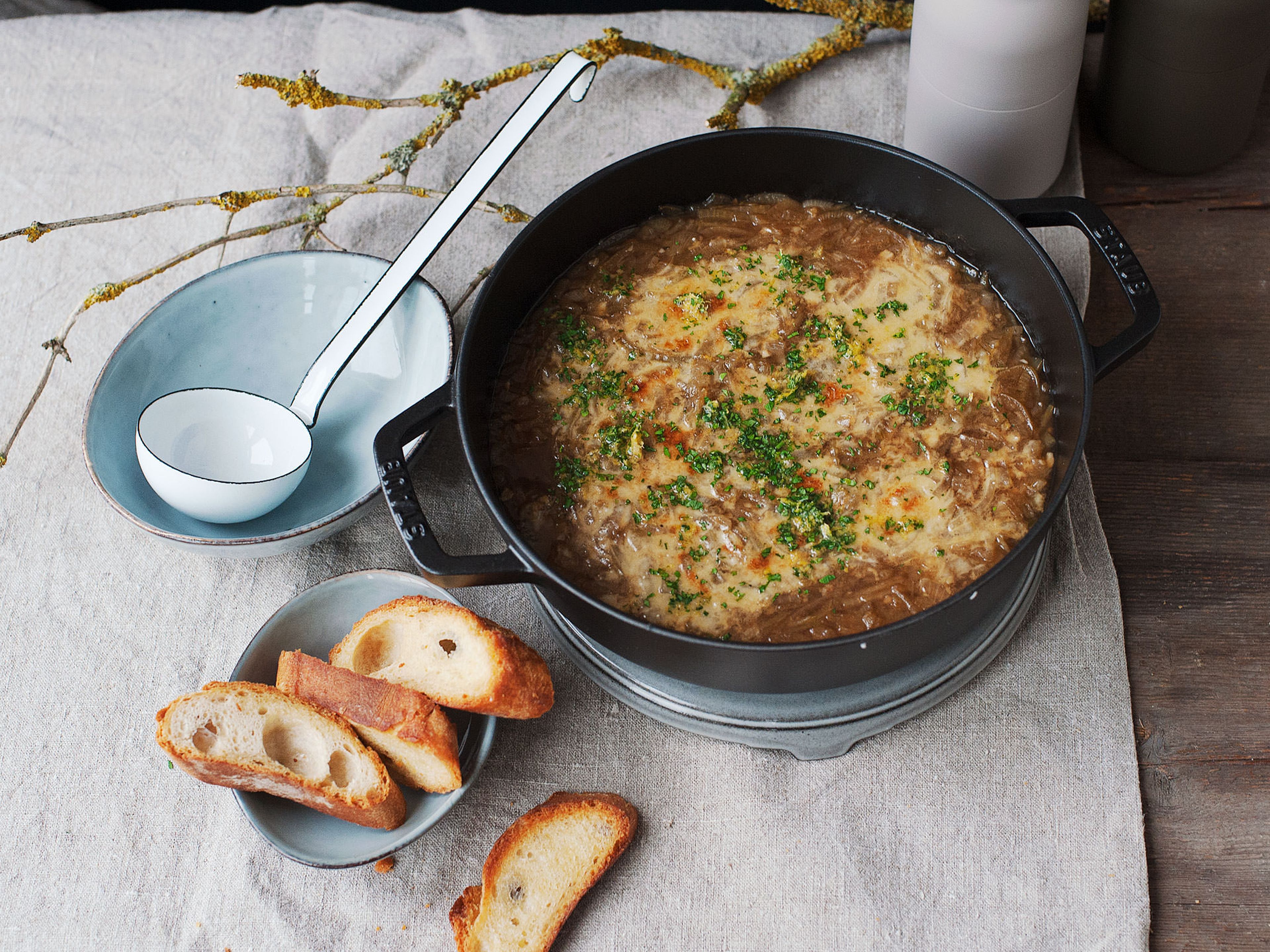 → Go to recipe
Are you a French onion soup convert too? Let us know in the comments!
Published on October 4, 2019
More delicious ideas for you