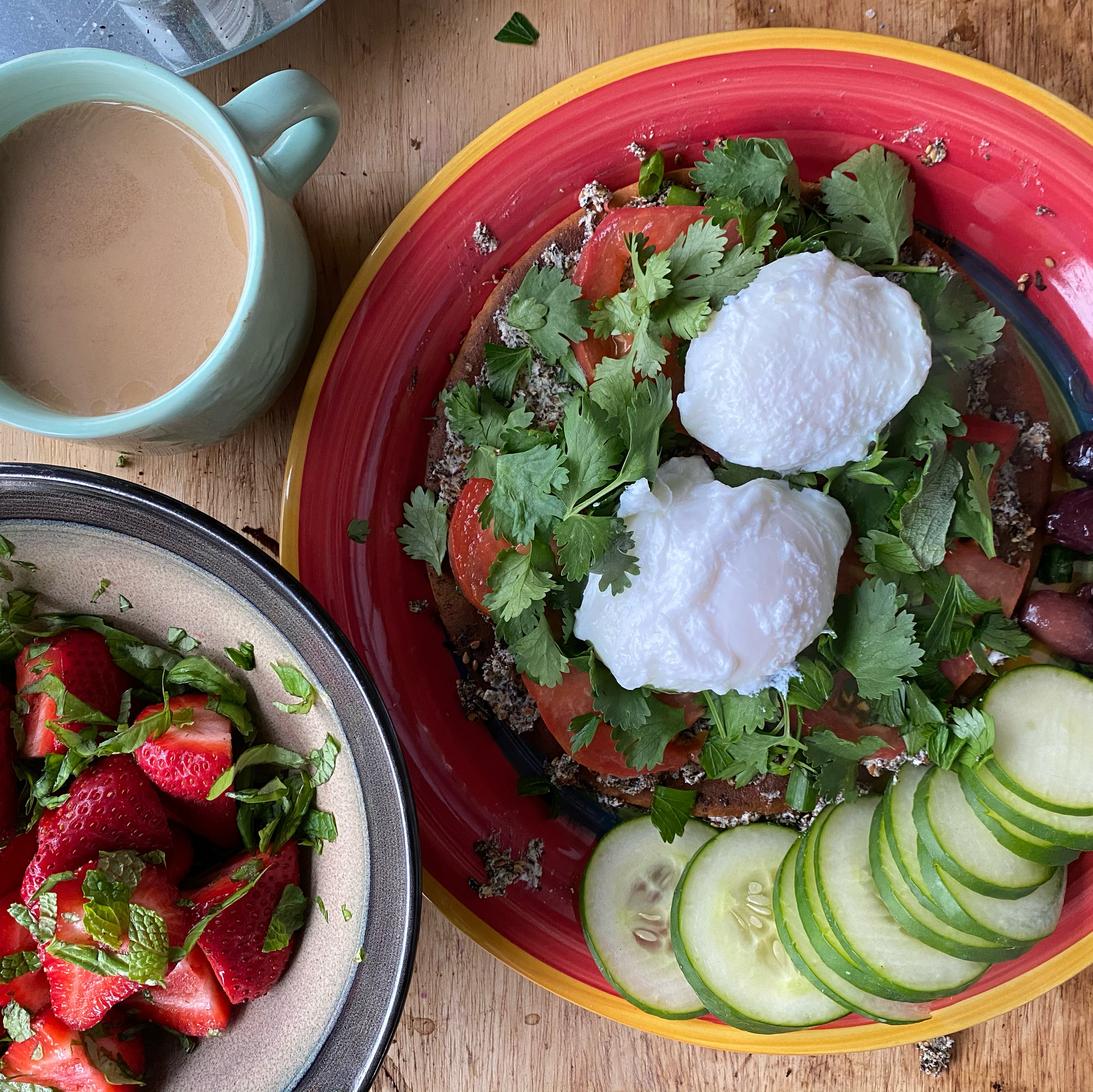 Zataar Pita with Poached Eggs
Ingredients
jarred pitted Kalamata olives
Step 1/ 9

2 slice

pita bread

8 tbsp

Za'atar

2 tbsp

Avocado oil

Add avocado oil to pita bread (Can sub na'an if preferred.) Sprinkle za'atar over pita until coated entirely. Set aside.

Step 2/ 9

20 slices

cucumbers

6 slices

Heirloom tomato

Cut cucumber and heirloom tomato into thin slices.

Step 3/ 9

Put pita in broiler or toaster oven until edges are golden brown (1-2 minutes).

Step 4/ 9

Poach eggs while pita is in oven.

Step 5/ 9

1 oz

Labneh

4 pinches

parsley

2 pinch

cilantro

Once pita is toasted, spread thin layer of labneh on top of the layer of zaatar. Place tomato slices on labneh. Sprinkle cilantro and parsley over entire pita.

Step 6/ 9

Place poached eggs on top of pita.

Step 7/ 9

10

jarred pitted Kalamata olives

Add sliced cucumber and kalamata olives to the side of the plate.

Step 8/ 9

2 cup

strawberry

2 pinch

mint

2 pinch

basil

Put strawberries (stems removed), chopped basil and chopped mint in a bowl and mix.

Step 9/ 9

Serve and enjoy!

Enjoy your meal!
More delicious ideas for you