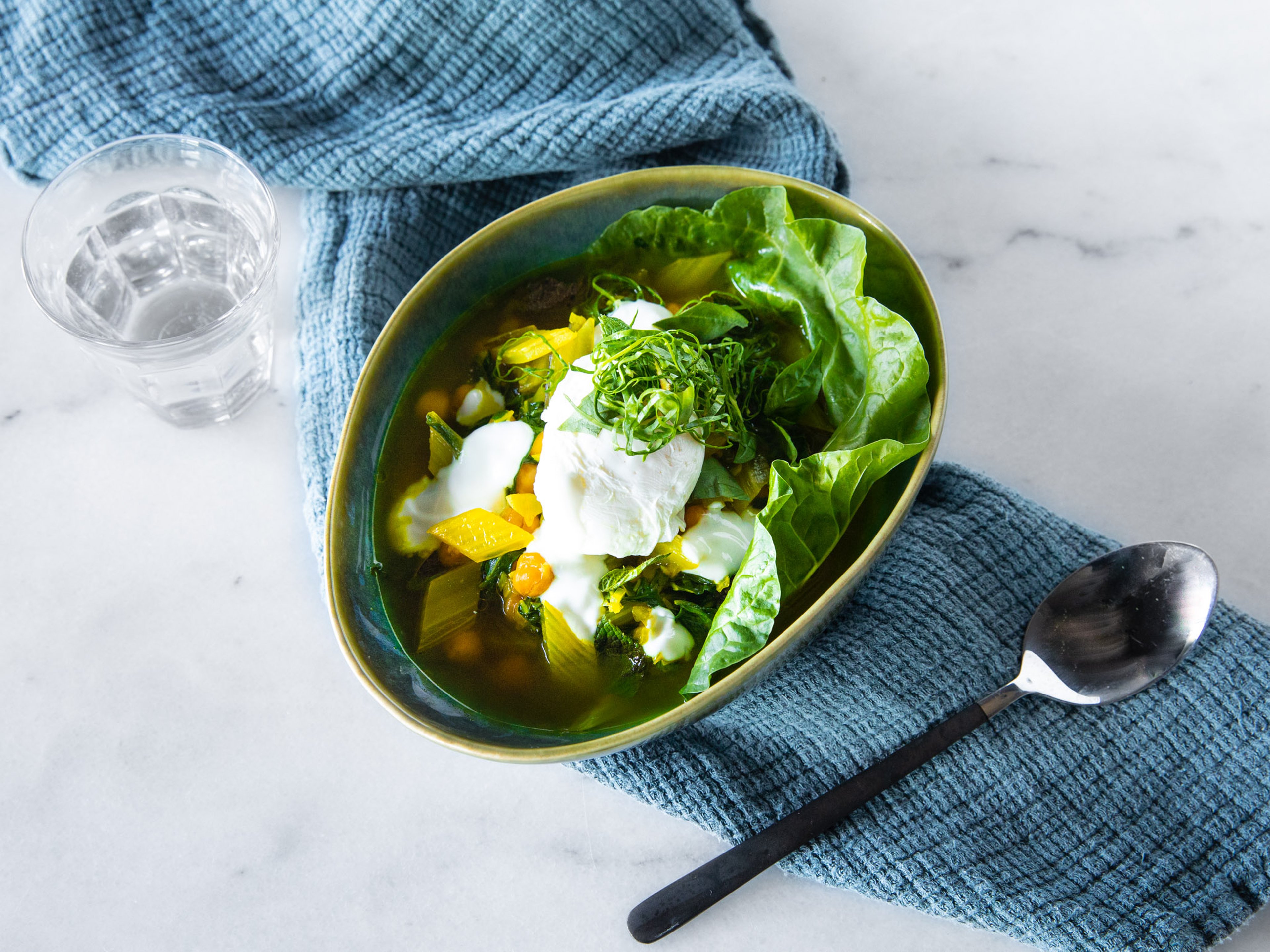 Swiss chard and chickpea stew with turmeric and poached eggs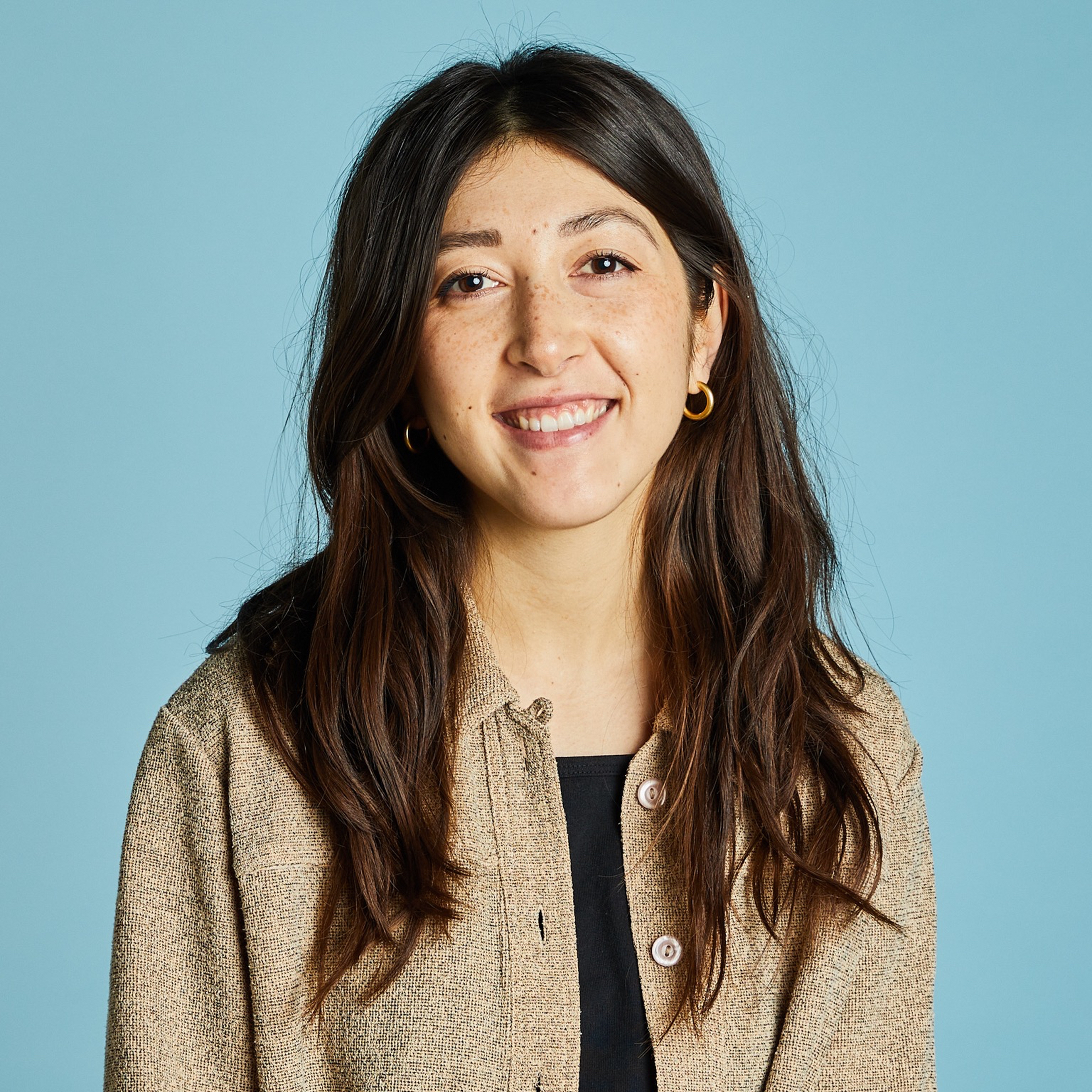 "Based on "the stew" recipe that broke the internet in the winter of 2018 thanks to Alison Roman and NYT Cooking, this recipe is really a soup that eats like a stew. Chock-full of tasty tidbits, you can use canned chickpeas here, but for the best flavor and texture I sincerely recommend using dried chickpeas soaked and rinsed at home. You can toy with different preparations for the egg, from soft boiled to fried, and if you can find kaffir lime leaves, pop one into the prepared stew for approx. 10 min. for a rounder, more citrus-forward flavor."
Ingredients
dry chickpeas (soaked overnight and drained)
Utensils
bowl (large), knife, cutting board, frying pan (small), cooking spoon, 2 pots (large), slotted spoon, ladle, 4 bowls
How-To Videos
How to prepare a chili
How to poach an egg
How to prepare garlic
Homemade vegetable stock
How to cut an onion
Step 1/ 5

125 g

dry chickpeas (soaked overnight and drained)

2 cloves

garlic

½

chili

5 g

ginger

½

onion

200 g

Swiss chard

½

lemon

bowl (large)
knife
cutting board

Place dry chickpeas in a large bowl, cover with water, and let soak for at least 8 hrs. Drain and rinse the beans before cooking. Mince garlic, chili, and ginger. Peel and chop onion. Stem the Swiss chard and chop the stems. Roughly chop the leaves. Halve lemon.

Step 2/ 5

½ tsp

ground turmeric (ground)

salt

pepper

olive oil

sugar

frying pan (small)
cooking spoon

Add olive oil to a small frying pan over medium-high heat and sauté onion, Swiss chard stems, garlic, chilis, and ginger for approx. 8 min. Add ground turmeric and stir to combine. Season with salt, pepper, and sugar and set aside.

Step 3/ 5

1

bay leaves

350 ml

vegetable broth

salt

Add lemon halves, bay leaves, and chickpeas to a large pot over medium heat. Season with salt and add vegetable broth. Bring to a boil, cover, reduce heat, and let simmer for approx. 1 hr., opening the lid every now and then to skim any foam off the top.

Step 4/ 5

Once chickpeas are tender, remove the lemon and bay leaves and discard. Add chard stem and onion mixture to the pot along with the Swiss chard leaves. Season to taste with salt, pepper, and sugar. Let simmer over low heat and, meanwhile, prepare the eggs.

Step 5/ 5

2

eggs

distilled white vinegar

yogurt (for serving)

basil (for serving)

mint (for serving)

pot (large)
slotted spoon
ladle
4 bowls

Bring a large pot of water to simmer over high heat. Add some distilled white vinegar, then use a slotted spoon to swirl the water. Crack in an egg and gently swirl to help keep the egg together. Once egg white is set, fish the egg out, and set aside. Repeat for all eggs. Ladle the chard and chickpea stew into serving bowls. Top with a poached egg, yogurt, fresh basil, and mint. Enjoy!

Enjoy your meal!
More delicious ideas for you