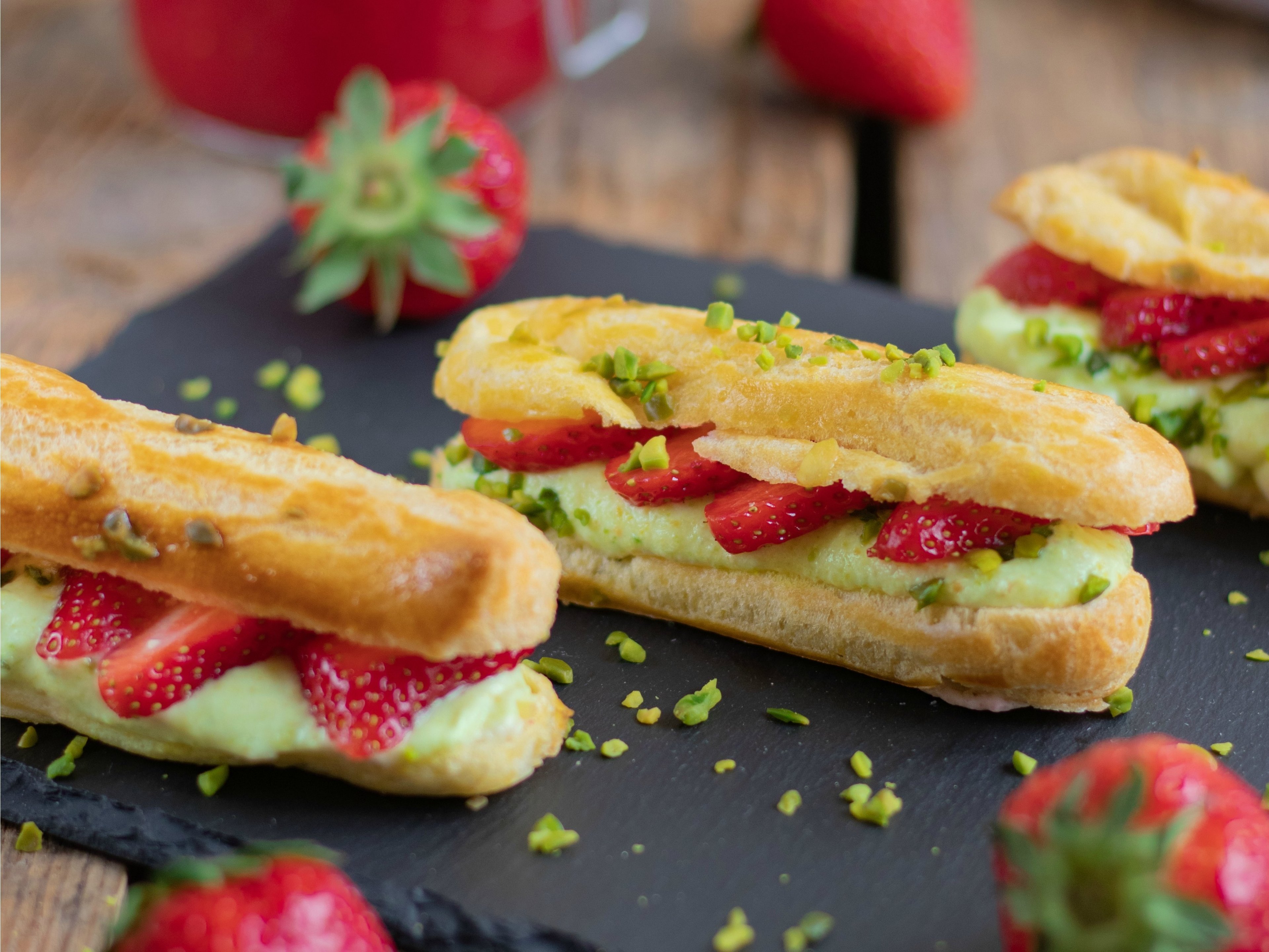 Strawberry and pistachio éclairs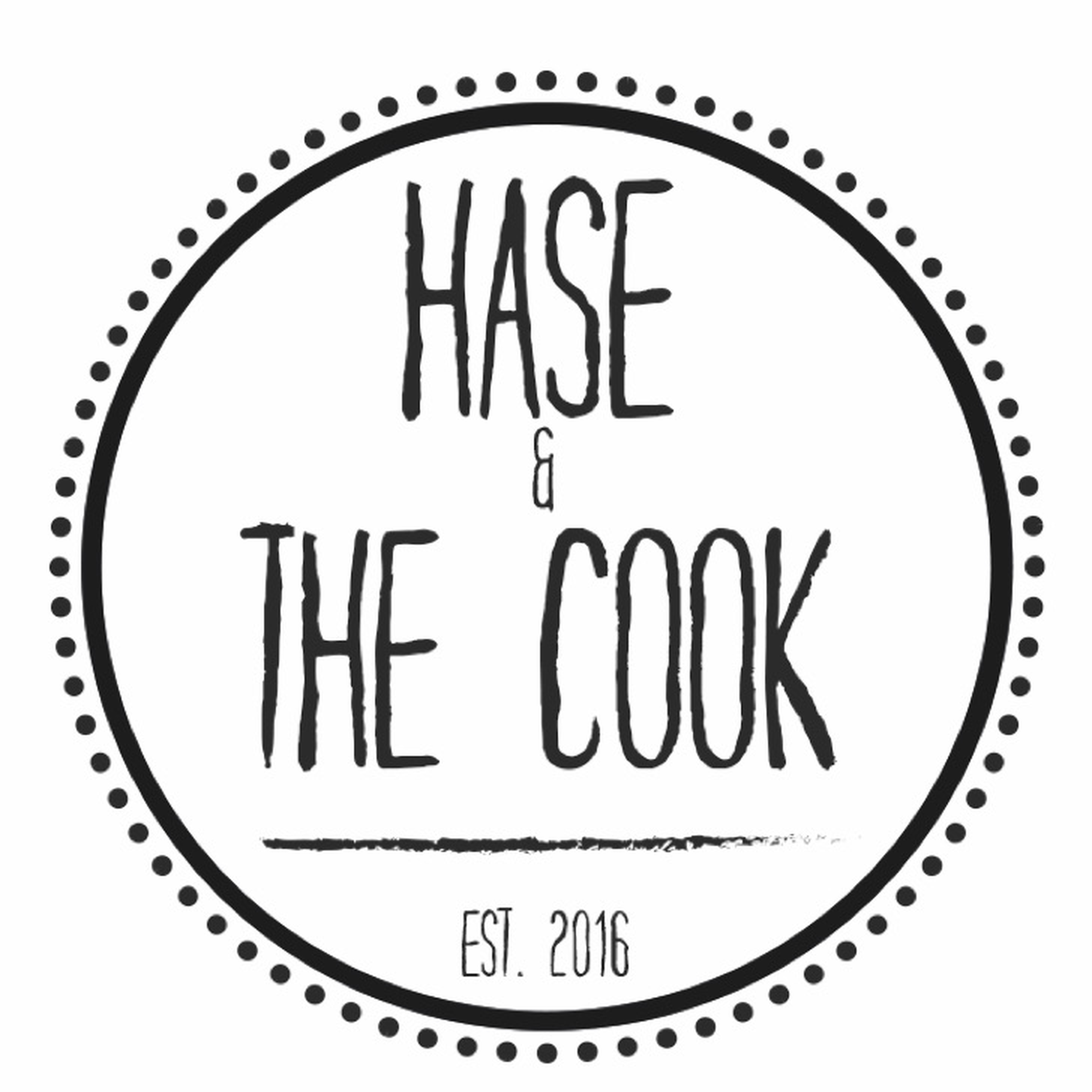 "Vienna's coffeehouse culture is popular with young and old, and a sweet treat should always accompany your afternoon coffee. As we love baking seasonally, and find the combination of strawberries and pistachios just heavenly, we have created these éclairs. Best enjoyed with a Wiener Melange!"
Utensils
oven, pot, whisk, pastry brush, baking sheet, decorating tip, parchment paper, piping bag, knife, small bowl, food processor, sieve, large bowl, hand mixer with beaters, rubber spatula, cutting board
How-To Videos
Two ways to skin nuts
Homemade vanilla sugar
How to assemble a piping bag
2 ways to hull strawberries
How to pipe using a star tip
How to whip cream
Step 1/ 5

16⅔ g

butter

⅛ tbsp

sugar

20⅞ ml

water

⅛ tsp

salt

20 g

flour

⅔

eggs

Preheat the oven to 180°C/360°F (convection). Melt the butter in a pot together with the sugar, water, and salt. Remove from the heat, and whisk in the flour. Return to the stove and whisk until the mass separates from the base of the pot. Set aside to cool down for a few minutes, then whisk in most of the eggs one-by-one until the batter is smooth.

Step 2/ 5

⅛

egg

3⅓ g

chopped pistachios

pastry brush
baking sheet
decorating tip
parchment paper
piping bag
knife
small bowl

Fill batter in a piping bag with a star-shaped decorating tip. Pipe strips approx. 10-cm/4-in. on a baking sheet lined with parchment paper. Whisk the remaining egg and brush on. Sprinkle the chopped pistachios over the éclairs. Bake at 180°C/360°F (convection) for approx. 15 – 20 min. until lightly golden. Remove from the oven and immediately halve the éclairs horizontally. Set aside and let cool.

Step 3/ 5

20 g

pistachios

8⅓ ml

heavy cream

11⅔ g

confectioner's sugar

1⅓ g

vanilla sugar

Remove the shells of the pistachios and boil in water for approx. 5 min. Rinse with cold water and remove the brown skins. In a food processor, puree the pistachios, part of the heavy cream, the confectioner's sugar, and vanilla sugar.

Step 4/ 5

41⅔ ml

heavy cream

1⅓ g

cream of tartar

large bowl
hand mixer with beaters
rubber spatula
piping bag

Beat the remaining heavy cream and cream of tartar in a large bowl using a hand mixer. Fold in the pistachio puree. Fill the pistachio cream in a piping bag with a star-shaped decorating tip, then pipe on top of the éclair bases.

Step 5/ 5

Wash and slice the strawberries, then neatly arrange on top of the pistachio cream. Add the top halves of the éclairs. Refrigerate for approx. 1 hr. and enjoy!

Enjoy your meal!
More delicious ideas for you