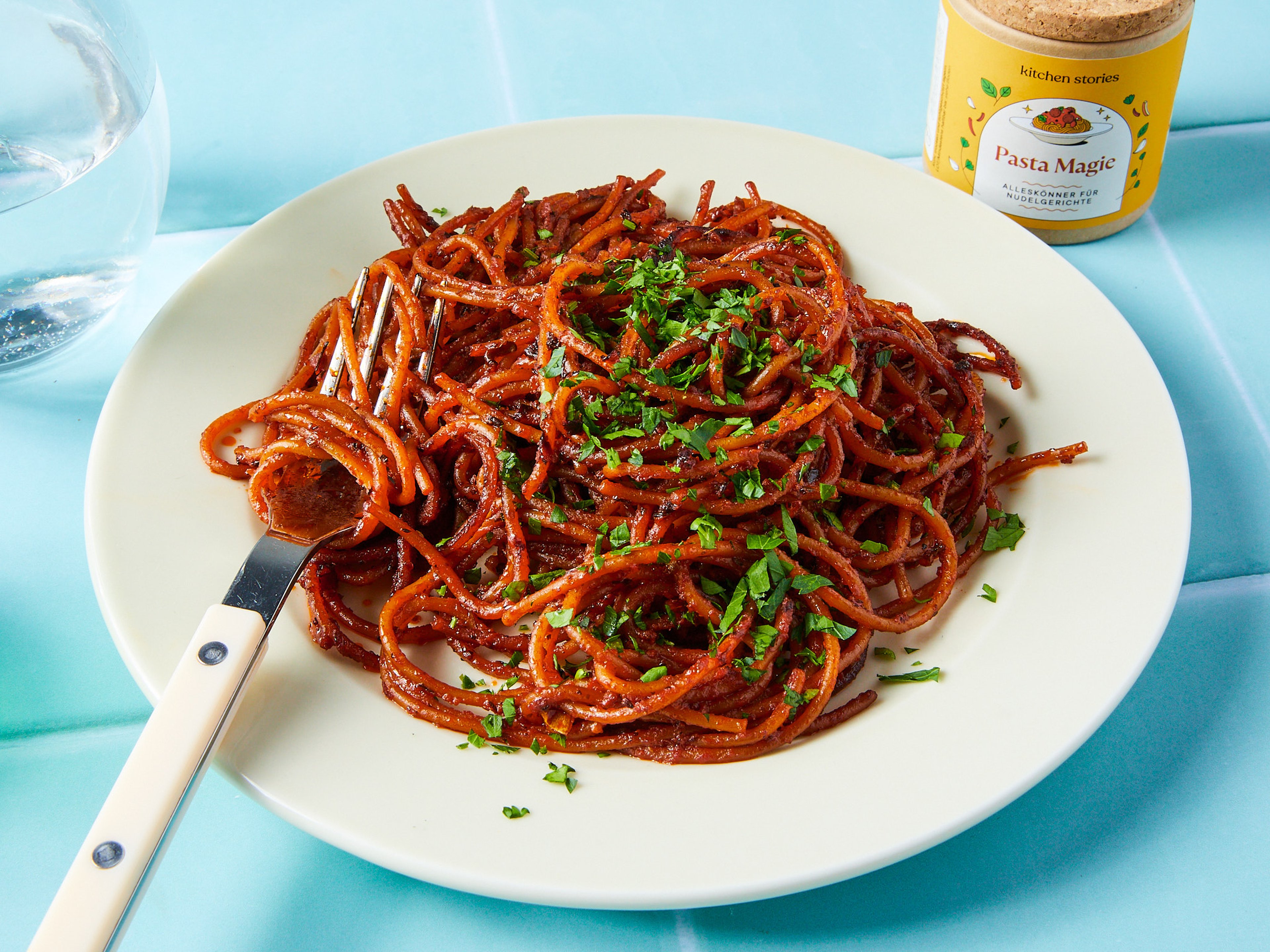 Spaghetti all'assassina
"Spaghetti all'assassina, or assassin's spaghetti is a sensational pasta experience. Indulge in a symphony of flavors as the sauce caramelizes to create crispy, sweet tomato bits, balanced with the kick of chili flakes and our new Pasta Magie seasoning. The magic continues as the pasta absorbs the sauce, resulting in a velvety texture reminiscent of risotto. If you're a pasta lover, this next-level recipe is an absolute must-try! If you don't have our seasoning at home, you can also use a mix of dried basil, thyme oregano and more chili flakes."
Ingredients
Kitchen Stories Pasta Magie seasoning
Utensils
pot, knife, cutting board, nonstick pan, Pasta Magie seasoning
Our recommendation for this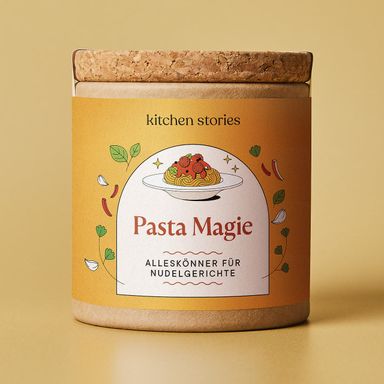 Homemade tomato sauce
How to prepare garlic
How to cook pasta
Step 1/ 3

800 ml

water

4 tbsp

tomato paste

salt

4 cloves

garlic

6 tbsp

olive oil

1 tsp

chili flakes

2 tsp

Kitchen Stories Pasta Magie seasoning

pot
knife
cutting board
nonstick pan
Pasta Magie seasoning

To make the tomato broth, bring water to a boil and add tomato paste, mix to combine. Season with salt and pepper and keep warm over low heat. Peel garlic and grate finely. In a large, non-stick frying pan, heat olive oil over medium-high heat, then add garlic, chili flakes and Pasta Magie seasoning. Mix to combine.

Step 2/ 3

300 g

tomato purée (passata)

200 g

spaghetti

When garlic is golden brown, add tomato purée and let it simmer for approx. 2 min. Then add spaghetti and let it cook in the sauce for approx. 3–5 min until the sauce caramelizes and you can see dark and crispy spots on the pasta.

Step 3/ 3

Gradually add some of the tomato broth prepared in the first step to the pasta, let it simmer while stirring occasionally. Repeat 3 or 4 times when pasta absorbs the liquid, until the pasta is cooked until al dente. Finely chop the parsley. When the pasta is ready, garnish with parsley and season.

Enjoy your meal!
More delicious ideas for you