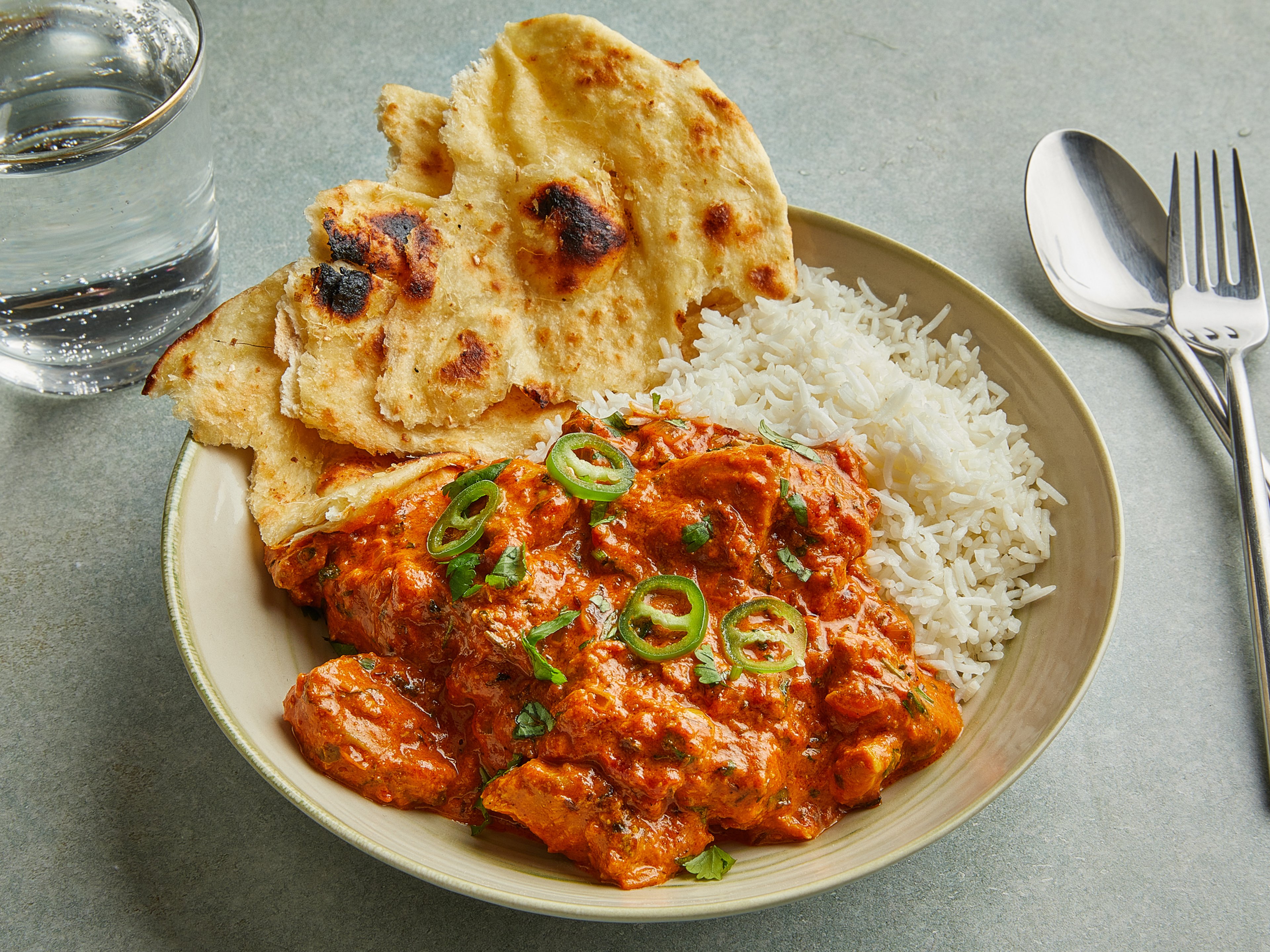 Seema's Butter Chicken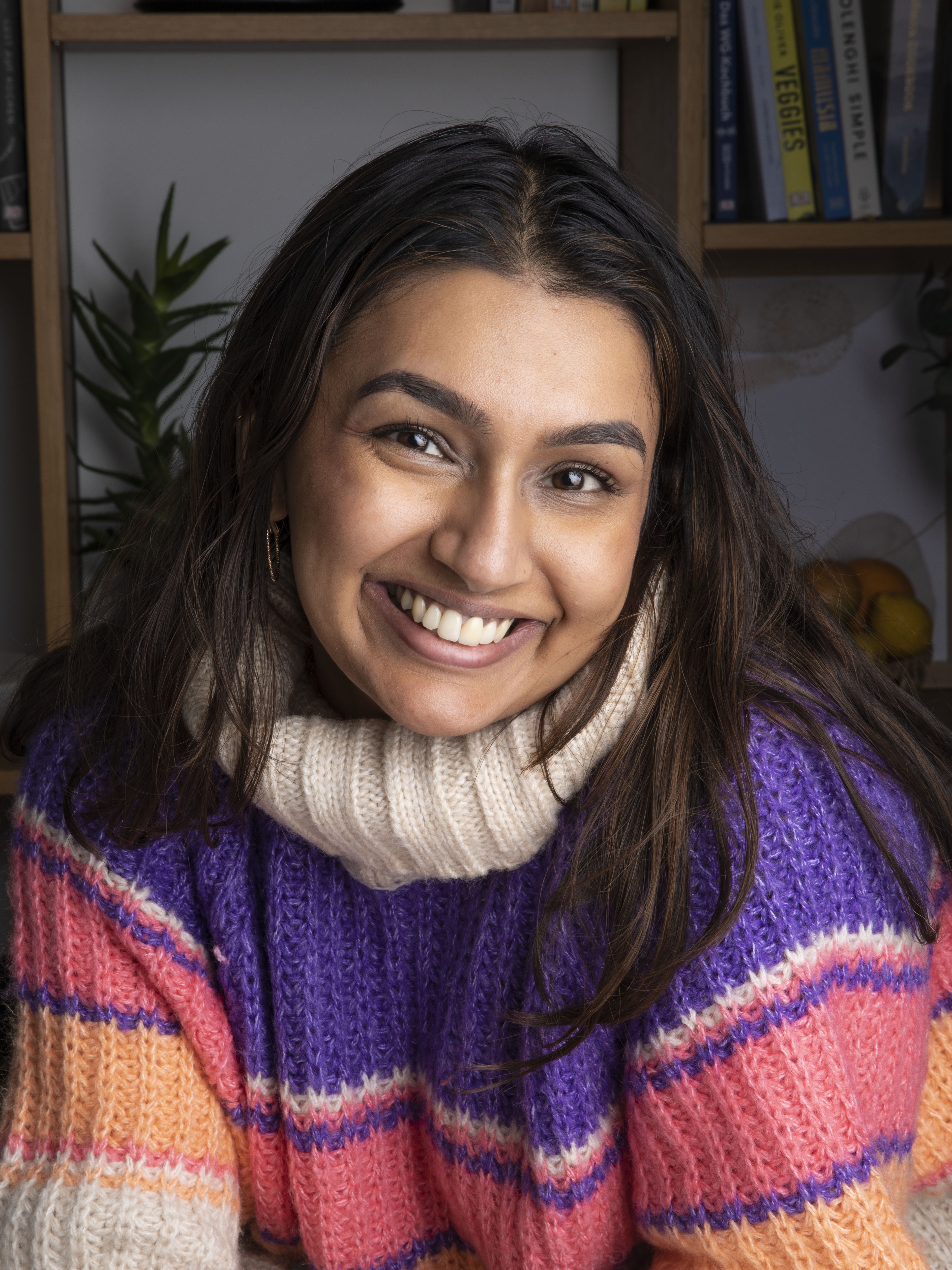 "This is my recipe for butter chicken. The dish was created by chance in Delhi, when leftover tandoori chicken was mixed with a butter-rich tomato gravy. If you don't have a tandoor oven (but really, who does?), turn up the grill to the highest setting and you'll get a similar flavor. I recommend you try to get dried fenugreek leaves. They will give that restaurant taste which will be lacking if you miss it out! Check out the Kitchen Stories instagram channel to find the matching reel to the recipe, where I show you how to make my butter chicken!"
Utensils
oven, knife, cutting board, bowl (large), tongs, baking dish, pot (large, heavy-bottomed), cooking spoon
How-To Videos
Homemade garam masala spice mix
How to prepare garlic
How to cut an onion
How to peel ginger
Step 1/ 4

½ tbsp

garlic

⅓ tbsp

ginger

⅓

onion

83⅓ ml

yogurt

⅔ tsp

lemon juice

⅓ tsp

garam masala

⅛ tsp

ground turmeric

⅓ tsp

ground cumin

⅓ tsp

chili powder

⅓ tsp

salt

266⅔ g

chicken thighs

oven
knife
cutting board
bowl (large)
tongs
baking dish

Turn on the broiler in your oven to the highest setting. Mince garlic and ginger, put half of both each aside. Slice onion and set aside. In a large bowl, combine yoghurt, minced garlic and ginger, lemon juice, garam masala, ground turmeric, ground cumin, chili powder and salt. Coat the chicken thighs with the marinade. Place the chicken in a baking dish or on a baking sheet and grill the chicken until charred, for approx. 6–8 min.

Step 2/ 4

1⅓ tbsp

ghee

⅛ tsp

cumin seed

⅓

cinnamon stick

1⅓

cloves

⅓

star anise

pot (large, heavy-bottomed)
cooking spoon

Heat ghee in a big pot. Add cumin seeds, cinnamon stick, cloves, and star anise. Once the spices start to sizzle, add the sliced onions.

Step 3/ 4

⅓ tsp

ground cumin

⅓ tsp

garam masala

⅓ tsp

ground coriander

1 tbsp

tomato paste

Once the onions have browned, add the remaining ginger and garlic. Cook until fragrant for approx. 1–2 min., then add ground cumin, garam masala, ground coriander and tomato paste. Cook until the paste has darkened.

Step 4/ 4

133⅓ g

canned crushed tomatoes

83⅓ ml

cream

⅔ tbsp

dried fenugreek leaves

cilantro (for garnish)

rice (for serving)

Add the crushed tomatoes and cook for approx. 20–30 min. on low heat. Add in the chicken (with any cooking liquid). Stir in cream and fenugreek leaves. Stir well and cook for approx. 5 min. to make sure the chicken is cooked through. Taste and adjust seasoning. Garnish with chopped cilantro and serve with rice and fresh naan.

Enjoy your meal!
More delicious ideas for you