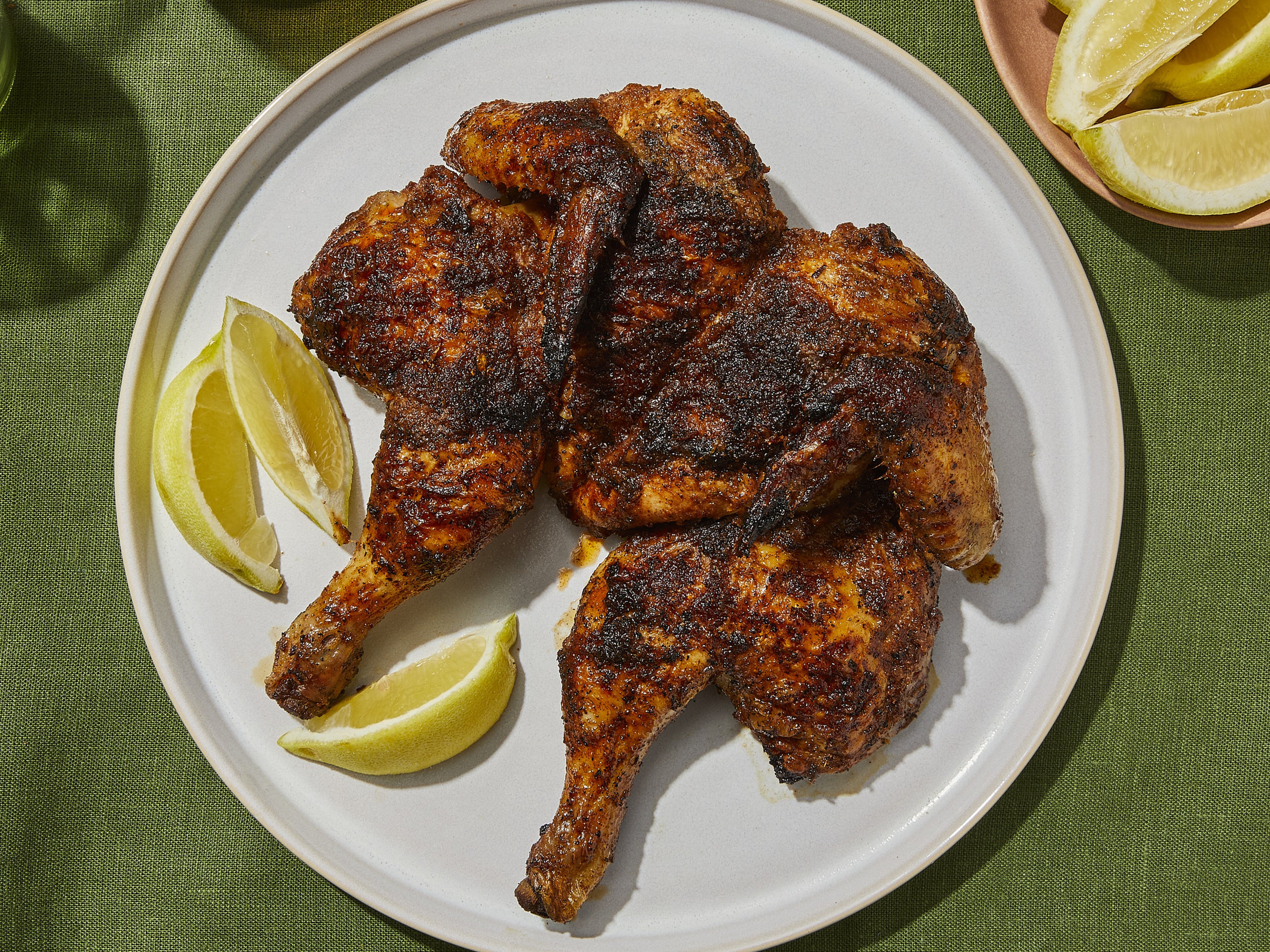 Spatchcock roast chicken in garlic paprika marinade
"Ever wonder how to evenly roast a juicy chicken in no time? Here's your answer! Spatchcocking or butterflying a chicken is a method that involves removing the backbone of the chicken and flattening the body so that it cooks faster and more evenly. It is a well-trusted method dating back to the 18th century, very rewarding for its result as well as for the process of literally flattening the bird. For the marinade, we opted for the mix of garlic and paprika that would please most palates, but feel free to add herbs and spices according to your preference. We recommend using organic chicken."
Utensils
paper towels, fine grater, knife, cutting board, bowl (small), oven
How-To Videos
How to spatchcock a chicken
How to zest citrus fruits
How to prepare a whole chicken
Step 1/ 3

¾ kg

whole chickens

½

lemon

½ tbsp

sweet paprika powder

2 tbsp

olive oil

¼ tbsp

garlic powder

salt

paper towels
fine grater
knife
cutting board
bowl (small)
oven

Prepare chicken following our video for "how to spatchcock a chicken" and pat dry with paper towels. Grate lemon zest, cut lemon into wedges. For the marinade, mix paprika powder with lemon zest, olive oil, salt and garlic powder in a small bowl. Rub into the prepared chicken and let it marinate for approx. 15–30 min. Preheat the grill or grill pan in the oven at approx. 220°C/428°F.

Step 2/ 3

Set aside the remaining marinade that dripped off and grill the flat chicken on each side for approx. 5 min. at high heat (at the center of the grill), then continue grilling at medium-high heat (oven at 200°C/392°F) for approx. 45–55 min. until thigh meat is no longer transparent but firm. Flip approx. every 5 min. and baste with the remaining marinade.

Step 3/ 3

Remove the chicken from the grill or oven and let it rest for approx. 10–15 min. Add salt and pepper to taste and serve with lemon wedges.

Enjoy your meal!
More delicious ideas for you