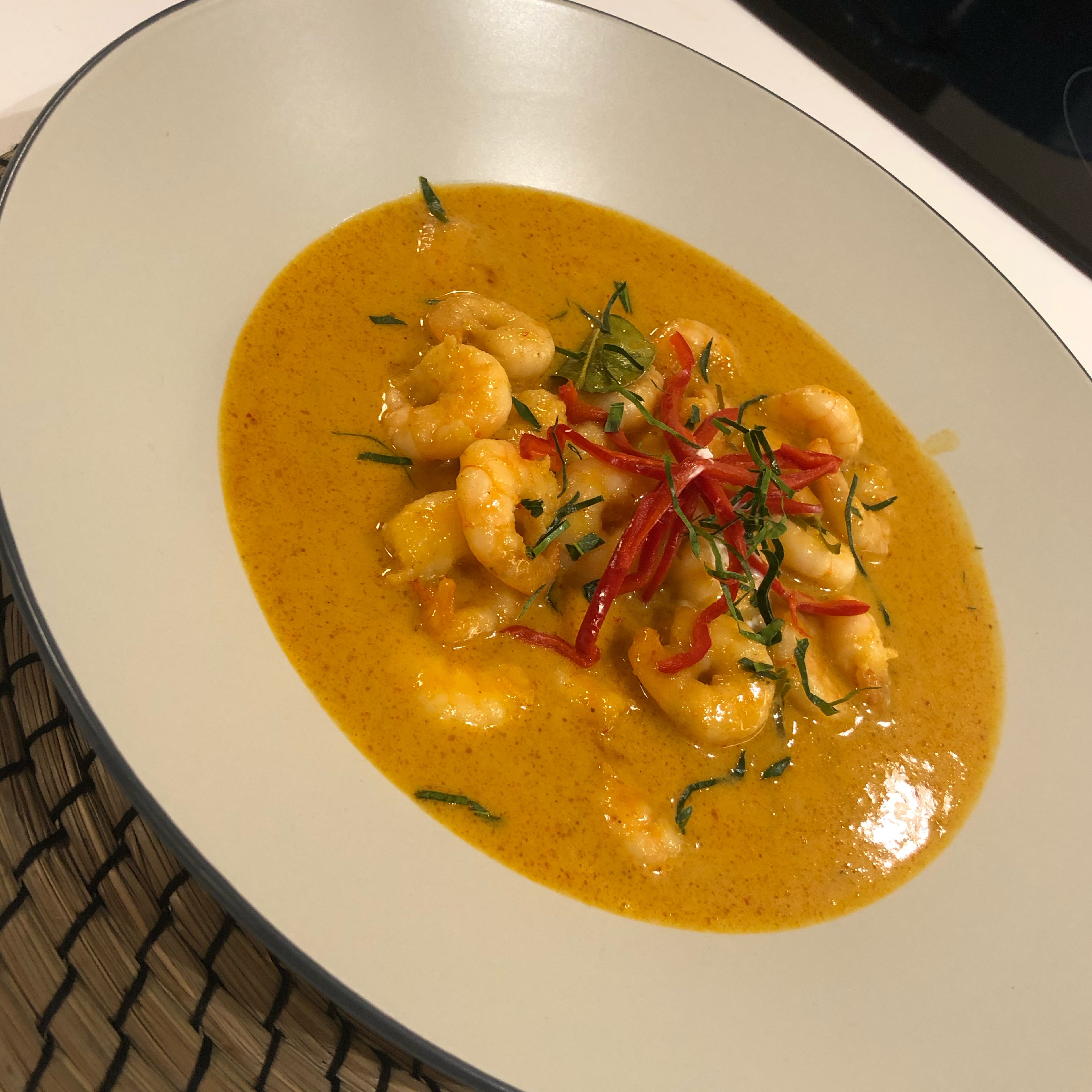 Penang Curry Prawn
"I love Thai food. For the sake of this recipe, I used Mae Ploy Penang Curry paste to make the dish. I find a cast iron pot gives me the best flavour! Enjoy!"
Take an
easy quiz

and discover more recipes you'll love!
Step 1/ 5

¾ tbsp

Penang Curry paste

2 tbsp

palm sugar

2 tsp

fish sauce

Place either a wok or a cast iron pan on the stove top on mild heat. Once warm, add the Penang curry paste, fish sauce and palm sugar. Stir together until the 3 ingredients melt into a jam like paste.

Step 2/ 5

Don't shake the coconut tin. The coconut milk will be thick and at the surface of the tin. Take out all of the coconut cream only, leaving the liquid in the tin. Add this to the pan on mild heat and stir until dissolved with the other ingredients.

Step 3/ 5

4 leaves

Makrut lime leaves

Add 2-3 whole kaffir lime leaves to the mixture and let it simmer for a good 5 mins on medium heat. The curry will slightly bubble.

Step 4/ 5

Now add in the fresh peeled shrimp (prawns) to the curry and cook then until they turn colour (typically orange tone) and are cooked al the way through. This may take a good 5-10 mins.

Step 5/ 5

Slice an extra kaffir like leaf into strips and leave to the side for garnishing. Cook the rice in the meantime either in a rice cooker, pan or microwave following the instructions on the packet of rice. Always good to rinse the rice first!

Enjoy your meal!
More delicious ideas for you