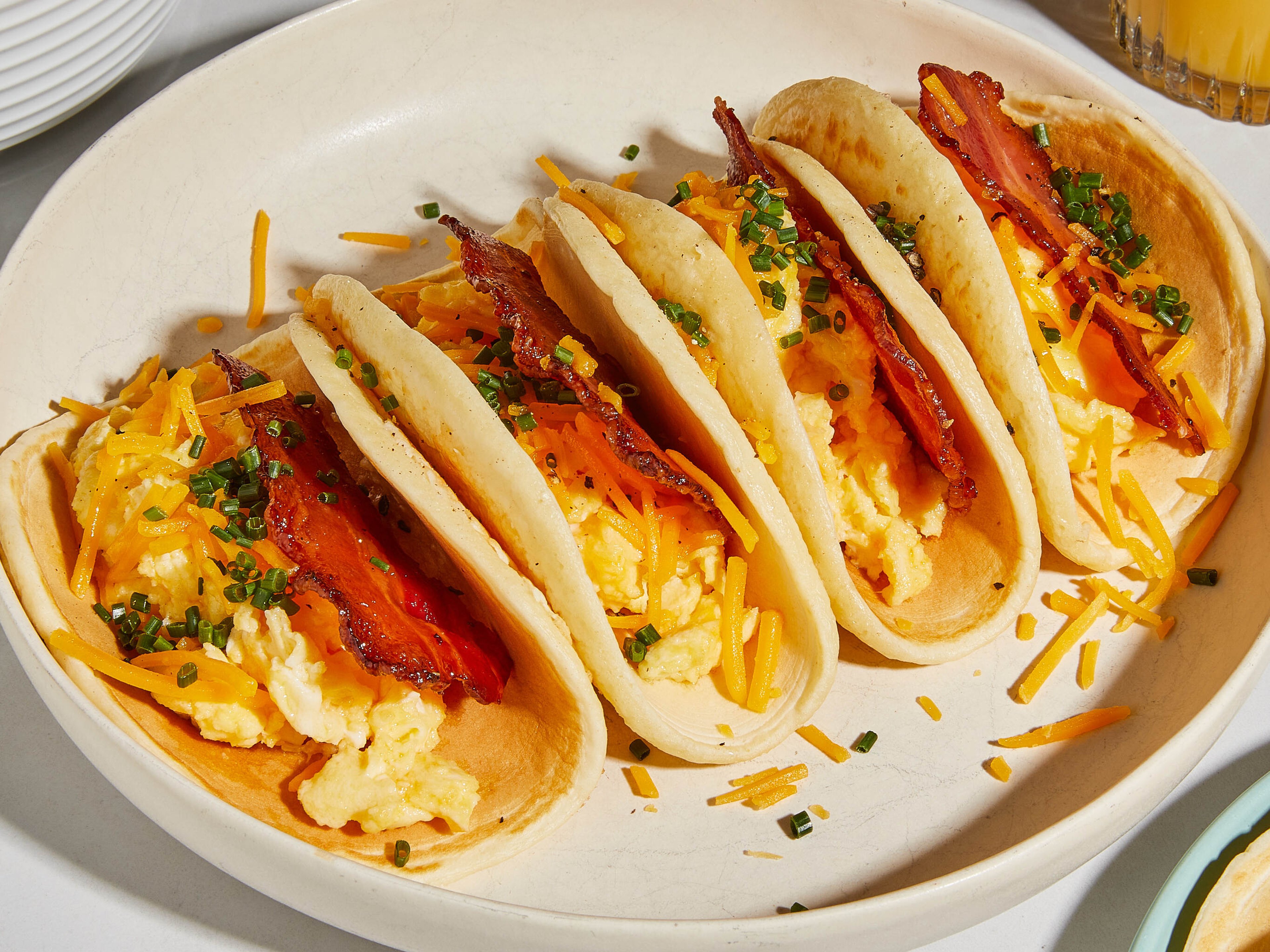 Pancake tacos with candied bacon and scrambled eggs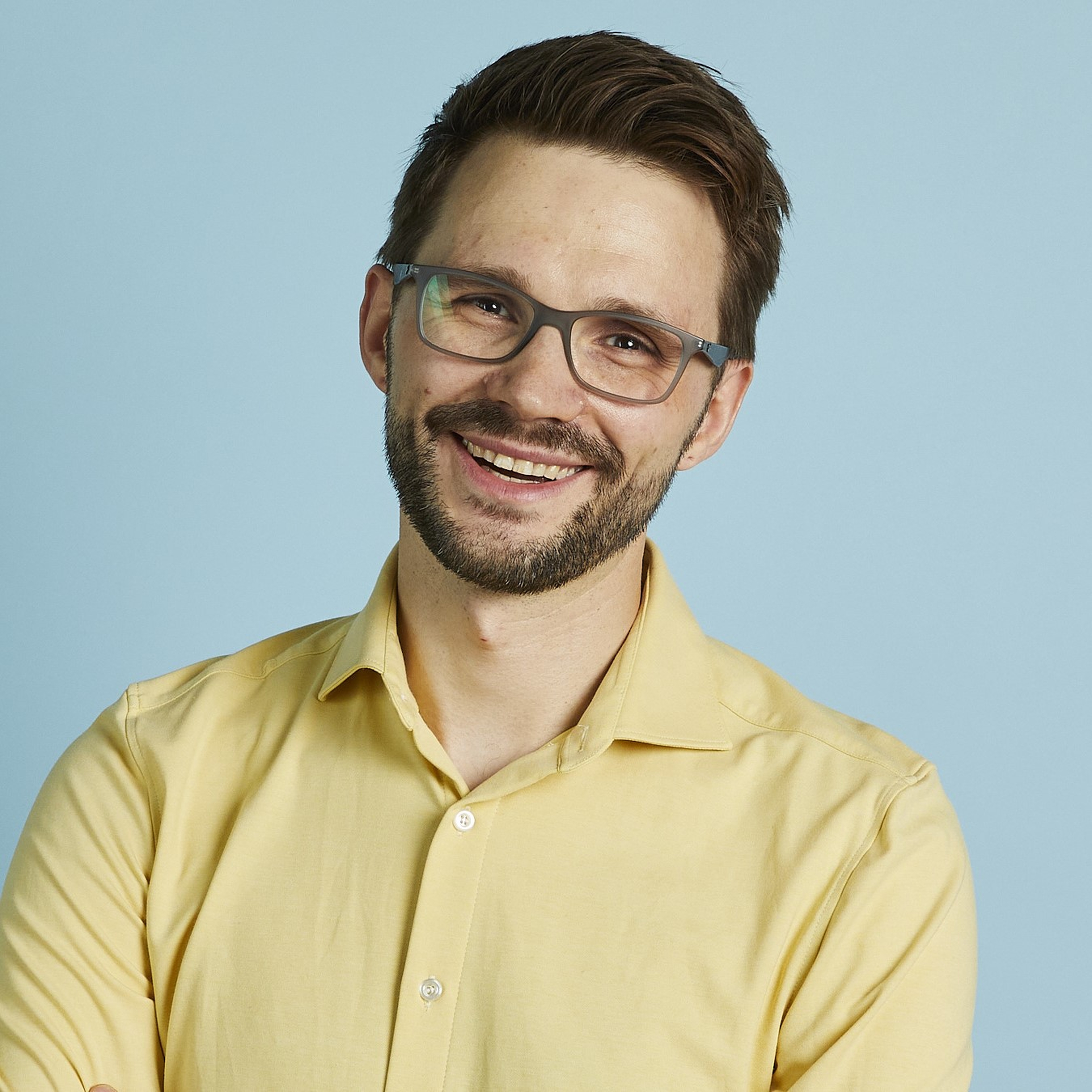 "Breakfast is my favorite meal of the day. I love how the fun of tacos can be brought to the breakfast table with this easy hack of using pancakes as soft and fluffy taco shells. You can fill them with practically anything that suit your breakfast tastes, making it a fun and engaging way to start your day."
Utensils
oven, bowl (large), 2 whisks, liquid measuring cup, baking sheet, parchment paper, pastry brush, nonstick pan, spatula, plate, knife, cutting board, bowl, rubber spatula
Crispy sheet pan bacon
How to chop green herbs
Perfect scrambled eggs
Step 1/ 4

73⅓ g

flour

⅔ tsp

baking powder

⅓ tsp

sugar

⅛ tsp

salt

⅔

eggs

113⅓ ml

milk

⅔ tbsp

butter

oven
bowl (large)
whisk
liquid measuring cup

Preheat the oven to 180°C/350°F top/bottom heat. Combine flour, baking powder, sugar and salt in a large mixing bowl and set aside. Whisk eggs and milk in a small measuring cup. Then stir in half of the melted butter. Gently stir the milk mixture into the dry ingredients, but only enough to just mix everything together; a few small lumps are okay. If the batter seems too thick, add a little more milk.

Step 2/ 4

2 strips

bacon

⅓ tbsp

maple syrup

pepper

baking sheet
parchment paper
pastry brush

Lay out the bacon strips on a baking tray lined with parchment paper. Brush the bacon with the maple syrup and season with pepper. Then bake in the preheated oven for approx. 15–20 min. until golden brown and crispy. Meanwhile, continue with the recipe. At the end of the baking time, remove the bacon from the tray and let it drain.

Step 3/ 4

Melt half of the remaining butter in a large frying pan. Pour batter into the pan in batches and cook approx. 10 cm/ 4 in.-sized pancakes. Adjust heat as needed; generally, the first batch requires higher heat than the following batches. Flip pancakes after approx. 2–3 min., when bubbles rise to the surface and the bottom browns. Let the other side cook for approx. 1–2 min. more or until lightly browned. Take the pancakes out of the pan, stack them on a plate, and set aside.

Step 4/ 4

1⅔ g

chives

⅓ tbsp

butter

1⅓

eggs

16⅔ g

shredded cheddar cheese

10 g

shredded cheddar cheese

salt

pepper

hot sauce (optional)

knife
cutting board
bowl
whisk
rubber spatula

Cut chives into fine rings. Heat the remaining butter in the same pan over low to medium heat. Crack eggs into a bowl, season with salt and pepper, and whisk. Add eggs into the pan and scramble with a rubber spatula. Just before the scrambled eggs are ready, stir in most of the cheese, leaving some for serving later. The scrambled eggs are done when the eggs are still a little glossy. Remove the pan from the heat. Cut or break bacon slices in half. To serve, fold pancakes in half like a taco. Place scrambled eggs in the center of the pancakes. Top with bacon and remaining cheese and garnish with chives and hot sauce, if desired. Serve immediately.

Enjoy your meal!
More delicious ideas for you