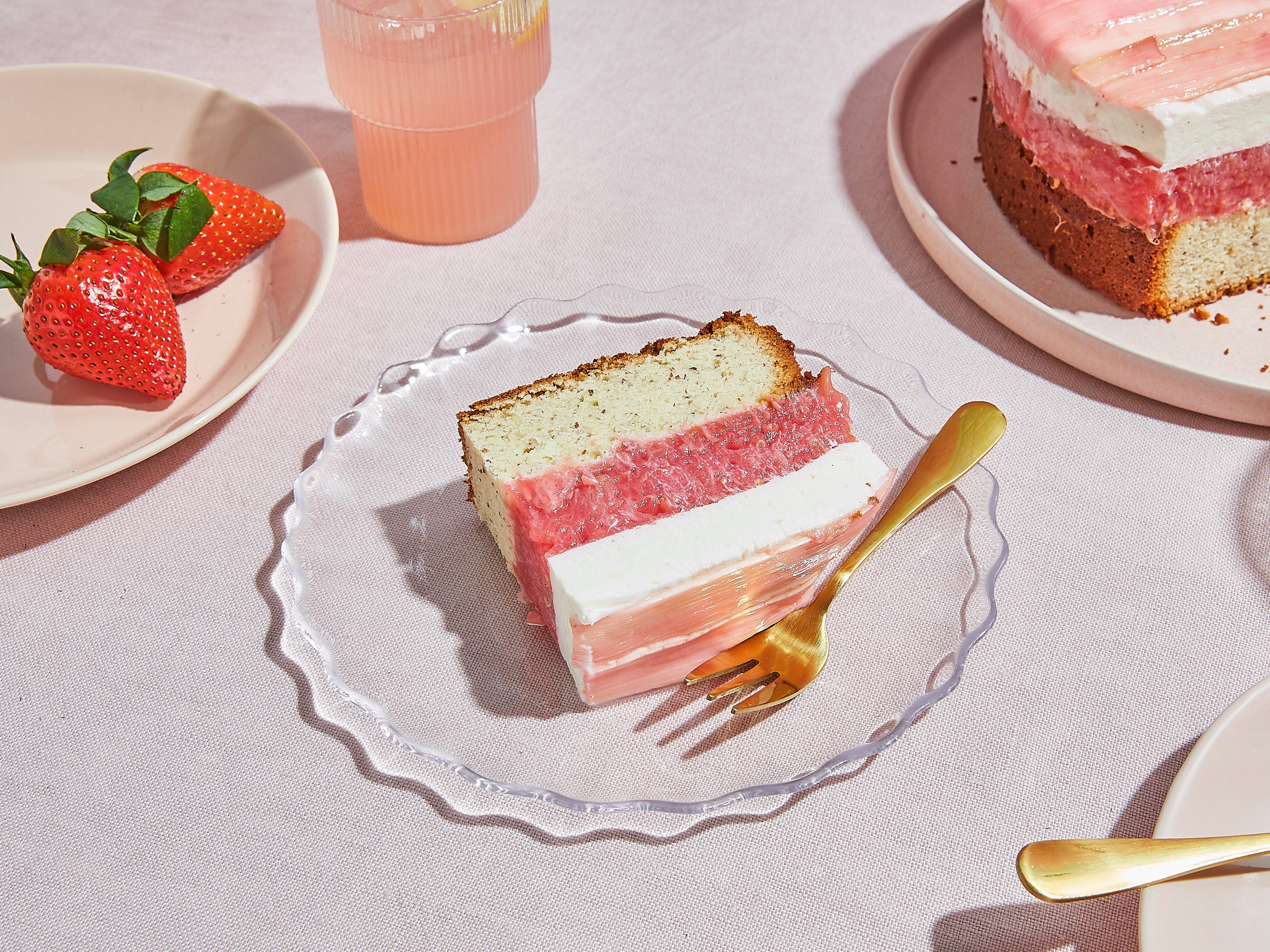 Layered rhubarb cheesecake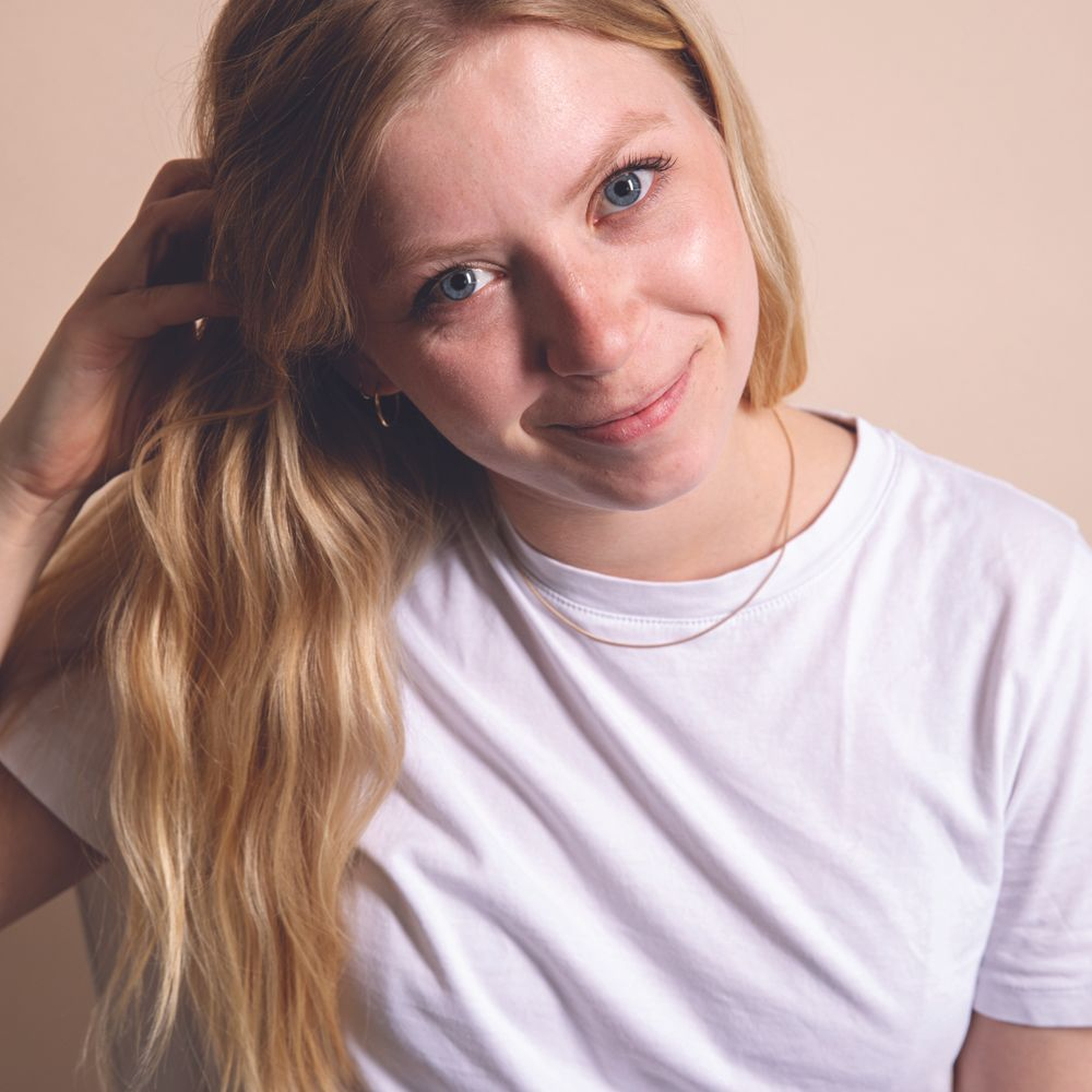 "The sponge in this recipe can also be used as a base for classic rhubarb cake. For this version, the cake becomes a tart and with a rhubarb compote and a layer of creamy cheesecake, it's a real eye-catcher. Use the remaining syrup for lemonade - or add some to the compote to intensify the color a bit. Even a few raspberries just tossed into the pot can make the color brighter."
Utensils
oven, hand mixer with beaters, 3 large bowls, rubber spatula, springform pan (9 in.), parchment paper, peeler, cutting board, knife, saucepan (small), cooking spoon, bowl (small), pot, cake platter, cake ring, pot (small), bowl (large)
How-To Videos
How to slice a cake like a pro
How to Prepare a Cake Pan
Homemade vanilla sugar
How to test a cake for doneness
Step 1/ 6

33⅓ g

butter

26⅔ g

sugar

½

eggs

30 g

flour

20 g

ground almonds

⅛ tsp

baking powder

salt

oven
hand mixer with beaters
2 large bowls
rubber spatula
springform pan (9 in.)
parchment paper

Preheat the oven to 180°C/350°F convection. Beat butter and some sugar with a hand mixer until light and fluffy. Add eggs, one at a time, mixing well after each addition. In a separate bowl, mix flour with ground almonds, baking powder, and a pinch of salt, then fold into the egg mixture. Pour everything into a greased springform pan lined with parchment paper and bake in preheated oven for approx. 30 min. Remove and set aside.

Step 2/ 6

111⅔ g

rhubarb

13⅓ g

sugar

⅛

vanilla bean

5 g

starch

6⅔ ml

water

peeler
large bowl
cutting board
knife
saucepan (small)
cooking spoon
bowl (small)

For the rhubarb compote, peel most of the rhubarb and cut into pieces approx. 2 cm/¾-in. thick, keeping the rhubarb peel aside in a bowl. Place chopped rhubarb in a small saucepan and mix with some sugar. Split the vanilla bean lengthwise, then use the back of the knife to scrape out the seeds and add to the saucepan. Leave to infuse for approx. 5 min., then bring to a boil over medium heat. Mix starch with a small amount of water in a small bowl and add to the rhubarb, then let cook for approx. 2 min.

Step 3/ 6

For the rhubarb syrup, place the rhubarb peels in another pot with some sugar and water and bring to a boil. While that's cooking, use a peeler to shape the remaining rhubarb into long thin strips for decoration. Remove the pot from the heat and discard the rhubarb peels, then soak the thin strips of rhubarb in the warm syrup.

Step 4/ 6

Flatten the surface of the cake base with a knife when it has cooled completely, and place it on a cake plate. Place a cake ring around it, then pour in the rhubarb compote and let chill completely in the fridge, approx. 60 min.

Step 5/ 6

⅓

gelatin sheets

33⅓ g

cream cheese

33⅓ g

heavy cream

⅛ package

vanilla sugar

5 g

sugar

Soak the gelatin in cold water in a small pot for approx. 5 - 10 min. Whip the cream in another large bowl until stiff. Mix the cream cheese with vanilla sugar and remaining sugar. Drain the gelatin, return it to the pot and heat it in a little cream and mix it into the cream cheese. Fold in whipped cream gently then pour the entire cheesecake layer onto the completely cooled cake. Smooth out and chill everything for at least an hour in the fridge.

Step 6/ 6

When the cake is cooled, neatly place rhubarb strips on top of the cake. Slice into pieces and serve. Enjoy!

Enjoy your meal!
More delicious ideas for you