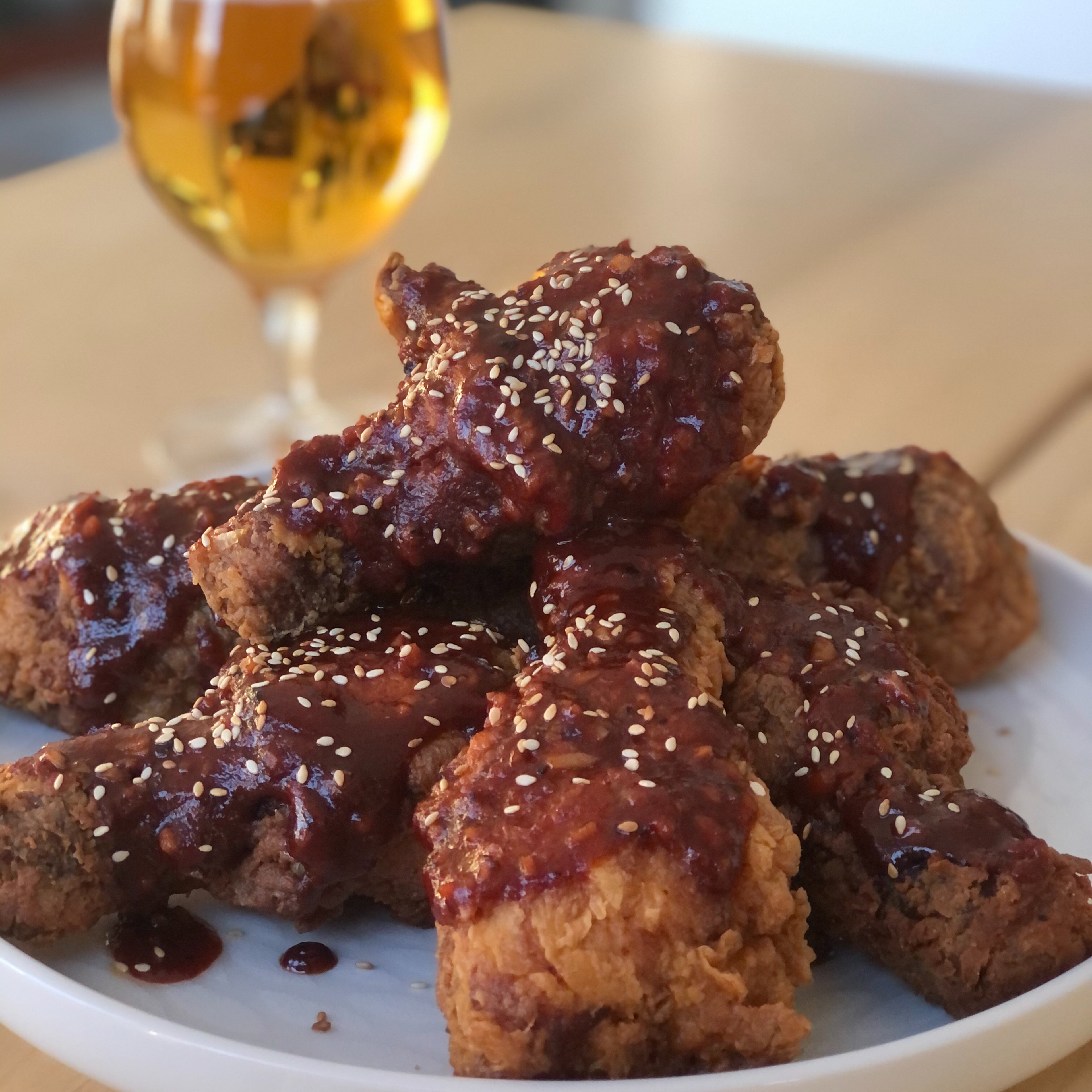 Korean Fried Chicken in a Tangy Sauce (양념치킨)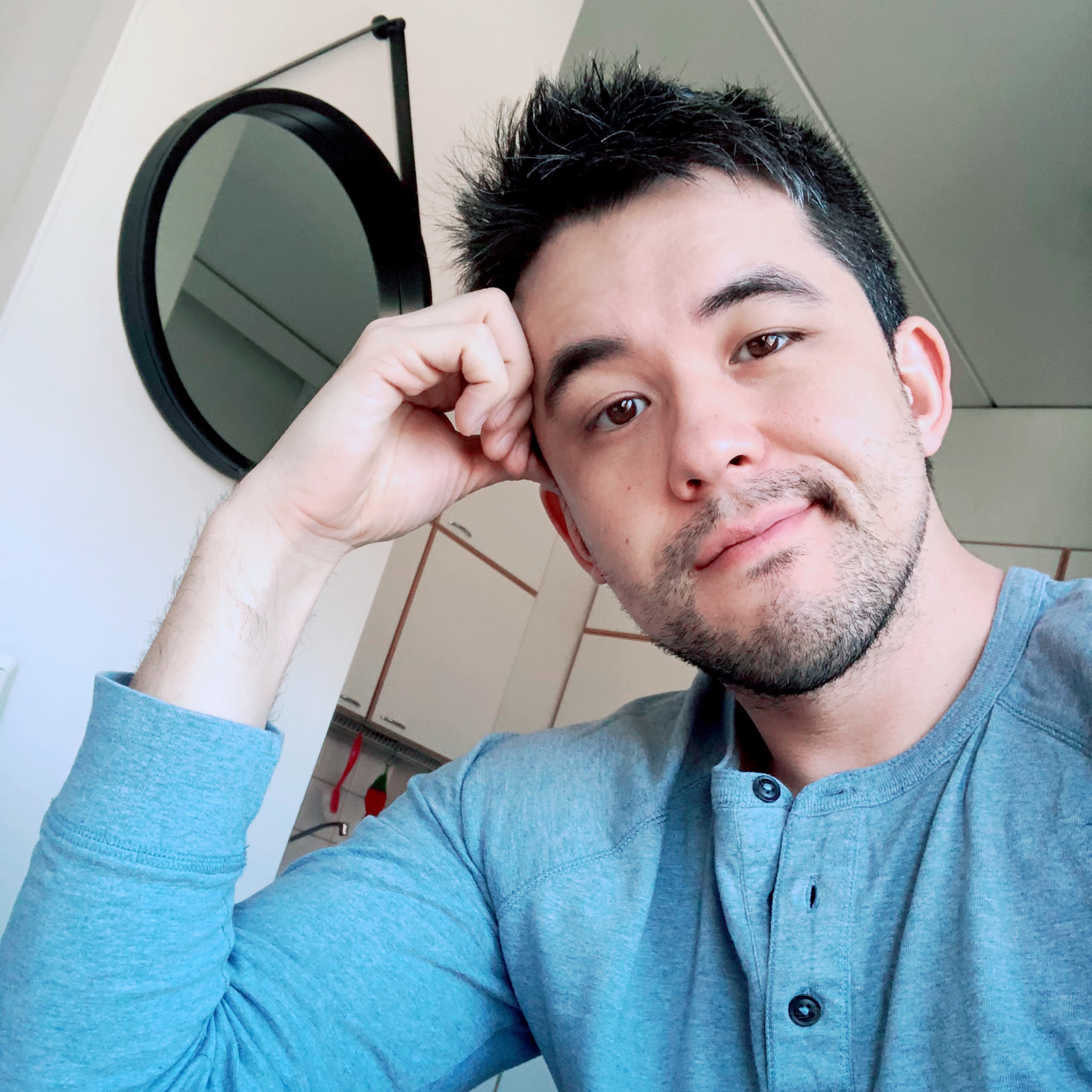 "Korean Fried Chicken!! During my time living in Seoul one of my favorite things to do was to order some fried chicken and have a picnic by the Han river! Picture it! Spring time in Seoul, sitting on a blanket in a park with a box of warm fried chicken and a cooler full of ice cold beers and sharing it all with friends. Just perfect! Have a Korean Fried Chicken picnic of your own this spring by trying out this recipe!"
Ingredients
flaxseed oil (for deep frying)
sesame seed (toasted, for garnish)
Step 1/ 5

800 g

chicken legs

150 ml

milk

1 tsp

salt

1 tsp

pepper

First we'll marinate the chicken legs. Throw the chicken into a bowl and give it a salt and pepper massage. Then give the chicken a milk bath and put it in the fridge. Let it rest for about one hour.

Step 2/ 5

150 g

flour

1 l

flaxseed oil (for deep frying)

After letting the chicken rest, we'll take it out of the fridge and prepare it for frying. Mix in 150 g of flour (about 1 & 1/2 dl) with the chicken. Do this in parts so you don't get many lumps. If possible, look for flour meant for frying (튀김가루 in Korean). While doing this, heat 1 liter of oil on medium-high in a deep pot.

Step 3/ 5

Now the oil has heated to about 170 °C so it's time to start frying. Put the remaining flour in a bowl and coat the battered chicken in flour. After coating the chicken, carefully put the legs into the hot oil and remember not to overcrowd the pot. If the chicken is not completely submerged in the oil, flip the legs over every few minutes. Boned chicken will take about 7~8 minutes to cook while deboned chicken will cook quicker. Once golden brown, take the chicken out and let rest.

Step 4/ 5

1 tsp

sesame oil (for frying)

3 cloves

garlic

1 tbsp

gochujang

1 tbsp

ketchup

1 tbsp

corn syrup

1 tbsp

soy sauce

½ tbsp

brown sugar

½ tbsp

chili flakes

Now the chicken has been fried and is off to the side resting so we'll move on to preparing the sauce! In a heated sauce pan fry 3 cloves of minced garlic in sesame oil. Once slightly fried, add gochujang, ketchup, corn syrup, soy sauce, brown sugar and chili flakes. If the sauce is too thick to stir, add a few tablespoons of water. While stirring, bring the sauce to a boil. Once the sauce has started to thicken, take it off the heat and set aside.

Step 5/ 5

sesame seed (toasted, for garnish)

Take the fried chicken and toss it in a large bowl with the sauce until coated evenly. Of you can drizzle the sauce over the chicken. Once plated, sprinkle some sesame seeds over the fried chicken and enjoy!! PS: this fried chicken goes perfectly with an ice cold beer :)

Enjoy your meal!
More delicious ideas for you