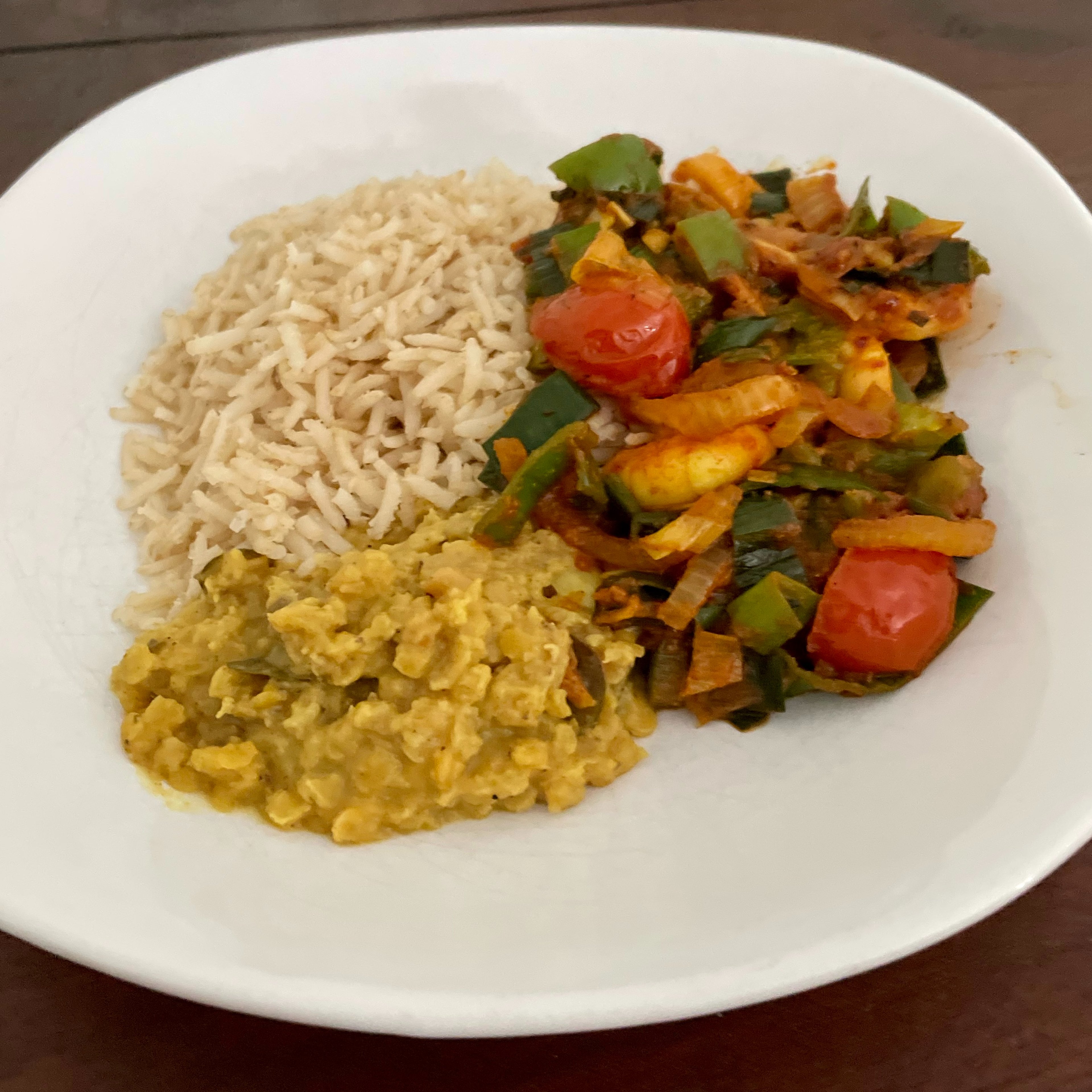 Deviled prawns (Prawn Thel Dala)
"This is a Srilankan dish named Prawn Thel Dala. It's spicy! If you cannot find Zensai chili paste you can substitute it with Chinese chili paste. Srilankan unroasted curry powder can be replaced by regular store-bought curry powder."
Ingredients
unroasted curry powder ( Srilankan)
Step 1/ 7

166⅔ g

prawn (cleaned)

⅓ tbsp

lemon juice

⅛ tsp

pepper

⅓ tsp

salt

⅛ tsp

ground turmeric

Marinate prawns with lemon juice, black pepper, turmeric and salt while preparing the other ingredients.

Step 2/ 7

⅓

onion

⅓ tbsp

garlic minced

⅓ tbsp

ginger minced

Peel and slice onion, mince garlic and ginger or use ginger-garlic paste.

Step 3/ 7

33⅓ g

leeks

50 g

bell peppers

33⅓ g

tomatoes

Wash, clean and chop vegetables.

Step 4/ 7

Heat oil in the pan and fry prawns till changing color. Remove prawns from pan and set aside.

Step 5/ 7

⅓ tsp

unroasted curry powder ( Srilankan)

⅓ tsp

cayenne pepper

⅓ tsp

salt

Fry onions, garlic, ginger, cinnamon and curry leaves till onions start to brown. Add salt, unroasted curry powder and cayenne pepper.

Step 6/ 7

⅓ tsp

salt

⅔ tbsp

Zensai chili paste

⅓ tbsp

soy sauce

1 tbsp

tomato sauce

⅓ tbsp

sugar

Add sugar, chili paste, soy sauce and tomato sauce. Fry for a minute, then add vegetables. Fry for about five minutes. Finally add prawns, mix and cook for another three minutes.

Step 7/ 7

Transfer to a serving bowl and serve with rice.

Enjoy your meal!
More delicious ideas for you