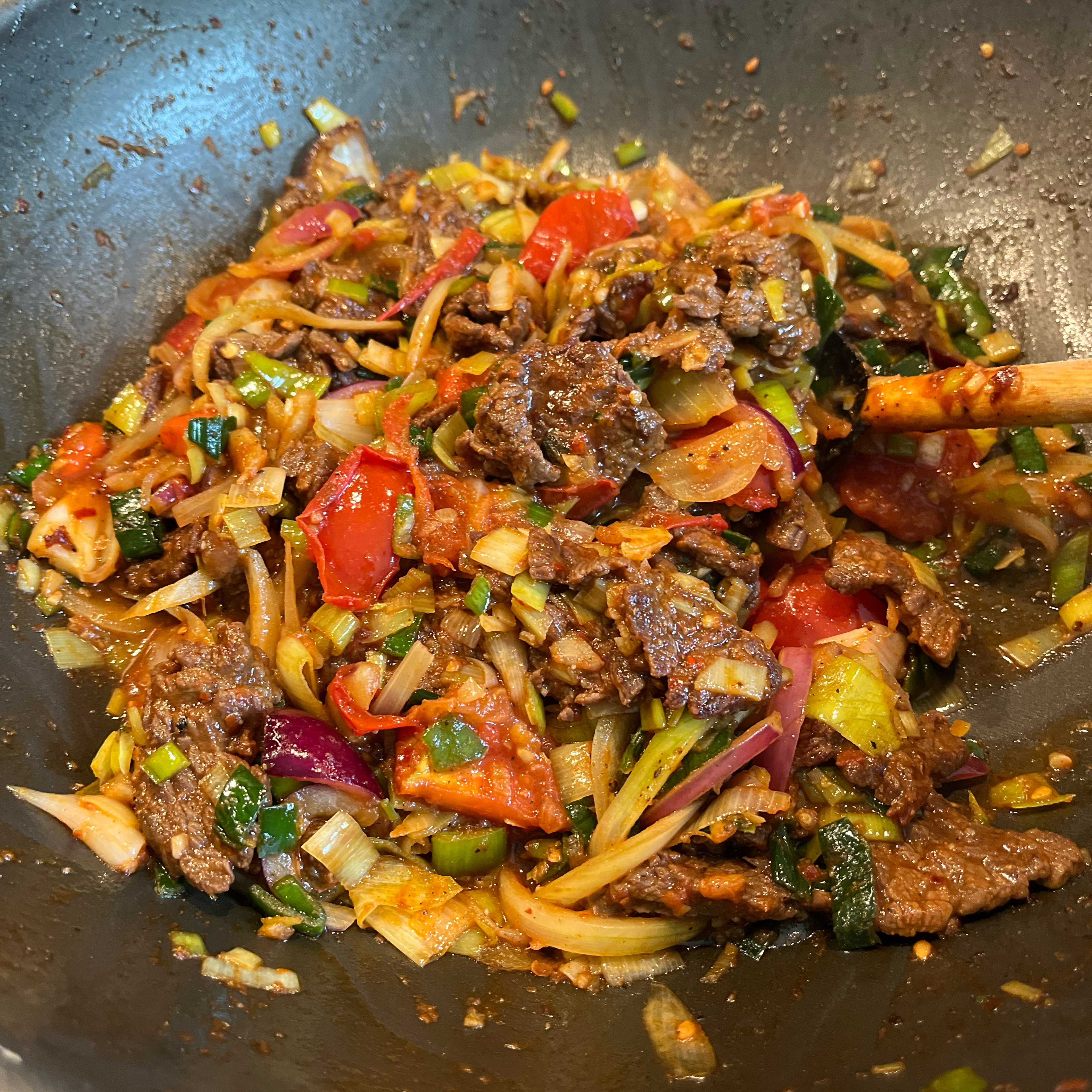 Beef Thel Dala wok stir-fry
"This is our favorite recipe with tender beef, spicy and aromatic. The style is a fusion of the traditional srilankan 'deviled beef' and Chinese wok stir-fry. It's important to seer the beef on high heat in the beginning and to reduce the heat before you add garlic. Keep continuously stirring as you cook. It's a very quick recipe and can be enjoyed with rice or quinoa. "
Step 1/ 9

200 g

beef filet

1 tbsp

Worcestershire sauce

¼ tsp

pepper

½ tsp

salt

Select a beef cut suitable for steak and cut against the grain into thin stripes. Marinate beef with Worcester sauce, pepper and one tea spoon salt and set aside while you prepare the veggies.

Step 2/ 9

Peel and cut onion into wedges.

Step 3/ 9

Clean and cut leek into stripes.

Step 4/ 9

Cut tomatoes into wedges.

Step 5/ 9

1 tbsp

garlic chopped

½ tbsp

ginger chopped

Peel and mince ginger and garlic.

Step 6/ 9

Heat oil in a wok until hot.

Step 7/ 9

Fry marinated beef until brown.

Step 8/ 9

1 tbsp

chili paste (Chinese)

1 tbsp

chili flakes

½ tsp

curry powder (unroasted)

Turn down heat to medium. Add ginger, garlic, curry powder, chili paste and chili flakes and keep stirring.

Step 9/ 9

2 tbsp

tomato purée (passata)

½ tbsp

sugar

1 tbsp

soy sauce

½ tsp

salt

Add tomato sauce, soy sauce, sugar, onion, leeks and tomatoes. Keep stirring until veggies are cooked. Taste and add remaining salt to taste and mix. Remove from heat and serve with rice.

Enjoy your meal!
More delicious ideas for you