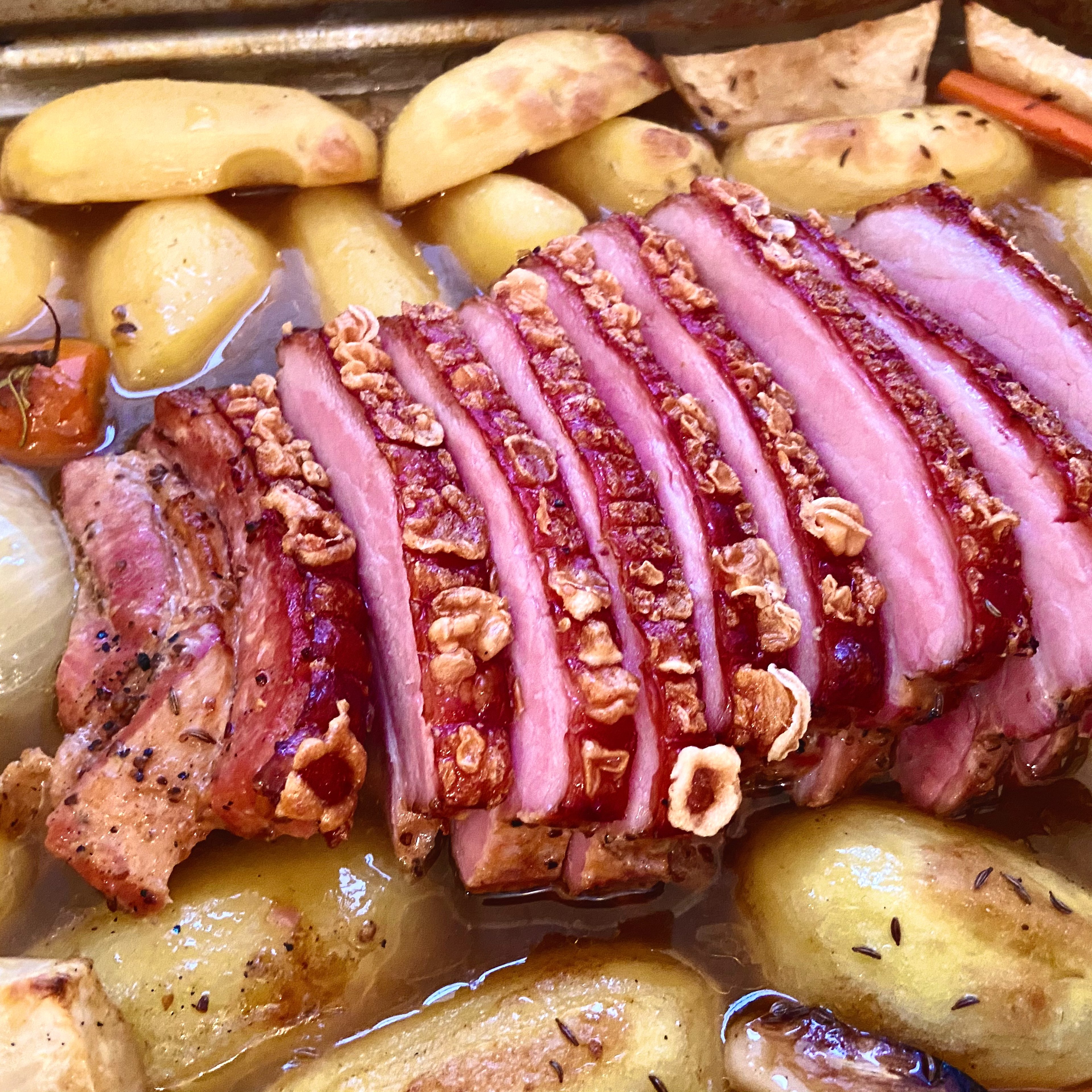 Grandma's pork roast with sauerkraut & bread dumplings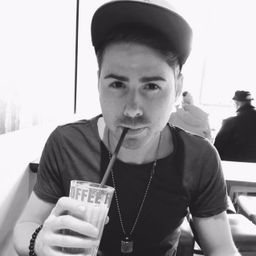 "A dish from my childhood that I didn't have, from the grandma who wasn't one. Okay, enough with the melancholy, I had a great childhood, but this dish reminds me of my early years in Austria, I was already 17 but it feels like a second childhood. And my grandmother was actually my grandmother-in-law. But as so often in life, people grow on you and this recipe is a tribute to you – Zäzilia J. from Eberschwang. #ThrowbackNovember"
Recipes made to your taste
Get your personalized recipe picks in 10 seconds.
Step 1/ 17

Mise en Place 🤗

Step 2/ 17

Season the meat, except for the rind. (Salt, pepper, mustard seeds) Place the belly, with the rind facing downwards, in a roasting pan filled, add beer and transfer into the oven for approx. 30 min. at 180°C/360°F top/bottom.

Step 3/ 17

Cut one onion, the potatoes, and carrots in half and cut the celery into similar sized pieces.

Step 4/ 17

Now cut the cabbage and another onion julienne.

Step 5/ 17

In a saucepan caramelise 1 tbsp of sugar.

Step 6/ 17

In portions caramelise 1 tbsp of lard with one-third of the chopped cabbage and one-third of the sliced onions until nice and dark.

Step 7/ 17

Add the remaining cabbage in the pot, brown briefly, deglaze with cider apple vinegar and fill up with water until everything is covered.

Step 8/ 17

Add 1/2 tbsp caraway seeds, 1 tbsp brown sugar, 1 pinch of salt and pepper to the cabbage and let simmer gently for approx. 1 hr.

Step 9/ 17

After approx. 30 min. turn the pork belly over and score the rind. Add the vegetables to the roasting pan, add water or stock. (the vegetables should not be completely covered) Add 1/2 tbsp caraway seeds, 2 bay leaves, 1 sprig of rosemary and thyme and transfer back to the oven for approx. 1 1/2–2 hrs. at 150°C/300°F.

Step 10/ 17

Keep an eye on the temperature, every oven and every piece of meat is different, it should cook slowly but not get too dark.

Step 11/ 17

Cube the remaining onion and sauté in butter until translucent.

Step 12/ 17

Add milk, chopped parsley, 1 pinch of caraway, nutmeg, salt and pepper to the onions and bring to the boil briefly.

Step 13/ 17

Pour the milk over the bread crumbs, leave to cool briefly and mix to combine with 1 tbsp of flour and the 2 eggs. Set aside and leave the dumpling dough to rest for a while.

Step 14/ 17

After approx. 30 min. form equally sized dumplings. Tip: wet your hands after each dumpling, this not only helps against sticky hands, but also ensures nice and beautiful dumplings.

Step 15/ 17

Place the dumplings in a large pot with lightly salted water, bring to boil and let simmer for approx. 15 – 20 min., depending on the size. Strain and leave too dry. You can also add the dumplings to the roasting pan, if desired.

Step 16/ 17

After 1 1/2–2 hrs. at 150°C/300°F. in the oven, switch on the grill function and turn to 250°C/480°F, or full throttle top heat to crisp up the rind. A little salt on the rind enhances the popping and makes it crispier.

Step 17/ 17

Serve the cabbage, warm, separately and provide enough roast juice for the dumplings 😋 Enjoy!

Enjoy your meal!
More delicious ideas for you