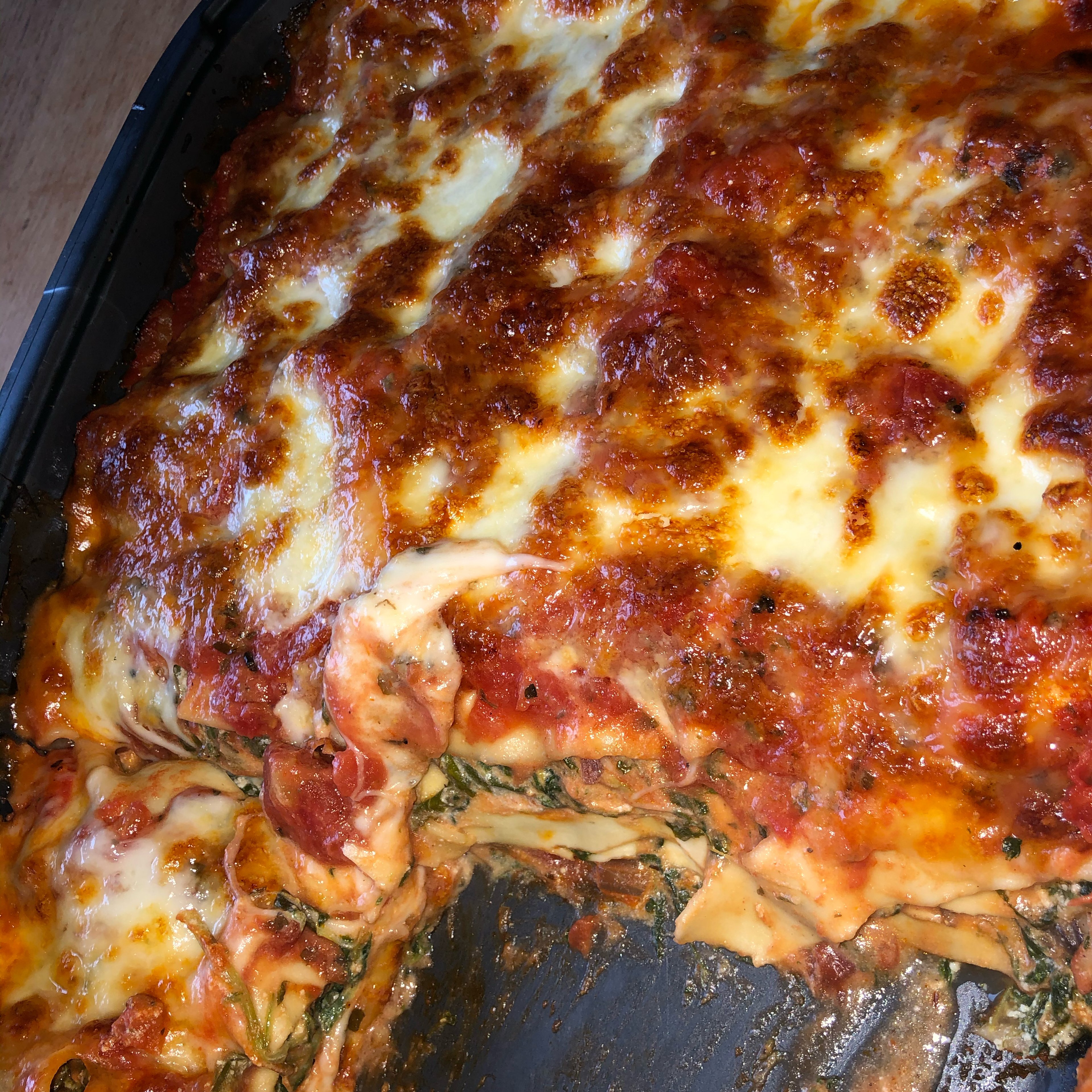 Vegetarian lasagna with spinach, mushrooms, and ricotta
"This recipe is a perfect vegetarian comfort food. The combination of ricotta and spinach is a winning team already, but mushrooms give this dish even more flavor and texture. If you don't like them, feel free to omit them. I made both my family as well as my friends very happy with this dish! It is important to keep an eye on the lasagna in the oven. If needed, you can turn up the heat a little at the end of the baking time if you want your cheese to turn a little more golden brown. After baking, the lasagna will set if you let it rest for a few minutes."
Utensils
2 pots, frying pan, whisk, baking dish
Step 1/ 8

If you use frozen spinach, steam it over some boiling water (for example by placing a large sieve on the pot). If using fresh spinach, sauté it in a pan with a little oil. Then drain to remove excess liquid.

Step 2/ 8

60 g

button mushrooms

100 g

mozzarella cheese

Slice the mushrooms and mozzarella cheese. Feel free to vary the amount of mushrooms used or even omit them.

Step 3/ 8

⅜ tbsp

tomato paste

¼

lemon

⅜

onion

⅜ clove

garlic

oil

For the tomato sauce, finely chop onion and garlic, and sauté them in a little oil. Once the onion turns translucent, add tomato paste. Squeeze the lemon into the pan.

Step 4/ 8

240 g

tomato purée (passata)

salt

pepper

oregano

Add tomato purée to the pan and stir. Season to taste with salt, pepper and oregano. Then set aside.

Step 5/ 8

For the ricotta and spinach filling, combine ricotta cheese with the drained spinach and season with salt and pepper.

Step 6/ 8

¾ tbsp

flour

1¼ tbsp

butter

120 ml

milk

ground nutmeg

For the béchamel sauce, melt the butter in a small saucepan, then add the flour, stirring constantly. Slowly pour in the milk while you whisk to prevent clumps. Season the béchamel with salt, pepper and nutmeg. A small tip: If clumps do form, you can blend them up with an immersion blender.

Step 7/ 8

Feel free to change up the order of the layers in the next step. However, it is important that bottom and top of the lasagna noodles are in contact with the tomato sauce, so they can absorb enough moisture and get cooked in the oven. If you don't have enough tomato sauce, it's better to be on the safe side and open another pack of tomato purée to add in.

Step 8/ 8

100 g

lasagna noodles

20 g

Parmesan cheese

Preheat the oven to 200°C/390°F. Grease the baking dish with a little oil, then assemble the lasagna as follows: Béchamel, tomato sauce, lasagna noodles, tomato sauce, ricotta and spinach filling, mushrooms. Then repeat the same order once more, this time adding all the remaining mushrooms. Finish with béchamel, tomato sauce, lasagne noodles, tomato sauce, some grated Parmesan cheese, sliced mozzarella, and some more Parmesan cheese. Bake in the oven for approx. 30 min. Enjoy!

Enjoy your meal!
More delicious ideas for you