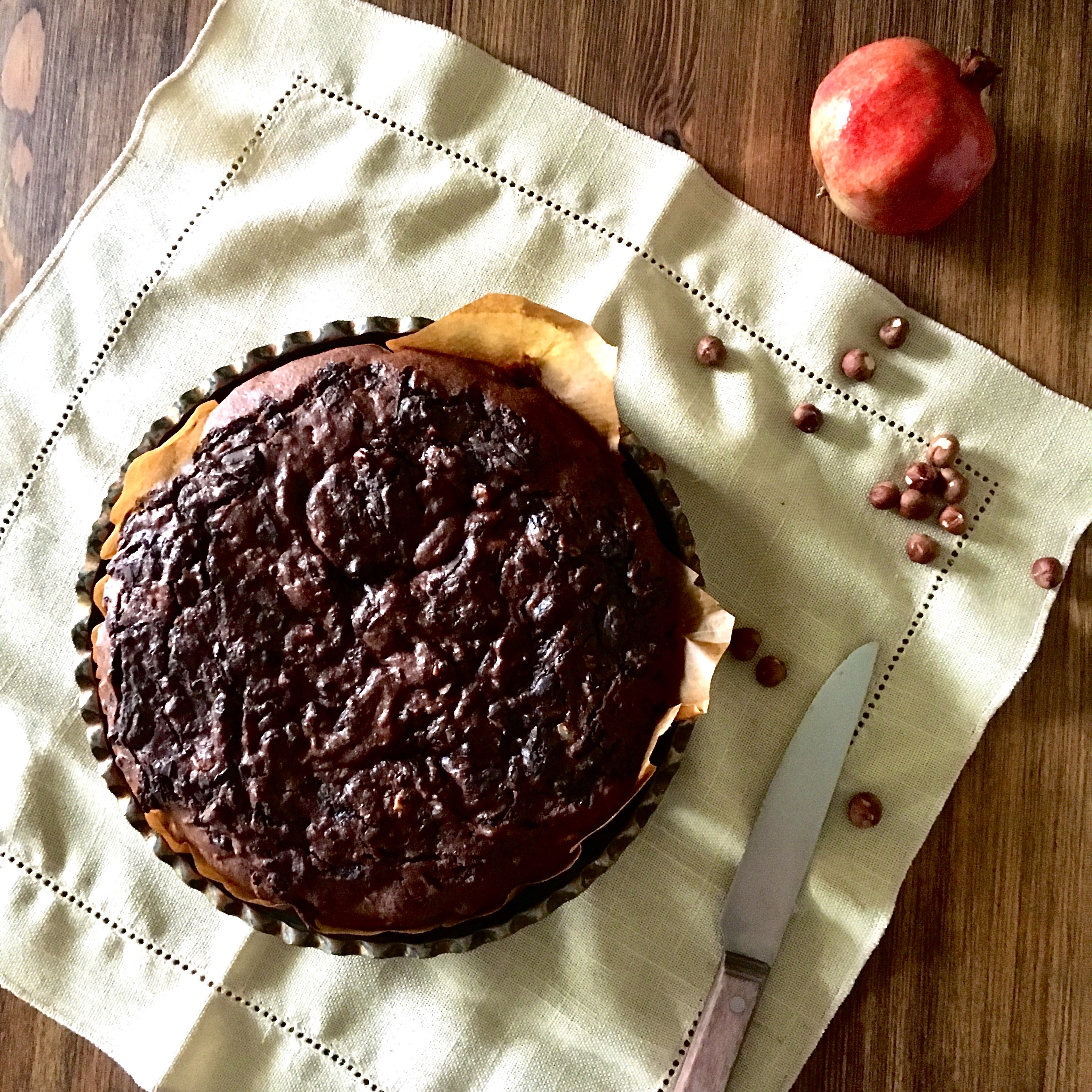 Vegan Chocolate & Hazelnut Cake
Ingredients
vegan dark chocolate, chopped
vanilla extract (optional)
dry white, red or rosé wine
Utensils
oven, round cake pan, baking parchment, cutting board , sharp knife, medium bowl, hand mixer, sieve , measuring cup, rubber spatula, wooden skewer, cooling rack
Step 1/ 7

oven
round cake pan
baking parchment

Preheat the oven to 180 C and prepare a cake pan. For this cake, I usually cover the bottom and sides of a round 22-23 cm springform pan with baking parchment, which previously greased with a bit of oil.

Step 2/ 7

12½ g

hazelnuts, chopped

25 g

vegan dark chocolate, chopped

5 g

flax seed, ground

15 ml

water

cutting board
sharp knife
medium bowl

Finely chop the hazelnuts and chocolate if needed and set both aside. In a medium bowl, add the grounded flax and water with a quick mix. Let stand for some minutes for becoming jelly-ish.

Step 3/ 7

37½ g

sugar

12½ g

hazelnut oil

⅛ tsp

vanilla extract (optional)

6¼ g

cocoa powder

Add the sugar, oil and vanilla extract (if using) and whisk with a hand mixer or stand mixer. Slowly add in the cocoa powder and continue whisking until incorporated.

Step 4/ 7

50 g

flour

2½ g

wheat bran

¼ tsp

baking powder

⅛ tsp

baking soda

⅛ tsp

salt

25 ml

hot water or espresso

medium bowl
sieve
measuring cup
rubber spatula

In a medium bowl, sift the flour, bran, both baking agents and salt. Add one third of the flour mixture to the batter and fold with a spatula or gently whisk with a whisker. Pour in half of the hot water or espresso and continue whisking/folding. Repeat the process with the second part of the flour, remaining water and third part of your dry and floury mixture.

Step 5/ 7

3¾ g

rolled oats

18¾ ml

dry white, red or rosé wine

Add in rolled oats followed by wine and chopped hazelnuts. Transfer half of the batter to prepared pan. Add the chopped chocolate into the remaining then spread over the first layer of the batter. Smooth the top if needed and bake in the lower third part of the oven for 30 minutes.

Step 6/ 7

After half an hour, check the cake doneness by poking a toothpick or wooden skewer into the cake, it should come out clean. Remove the cake from the oven. In case your cake is not fully baked, you may need to cover the surface with foil to prevent from drying out or over browning.

Step 7/ 7

Rest the cake a bit on the rack, then remove from the tin and let cool completely before cutting and enjoying it!

Enjoy your meal!
More delicious ideas for you