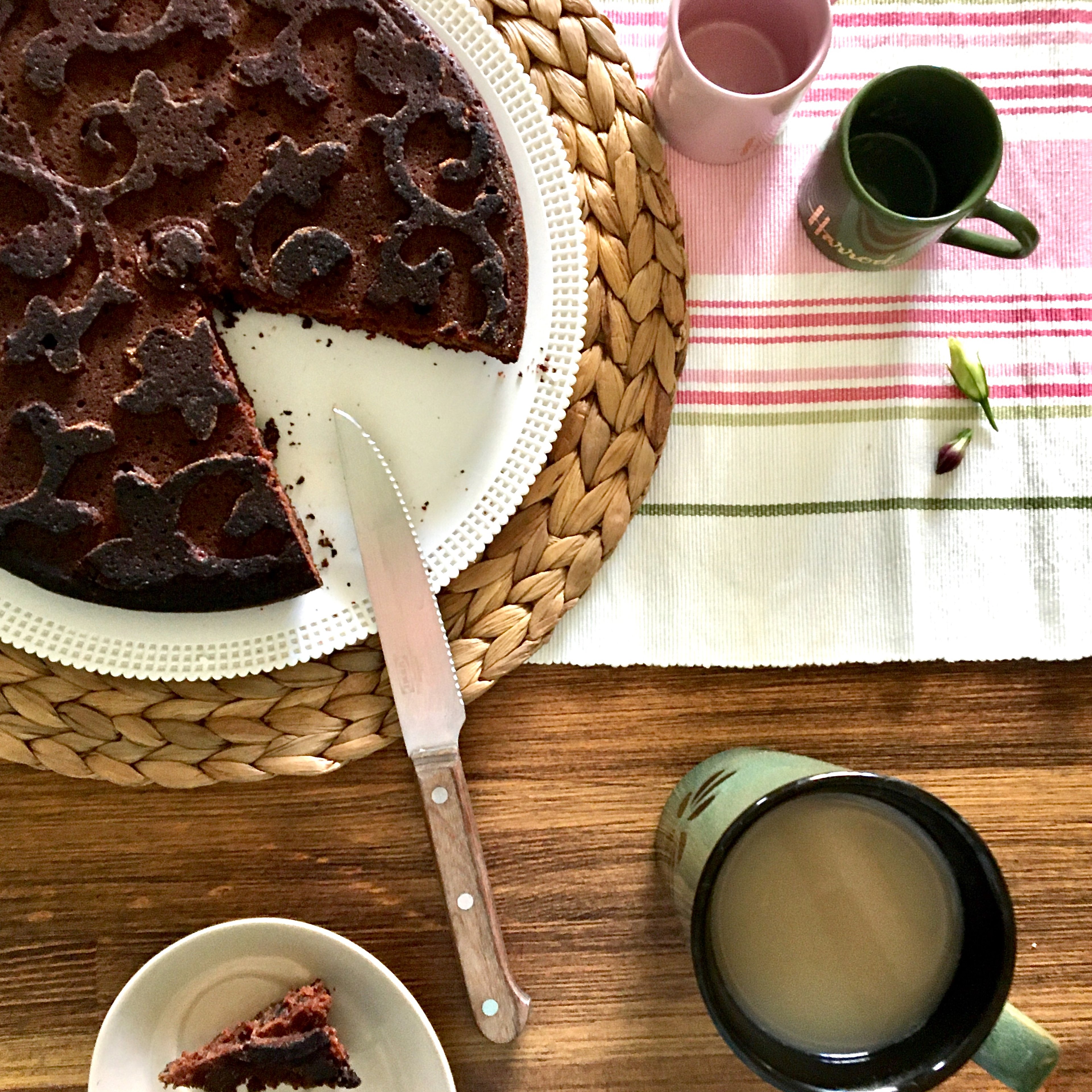 Vegan Chocolate Coffee Cake
"Chocolate is always good, especially when it rhymes with coffee. In this cake, I added a touch of banana and coconut to complete the lyric… I like my cake somehow thin, maybe because of the patterned cake pan you might have seen in the picture. If you prefer thicker cakes, simply bake the cake in a smaller pan or double the recipe."
Ingredients
coffee liqueur/coffee extract
balsamic vinegar/dry red wine
Utensils
oven, cake pan, pastry brush, sharp knife, zester, small bowl, mixing bowl, whisk, sieve, rubber spatula, toothpick , cooling rack
Step 1/ 8

Preheat the oven to 190 C. Gently grease a 20-25 cm round cake pan with a pastry brush. Dust with flour or wheat bran and set aside.

Step 2/ 8

6¼ g

fresh coconut piece

31¼ g

dark chocolate bar

Chop the chocolate bar into chunks and set aside. Finely grate/shred the coconut piece with a zester or microplane. The store-bought shredded coconut could be easily replaced here.

Step 3/ 8

Finely separate the inner side of banana peel with a teaspoon. It is possible to use the same amount of a ripen banana instead of peel. In that case, just mash it with a fork. Mix it together with the shredded coconut in a small bowl.

Step 4/ 8

⅛ tsp

ground cinnamon

2½ g

flaxseed flour

10 ml

water

25 g

sugar

12½ g

date molasses

12½ ml

oil

⅛ tsp

vanilla extract

¼ tsp

coffee liqueur/coffee extract

⅛ tsp

salt

In a large bowl, mix the ground flax seed with water. Let stand for 5-10 min. Add the coconut-banana mixture, sugar, date molasses, oil, cinnamon, salt, vanilla extract and coffee liqueur to the flax mixture and whisk well to combine.

Step 5/ 8

37½ g

flour

6¼ tsp

unsweetened cocoa powder

¼ tsp

baking powder

⅛ tsp

baking soda

18¾ ml

espresso

6¼ tsp

balsamic vinegar/dry red wine

mixing bowl
sieve
rubber spatula

In a medium bowl, mix the flour, cocoa powder and both baking agents. Sift half of the dry ingredients over the wet mixture and mix once or twice. Stir in the espresso/coffee, then sift the remaining flour mixture over. Gradually pour in the balsamic vinegar and whisk/fold gently.

Step 6/ 8

Spoon half of the batter to the prepared pan and scatter half of the chocolate chunks over. Mix the remaining batter and chocolate pieces then distribute over the semi-filled pan. Smooth the top and bake in the oven for 30 min.

Step 7/ 8

Reduce the oven temperature to 175 C and continue baking for about 10-15 more min. As usual, a toothpick inserted into the center should come out clean. Briefly cool the cake into the pan, then remove and cool completely onto a rack.

Step 8/ 8

Enjoy it as an intense but light desert, or maybe the next morning breakfast...

Enjoy your meal!
More delicious ideas for you