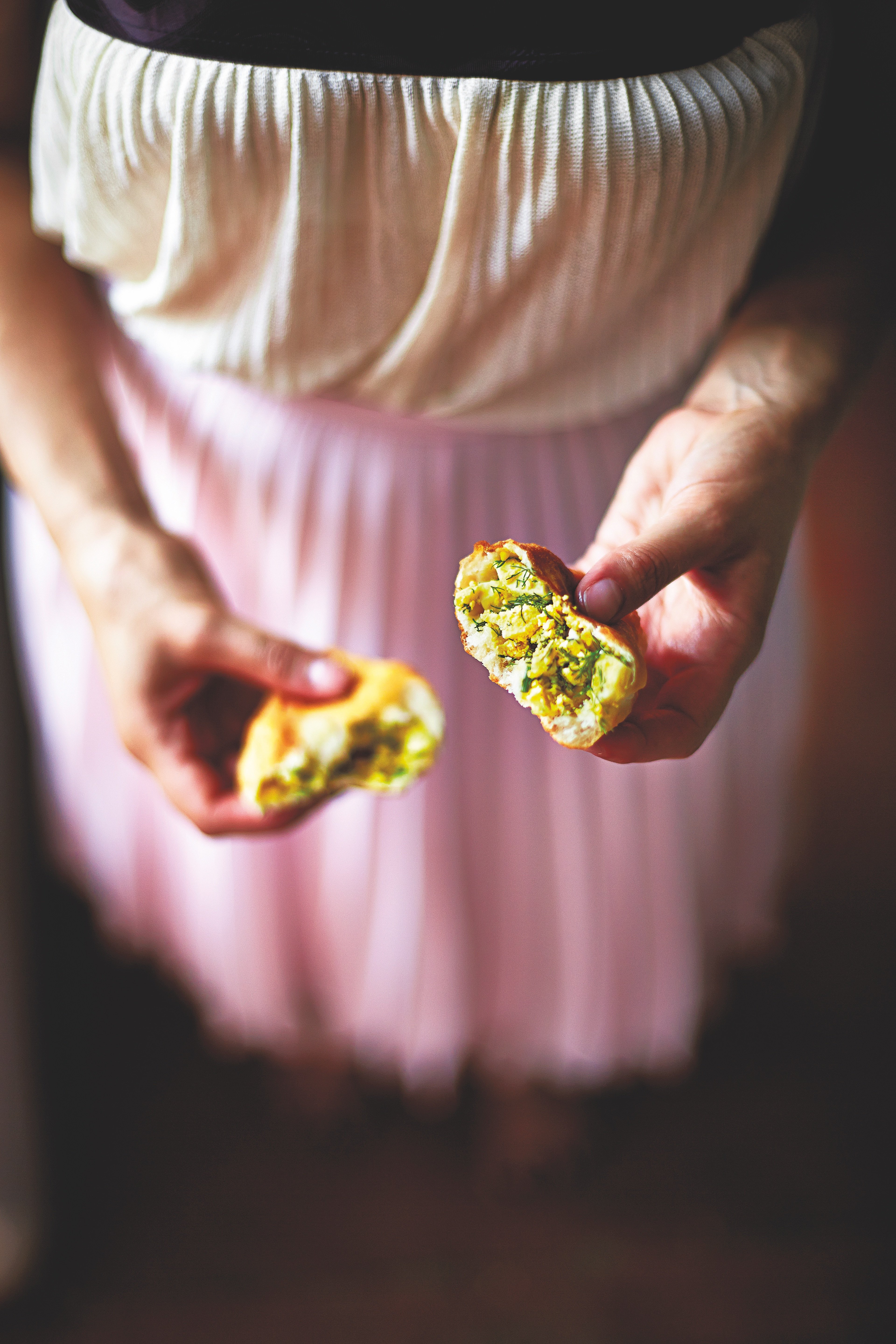 Ukrainian pierogies (Пиріжки | Pyrischky)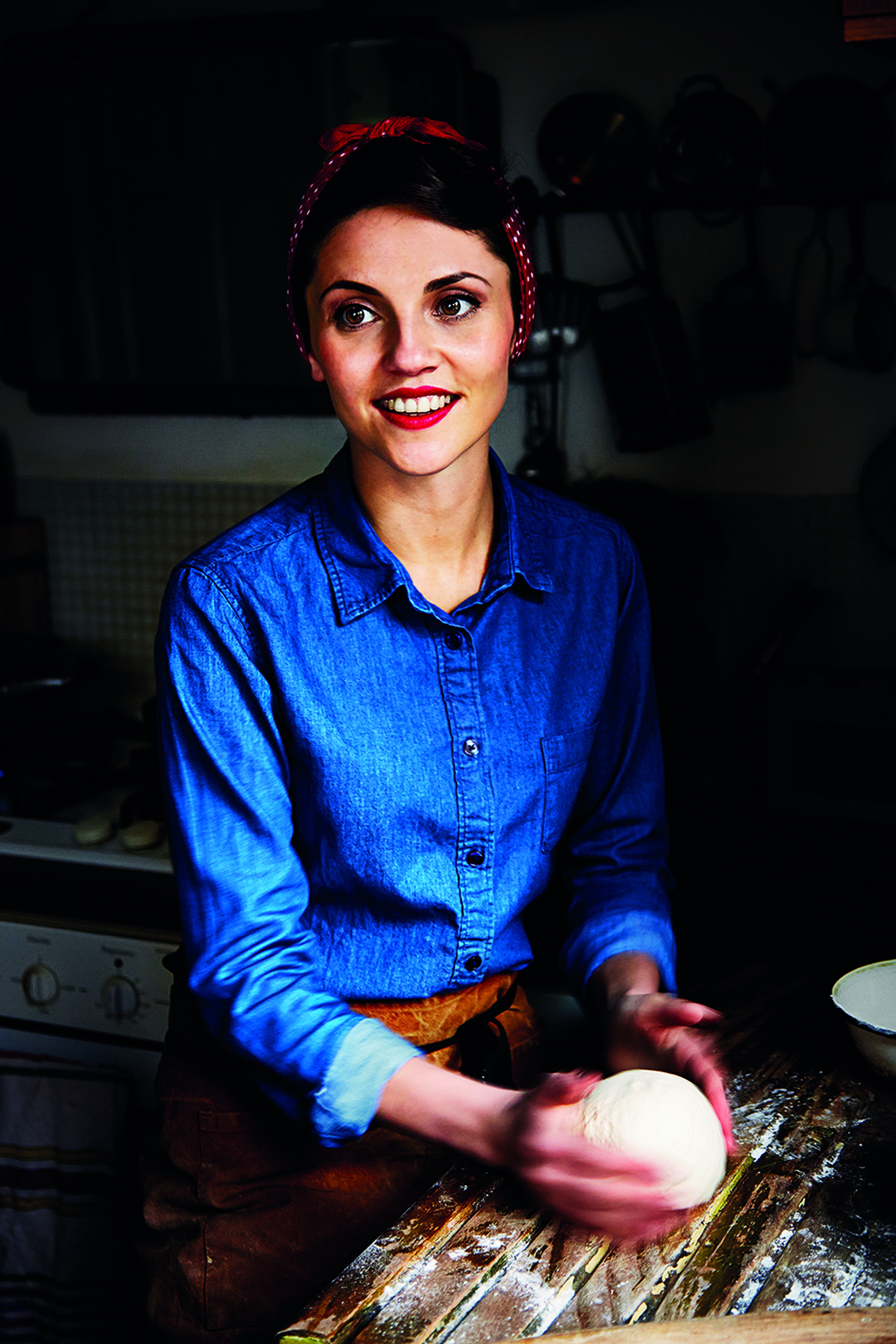 "My mother and Aunt Zhenia used to bake mountains of pyrischky (pirogi) when we I was little, small fried dumplings with every filling imaginable. Here, alternatively, are three of my favorites: Eggs and spring onions, potatoes, and chicken heart and liver - I love giblets, chicken stomachs have always been my favorite. The hearts add texture and the livers add flavor. There were also sweet pyrischky - ripe apricots and sour cherries as a filling were our favorite. This recipe is from Olia Hercules' book "Mamusia" - you can find more recipes from her home country on her profile."
Utensils
bowl (large), fork, sieve, plastic wrap, pot, potato masher, frying pan, cooking spoon, bowl, frying pan (large), slotted spoon, paper towels
How-To Videos
How to make yeast dough rise faster
How to reach the perfect temperature for frying
How to knead dough
Step 1/ 6

⅛ tbsp

sunflower oil

17⅞ ml

milk

¾ g

fresh yeast

⅛ tbsp

sugar

⅛ tsp

sea salt

First prepare the dough: whisk 1⁄2 tbsp oil with milk, yeast, sugar and salt in a bowl with a fork for 1 minute to incorporate some air.

Step 2/ 6

Sift the flour, gradually add it to the liquid and work everything into a soft, smooth dough in the bowl. Add more flour if needed - the dough may still be a little wet, but don't worry, more flour can be incorporated later when kneading. Cover the bowl with plastic wrap and let the dough rise in a warm place for 45 minutes, until it has doubled in volume.

Step 3/ 6

Knead the dough on the well-floured work surface until it is nice and smooth and is no longer sticky. Divide into eight to ten pieces (60-80 g each), depending on which filling you have chosen.

Step 4/ 6

¼

hard boiled eggs

3⅝ g

scallions

1⅜ g

dill

sea salt

21⅜ g

potatoes

3⅝ g

butter (melted)

3⅝ ml

milk (lukewarm)

⅛ tbsp

sunflower oil

7⅛ g

shallots

sea salt

pepper

⅛ tbsp

sunflower oil

7⅛ g

shallots

⅛ tbsp

Madeira wine

10¾ g

chicken hearts

10¾ g

chicken livers

sea salt

pepper

pot
potato masher
frying pan
cooking spoon
bowl

Next, prepare the filling. For the egg-spring onion filling, mix the hard-boiled eggs (peeled and finely chopped) with the spring onions (finely chopped) and the dill (including the stems, finely chopped) and season with salt. For the potato filling, cover the potatoes (peeled and diced) with cold water in a pot, salt generously, bring to a boil and cook for 15 minutes until they can be easily pierced with a knife. Drain and carefully mash with butter (melted) and milk (warm). Heat the sunflower oil in a pan and fry the shallots (diced) in it for about 10 minutes, until they are soft and appetizingly brown. Mix into the potato mixture and season to taste. For the heart and liver stuffing, heat 1 tablespoon of sunflower oil in a frying pan and sauté the shallots (cut into strips) over moderate to high heat until they turn golden-yellow. Deglaze with the Madeira and let the liquid boil until it is almost completely evaporated. Remove the shallots from the pan. Heat the remaining tablespoon of oil and fry the chicken hearts over moderate to high heat for 5 minutes, stirring occasionally until they begin to color. Add the livers, season well, and fry over moderately high heat for another 5 minutes. Reduce the heat, add the shallots back to the pan and cook, covered, for another 7 minutes. Let it cool in a bowl, then chop.

Step 5/ 6

Dust the work surface generously with flour and roll out the dough pieces into patties 10 cm in diameter. Place about 1 tablespoon of filling in the center of each, fold the dough into a semicircle and press the edges firmly. Turn the patties over so that they rest with the seam on the work surface and gently flatten them with your hand.

Step 6/ 6

frying pan (large)
slotted spoon
paper towels

Heat the sunflower oil in a large frying pan until it is hot and fry the pyrischky in batches for 3 minutes on each side until golden brown. Reduce the temperature slightly if they get too dark. Drain the pyrischky on paper towels and serve immediately instead of bread with soup or as a snack.

Enjoy your meal!
More delicious ideas for you