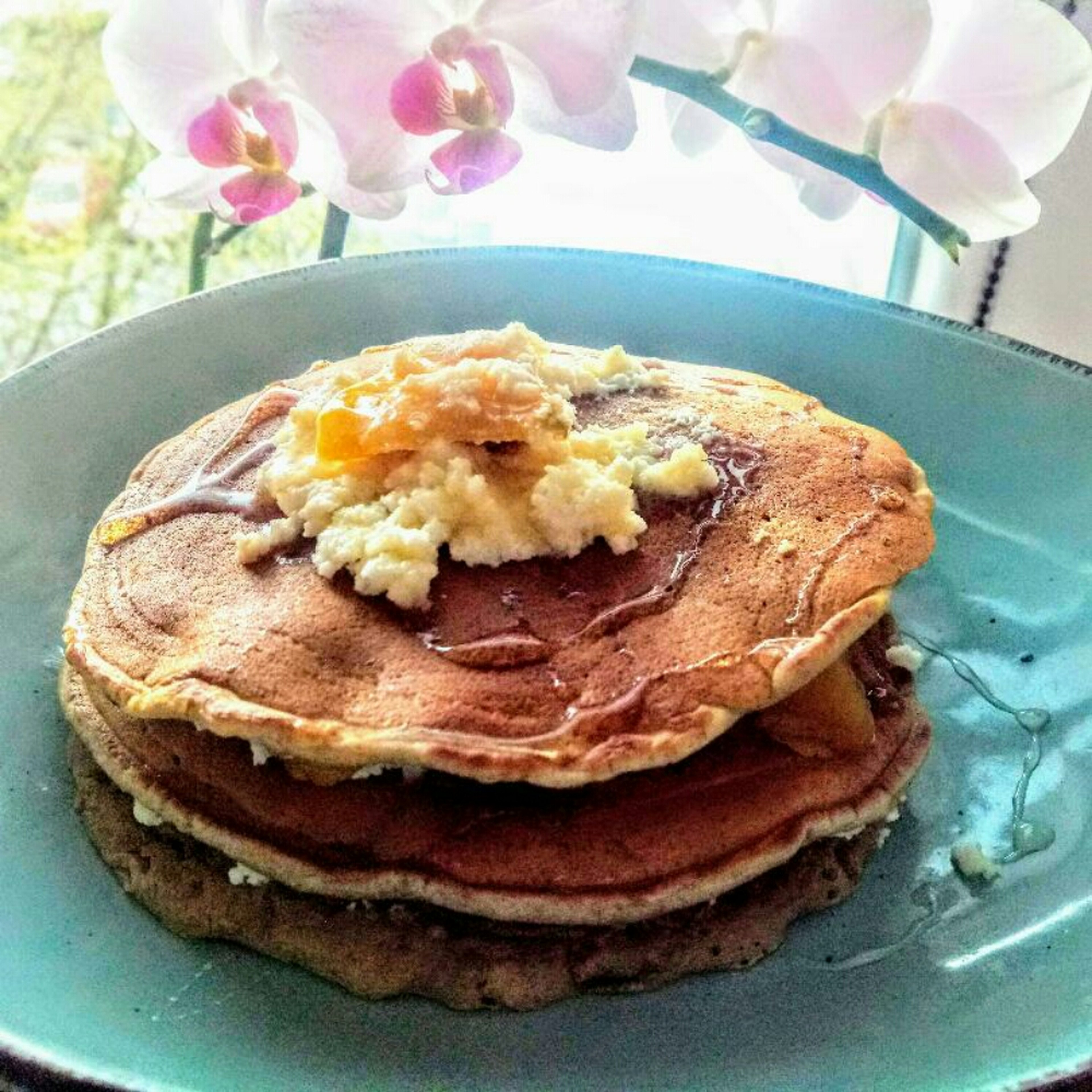 Sugar free ( American ) pancakes
"I apparently can't have sugar anymore so my husband wanted some pancakes so I figured I couldn't have some as they do it with sugar around here and not thick but really thin . Wich I guess it's nothing I like 😀,so I said well here we go ,I want pancakes but healthy pancakes and then my mind started thinking . Hope u like it ( ps.after they cool down are also great to eat ,they taste like a soft biscuit )!"
Step 1/ 7

150 ml

sparkling water

½

egg

1 tbsp

grape sugar

½

orange juice

pour the water into a bowl ,add egg and the juice from one orange and the grapes sugar and stir

Step 2/ 7

1 pinches

ground cloves

1 pinches

ground cinnamon

½ tbsp

baking soda

flour

mix the other dry ingredients and stir ,the flour quantity is aproximate because it depends on the water but try and add a bit of flour mixed with the spices and baking soda and if there's a need add more flour until u get a perfect pancake batter ,maybe a bit thicker than the usual batter because u need the pancakes to be thick and fluffy( add some oil to the batter ,let's say 2,3 spoons and mix well )

Step 3/ 7

let the batter rest at room temperature for few hours ,it depends on how much u crave the pancakes 😏 ,if u can't wait I guess no problem

Step 4/ 7

heat your pan topped with a bit of oil ( your favorite ) and make sure it is hot enough ( I like to take a paper towel and grease the pan so this way u make there not to much oil ,save the paper towel for later as u will need to grease again every 3,4 pancakes ) and ur ready to pour your batter as much as u like ( it really depends how big or how thick u want your pancakes )

Step 5/ 7

mix your cream cheese with the vanilla extract and some grapes sugar ( or any other that u fancy ) and make a paste

Step 6/ 7

take 3,4 pancakes and fill them with the cheese paste and mango bits( u can replace the fruit with what u like or take it out if u don't like it , or change the topping with whatever u crave ) and at the end topp some honey over

Step 7/ 7

time to sit down and enjoy thosetasty , healthy pancakes 😏

Enjoy your meal!
More delicious ideas for you