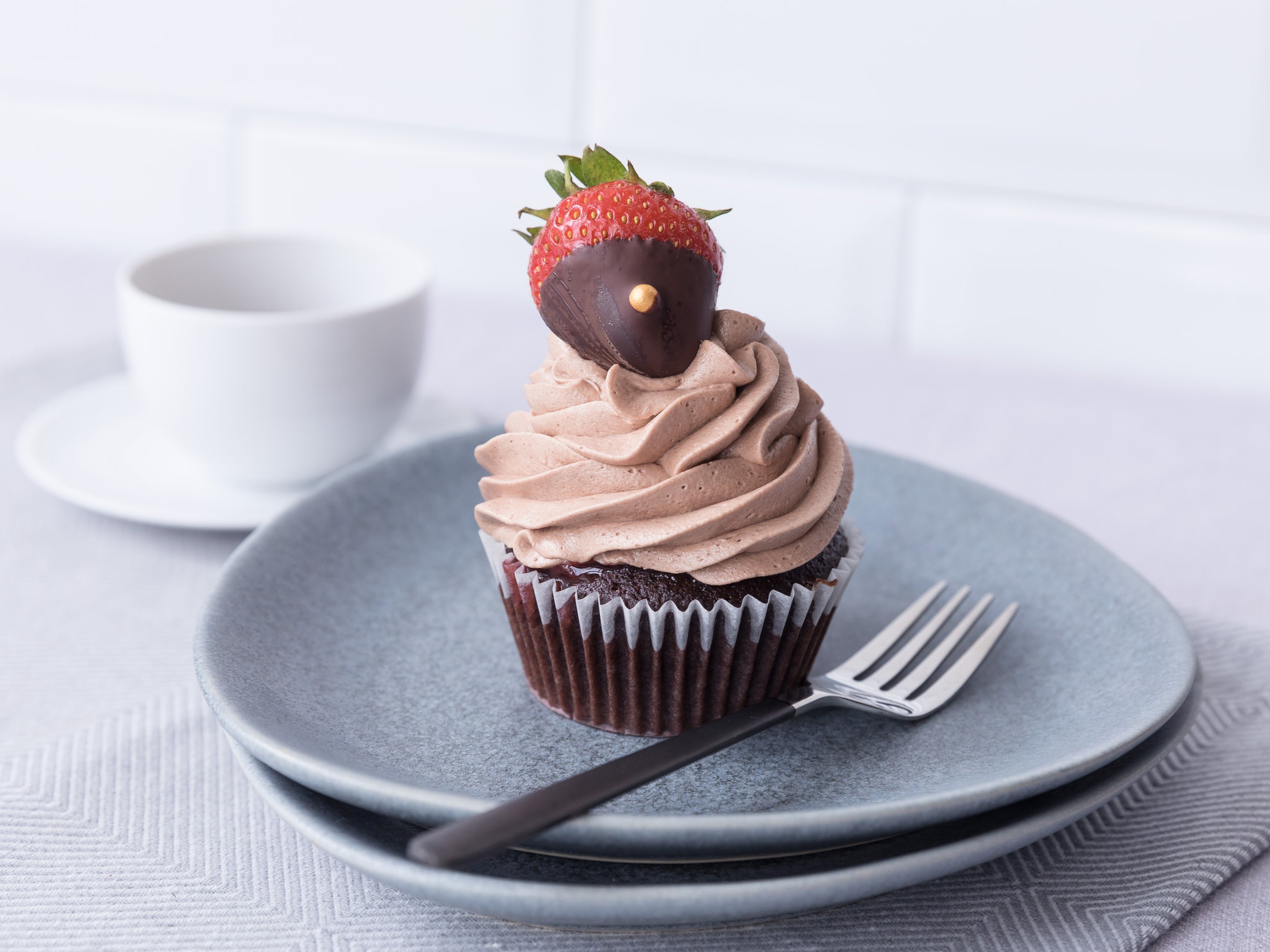 Strawberry-filled cupcakes with chocolate-covered strawberries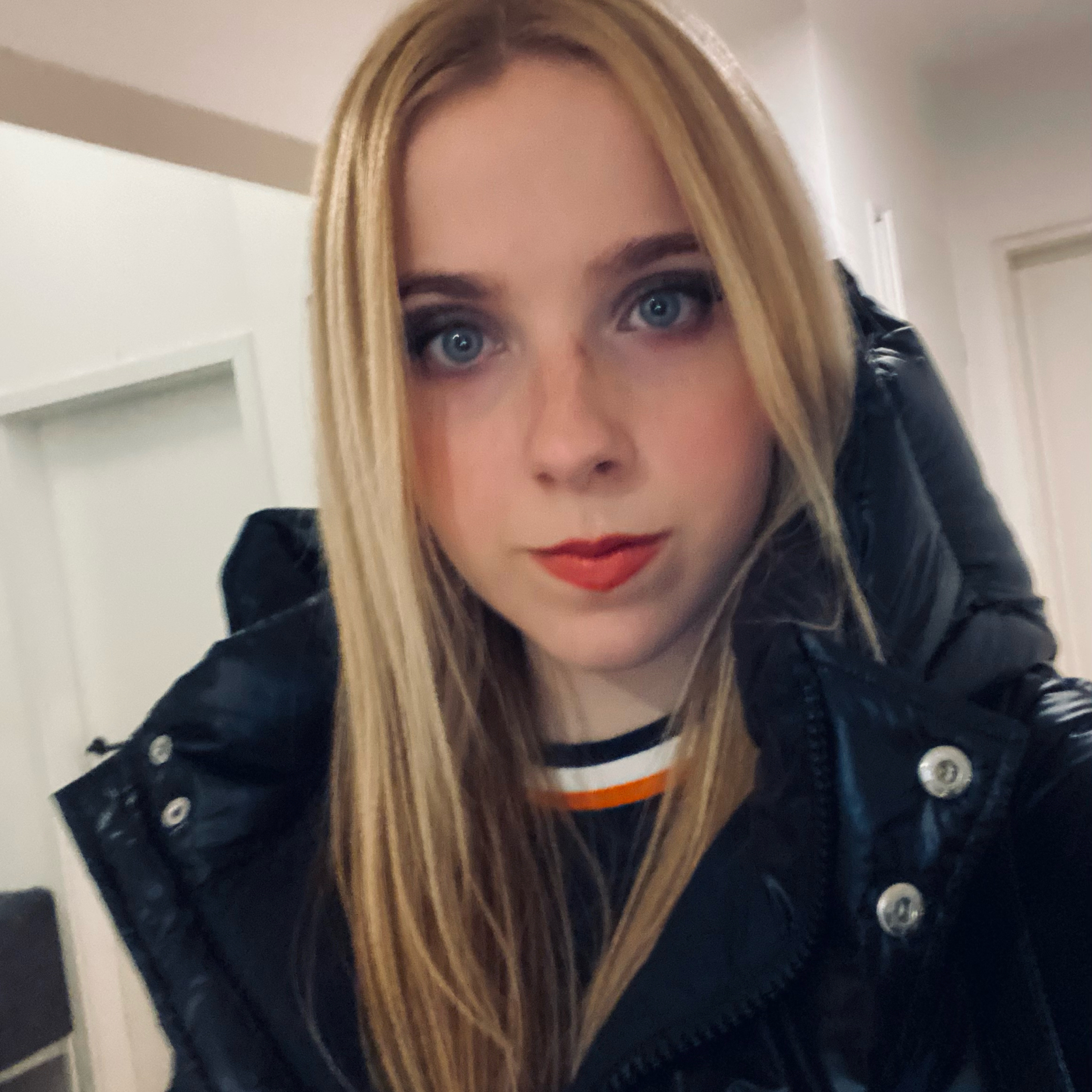 "I enjoy baking in my spare time and I now also cater for auctions at an auction house. Recently, I served these cupcakes there, and I hope you'll enjoy them as much as the visitors! "
Ingredients
bittersweet chocolate (divided)
Utensils
oven, muffin tin, sieve, bowl, muffin liners, stand mixer with whisk, pot, wooden skewer, wire rack, cutting board, knife, 2 bowls, heatproof bowl, decorating tip, piping bag
How to melt chocolate
Homemade vanilla sugar
How to assemble a piping bag
Homemade fresh strawberry jam
How to pipe using a star tip
How to set up a double boiler
Step 1/ 7

30 g

flour

6⅔ g

unsweetened cocoa powder

⅜ tsp

baking powder

30 g

sugar

⅛ tsp

salt

oven
muffin tin
sieve
bowl
muffin liners

Preheat the oven to 175°C/350°F. Line muffin tin with muffin liners. To make the chocolate batter (recipe adapted from Linda Lomelino), combine flour, unsweetened cocoa powder, baking powder, sugar, and salt in a bowl and sift.

Step 2/ 7

12½ g

butter

⅛

egg

⅛ tbsp

vanilla sugar

16⅔ ml

hot water

25 ml

milk

stand mixer with whisk
pot
bowl
wooden skewer
wire rack

Melt part of the butter. Beat egg in a bowl, add melted butter, part of the vanilla sugar, hot water, and milk, and stir well to combine. Add sifted flour mixture and whisk to combine. Divide the batter between the muffin liners and bake for approx. 20 min. at 175°C/350°F (insert a wooden skewer, cupcakes are done if it comes out dry). Briefly cool down in the muffin tin, then move cupcakes to a wire rack to cool completely.

Step 3/ 7

16⅔ g

strawberry jam

16⅔ g

strawberries

⅛ tbsp

vanilla sugar

To prepare the strawberry filling, briefly heat up the strawberry jam in a pot, then set aside. Chop part of the strawberries and mix into the jam with the remaining vanilla sugar.

Step 4/ 7

16⅔ g

bittersweet chocolate

46⅔ g

confectioner's sugar

40 g

butter

⅛ tbsp

heavy cream

To prepare the chocolate buttercream (recipe adapted from "Backbube" blog), chop half of the bittersweet chocolate, then set up a double boiler to melt the chocolate. Set aside to cool down. Sift the confectioner's sugar. Cream the remaining butter in a stand mixer for approx. 5 min. Add the melted chocolate and sifted confectioner's sugar to the stand mixer and beat until fluffy. Add heavy cream and beat again to incorporate.

Step 5/ 7

16⅔ g

bittersweet chocolate

66⅔ g

strawberries

sprinkles for garnish

To make the chocolate-coated strawberries, chop the remaining bittersweet chocolate and melt using the double boiler. Dip the remaining strawberries into the melted chocolate (fully cover bigger ones, and partially cover smaller ones). Rest for approx. 1 min., then garnish with sprinkles of your choice. Set aside to harden, then refrigerate until you assemble the cupcakes.

Step 6/ 7

To assemble the cupcakes, use a small spoon to hollow out the middle of the cupcakes, then fill with strawberry jam mixture. Fill chocolate buttercream into a piping bag, and pipe onto the cupcakes with a star-shaped decorating tip. Garnish with the chocolate-covered strawberries. Enjoy!

Step 7/ 7

Want to share your recipe with our awesome community? Each week, we'll be choosing your best recipes to test cook, photograph, and publish on Kitchen Stories for the world to see! Simply email us at community@kitchenstories.io and send us your recipe.

Enjoy your meal!
More delicious ideas for you