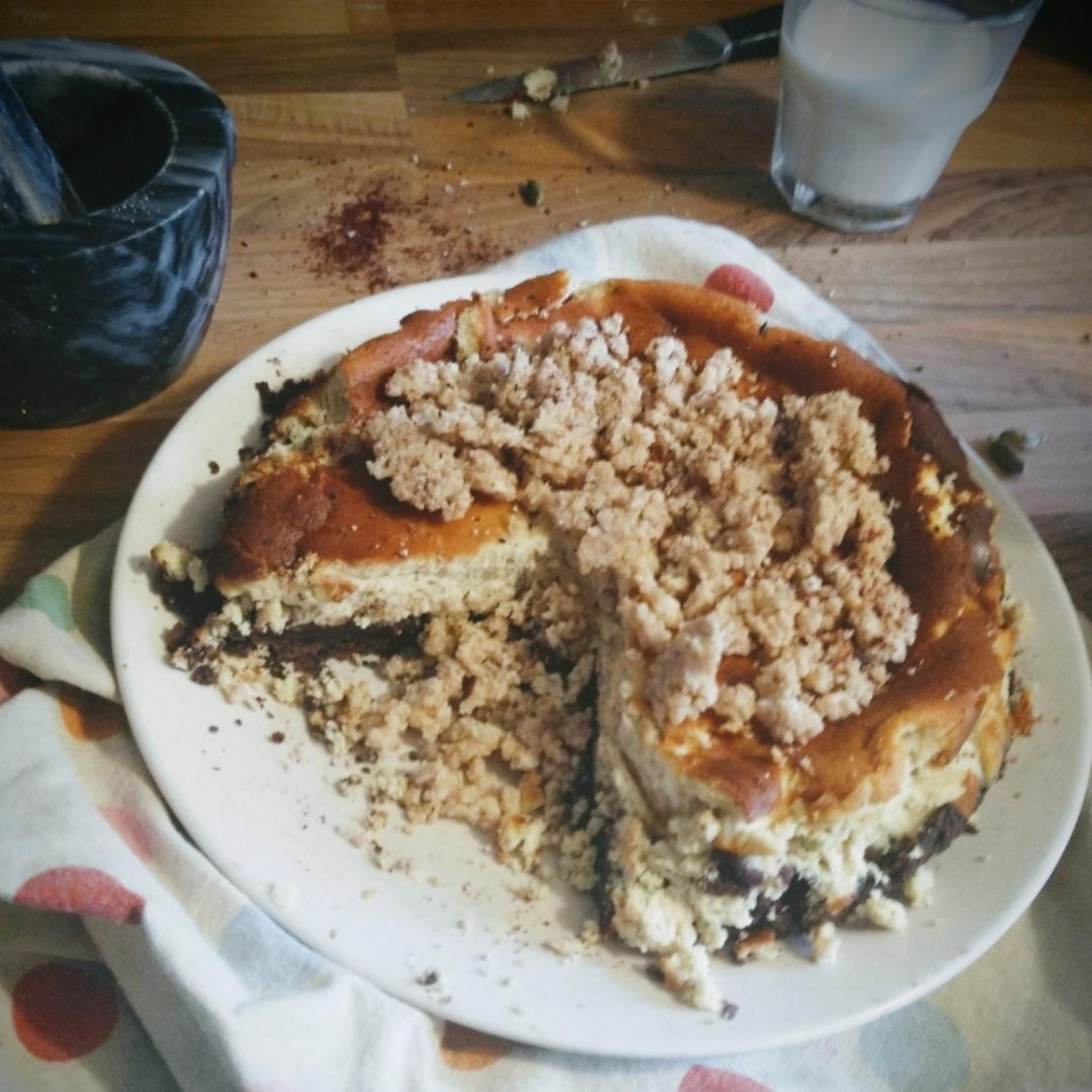 Spiced ricotta cake with coconut sumac granules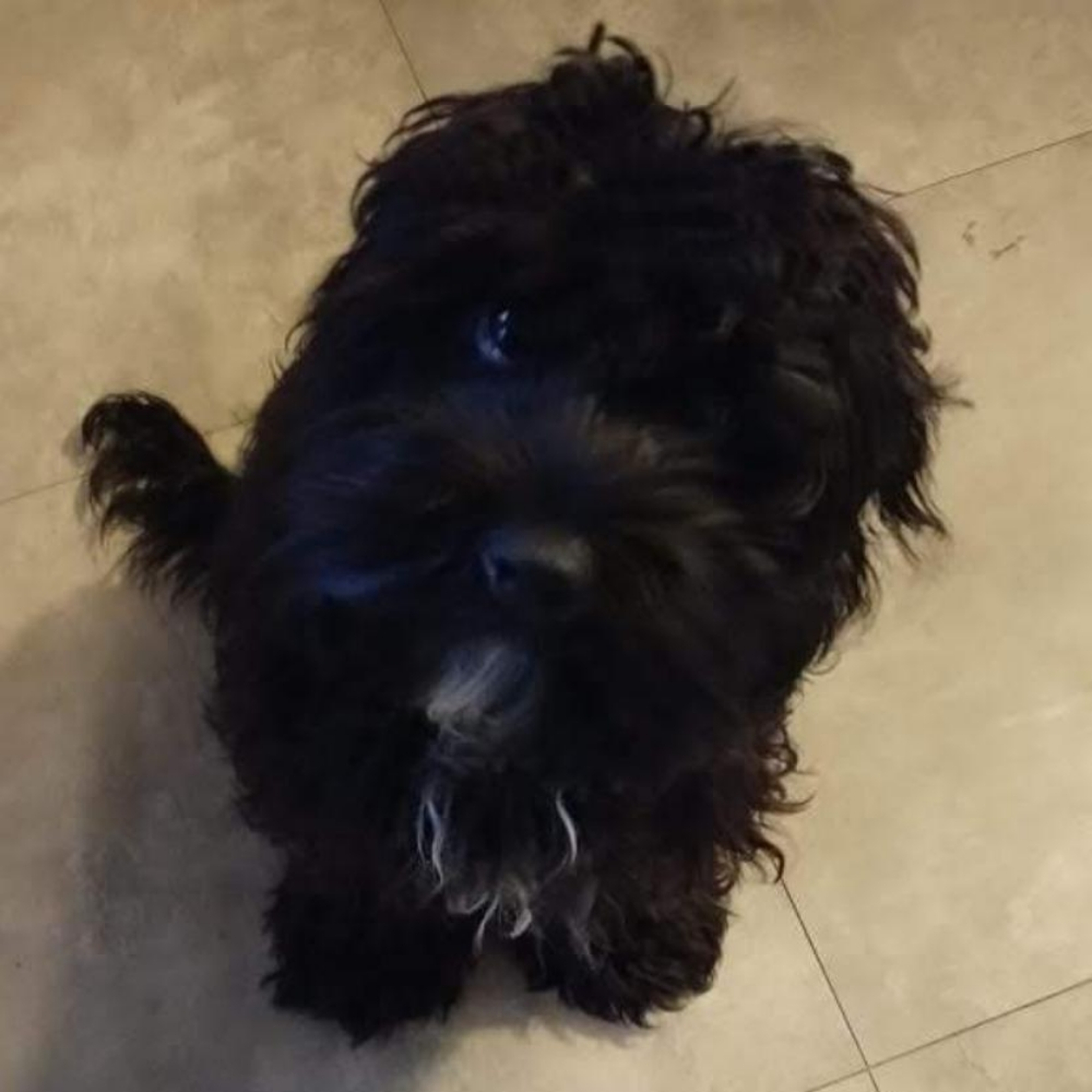 "Chocolatey, creamy, sweet, spiced, decadent - what's not to love! The delicate earthiness and pronounced citrus notes of sumac pair perfectly with that fatty, rich cheese and rich chocolate base. The coconut crunch just makes it even more irresistible. Of course, you can top it with whatever you like - fresh fruit, more sumac or even black pepper! But don't use low fat cheese, whatever you do."
Utensils
dough scraper (optional), 3 bowls, plastic wrap, hand mixer with whisk attachment, mortar and pestle, rolling pin, springform pan, saucepan, spoon, whisk
Step 1/ 6

37½ g

salted butter

35 g

plain flour

10 g

unsweetened cocoa powder

½ tbsp

caster sugar

dough scraper (optional)
bowl
plastic wrap

Get started with the chocolate pastry. Preheat the oven to gas 4/180°C/160°C fan. Mix the flour and cocoa powder together. Add the butter, and rub it in using your fingers or a dough scraper. Stir in the sugar. Wrap in cling film, and put in the fridge whilst you get on with the filling.

Step 2/ 6

62½ g

ricotta cheese

62½ g

mascarpone cheese

¾

eggs

hand mixer with whisk attachment
bowl

Using and electric whisk, whisk the ricotta and mascarpone together for 3 minutes. Add the eggs, one by one, adding the next egg after the previous has been fully incorporated. After you have added all the eggs, whisk for 5 minutes.

Step 3/ 6

31¼ g

golden caster sugar

⅛ tsp

ground nutmeg

⅛ tsp

ground turmeric

½ tsp

sumac, seperated

¾

cardamom pods

¼ pinch

salt

Add the sugar, little by little, until fully incorporated and lump-free. Crack open the cardamom pods and grind the seeds in a pestle and mortar. Add it to the mixture, along with the nutmeg, tumeric and a tsp of the sumac, as well as the salt. Whisk for a further 2 minutes.

Step 4/ 6

rolling pin
springform pan

Roll out the pastry and transfer to a lined springform pan. If this is difficult, just press it evenly into the pan, being careful not to overwork it. Bake for 25-30 minutes. Set aside to cool. When it comes out of the oven it may be soft, but it will harden as it cools.

Step 5/ 6

12½ g

coconut oil

10 g

demarara sugar

zest of 1 lime

zest of 1/2 an orange

Melt the coconut oil in a saucepan over a medium low heat. Add the sugar, and switch to using a whisk. Bring to a gentle simmer and keep whisking until the sugar forms clumps - the coconut oil should be separated from the sugar. Stir through the tsp remaining sumac and citrus zest. Set aside to cool for around 30 minutes until the coconut oil is mostly hardened. Once it is, give it a stir to incorporate everything together and place in the fridge until use.

Step 6/ 6

Meanwhile, pour the ricotta mixture over the cooled base. Bake in the oven for 40-50 minutes, or until lightly golden. It should jiggle in the pan when shaken. Let cool in the oven for a few hours until warm to touch, then remove from the oven and leave to cool overnight. Top with the coconut sumac granules - stir them again once out of the fridge, you may need a fork - and anything else you want, such as fresh fruit or even black pepper.

Enjoy your meal!
More delicious ideas for you