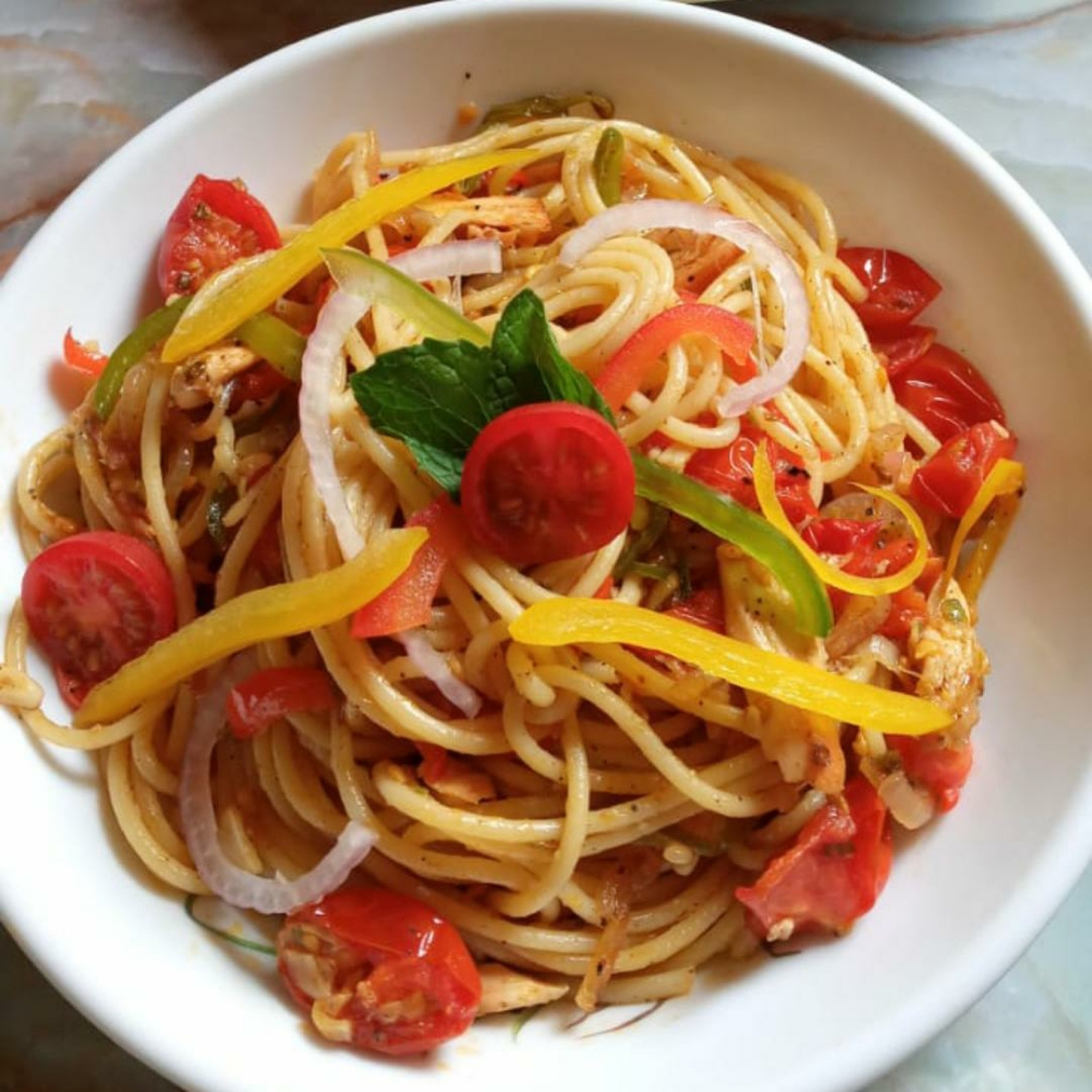 Spaghetti with Roasted Tomatoes, Bell peppers & Garlic
"Give typical spaghetti a punch of intense tomato flavour. I love throwing my favourite ingredients together to make a delicious, fresh and flavour packed spaghetti dish. I started with spaghetti, lots of garlic, then i added some juliennes of all 3 colour bell peppers and crisp slices of onion and crushed chillies to mix, And finished it off with the show stopper, roasted tomatoes."
Utensils
baking dish, 2 knives, oven, 1 saucepan, chopping board, 1 nonstick pan, 1 wooden spoon, 1 tongs (for serving), 2 plates (for serving), 2 forks (for serving)
Step 1/ 3

150 g

cherry tomatoes

salt (for sprinkling)

1 tsp

black pepper powder

5 cloves

garlic

2 tsp

olive oil

Halve the cherry tomatoes and place in a baking tray along with 5 cloves of garlic, sprinkle salt, black pepper powder and 2 tsp olive oil and toss well. Note: The the cut side of the tomato should be facing upwards as shown in the picture. Roast in an oven at 180°C for 20 mins. Remove from the oven and set aside.

Step 2/ 3

1

yellow bell pepper

1

red bell pepper

1

green bell pepper

1

onion

6 cloves

garlic

olive oil (for coating)

1200 ml

water

150 g

spaghetti

1½ tbsp

salt

5

green chilis

1 saucepan
1 knife
chopping board

Take 1200 ml water in a saucepan, add 1 1/2 tbsp salt and keep for boiling. Meanwhile Slice onion. Make juliennes of bell peppers. Finely chop 6 cloves of garlic. Crush green chillies and set aside. Once the water boils Add in the spaghetti and cook for 9 mins or till al dente. Drain the water and run the spaghetti underneath cold water to stop from futher cooking, coat with olive oil and set aside.

Step 3/ 3

2 tbsp

olive oil

1 sprig

mint (for garnish)

1 nonstick pan
1 wooden spoon
1 tongs (for serving)
2 plates (for serving)
2 forks (for serving)

Heat olive oil in a pan. Add juliennes of bell peppers, onion, green chillies and chopped garlic. Saute well. Add in the roasted tomatoes along with its juice. Mix well. Note: You can also add in some leftover roasted or boiled chicken (Completely Optional). Add Boiled Spaghetti and toss well till everything is combined. Turn off the flame and Serve immediately garnished with mint leaves. Your flavour packed spaghetti is ready within 40 mins!!!!

Enjoy your meal!
More delicious ideas for you