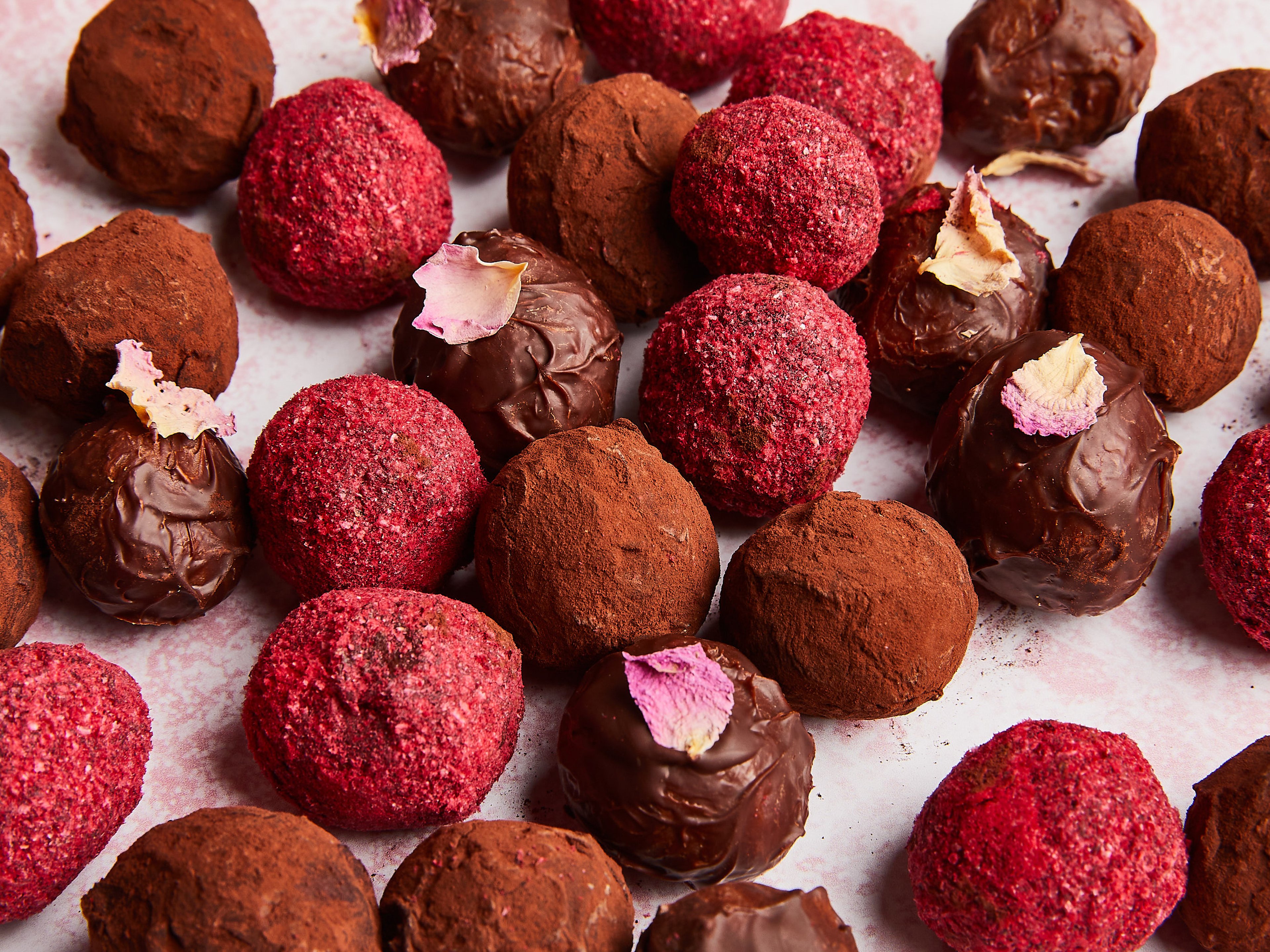 Simple Earl Grey truffles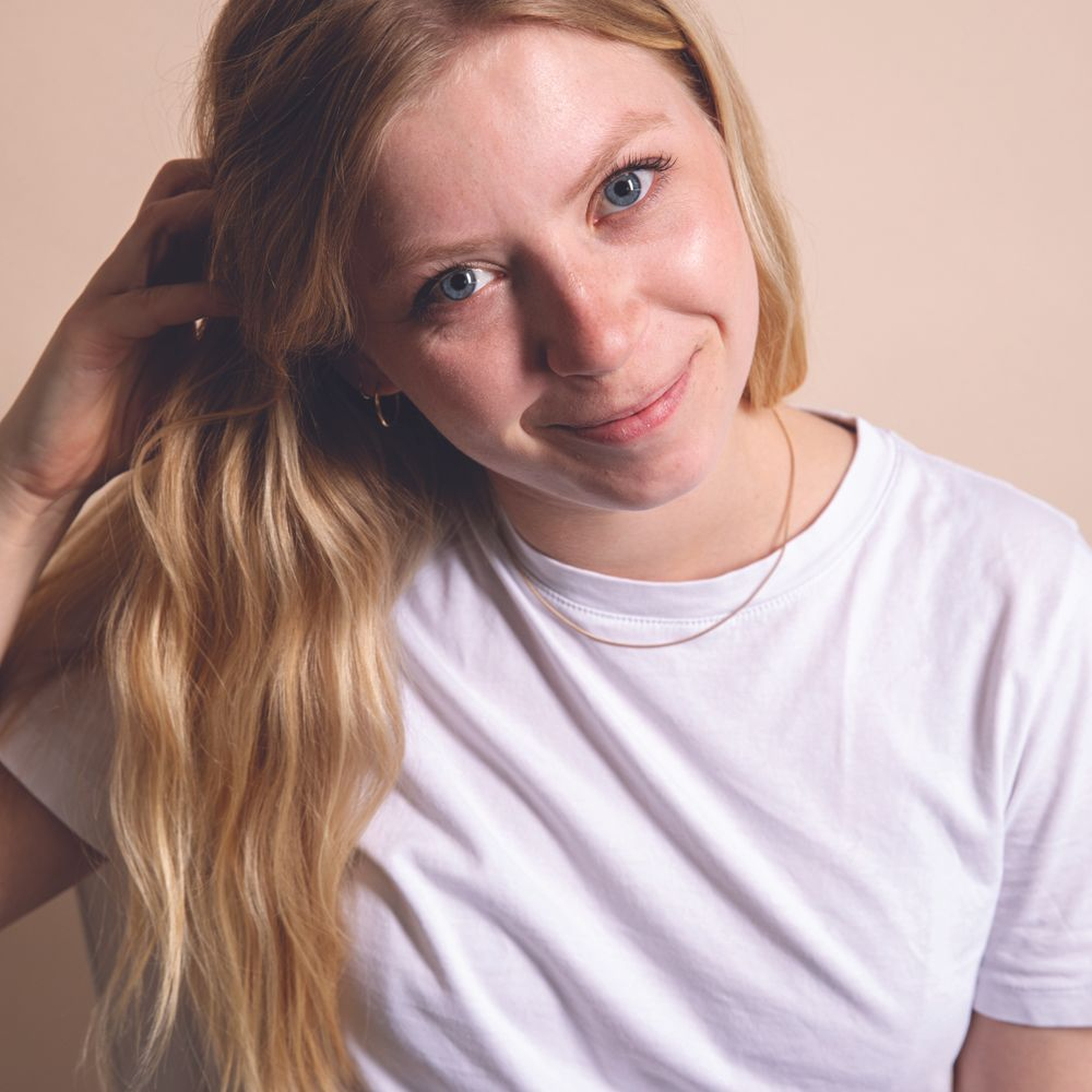 "These super cute chocolate truffles are a loving gesture for anyone on Valentine's Day, but can also be gifted anytime! They require only 3 ingredients to make, and can be adjusted to your own taste with various garnishes."
Ingredients
butter (room temperature)
Utensils
saucepan (small), empty tea bag, pot (small), 2 bowls, fine sieve, rubber spatula, immersion blender, food processor, baking dish, plastic wrap, cutting board, knife, disposable gloves, 2 plates
How to temper chocolate
How to make ganache
How to set up a double boiler
Step 1/ 5

7¾ g

cream

⅛ tbsp

Earl Grey tea

saucepan (small)
empty tea bag

In a small saucepan, heat the cream over medium heat. Add Earl Grey tea into a tea bag and let brew in the hot cream for approx. 10 min. Remove the tea bag and set aside.

Step 2/ 5

16⅔ g

milk chocolate

3⅓ g

butter (room temperature)

4½ g

freeze-dried raspberries

pot (small)
bowl
fine sieve
rubber spatula
immersion blender
food processor

Melt milk chocolate over a water bath (or in the microwave). Then pour approx. ⅓ of the cream through a sieve into the melted chocolate. Stir in carefully using a rubber spatula, then gradually fold in the rest of the cream. Stir in the butter and let sit for approx. 5 min. Use an immersion blender on low to gently blend the butter into the chocolate mixture. Keep the blender at the bottom of the bowl so no air is mixed in and the mixture stays nice and smooth. Roughly blend the dried raspberries in a food processor and fold half of it into the ganache.

Step 3/ 5

Line a baking dish with plastic wrap and spread the ganache smoothly and evenly into the dish. Transfer to the refrigerator to harden for approx. 2 hrs., or overnight.

Step 4/ 5

13⅓ g

bittersweet chocolate

cutting board
knife
disposable gloves
bowl

Invert the ganache onto a clean cutting board and cut into squares (approx. 2x2 cm/ ¾-in). Use gloves to shape each into a round ball, place on a plate, and refrigerate again for approx. 30 min. In the meantime, melt some of the dark chocolate over a water bath. Once melted, add in the remaining chocolate, let sit briefly, and stir gently to temper the chocolate. This way, as it cools down, the chocolate will set nicely firm and shiny.

Step 5/ 5

⅞ g

unsweetened cocoa powder

⅛ tsp

edible rose petal

Add cocoa powder to one plate and remaining powdered raspberries to another plate. Coat each truffle ball in the melted chocolate and then roll it in either cocoa powder or powdered raspberries. You can also coat some of the pralines in chocolate only and garnish with dried rose petals. Leave to dry and enjoy yourself or give as a gift wrapped in sachets or clean jam jars. Enjoy!

Enjoy your meal!
More delicious ideas for you