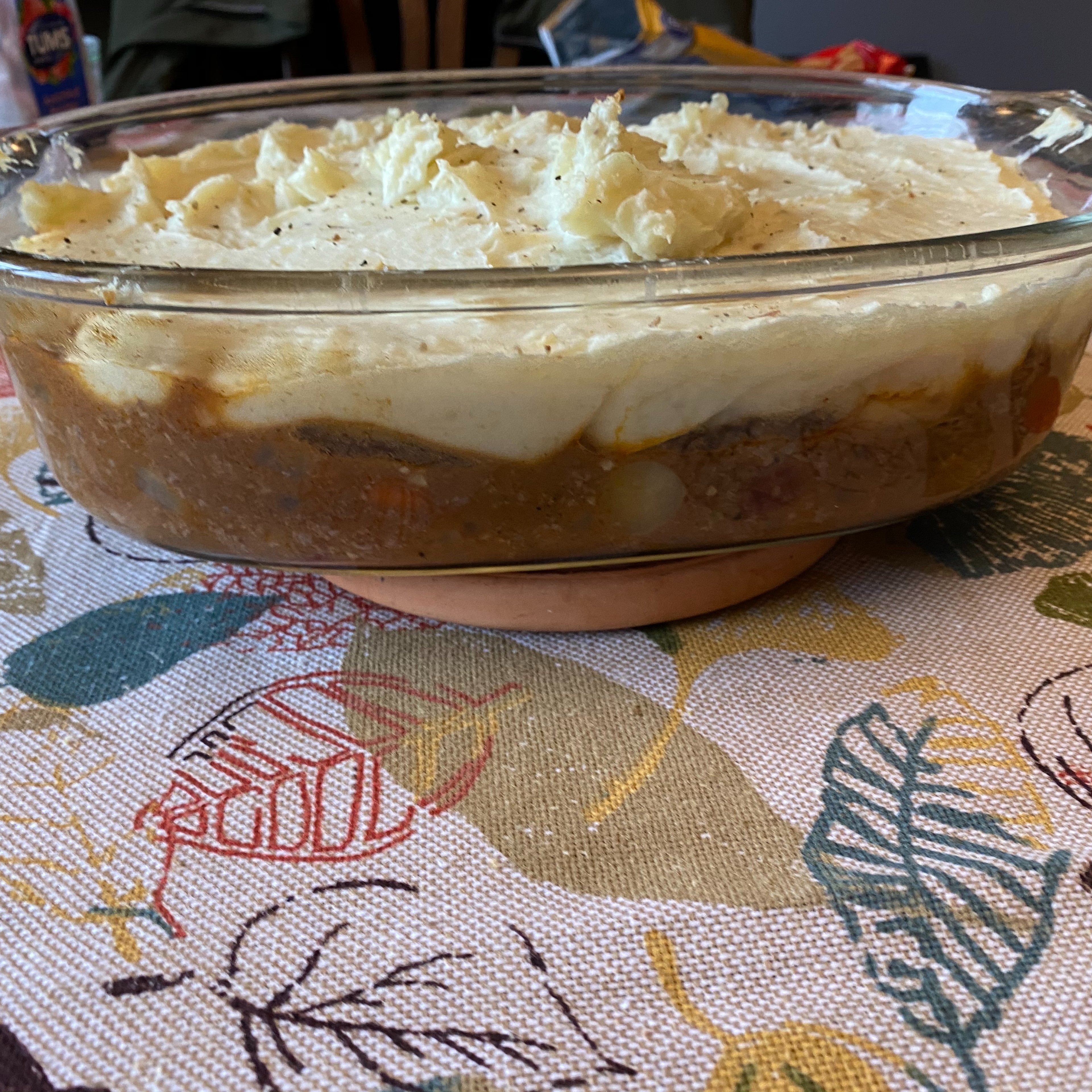 Shepherd pie
"A requested from mom (Susan Hart-Gallagher). An Irish woman who wanted an Irish dish."
Utensils
saucepan, pot, whisk, stand mixer with paddle, oven, ovenproof pan
Step 1/ 7

⅓ lb

potato (peeled)

olive oil

Peel potatoes and place them in cold water. Set on stove and bring to boil. While potatoes boil, heat up olive oil in a sauce pan.

Step 2/ 7

1 strips

celery

⅓ clove

garlic

⅓ tbsp

tomato paste

⅓

onion

At celery and onion to the pan and begin to cook them for roughly 5 minutes or until the onions are soft and translucent. Then add, garlic and tomato pasta.

Step 3/ 7

⅔ tbsp

flour

⅔ tbsp

sherry

The pan must be deglazed, using sherry, to scrape all the brown and crushed areas of the pan. After add flour and stir until the flour has completely dissolved.

Step 4/ 7

⅜ cups

beef stock

⅓ tbsp

Worcestershire sauce

Add the beef stock/broth with the (W) sauce and stir until the sauce is no longer thick with any lumps. 

Step 5/ 7

⅓ lb

ground beef

1

carrots

salt

pepper

For here, add the raw beef and carrots. Cover the pan with a lid and let sit for 10 minutes to cook the meat thoroughly.

Step 6/ 7

Check on the potatoes, when soft, add to stand mixer and turn on low. Mix milk and egg yolk together adding slowly the mixer is on.

Step 7/ 7

Add the meat filling to any cookware dish. Use a piping bag to pipe on the mash potatoes. Let sit in the oven for 30 minutes on 250f

Enjoy your meal!
More delicious ideas for you