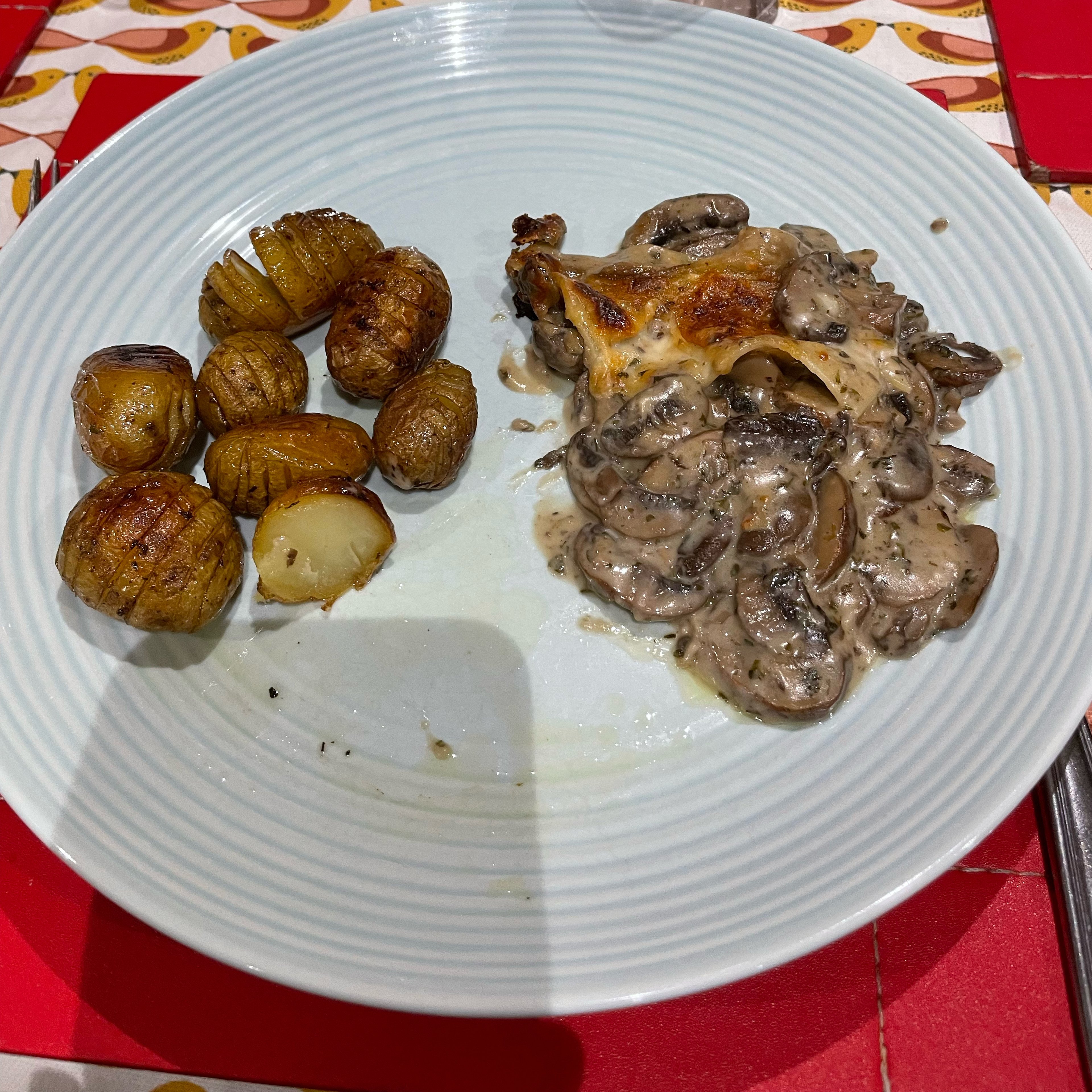 Mushroom Gratin Lasagna and Roasted Hasselback Potatoes
Ingredients
50 / 50 mix of olive oil and sunflower oil
Step 1/ 10

Preheat your oven to 180*C/ Fan 160*C/ Gas Mark 4.

Step 2/ 10

Prepare the potatoes, using 2 wooden spoons lay them side by side and put a potato in between them and thinly slice.

Step 3/ 10

Prepare the mushrooms, slice all of the mushroom evenly and put to the side.

Step 4/ 10

50 / 50 mix of olive oil and sunflower oil

In a large roasting tray put in the oil and put in the oven for 10 min to heat up the oil.

Step 5/ 10

salt and pepper

1 tbsp

rosemary

½ tbsp

basil

Once heated up put in the potatoes and season with salt and pepper, rosemary and some of the basil and cook for 1hr 20min turning every 15 - 20 min.

Step 6/ 10

In a large casserole dish/frying pan melt 60 millilitres of the butter on a high heat. Once melted add the mushrooms and sauté until tender.

Step 7/ 10

62½ ml

dry white wine

2⅞ tbsp

flour

80 ml

sour cream

⅛ tsp

ground nutmeg

In a bowl add the sour cream, 2 tablespoons of the flour, salt, pepper and nutmeg and combine until smooth. Stir into the mushroom and simmer for 6 min. Then add 60 g of the cheese and wine and stir until melted.

Step 8/ 10

100 g

cheddar cheese

225 ml

milk

In a saucepan melt the butter and flour. Gradually stir in the milk, stirring constantly. Continue stirring until the sauce has thickened, turn of the heat and add 100g of the cheese.

Step 9/ 10

Add the mushroom mix into a square oven proof dish.

Step 10/ 10

½ tbsp

Fresh parsley

3 sheets

Lasagna

Put a layer of lasagna on top of the mushrooms and add the cheese sauce, sprinkle the rest of the cheese on top as well as the parsley. Cook for 30 min in the oven and serve!

Enjoy your meal!
More delicious ideas for you