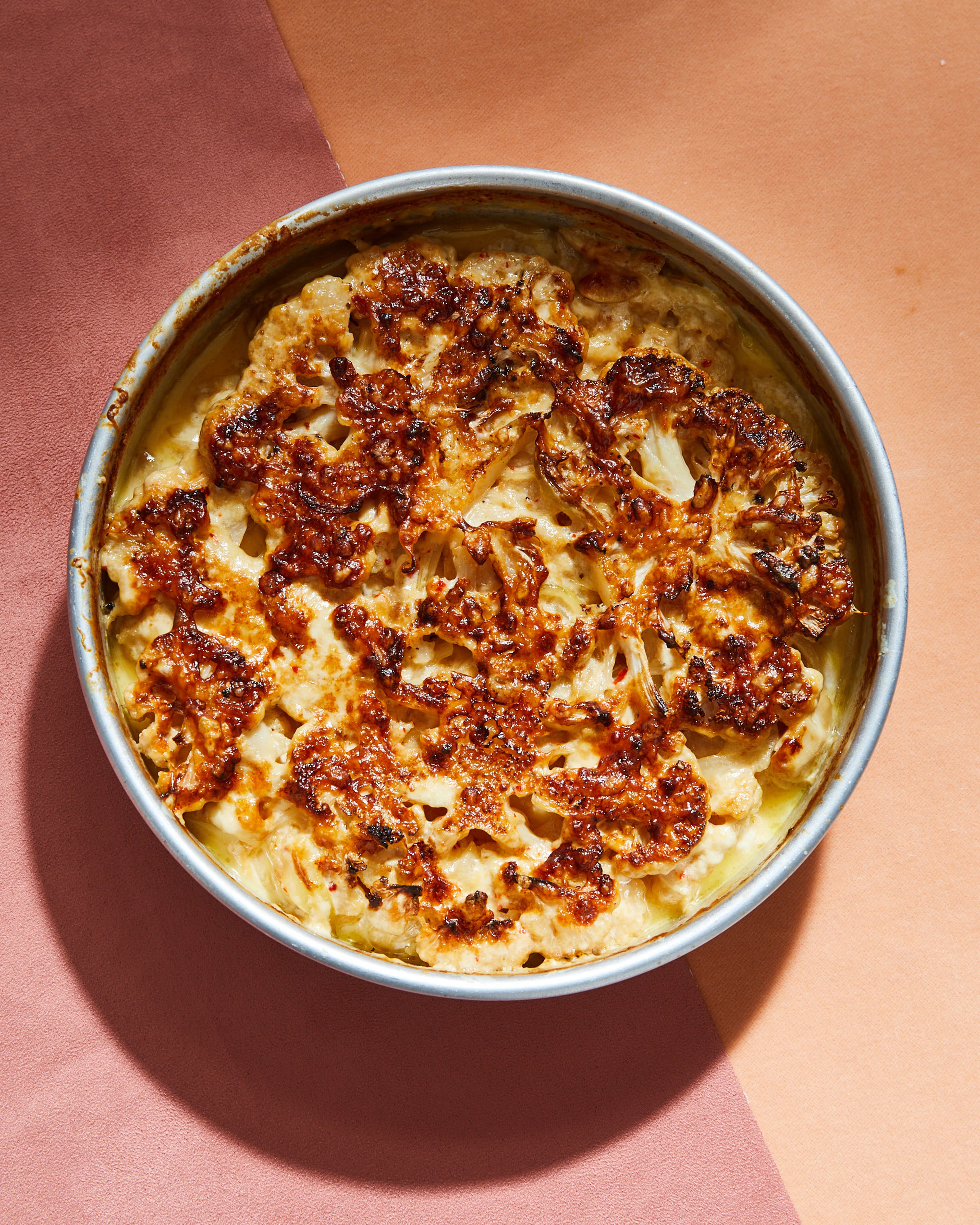 Creamy Cauliflower and Onion Gratin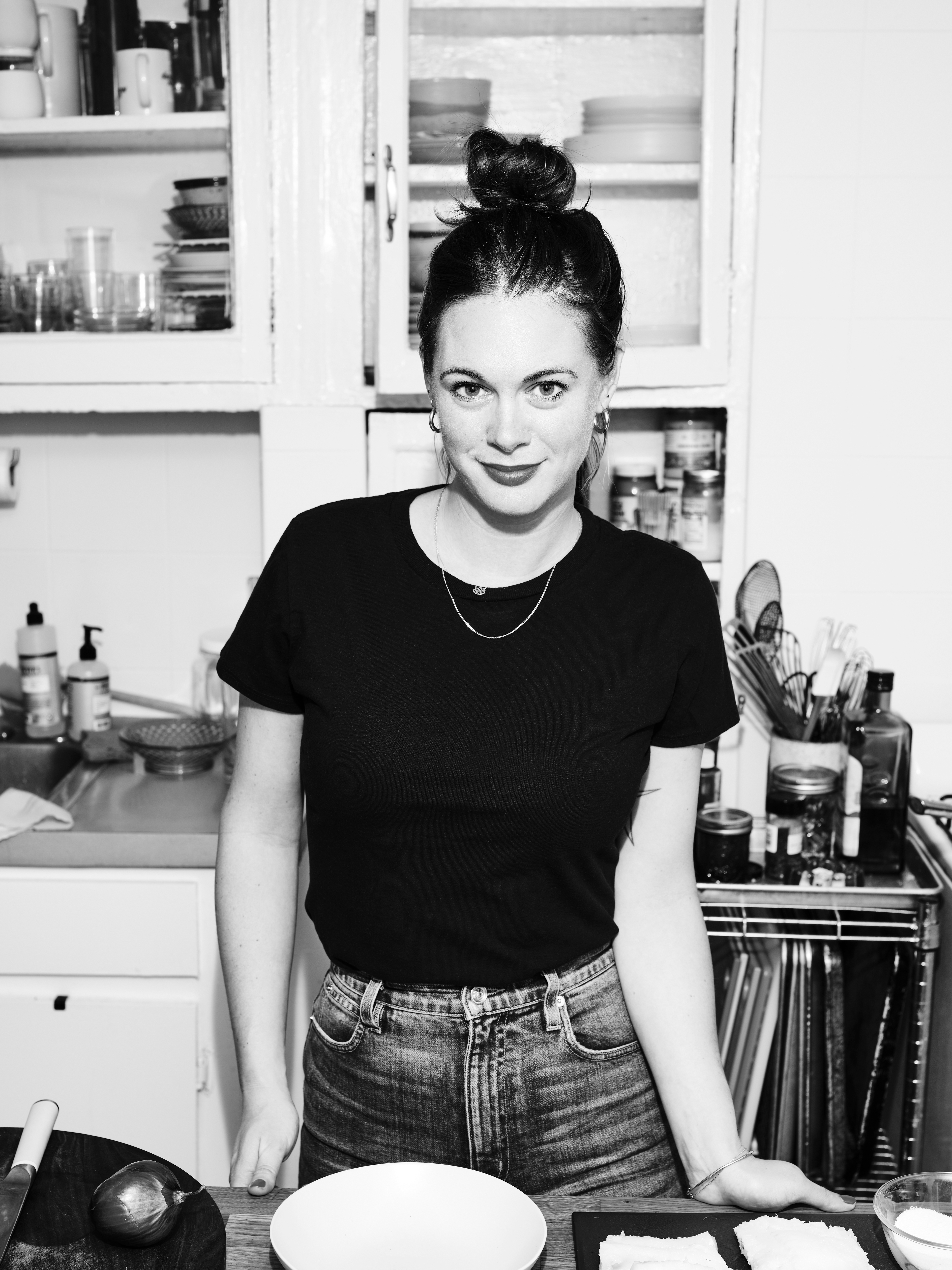 "I am one of those people who'd never entertain the idea of replacing carbs with vegetables à la zoodles or cauliflower rice, but once this dish was born, I realized I was essentially using cauliflower as a replacement for pasta in this pasta- less version of what reminds me of macaroni and cheese. Believe me, I, too, was horrified, but it was so good that I did not and could not care. This gratin is the easiest and most delicious way to make superlatively tender, creamy, cheesy cauliflower without any additional steps (no bechamel, roux, or other fancy sauce required). Bake the cauliflower, covered, in the cream, just to cook it through and get it tender, then uncover it so the cream can reduce, becoming thick and rich, and the cheese can get all browned and crispy. It may seem like a crazy thing to do, but I left the bread crumbs optional for two reasons. One, because without them, it is a really great time for people who don't indulge in gluten to get on the gratin train (which is usually either bolstered with a roux made from flour, covered in nonnegotiable bread crumbs, or both); and two, I think this gratin is really, really good (and, superficially, more beautiful) without them. So good in fact, I couldn't choose between the two preparations, but would rather saddle you with this Sophie's Choice. Alternatively, make both versions and then decide for yourself. Adapted from Nothing Fancy. Copyright © 2019 by Alison Roman. All rights reserved."
Ingredients
panko breadcrumbs (optional)
Utensils
oven, pot (small), knife, cutting board, baking dish, aluminum foil, bowl
Step 1/ 10

Preheat the oven to 425°F.

Step 2/ 10

62½ ml

cream

15 g

butter

½ cloves

garlic (grated)

flaky sea salt

pepper

Bring the cream, butter, and garlic to a simmer in a small pot over medium heat. Season with salt and pepper and remove from heat.

Step 3/ 10

Slice the cauliflower into -inch-thick slabs (some of the bits will fall away and crumble into tiny florets; this is fine).

Step 4/ 10

⅛

onion

43¾ g

shredded Gruyère cheese

Place the smallest bits of cauliflower on the bottom of a 9-inch pie plate or cake pan (I like the roundness of the pie plates and cake pans, but a 2-quart baking dish of any shape will work). Scatter with some of the onion (very thinly sliced), followed by some of the cheese (Gruyère or white cheddar). Repeat with the remaining cauliflower, onion, and cheese until all of it is used, ending with the cheese.

Step 5/ 10

Pour the cream mixture over (leave the garlic in or remove), followed by a good sprinkle of crushed red pepper flakes, if using.

Step 6/ 10

Cover with aluminum foil and bake until the cauliflower is tender and cooked through, 20 to 25 minutes.

Step 7/ 10

Remove the foil and continue to bake until the top is bubbly and golden and the cream is mostly reduced, another 15 to20 minutes (it will look slightly runny and creamy in the oven but will set and thicken once you take it out of the oven and let it cool a few minutes).

Step 8/ 10

43¾ g

panko breadcrumbs (optional)

¾ tbsp

sesame seeds

1 tbsp

olive oil

If using the bread crumbs (fresh coarse bread crumbs or panko): Now is the time to put them to use. Combine the bread crumbs, sesame seeds (white), and olive oil in a medium bowl (alternatively, just use sesame seeds). Season with salt and pepper.

Step 9/ 10

Scatter the bread crumb mixture (alternatively, just scatter the sesame seeds) over the top and bake until those are deeply and thoroughly crispy and golden brown, 8 to 10 minutes.

Step 10/ 10

Remove from the oven and let cool slightly before serving.

Enjoy your meal!
More delicious ideas for you