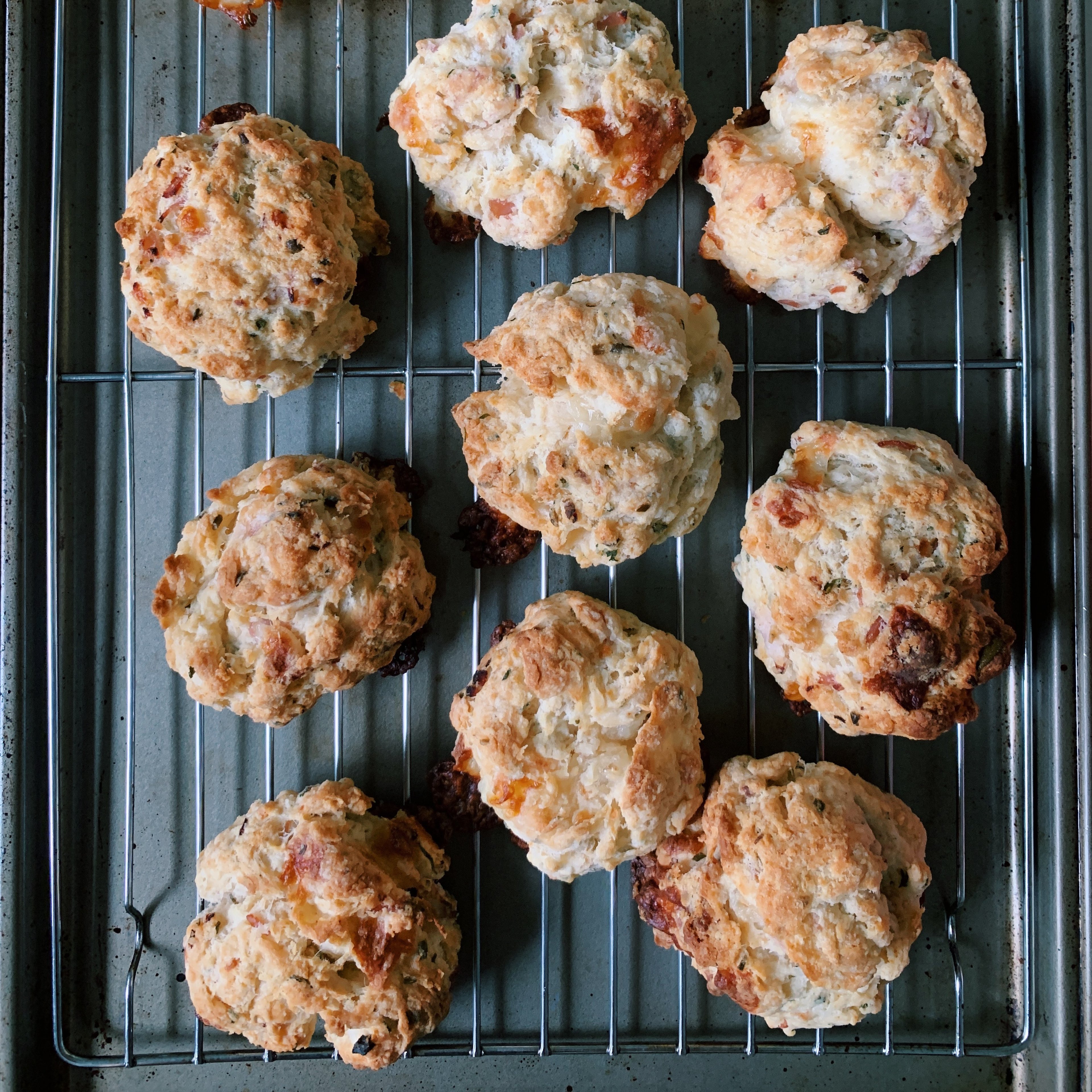 Savoury herby and cheesey scone (British style)
"Savoury and herby cheese scones. The British style scone that is akin to the American biscuit. Layers of flaky and tender light crumb. This is a perfect breakfast or snack. Eat it warm and spread some extra butter."
Step 1/ 11

Preheat oven to 350-375 degrees Fahrenheit depending on how powerful your convection oven is.

Step 2/ 11

⅜ cups

flour

⅜ tsp

baking powder

⅛ tsp

salt

⅓ tbsp

chives

⅛ tsp

Paprika

⅛ tsp

rosemary

Dry ingredients first - Mix all dry ingredients in a mixing bowl. Incorporate the ingredients fully.

Step 3/ 11

⅛ cup

Jack Monterey cheese

Shred or grate cheese - freely rip up pieces of cheese or feel free to use pre-shredded cheese. Make sure your cheese melts. I used Monterey Jack, but you can use cheddar. Use something with more milk fat.

Step 4/ 11

Butter - use cold butter from the fridge. This is key to the flaky texture. Do not use room temperature butter that melts easily. Add in the butter in small chunks to the dry mixture. It is okay to have chunky butter bits in the mixture.

Step 5/ 11

Cheese - Lastly add the cheese and fold it into the mixture.

Step 6/ 11

Optional - Ham - you may add ham or prosciutto for an extra touch. Cut/ slice it in tiny strips.

Step 7/ 11

Milk - Add the milk into the mixture by making a dent in the centre and pouring it in. Slowly pour all the milk in while folding the dough.

Step 8/ 11

Knead and fold. Do this couple times until it is sticky.

Step 9/ 11

If you like free form shapes, just make small round balls, and press it down slightly to flatten it.

Step 10/ 11

Last touch - Brush a light butter wash on top of the scones. Melt the butter in the microwave.

Step 11/ 11

Put it in the oven and bake for 12-15 minutes depending on how powerful your oven is. It should be lightly brown and with melted cheese spilling out.

Enjoy your meal!
More delicious ideas for you