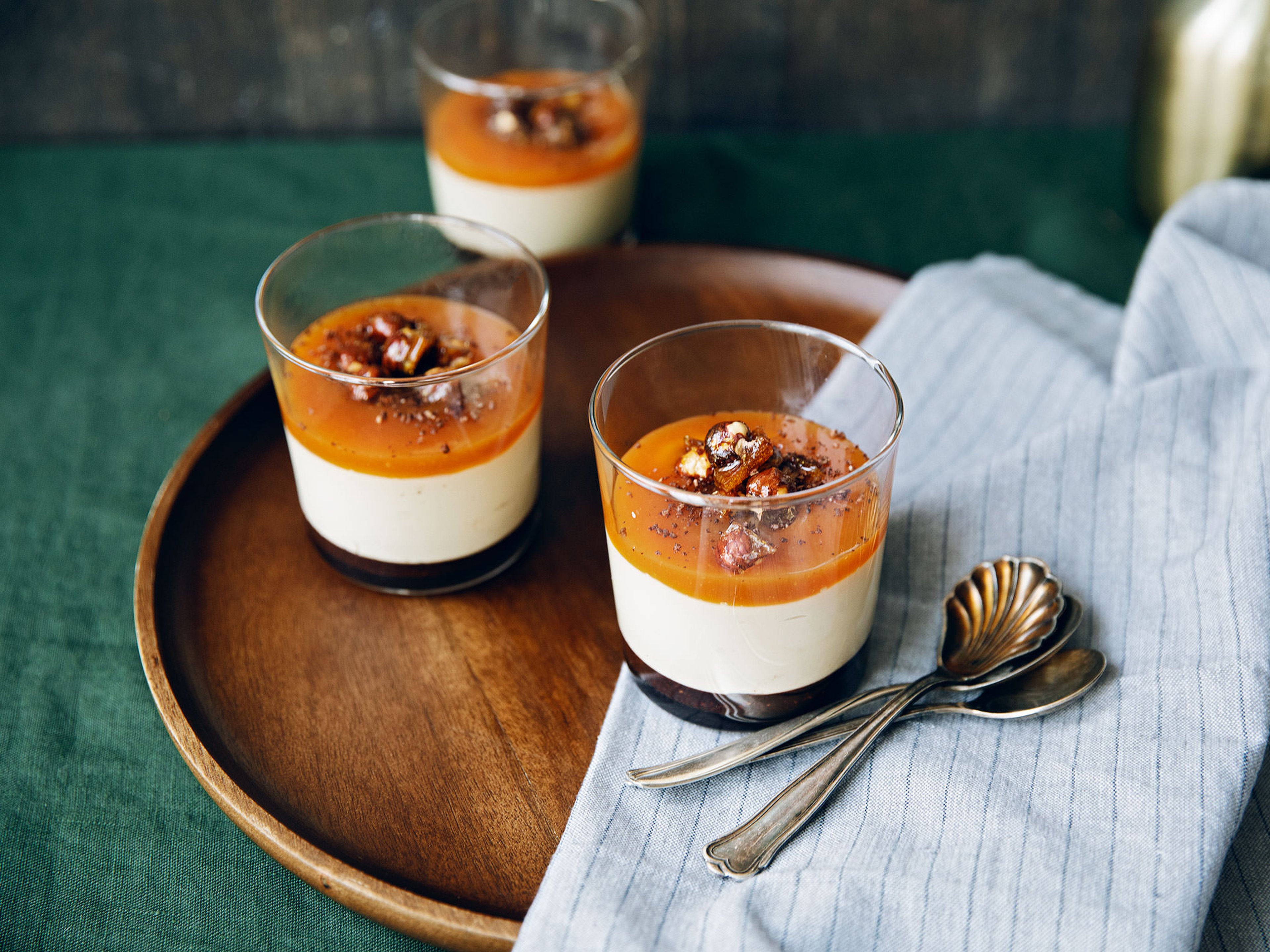 Salted caramel budino with hazelnut praline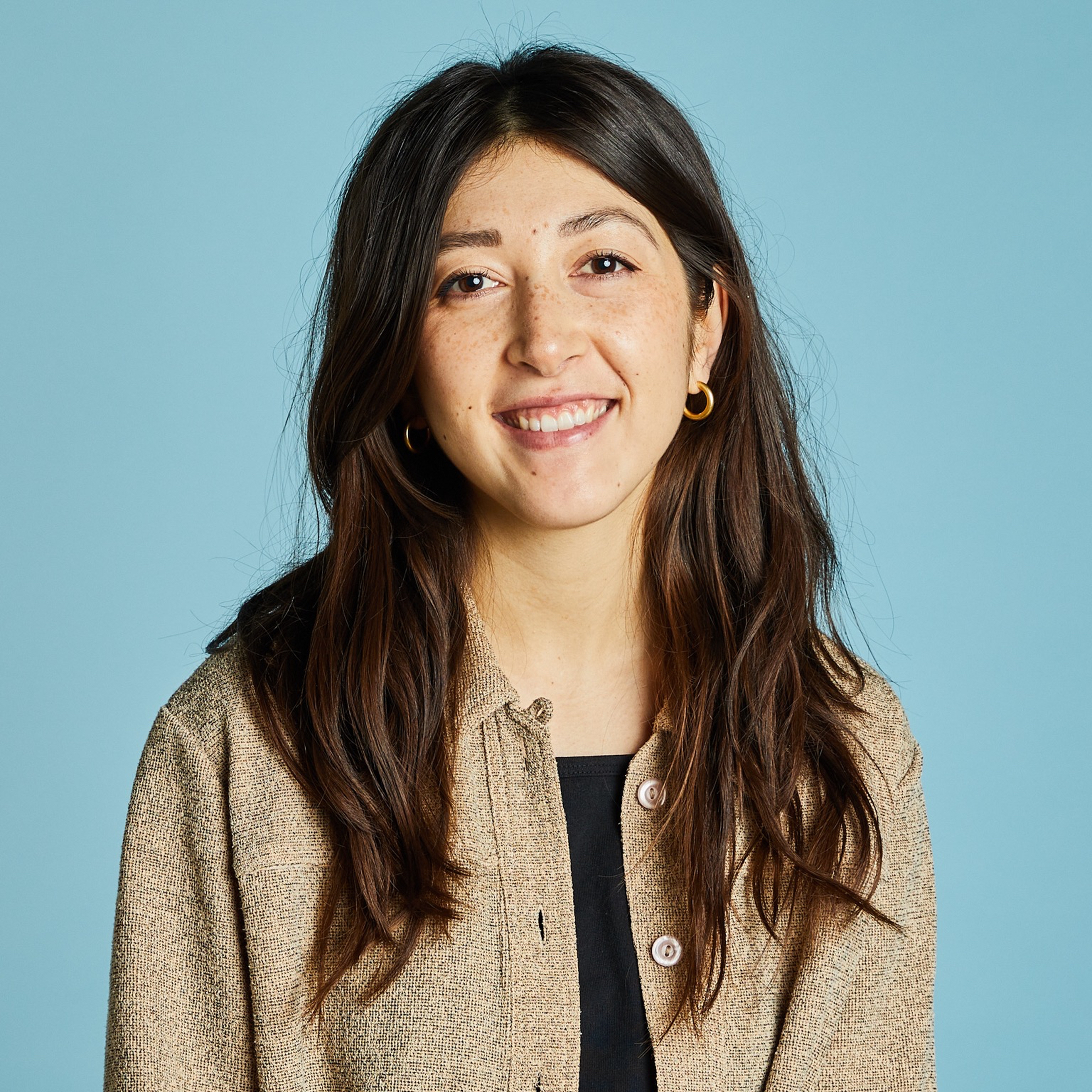 "A rich and creamy Italian dessert, budino is a treat for more than one reason. It usually includes a few different components and therefore takes some time to both prepare and clean up after—but don't let that scare you off. Set aside some time and prepare it for a special evening or celebration. If you find the pudding isn't smooth enough, run it through the sieve again."
Utensils
2 saucepans, 2 bowls (small), food processor, liquid measuring cup, pot (large), whisk, 2 bowls, fine sieve, plastic wrap, oven, 2 baking sheets, frying pan, parchment paper
How to test caramel for doneness
Step 1/ 7

25 g

sugar

30 ml

heavy cream

15 g

unsalted butter

½ tsp

sea salt

In a pot, add some of the sugar and let melt and caramelize, swirling the pan as needed. When it has reached an amber color, remove from the heat. Slowly add some of the room temperature heavy cream, swirling the pan until the cream is totally combined. Then swirl in some of the butter and sea salt. Transfer to a small bowl and set aside to cool.

Step 2/ 7

25 g

hazelnuts

½ tbsp

unsweetened cocoa powder

30 g

unsalted butter

⅛ tsp

salt

saucepan
food processor
bowl (small)

Meanwhile, melt remaining butter in a small saucepan. Add some of the hazelnuts to a food processor and pulse until finely ground, add the cocoa powder and pulse once more to combine. Set some aside for garnish then mix the remaining in a small bowl with some of the salt and melted butter.

Step 3/ 7

Divide the crust mixture evenly among four serving glasses and press or spread the crust into an even layer in the bottom. Transfer to the fridge until assembly.

Step 4/ 7

180 ml

heavy cream

120 ml

whole milk

1 tbsp

maple syrup

25 g

brown sugar

30 ml

water

½ tsp

salt

½

egg

1

egg yolks

1½ tbsp

starch

liquid measuring cup
pot (large)
whisk
2 bowls
fine sieve
plastic wrap

In a liquid measuring cup, combine remaining heavy cream and whole milk. In a pot, add maple syrup, brown sugar, water, and remaining salt and bring to a boil over medium heat, stirring occasionally. Cook for about 8 min. or until caramelized. Remove from the heat and slowly whisk in heavy cream-milk mixture. In a separate bowl, whisk together egg, egg yolks, and starch. While whisking, slowly add maple syrup-cream mixture to the egg-cornstarch mixture. Transfer the pudding back to the pot and set over medium heat, whisking constantly until a thick pudding forms, approx. 5 min. Strain the mixture through a fine sieve into a bowl, then cover tightly with plastic wrap (pressing the plastic directly onto the pudding to stop a skin from forming) and refrigerate for at least 2 hours.

Step 5/ 7

Meanwhile, preheat oven to 150°C/300°F. Toast remaining hazelnuts on a baking sheet at for approx. 10 min. or until golden and fragrant. Remove from the oven.

Step 6/ 7

frying pan
baking sheet
parchment paper

Add remaining sugar to a frying pan over medium heat. Swirl occasionally until the sugar is dissolved and deep amber in color, approx. 8 min. Add the toasted hazelnuts to the sugar, stir and transfer to a parchment paper-lined baking sheet. Set the hazelnut praline aside to harden, approx. 15 min. Once cooled, break into small chunks.

Step 7/ 7

To assemble the budinos, divide the cooled pudding among the glasses. Divide the salted caramel among them and spread in an even layer to cover the top. Sprinkle with the reserved hazelnut-cocoa crumbs and the hazelnut praline. Enjoy!

Enjoy your meal!
More delicious ideas for you